Vegetables are good sources of fiber on the keto diet, but it's important to take note that not all veggies are low in carbohydrates. Cabbage is definitely one of the best options you can have, thanks to its macronutrient and micronutrient profile. For those who are asking about the carbs in cabbage, read this guide to find the answers, plus recipes that incorporate cabbage.
Is Cabbage Keto?
Cabbage is suitable for keto dieters because it has very few carbohydrates. If you want something that will fill you up without kicking you out of ketosis, cabbage makes an excellent choice. It's packed with fiber and micronutrients like vitamin C, vitamin E, calcium, and phenolic substances with health benefits (*).
On the keto diet, you're allowed only less than 50 grams of carbs per day. This makes cabbage a good fit for those controlling their carb intake.
Eating cabbage on keto is easy — you can serve it raw, boil it, steam it, or roast it in the oven. In fact, there are plenty of keto recipes that use cabbage, which we'll explore later in this article. With that being said, cabbage is versatile and can support your weight loss and fitness goals on a very low-carb lifestyle!
Carbs in Cabbage
Different varieties of cabbage exist, which slightly vary in their net carbs (total carbs minus dietary fiber). For example, one cup of shredded green cabbage contains 2.31 grams of net carbs per cup while one cup of red cabbage contains 3.69 grams of net carbs (*, *). It helps to check the carb count before using a type of cabbage for your keto meals.
We've prepared a table below showing four cabbage varieties with their net carbs:
| | |
| --- | --- |
| Type of Cabbage | Net Carbs (1 cup, shredded)  |
| Green cabbage, chopped | 2.31 grams net carbs (*) |
| Red cabbage, chopped | 3.69 grams net carbs (*) |
| Napa cabbage, shredded | 2 grams net carbs (*) |
| Savoy cabbage, shredded | 2.1 grams net carbs (*) |
Other Nutrients in Cabbage
As a health-boosting food, cabbage contains several micronutrients, such as:
Vitamin C: 25.6 mg per cup
Vitamin E: 0.105 mg per cup
Calcium: 28 mg per cup
Iron: 0.329 mg per cup
Magnesium: 8.4 mg per cup
Phosphorus: 18.2 mg per cup
Potassium: 119 mg per cup
Sodium: 12.6 mg per cup
These vitamins and minerals offer many health benefits. For example, vitamin C in cabbage helps with forming collagen and repairing body tissues, while calcium promotes bone growth and maintenance.
Although cabbage is keto-friendly, it's not an important source of protein and fat, which also matter on keto. One cup of green cabbage contains:
Protein: Only 1 gram per cup
Fat: Zero grams
To meet your protein and fat needs, we recommend pairing or serving cabbage with chicken, pork, lamb, turkey, beef steak, salmon, or eggs.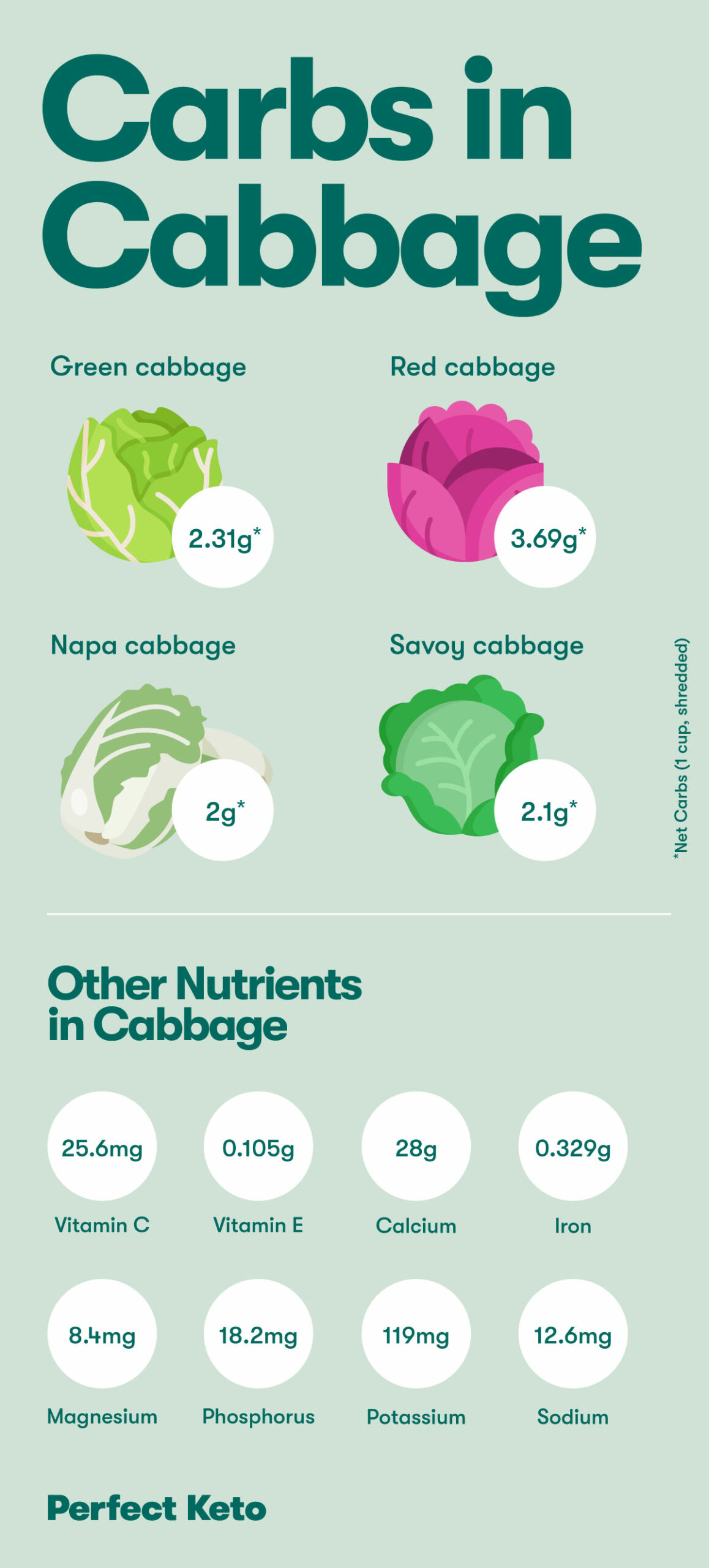 Keto Recipes with Cabbage
Check out these cabbage recipes that will add deliciousness and fiber to your weekly keto meals. Have them for breakfast, lunch, dinner, or snack time.
The Bottom Line
So, can you eat cabbage on keto? Some veggies may contain many carbs — and fortunately, cabbage isn't one of them. At less than 5 grams of net carbs per serving (whether you're eating green, red, napa, or savoy cabbage), you'll be sure to stay in ketosis.
Just keep in mind that cabbage isn't the best source of protein and fat, so make sure to incorporate a variety of meats, eggs, and seafood into your diet. Cabbage is versatile and nutritious, you can add it to any recipe — coleslaw, keto noodles, and so much more!
7 References