You need to get a protein powder to crush your workouts and build muscle quickly.
The only problem is there are hundreds of protein powders from different brands and different sources — so which one is the best?
Today we'll break down which ones are worth your while (hint: only a handful) so you can pick the best one for your fitness goals.
We'll dive into:
The Role of Protein in Your Body
Protein is one of three macronutrients — fat and carbohydrates being the other two.
Protein helps:
Make up the majority of your muscles, organs and other tissues in your body
Ensure muscle growth
Create hormones, enzymes and hemoglobin (the molecule in your red blood cells that carries oxygen from your lungs to other parts of your body)[*]
Protein's building blocks are called amino acids, and there are 20 of them. From those:
12 amino acids are non-essential (which means your body makes them on their own)
8 are essential (which means you must get them from your food)
If you don't get enough amino acids from your diet, especially the essential ones, your muscles won't be able to grow or repair and your cells won't be able to properly create crucial enzymes.
A protein deficiency has been linked to:
Worsened workout performance: Without enough protein, you won't be able to maintain muscle mass or build muscle.
Neuron atrophy: Your brain needs amino acids to function optimally. Research finds a protein-deficient diet can lead to atrophy and neuron loss.
Weaker immune system: A deficiency in the amino acid arginine can contribute to the dysfunction of your T cells — the cells that regulate your immunity.
Increased risk of diseases: A deficiency in amino acids can increase the risk of developing certain diseases, including: sickle cell disease, acute asthma, cystic fibrosis, pulmonary hypertension, cardiovascular disease and certain cancers.
You can get protein from whole foods such as grass-fed beef, lamb, chicken, fish, eggs and game meats, but adding a high-quality protein powder to your diet can help you hit your daily intake easily when you're busy, trying to build muscle or needing to save time.
The Power of Protein Powder
If you're active, a protein powder can help you:
Perform better
Recover faster
See results more quickly
Stay healthy
Every time you exercise, your muscles break down. A fast-acting protein powder allows your muscles to recover more efficiently and grow[*]. The more you break down your tissues, the more protein you need to rebuild them.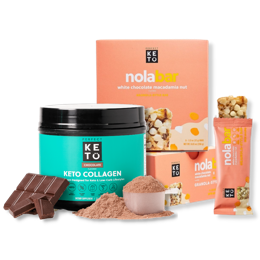 Browse our curated collection of fan-favorites and discover your new favorite snack or supplement.
Shop Best Sellers
However, not all protein powders are created equal.
The market is now saturated with high-carb protein powders packed with fillers, preservatives and unnecessary ingredients that can hinder your goals.
It's even trickier to find high-quality protein powders when you're on keto because the vast majority contain sweeteners that kick you out of ketosis.
So what can you do?
Below, I'll give you a run down of which protein powders are the best for your keto diet so you can start building muscle as quickly as possible.
Top 5 Keto Protein Powders
You can safely skip most of the protein powders you find at your local supplement store. On keto, only 5 types of protein will give you the most results in the healthiest way: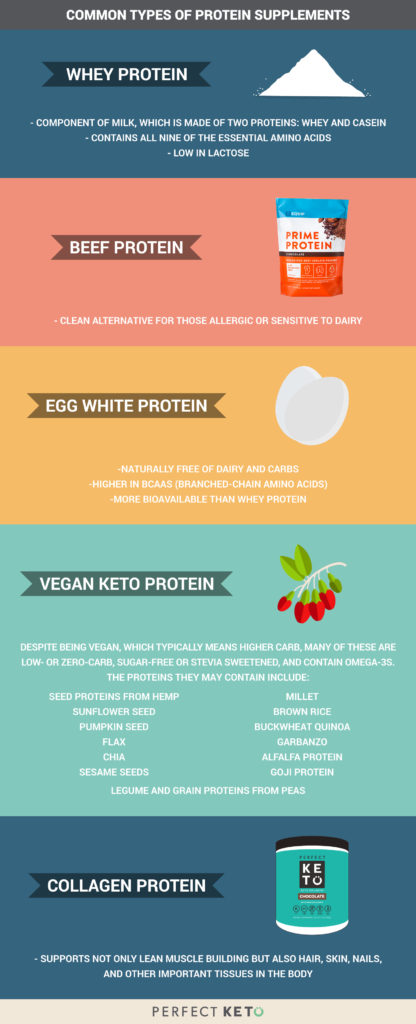 #1: Grass-Fed Whey Protein
Whey protein is a component found in milk and it's obtained by separating whey from casein. Whey protein powder from the milk of grass-fed cows is one of the best choices for performance because:
It's absorbed quickly into your bloodstream.
It contains all nine of the essential amino acids, which means it's a complete protein.
It's typically low in lactose, so dairy-sensitive people may be able consume it[*].
Whey protein can be made in two ways:
Heating and drying: Whey is extracted from the milk liquid by heating and drying. While the resulting product is more affordable, this process denatures the protein molecule and can lead to damage of the amino acids' structures.
Cold processing: Cold processed whey supplements are considered higher quality than those that have been heated and dried, because the process prevents damage to the amino acids. With this method, the milk liquid is filtered and then dried to create a powder.
Whey protein can also come in two forms: isolate and concentrate. Here's the difference:
#1: Whey Protein Isolate
Whey isolate is the purest form of protein. It contains at least 90% protein, while carbs and fat account for the other 10%[*]. During processing, a significant amount of fat and lactose is removed, allowing lactose-intolerant people to consume this supplement safely.
#2: Whey Concentrate
Concentrate, contrary to its name, is not as highly concentrated as whey isolate. Most whey concentrate products contain at least 80% protein. While not as pure as its counterpart, whey concentrate is still highly popular amongst athletes[*].
Another grass-fed protein powder you can safely include in your diet is beef protein.
#2: Grass-fed Beef Protein
Grass-fed beef protein powder is an excellent source of protein and a great fit for those allergic to dairy or eggs.
Research shows beef protein isolate is as effective as whey protein for increasing lean muscle mass and losing fat. During an eight-week trial, people supplementing with beef protein lost 2% more fat than those supplementing with whey protein[*].
#3: Egg White Protein
If you're lactose intolerant, egg protein can be a good alternative to whey.
Egg protein is high in branched-chain amino acids (BCAAs) and it's more bioavailable than whey protein — which means your muscles have an easier time absorbing it.
#4: Plant-Based Keto Protein
The highest-quality plant protein sources on keto are:
Seed-derived powders: hemp seed, sacha inchi, sunflower seed, pumpkin seed, flax, chia and sesame seeds.
Pea protein
Alfalfa protein
Goji protein
Ideally, you'd want a combination of these types of protein sources in your protein powder to get a healthy variety of amino-acids.
Other types of plant-based protein such as brown rice, quinoa or garbanzo have fewer amino acids and aren't as effective.
#5: Collagen
Collagen makes up about one-third of all the protein your body. It's in your bones, muscles, skin, gut, tendons, heart, eyes, brain and in between your cells.
You also lose 1% of this vital protein each year.
That's why it's necessary to replenish it through your diet. Collagen powder is one of the best keto friendly proteins available. It has added perks beyond muscle growth, such as:
Supporting your skin, hair and nails
Helping your gut stay healthy
Keeping your heart beating
Helping your tendons stay flexible
Perfect Keto Collagen Protein is made with 100% grass-fed collagen peptides. Because it was formulated specifically for people following the keto diet, it contains MCT oil, which helps raise ketone levels, supports gut health, and prevents blood sugar spikes. Plus, it contains just 1 gram of carbohydrates per scoop (in other words, it's as close to a zero-carb protein powder as you can get).
How To Choose The Right Protein
Protein is a big part of what your body is made of — so it's essential you choose the right supplement.
If you opt for an animal-based protein powder, choose products that are grass fed or pasture raised.
When choosing plant-based protein, stick to a blend of the sources mentioned above (pea protein, sacha inchi, sunflower seed) and avoid incomplete proteins like brown rice.
As with any packaged product, always look beyond the labels and double-check the ingredients instead. It can say "100% organic," "natural" or "keto friendly" on the front, but that doesn't mean it contains quality ingredients. Make sure your choice contains as few ingredients as possible and it's free of common supplement additives.
Be sure to avoid the following:
Added sweeteners, such as sucralose, aspartame, high fructose corn syrup or fructose. If a sweetener is used, be sure it's a keto-friendly option like stevia.
Unnecessary fillers and preservatives (such as TBQH)
Food coloring (such as red #4)
Artificial flavors
Skip The Dirty Proteins
Protein is vital for muscle growth and overall health. Finding the right protein sources will make a massive difference in how you feel and perform.
Skip the low-quality protein powders at the store and choose between:
Grass-fed beef protein powder
Egg white protein
Keto plant-based complete proteins
Collagen
Whichever you prefer, the most important thing is they're free of fillers and harmful ingredients. The cleaner the ingredient list, the better it will be for your health and performance.