What do casseroles, fried foods, pasta toppings, and some pastries have in common? Besides being delicious, they're all prepared with the glorious crunchy goodness that is breadcrumbs. But these crispy, crunchy toppings are loaded with carbs. Thankfully, this guide will show you the best substitute for breadcrumbs that still tastes great.
What Are Breadcrumbs and Why Aren't They Low-Carb Friendly?
Breadcrumbs have multiple uses. They can be sweet or savory and used for breading and crumbing different dishes from meatloaf and casseroles to chicken and steak. They're also often used to thicken stews and broths.
Breadcrumbs are just that — little crumbs of dry bread. Back in the day, just like croutons, they were a cheap and convenient way to use stale bread. Surely you can think back to the times when your mother or grandmother made the classics: fried chicken, meatballs, crab cakes, baked mac and cheese, or a fruit crumble.
When it comes to the different types of breadcrumb textures, there is dry and fresh.
Dry breadcrumbs come from stale, baked, or toasted bread. These breads have little to no moisture. This type of breadcrumb is perfect for adding an extra crisp topping to any meal. Fresh breadcrumbs are made with softer bread, resulting in a softer crust. These are perfect for incorporating into stuffings or meatloaf.
Most types of bread can yield tasty breadcrumbs. Like most bread, breadcrumbs are made with grain. Even the gluten-free breadcrumbs include certain grains like rice or quinoa.
Typically, one cup of grain-based traditional breadcrumbs contains 78 grams of carbs, 14 grams of protein, and 6 grams of fat.
Needless to say, regular breadcrumbs are not low-carb or keto-friendly.
Keto Substitute for Breadcrumbs: 4 Tasty Options
If you were to take away all the different meals that include breadcrumbs, you would have a pretty pared down list.
For keto beginners, starting a low-carb or ketogenic diet can seem hard enough without restricting your favorite foods. The easiest way to start a low-carb diet is by finding keto recipes that offer good alternatives to foods you eat the most, so you feel satiated without feeling deprived.
So what is the best low-carb substitute for breadcrumbs? Well, there are four — and each comes with its own unique taste and texture. It's easy to incorporate these keto-friendly breadcrumbs into your routine once you know a little bit more about them.
#1: Panko Breadcrumbs
Image: Low-Carb Keto Crumbs
One of the more common types of breadcrumbs is panko. Originally used in Japanese cuisine, panko breadcrumbs have become more popular over the years. Unlike most breadcrumbs, you can't make panko at home, but you can buy them pre-made.
Panko is lighter and crispier than your average breadcrumbs. They also absorb less grease and oil as they fry, making the end result an all-around lighter dish. Panko is made out of yeast, wheat flour, and oil. While you can't make panko out of your leftover bread, you can find it in the baking aisle of most grocery stores.
A great substitute for breadcrumbs, panko can be used for the breading of fried foods as well as a great binding agent replacement for eggs (a perfect vegan option). One quarter-cup of panko is about 70 total calories, including 14 grams of net carbs, 3 grams of protein, and a half gram of fat.
#2: Pork Rinds
Image: Pork Rind Nearly No-Carb Keto Bread
Unlike panko, pork rinds have zero carbs, allowing you to consume them without any worry of going over your carb limit or being kicked out of ketosis.
So, what are pork rinds exactly?
Pork rinds are fried pig skin. You typically see them in the potato chip aisle as they are sold in a bag much like chips. The frying process is what gives the pork rinds their puffy shape. While still growing in popularity in the United States, many countries around the world indulge in their fair share of pork rinds as both a snack and meal staple.
Pork rinds are a great in place of breadcrumbs. However, instead of grinding them up in a food processor, you're better off placing them in a plastic bag and crushing them using a rolling pin to keep the larger pieces. This will allow for a greater range of texture.
When it comes to nutritional value, pork rinds are ideal for a low-carb or keto diet. One ounce of pork rinds contains 152 total calories including 9 grams of fat, 17 grams of protein, and zero grams of carbs[*].
As you can imagine, making pork rinds from scratch would be time consuming and challenging. Rather, look for them in your local grocery store or even Amazon. If possible, opt for a brand that raises the pigs humanely and doesn't use antibiotics.
#3: Almond Meal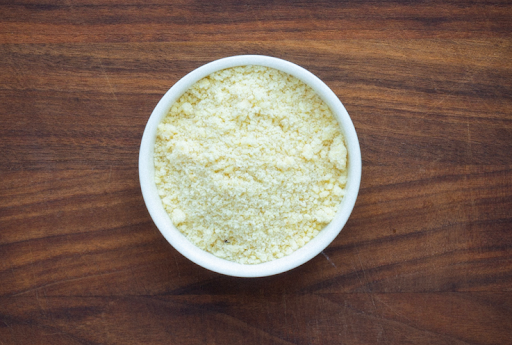 Image: Low-Carb Substitutes That's Better Than Breadcrumbs
As low-carb and keto diets have increased in popularity, so too have certain foods. Almond meal has proven to be a great low-carb option for multiple purposes, especially as a low-carb flour substitute. It makes for great breadcrumbs, too. Many low-carb recipes requiring breadcrumbs use almond meal/flour more often than not.
Almond meal (also called almond flour) is made from ground almonds. This means that you're not only getting a great low-carb ingredient, but you're getting all the health benefits from almonds as well.
Some of these benefits include being gluten-free, rich in fiber, and an abundant source of different vitamins and minerals including vitamin E, iron, riboflavin, magnesium, potassium, and calcium[*].
You can also season your almond meal breadcrumbs to to fit any meal you want. They can be sweetened with cinnamon and a keto sugar substitute, or they can go savory with something like Italian seasoning and parmesan cheese.
You can usually find almond meal in the baking section of your local grocery store. A quarter-cup of almond meal contains around 180 total calories including 15 grams of fat, 3 grams of net carbs, 2 grams of fiber, and 7 grams of protein[*].
#4: Coconut Flour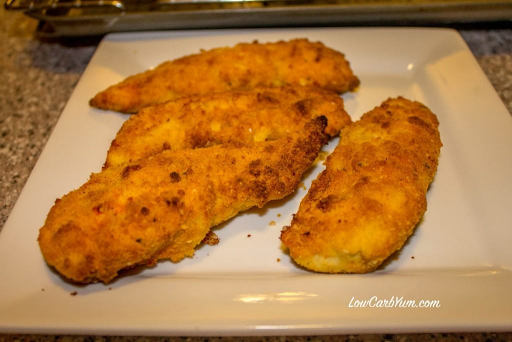 Image: Coconut Flour Chicken Tenders
Coconut flour is another amazing option for making a low-carb substitute for breadcrumbs. Not only is it a great low-carb flour option, but it can be used for breading purposes as well.
The benefits of coconut flour don't stop at its macronutrients. Like coconuts, coconut flour provides the same benefits — it's only ground-up coconut in its simplest form. This flour is high in fiber, healthy fats, and protein, plus it has a low glycemic index.
Coconut flour also helps with energy thanks to its abundance of healthy fats. It also helps maintain cardiovascular health, healthy cholesterol levels, and aids in digestive health[*][*].
Two tablespoons of organic coconut flour contains 124 calories, 4.2 grams of fat, 6.1 grams of net carbs, and almost 5 grams of protein[*].
Your Favorite Substitute for Breadcrumbs
Learning about low-carb alternatives for your favorite foods is the first step in ensuring a smoother transition into a keto diet. Fortunately, finding a keto-friendly substitute for breadcrumbs is just the beginning of the countless options you have.
Once you learn some simple ingredient swaps and determine how to calculate your macros, you'll be well on your way to flavorful meals and better health. Be sure to check out the Perfect Keto recipe library for more delicious, easy-to-make ideas.