When you look over a ketogenic shopping list, you very rarely come across "keto bread." That's because most keto-friendly bread options taste more like cardboard than the chewy, tasty bread you're looking for. That's why the best keto bread is typically homemade. 
Still, even homemade keto bread recipes come w
ith challenges. They're either too eggy, too crumbly, or they come out looking more like a hockey puck than a loaf of bread.
If you're following a low-carb diet or keto diet and need to keep an eye on your carb count, try this keto bread recipe for a tasty (and nutritious) treat that won't kick you out of ketosis.
This low-carb bread recipe is:
Comforting

Flavorful

Versatile

Savory
The main ingredients are: 
Optional additional ingredients: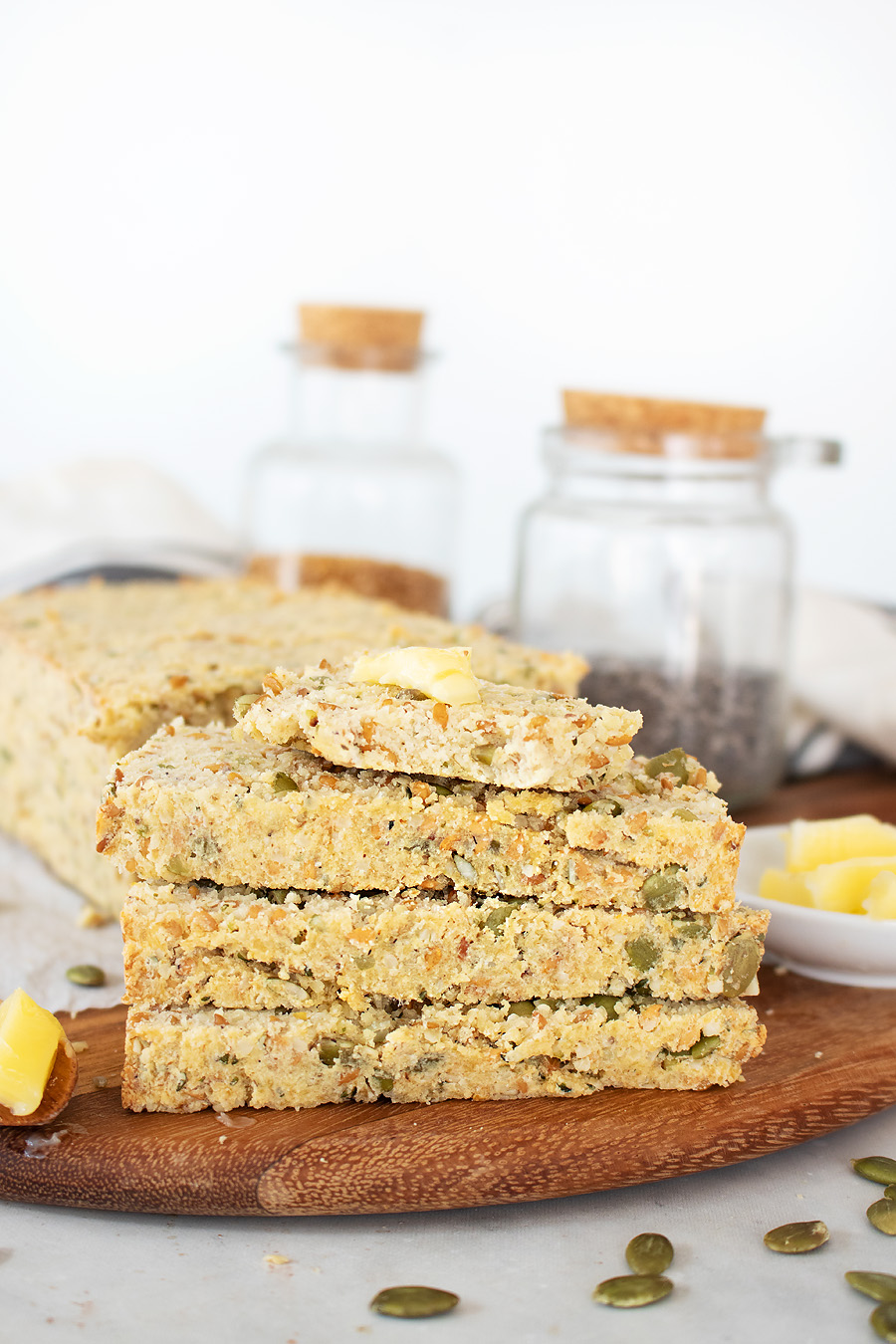 Health Benefits Of Keto Bread 
Low Carb and Gluten-Free
This keto-friendly bread is not only low-carb, but it's also gluten-free and paleo-friendly. While most bread options are guaranteed to kick you out of ketosis, the coconut flour and almond flour base of this keto bread make it a perfect choice when you're craving bread but want to keep it low carb. 
And, of course, no grains means no gluten. While some people seem to tolerate gluten, many people do better to avoid it altogether. There's even evidence that gluten can can trigger symptoms like inflammation and gut issues in those with non-celiac gluten-sensitivity and gluten intolerance[*].
Fiber-Rich
Each slice of your keto bread contains 10 grams of fiber. Fiber is crucial for gut health, and it helps to keep you full and satisfied. And with a variety of fiber sources (coconut flour, psyllium husk, and flax seeds), you'll get a nice combination of both soluble and insoluble fiber. 
Getting enough fiber in your diet is essential to a healthy gut as it improves digestion and elimination and serves as fuel for the healthy bacteria in your GI tract[*]. 

Keto Bread Recipe
Low-carb bread can be pretty hit or miss. If you're looking for a recipe that'll be a hit every time, look no further. 
How To Make Keto Bread
To begin, get your oven preheated to 350 degrees Fahrenheit and line the bottom of an 8×4 loaf pan with parchment paper. You may want to also grease the edges with non-stick spray or butter to be safe. 
Next, add all dry ingredients to a medium-sized bowl and whisk to combine.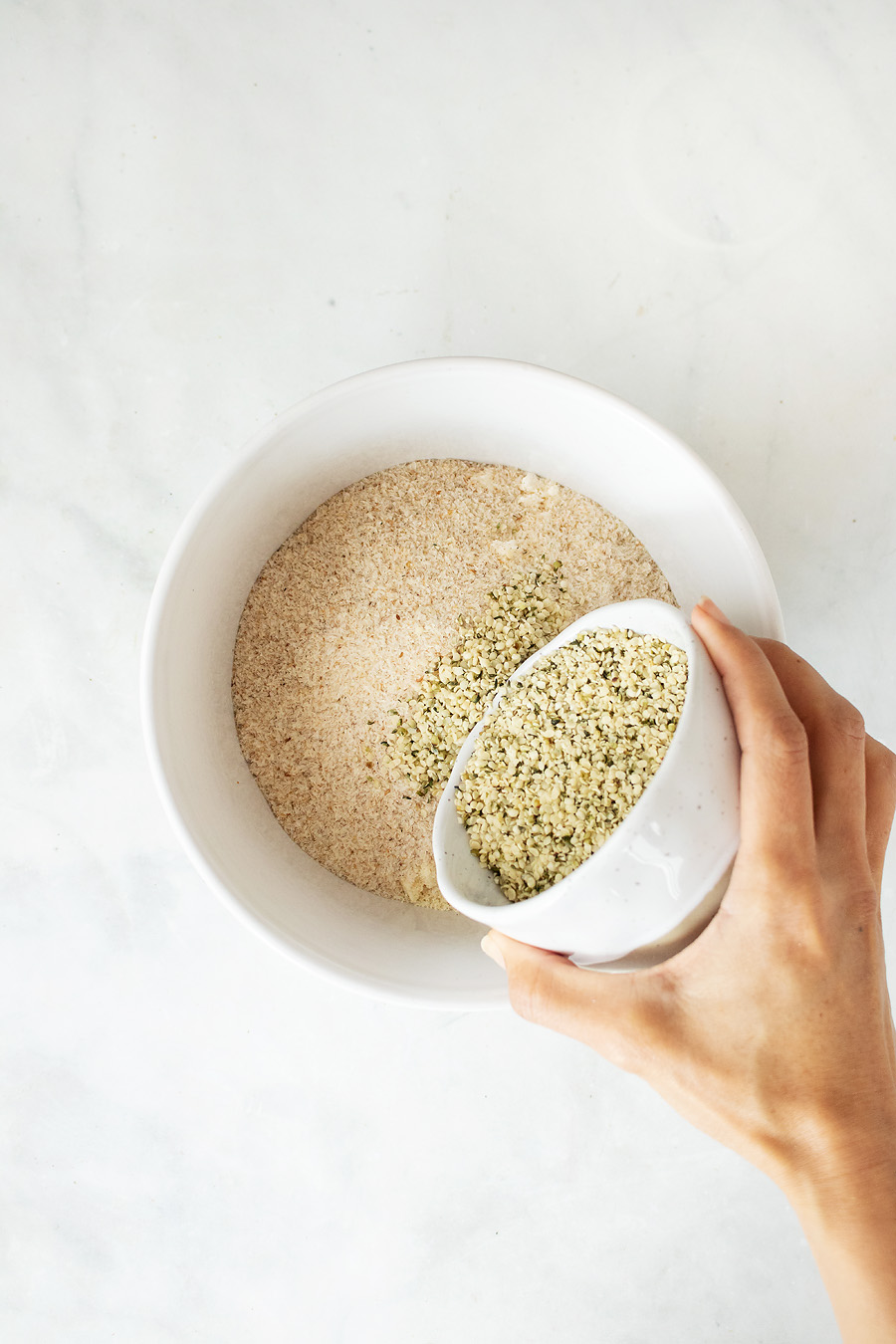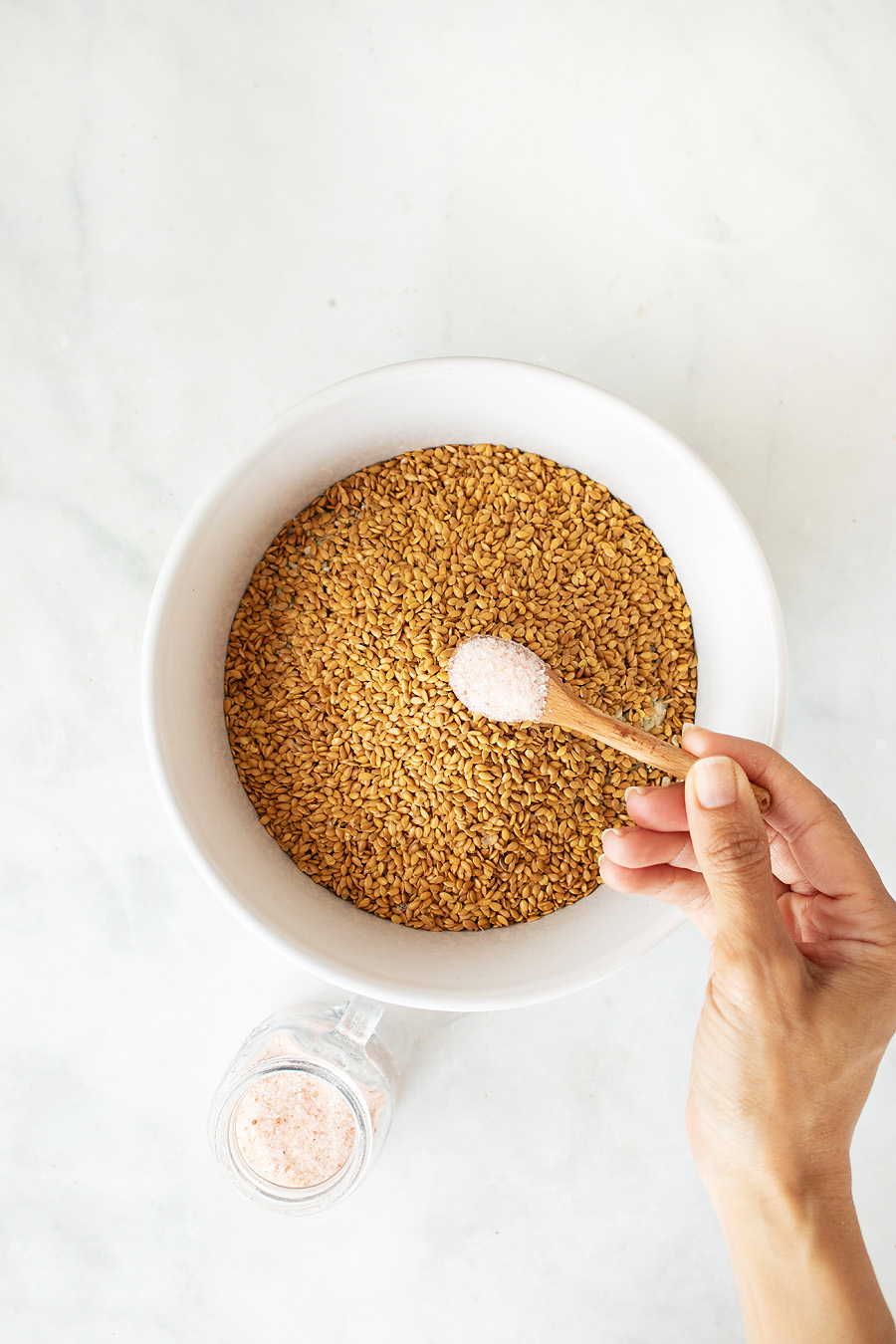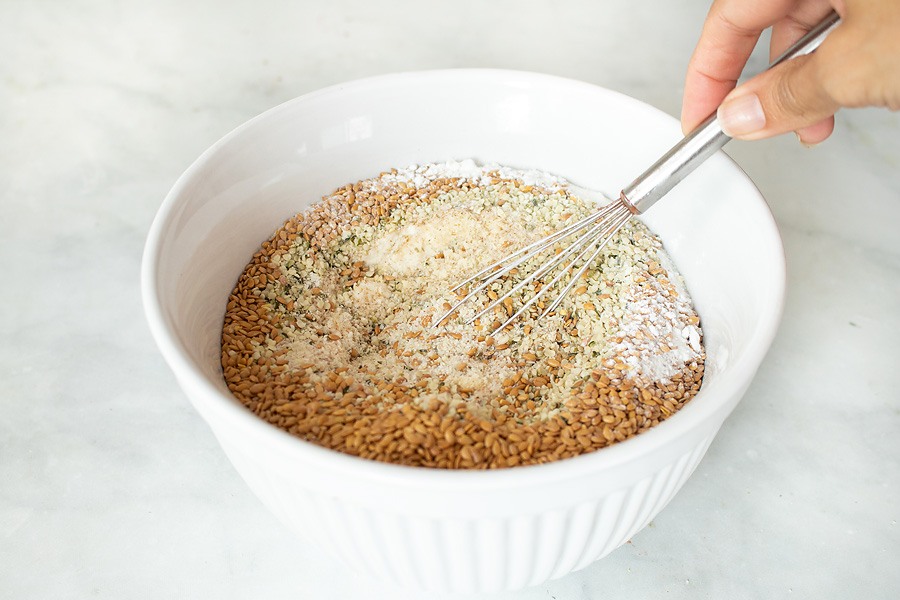 In a large bowl or electric mixer, add eggs, milk, and apple cider vinegar and whip on high for 1-2 minutes until light and frothy. Then slowly add in the dry ingredients mixing to combine, and then the melted butter. Stir well to combine.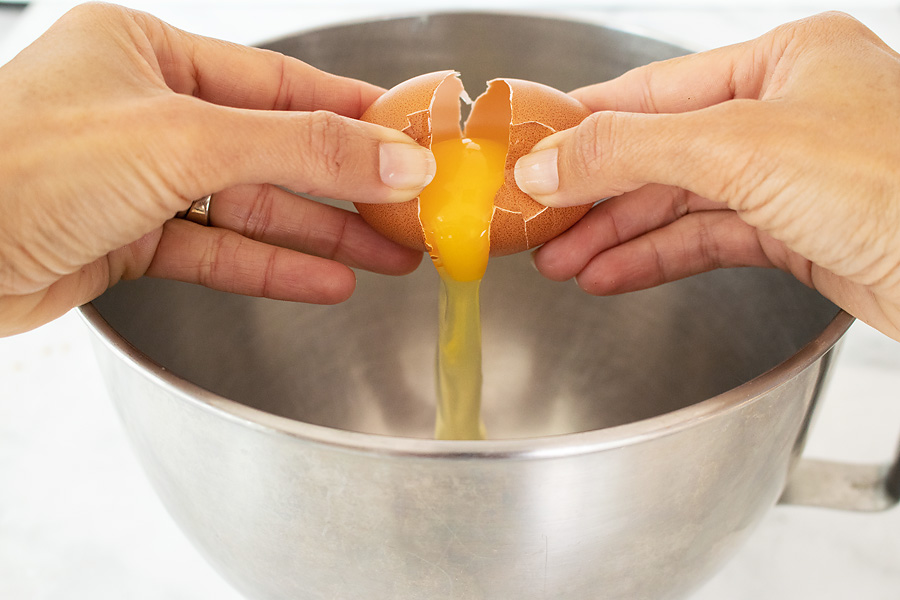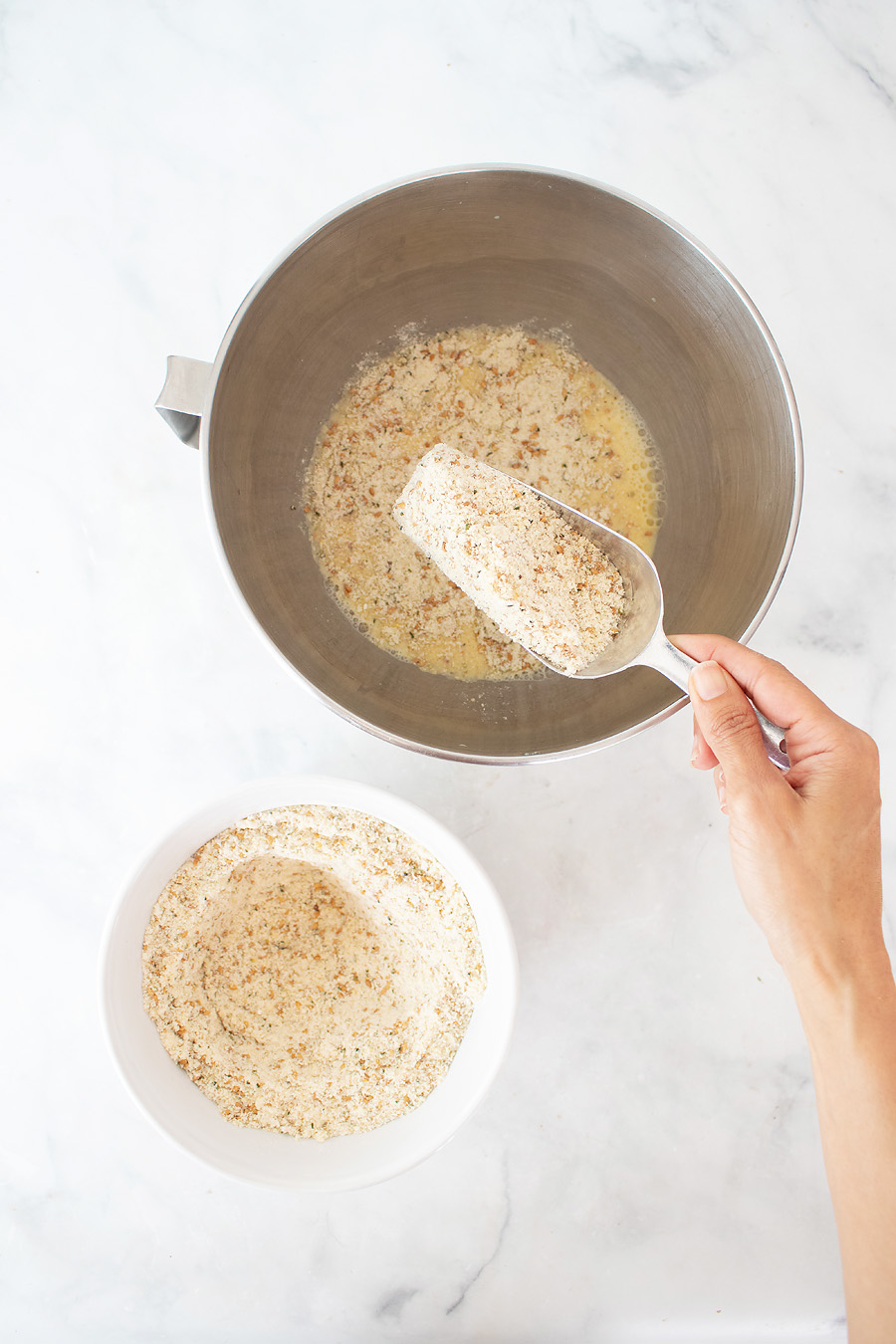 Let the mixture sit for 1-2 minutes, then pour into the prepared pan. Bake for 40-45 minutes until the top and edges are golden brown and a toothpick comes out clean when poked through the center of the loaf.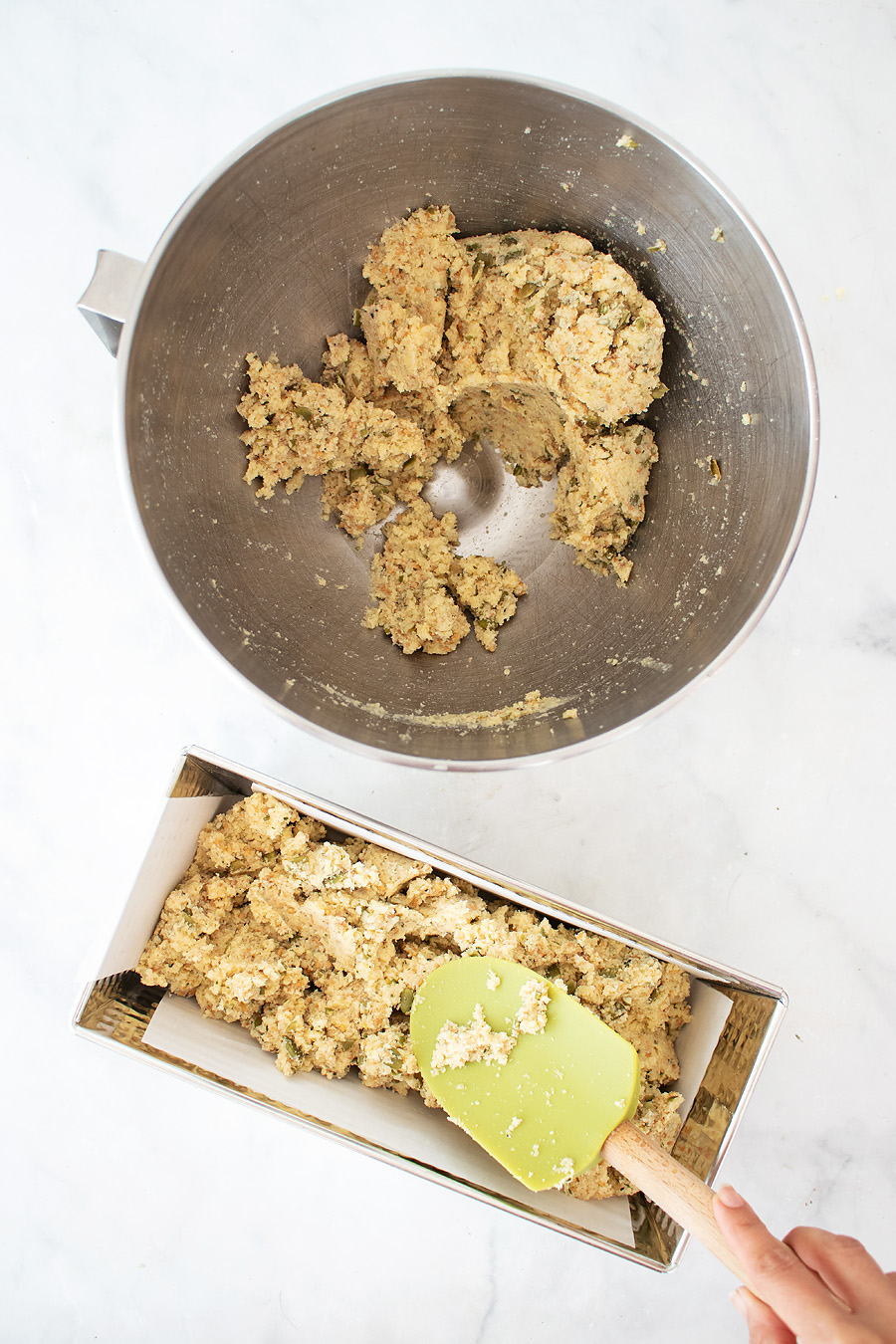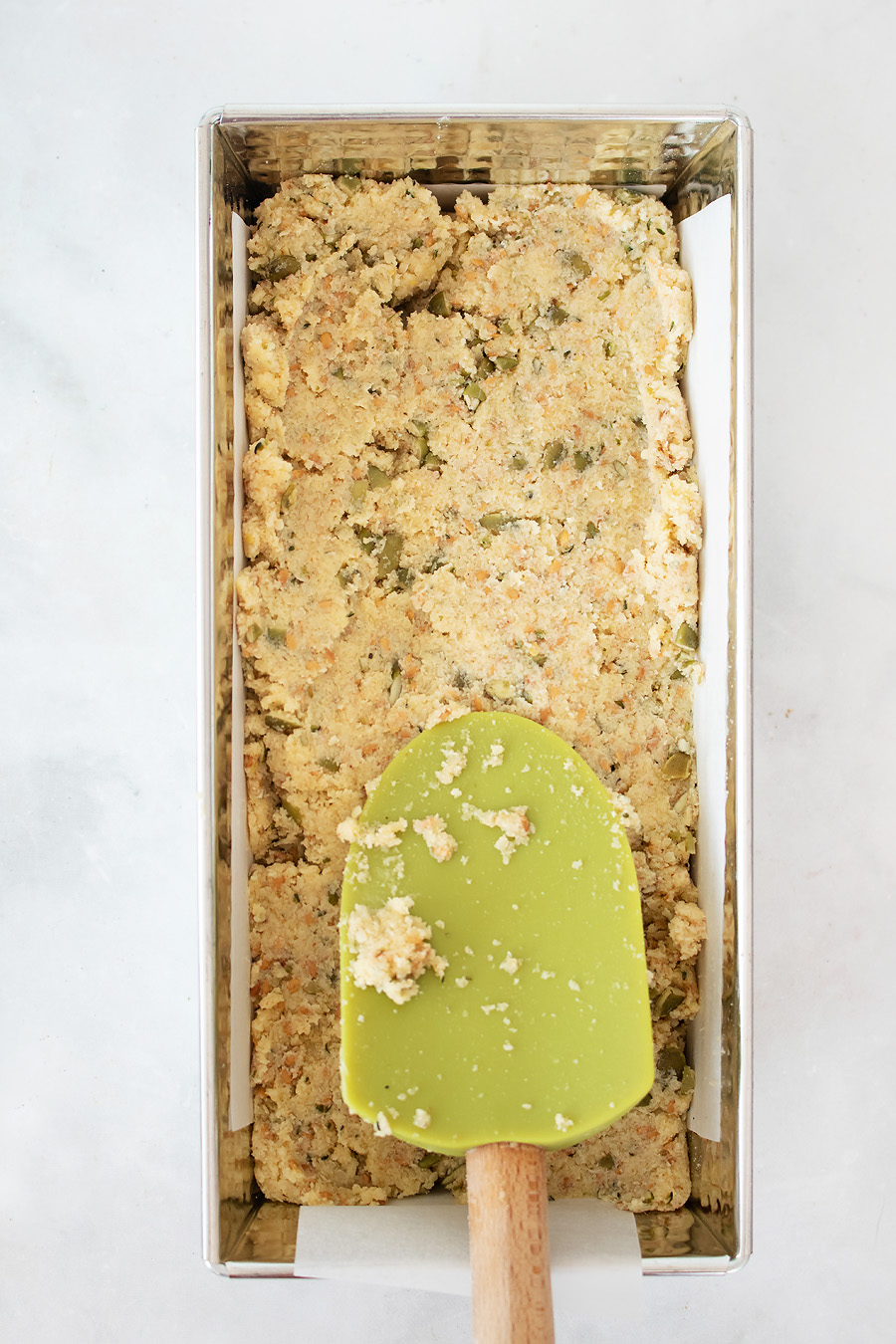 Finally, remove your bread from the oven and let it cool to room temperature before slicing.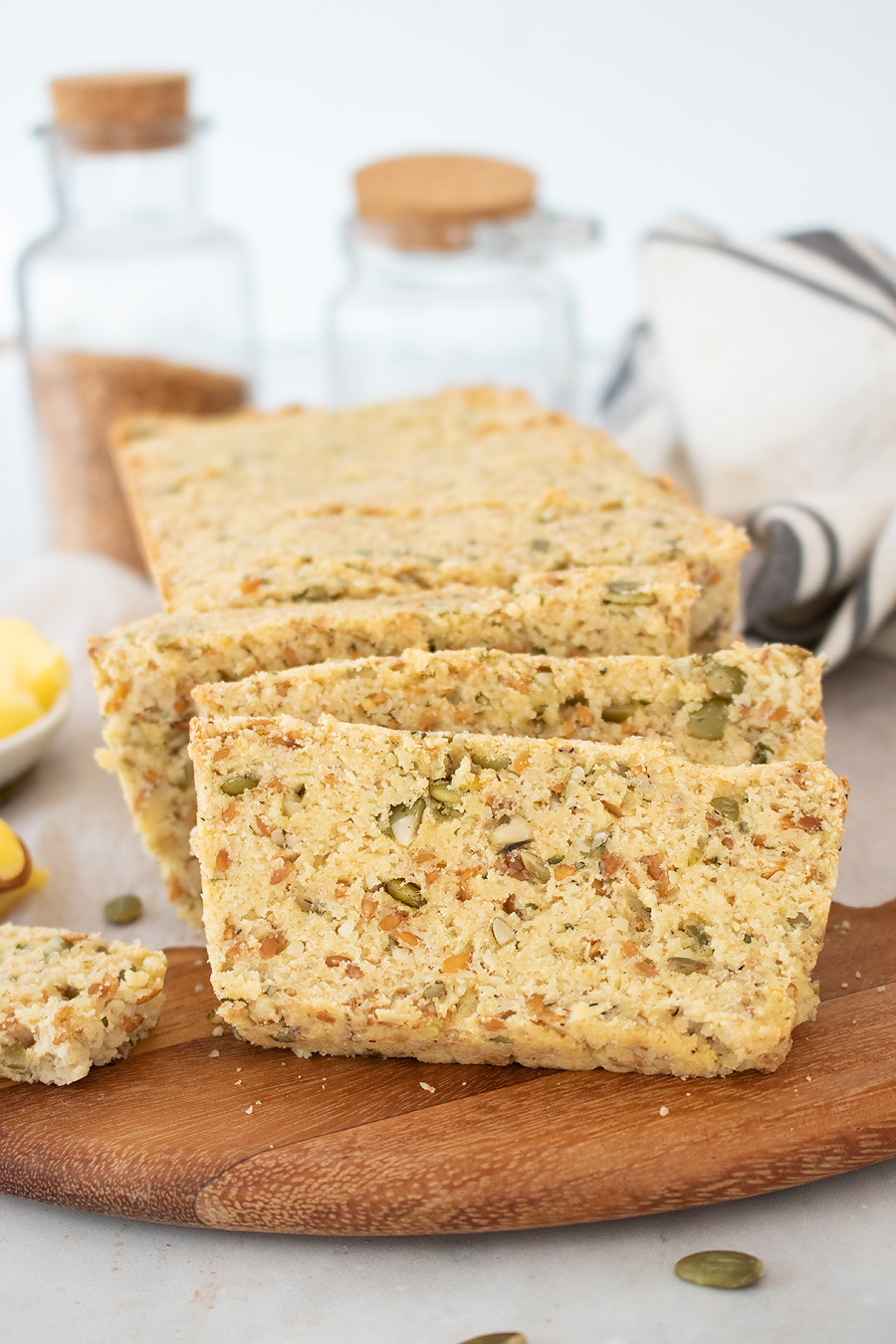 Ways To Enjoy Keto Bread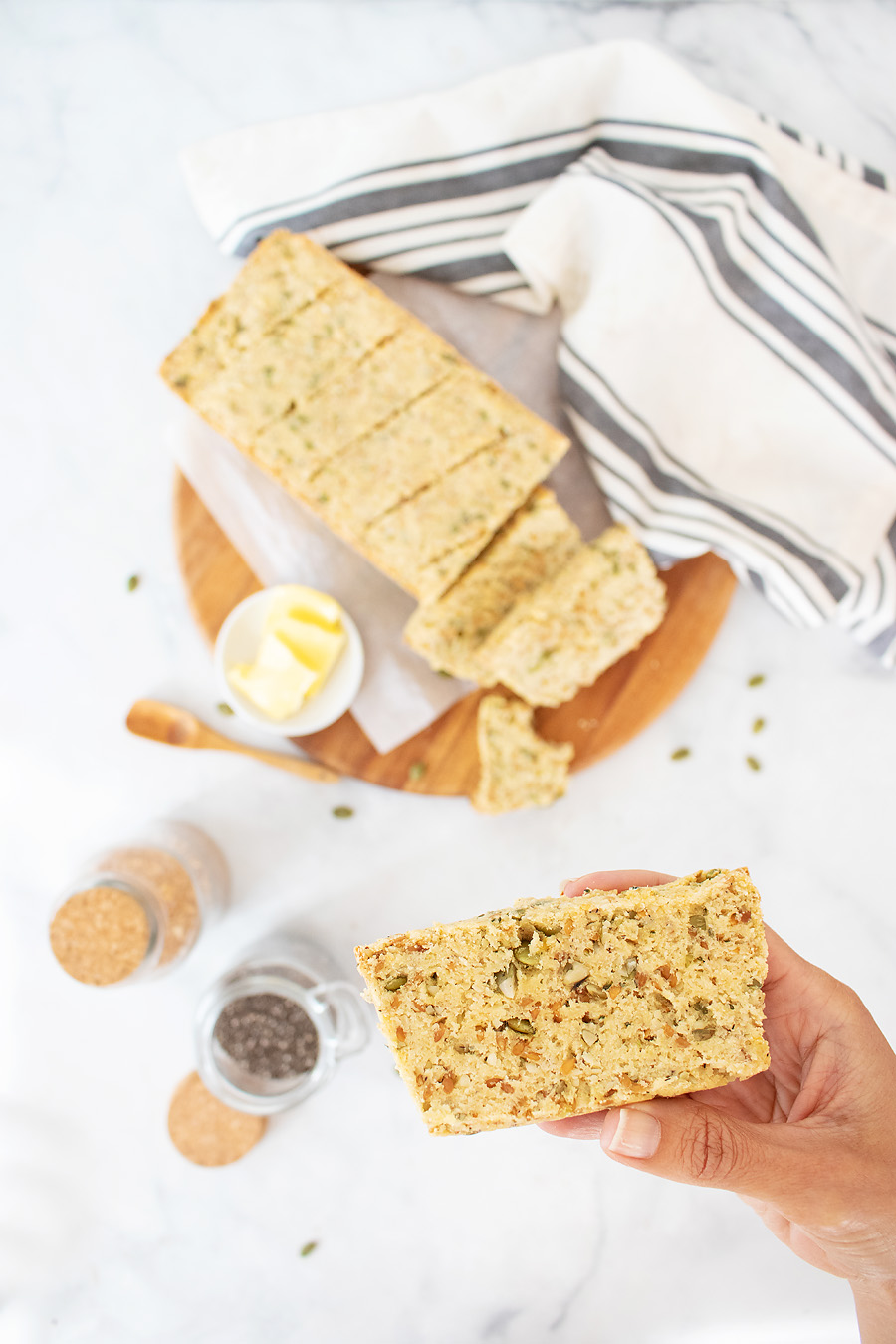 There are several ways that you can enjoy your keto bread. Some ideas include: 
Use it as a dipping bread for olive oil and vinegar

Instead of bagels, put this keto bread on the toaster and spread some cream cheese, and maybe even add lox and capers

Whip up some keto-friendly French toast

Melt butter or coconut oil and chop up some garlic and throw it back in the oven for keto garlic bread

Use it as sandwich bread and make a delicious grilled cheese 

Spread some tomato sauce and cheese and use it as a pizza crust

Use it in place of tortillas for some chilaquiles
Print
The Best Fluffy Keto Bread Recipe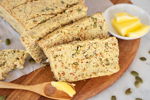 Looking for the best keto bread recipe? Forget the eggy, crumbly stuff you're used to, this gluten-free, paleo-friendly bread is delicious and versatile.
Author:
Prep Time:

10 minutes

Total Time:

50 minutes

Yield:

10

slices

1

x
Instructions
Preheat the oven to 350° and line the bottom of a 8×4 loaf pan with parchment paper.  Grease the edges with non-stick spray or butter.

Add dry ingredients to a medium sized bowl.  Whisk to combine.

Add eggs, milk, and apple cider vinegar to a large bowl or stand mixer.  Whip on high for 1-2 minutes until light and frothy.

Slowly add in dry ingredients and then melted butter.  Stir well to combine.

Let the mixture sit for 1-2 minutes then pour into the prepared pan.  Bake for 40-45 minutes until the top and edges are golden brown and a toothpick comes out clean when poked through the center or loaf.

Remove from the oven and let cool before slicing
Nutrition
Serving Size:

1 slice

Calories:

246

Fat:

23g

Carbohydrates:

15g

Fiber:

10g

Protein:

12g