Breakfast can be a challenging meal to make time for when you're busy or on the go.
When your alarm clock goes off, ten more minutes of sleep might seem like a better deal than scrambling to the kitchen to make yourself a healthy meal.
And when you're following a keto diet, it can be even more challenging to find food on the run. That's where healthy breakfast bars come in handy.
In this guide, we'll discuss what you should look out for when it comes to keto breakfast bars and which are the top bars on the market.
What Makes A Good Keto Breakfast Bar?
First, you want to make sure that the bar is going to provide satiety or a lasting sense of fullness.
This means that your bar should be high in healthy fats and protein and low in carbohydrates. Protein is the most satiating macronutrient, so if you want to stay full for hours, it's an absolute must[*].
Here's what makes the difference between good and bad keto breakfast bars.
Sugar, Hidden Sugars, and Artificial Sweeteners
The sugar content is also an essential consideration (especially on keto). Unfortunately, in the meal replacement bar world, most options are packed with carbs, predominantly sugar, that will only leave you craving for more.
Ingredients to avoid when it comes to sneaky sugar sources in bars include:
Brown rice syrup
Corn syrup
Cane sugar
Honey
Maple syrup
Of course, any keto-friendly breakfast bar sould have to be low in net carbs by definition, which in turn means it's low in sugar. But a red flag to watch out for in low-carb bars is artificial sweeteners.
Artificial sweeteners are chemicals that are added to foods to make them sweet without adding sugar. While they may get the job done without adding sugar or calories, artificial sweeteners have been linked in studies to problems including increased sugar cravings, weight gain, gut bacteria imbalances, and potential neurotoxicity[*][*][*][*].
When you see a bar that says keto-friendly or low-carb, the first thing you should do is flip over the package to take a look at the ingredient list.
The most common artificial sweeteners to keep an eye out for are:
Aspartame
Sucralose
Saccharine
Acesulfame K
Keto-friendly Sugar-free Sweeteners
Fortunately, there are a handful of keto-friendly sweeteners that get a green light for their health benefits. These include:
Stevia and monk fruit are both natural sugar-free sweeteners that have been recognized in scientific studies for their antioxidant properties, giving them an extra edge against other sweetener options[*][*].
Erythritol is a sugar alcohol. While some sugar alcohols cause digestive disturbances for some individuals, erythritol is well-known as the most easily digestible option. Allulose is a sugar substitute that's relatively new on the scene, but research shows it has the potential to support weight loss[*].
You'll also want to consider the calorie content on your bar. Some people don't like eating a lot in the morning because their appetite hasn't revved up to full capacity yet — if that's you, go for a lower calorie bar. With that being said, if you tend to get hangry, then you'll want to make sure your bar has enough calories to keep you satisfied for a while.
Other Ingredients to Avoid
Other things to keep in mind when looking for a breakfast bar include:
Filler ingredients — These could be anything from unhealthy preservatives to actual fillers that provide little to no nutritional value.
Artificial anything — If you see the word "artificial" on your ingredient label, that's often your first sign that you've got a low-quality product. The most common artificial ingredients are flavors and colors, so keep an eye out.
Sneaky sources of carbs — Again ,bars are one of the sneakiest sources of carbohydrates you'll find. In essence, many "health" bars are just glorified candy bars with a health halo because they also include some protein. This is why it's always vital that you check the nutrition panel.
Protein sources (potential allergens) — If you have any type of food allergy, checking the protein source of your bar is crucial. The most common sources of protein in bars include whey (from dairy), soy, pea, egg whites, collagen, and rice. For most people, pea, rice, and collagen are easily digested. However, soy, eggs, and whey protein may be an issue for some.
The Best Keto Breakfast Bars
1. Perfect Keto Bars
Perfect Keto Bars come in six different flavors: Banana Bread, Peanut Butter Chocolate Chip, Cinnamon Roll, Chocolate Chip Cookie Dough, Salted Caramel, and Almond Butter Brownie.
They contain zero added sugars and artificial ingredients, no fillers or additives, and range from 220 to 240 calories.
These bars are also rich in fiber and contain between 10 and 13 grams of protein to keep you feeling satisfied.
Furthermore, they're also gluten-free, dairy-free, egg-free, soy-free, paleo-friendly, and grain-free.
Net carbs: 2-3 g net carbs
Calories: 220 kcal
Sweeteners: Stevia
Protein source: Grass-fed bovine collagen
Here's what real customers think about Perfect Keto bars:
"Yet another amazing product from Perfect Keto! These bars were very tasty, with a great mouth feel. Enough to satisfy a sweet tooth and substantial enough to curb hunger. I'm continually impressed by the quality of products put out by PK, made with ingredients I trust and understand. They are definitely worth the money."
"First of all it's tough finding ketogenic desserts / meal replacements that are not full of garbage ingredients. Perfect Keto always seems to source the cleanest ingredients without scary stuff that I can't pronounce ???? I'm a big fan of their other products so I thought I would give this a try. Sooooo good! It's taste like chocolate with a hint of almond butter I'd say and most definitely filling. Will most likely be a goto lunch replacement or heavy snack in my keto arsenal!"
"Incredible. We are absolutely hooked on Keto Bars. My favorites are Lemon Poppy Seed and Almond Butter Brownie. My husband's favorite is Salted Caramel. Spectacular keto bars!We order them by the boxes. We do not need to lose weight, we just love the taste."
You can also check out Perfect Keto Bars on Amazon to read thousands more reviews from real customers or place an order with free shipping or Prime delivery.
2. Mallow Munch Bars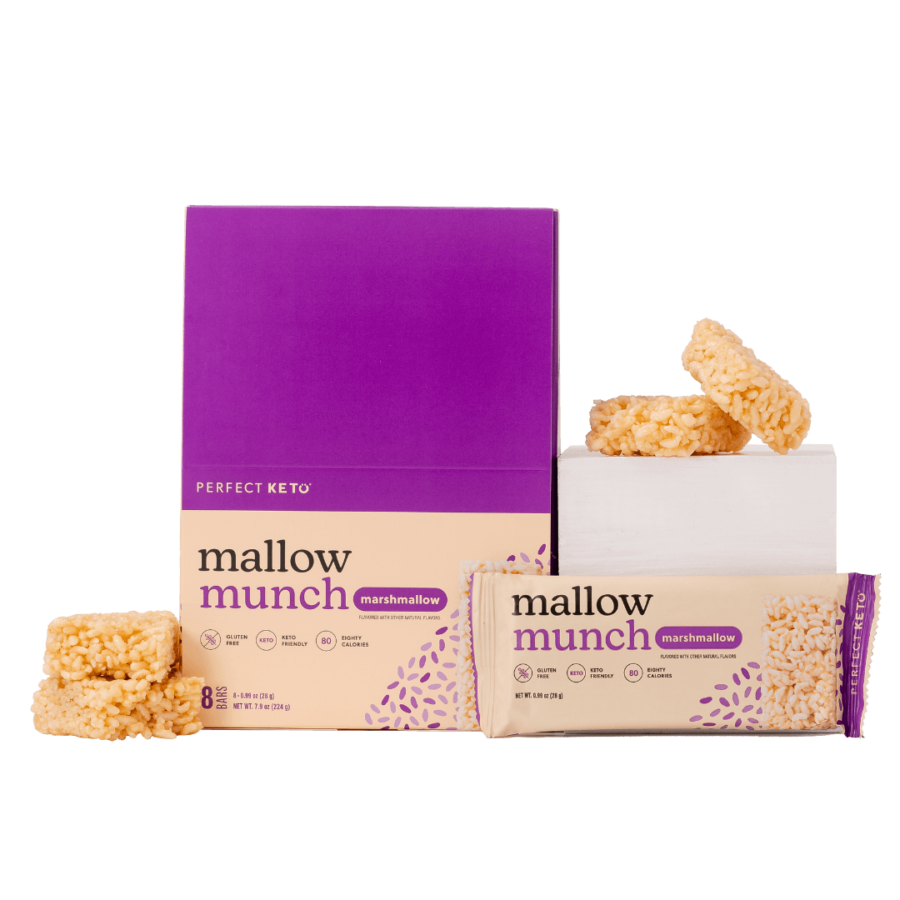 Perfect Keto Mallow Munch bars are a lot like rice crispie treats, except they're appropriate for low-carb and keto breakfasts. 
Instead of using rice and sugar (which unfortunately aren't keto-friendly), we made these with dairy protein crisps and keto sweeteners, resulting in 9 grams of protein, 90 calories, and only 2 grams of net carbs per serving.
They're available in Marshmallow, Chocolate, and Peanut Butter flavors.
You can eat Mallow Munch bars straight from the package, drizzle them with nut butter, or even incorporate them into your own crunchy keto breakfast recipe ideas if you're feeling creative!
3. Perfect Keto Nola Bars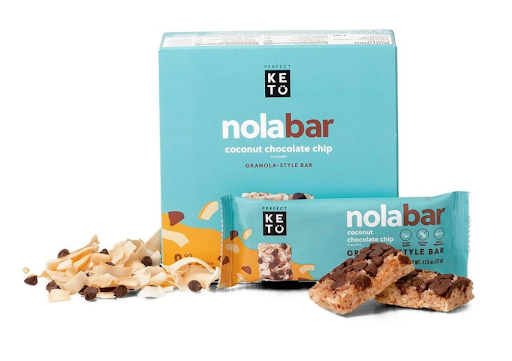 Perfect Keto Nola Bars are a keto-friendly answer to chewy granola bars. These bars are a bit lighter than the original Perfect Keto Bars, with only 140-150 calories per bar. For the light breakfast eater, this makes Nola Bars a popular choice.
Like the original Perfect Keto Bars, Nola Bars are free of added sugars, artificial ingredients, and fillers. They're also gluten-free, dairy-free, egg-free, soy-free, and grain-free.
Perfect Keto Nola Bars come in two flavors, coconut chocolate chip and peanut butter.
Net carbs: 2- 3 g net carbs
Calories: 140-150 kcal
Sweeteners: Stevia, monk fruit, and allulose
Protein source: Nuts (almonds, peanuts)
Here's what real customers think about Perfect Keto Nola Bars:
"These taste amazing and have the consistency of a traditional chewy granola bar."
"I was shocked at how delicious the Peanut Butter bars are. It's the first Keto bar I've ever tried. It's soft and chewy. It tastes like a PayDay candy bar, but not as hard as the candy bar. Perfect size for a late afternoon snack or to have something sweet. Because there isn't chocolate in these, this will be good for taking with me in my purse for an on-the-go snack and not have to worry about chocolate melting all over when it's hot out. Will absolutely buy these again!"
"Although sugar free, these non granola granola like bars are wonderful! The taste is sweet, but not too sweet and the texture is soft and chewy, just like it should be. I highly recommend the peanut butter flavor and the chocolate chip variety as well."
4. Keto Bars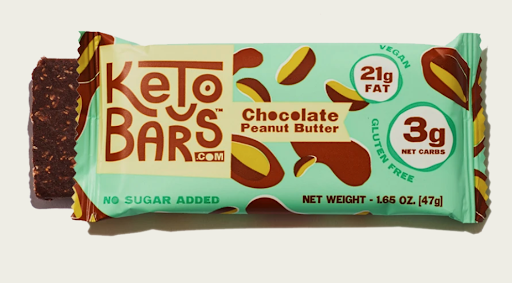 Keto Bars are not only keto-friendly, but they're also 100% vegan. Made with simple ingredients, these bars are free of added sugars and sweetened with erythritol and stevia. They also include zero fillers or artificial ingredients.
If you're looking for something a bit more substantial than a light snack, you can try on-the-go keto snacks options like Keto bars, Keto Bars contain 220 to 250 calories and are packed with 18 to 21 grams of nutritious healthy fats, depending on the flavor.
These bars are gluten-free, dairy-free, egg-free, soy-free, and grain-free.
They come in four flavors, including Chocolate Peanut Butter, Chocolate-Covered Strawberry, Mint Chocolate, and Dark Chocolate Coconut Almond.
Net carbs: 3 to 5 g net carbs
Calories: 220 to 250 kcal
Sweeteners: Erythritol and stevia
Protein source: Nuts (peanut and almonds)
Here's what real customers think about Keto Bars:
"Very tasty! Tastes like you are eating fudge brownie mix out of the bowl. Great snack and hard to believe they are keto! I have only tried the chocolate peanut butter, and do recommend! Husband approved as well!"
"KetoBars stay with me wherever I go. They fortified me during a challenging day trip to New York City and during my flight yesterday which was delayed. I count on them to keep my energy up and weight down."
"I was a little skeptical about trying yet another keto-friendly bar, but this one is really good! It's like a no-bake cookie consistency. I ordered chocolate peanut butter and keep one in my purse now. It's breakfast on the run or a great snack. Clean ingredients and help meet my daily macros! I'll be ordering again!"
5. Bhu Bars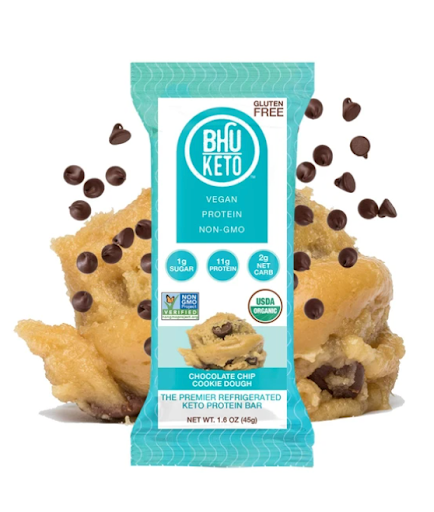 Bhu is a company with a mission to make people's lives better by helping them quit their sugar addiction. They've created a line of snacks including cookies, cookie dough, granola, bars, and more — all designed to kick sugar cravings and keep you feeling satisfied.
Bhu Bars contain 11 to 13 grams of protein, depending on the flavor, and are sweetened only with monk fruit. They're non-GMO, vegan, gluten-free, and contain zero artificial ingredients.
Bhu bars come in eight flavors including:
Chocolate Chip Cookie Dough
Peanut Butter Chocolate Chip Cookie Dough
Double Dark Chocolate Cookie Dough
White Chocolate Macadamia Cookie Dough
Chocolate Coconut Cookie Dough
Snickerdoodle Cookie Dough
Mint Double Dark Chocolate Cookie Dough
Caramel Peanut Chocolate Chip Cookie Dough
Net carbs: 0 to 3g net carbs
Calories: 240 to 260 kcal
Sweeteners: Monk fruit
Protein source: Pea protein
Here's what real customers think about Bhu Bars:
"These bars are great and taste what they're supposed to taste like. The texture is like every other protein bar but for a tiny bar, these made me full while tasting great."
"I love these. Being keto they are a great treat but the price is way high. That's their downfall"
"Taste is very dry and chalky. Would not buy it again"
6. Munk Pack Nut and Seed Bars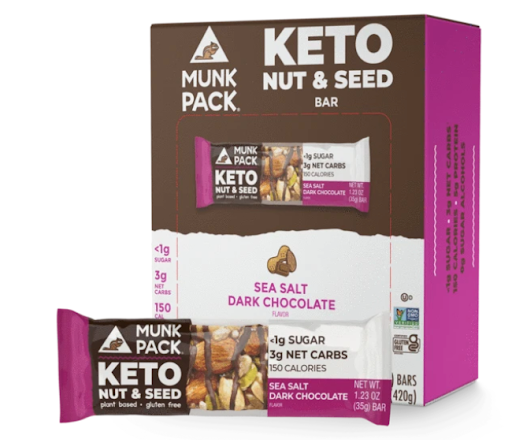 Munk Pack bars are similar to KIND Bars, with the one (big) exception that the entire line-up is keto-friendly. All the bars are also plant-based, gluten-free, and sweetened with allulose.
With only 140 to 150 calories apiece, these bars make a great breakfast if you're looking for something on the lighter side.
The bars come in seven different varieties:
Peanut Butter Dark Chocolate
Caramel Sea Salt
Coconut Almond Dark Chocolate
Macadamia White Chocolate
Pumpkin Seed Cinnamon Almond
Sea Salt Dark Chocolate
Pecan Almond
Net carbs: 2 to 3 net carbs
Calories: 140 to 150 kcal
Sweeteners: Allulose and monk fruit
Protein source: Nuts and seeds (almonds, coconut, peanuts, pumpkin seeds)
Here's what real customers think about Munk Pack Bars:
"Absolutely fantastic bar. The flavor is excellent. It has just enough sweetness with no added sugars. The bars are full of healthy flavorful ingredients. If you're looking for a meal bar, these aren't for you. If you're looking for a snack bar, buy these bars!"
"I wasn't looking for a "keto" bar, just one with lower sugar, but liked that this had mostly recognizable natural ingredients except for the "allulose" (this is described as being naturally found in maple syrup, raisins etc. but their source is non-gmo corn, so assuming it's not akin to "corn syrup"!). So gave it a try and found that it was tasty and though there's a very slight after-taste, it is not a deal-breaker. It's a good choice to throw in my purse when I'm out and about all day and need a little nutrient (not sugary) boost, so I'll add it to my list along with the low sugar Kind bars and Tosi bars I usually get."
"These are truly delicious, satisfying bars for Keto or low carb, but especially for those with celiac and are gluten free! They are very expensive – I keep them in the fridge for the really serious candy bar craving. I wish that I could find them at a more reasonable price."
7. Dang Bars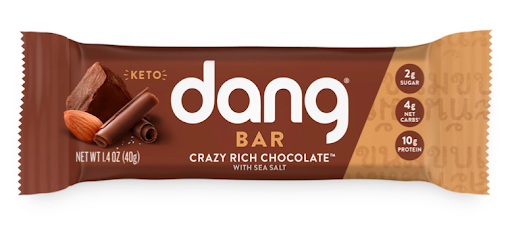 Dang Bars are the product of Dang Foods, a company that produces plant-based snacks with an Asian-American flair. Founded by two Thai-American brothers, Dang Foods aims to make it easier to avoid sugar without compromising on taste.
These bars offer a gluten-free, vegan option with no added sugars and a wide range of flavors. Each bar is between four and five net carbs and has nine grams of protein.
You can choose from flavors like Crazy Rich Chocolate, Lemon Matcha, Almond Cookie, Peanut Butter, Toasted Coconut, and Mint Chocolate.
Net carbs: 4 to 5 grams of net carbs
Calories: 200 to 210 kcal
Sweeteners: Stevia extract
Protein source: Pea protein
Here's what real customers think about Dang Bars:
"Unlike a lot of Keto-friendly bars, this really does have the proper proportions of fat to protein to carb. They are higher in net carbs than some but their total fat is fantastic. I got the variety box & I'm glad I did. I would never have tried Lemon Matcha otherwise, and it is very tasty. They really are dang good. They're full of seeds and coconut so your teeth actually get to do some work."
"I've done keto on and off for a while. Admittedly, it's difficult to find snacks on keto, especially if you're not into "fat bombs". That said, I thought I'd try these bars. For as much as I want to like them, I'm really struggling with taste and texture. They're grainy, dry, crumbly and have a weird, almost sandy finish."
"They are kinda crumbly and packed full of nuts and stuff. It's got that crunch in it and the taste is good to me. Now they might taste better or worse to others because c'mon our taste buds are all different. The lemon one I swear tastes like fruit loops. All in all they are good but a little pricey."
Recap: Best Keto Breakfast Bars
For an on-the-go keto breakfast, nothing is as easy and satisfying as a high-quality, low-carb breakfast bar.
While there are plenty of options out there, not all breakfast bars deserve to be part of a healthy keto diet.
The most important things to keep in mind when you're shopping for breakfast bars are to:
Make sure they are sugar-free
Keep grams of net carbs below 5 g per serving
Look for high protein bars to ensure satiety
Make sure they don't contain any fillers or artificial ingredients
Our top recommendations that meet these criteria are Perfect Keto Bars, Nola Bars, and Keto Bars. You can also find the same products in the Perfect Keto Amazon store with plenty of reviews to browse, not to mention Prime shipping.