Many experts recommend meal replacement shakes when you're trying to lost weight.
They're quick, nutrient-dense, and often quite satisfying.
However, with all the meal replacement options out there, it can be tricky to figure out which one is right for you, and more specifically, which one will help you reach your weight loss goals.
While SlimFast used to be the go-to for those on a low-calorie diet, we've come a long way in terms of meal replacements, and the options are now seemingly endless.
The Best Meal Replacement Shakes
1. Perfect Keto Whey Protein
Our Perfect Keto Whey Protein is an excellent option if you're following the keto diet. However, even if you still incorporate carbs into your dietary plan, our whey powder's high-quality nature makes it a great option as a protein base to any meal replacement shake.
Whey protein is easily absorbed and highly bioavailable. This means that when you replace your meal with whey protein, your tissues are going to get a potent source of nutrition that your body knows exactly what to do with[*]. Furthermore, Perfect Keto's whey protein comes from grass-fed cows, making it the highest quality source of whey you can get.
We've also included MCTs (medium-chain triglycerides) into our formula to support weight loss and energy. MCTs are delivered directly to your liver for an instant hit of energy, and research shows that consuming MCTs can curb appetite, helping you feel full and satisfied longer. The result? Fewer cravings and less snacking[*].
Nutrition Per Serving:
Serving Size: 1 Scoop/ 24 grams
Calories: 100 kcal
Fat: 4 grams
Total Carbohydrates: 2 grams
Net Carbs: 2 grams
Protein: 15 grams
2. Garden Of Life Raw Organic Meal Shake
If you're looking for an all-in-one organic meal replacement, the Garden Of Life Raw Meal Shake comes packed with 44 organic superfoods and 20 grams of protein per serving. This is a great option if you're okay with a little more carbs, 8 grams per serving.
With all of its added superfoods you could enjoy the meal replacement powder on its own, but you'll likely want to add a couple more ingredients to make sure it's satisfying as instead of whey protein, they use vegan protein sources — although it is soy free. In addition, Garden of life is gluten-free and non-GMO.
Nutrition Per Serving:
Serving Size: 1 scoop/ 32 grams
Calories: 120 kcal
Fat: 2 grams
Total Carbohydrates: 10 grams
Net Carbs: 8 grams
Protein: 20 grams
3.  Ka'Chava
Ka'Chava is a vegan meal replacement shake with a blend of adaptogenic herbs, plant proteins, supergreens, and other veggies, probiotics and prebiotics, digestive enzymes, and antioxidants. You could say that Ka'Chava packs everything you could need to support weight loss into one meal.
Another benefit of Ka'Chava is that it contains 240 calories, and 25 grams of protein, making it a more robust meal replacement powder than most other options. The downside, however, is its carbohydrate and sugar content, with 16 grams of net carbs per serving and 7 grams of sugar.
With that being said, if you're not watching out for carbs or if you follow a cyclical keto diet, this could be a great option.
Nutrition Per Serving:
Serving Size: 2 scoops/ 62 grams
Calories: 240 kcal
Fat: 7 grams
Total Carbohydrates: 25 grams
Net Carbs: 16 grams
Protein: 25 grams
Meal Replacement Shake Recipes
Adding powders to water or milk can be the easiest way to get your meal replacements in. However, since most meal replacement powders are pretty low calorie and don't provide a lot of fiber, it can make a significant difference to add in some healthy ingredients.
One of the keys to weight loss is following a plan that you can enjoy and stick to. Making your meal replacement shake something you look forward to could be the difference between staying on track, and ordering takeout when you're low on time.
Here are five tasty shake recipes that will turn your mundane powder into a delicious and satisfying meal.
1. Keto Chocolate Protein Shake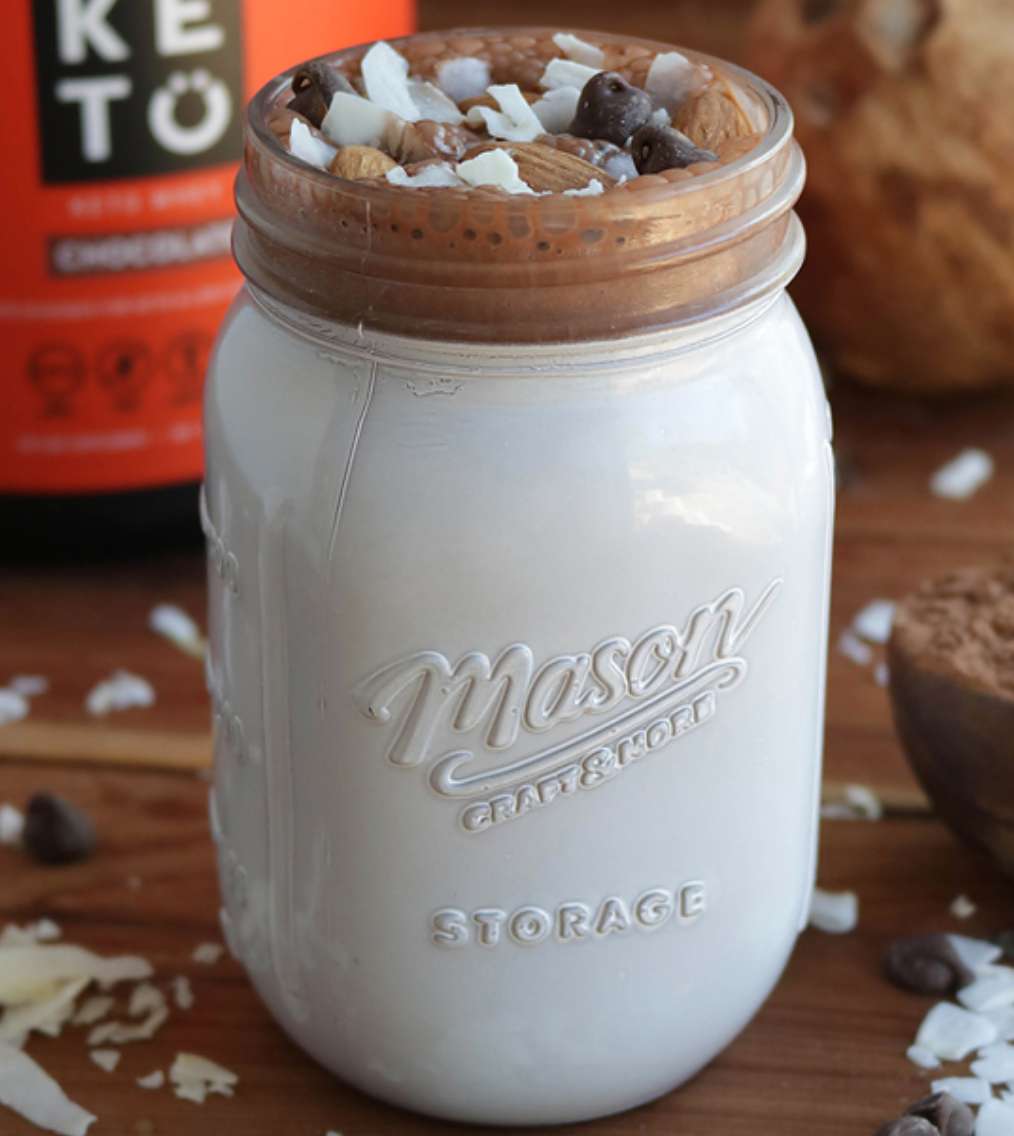 Turn your meal replacement into a full-on keto dessert with this delicious chocolate protein shake recipe. With the addition of cocoa powder, nut butter, stevia, and almond or coconut milk, you'll feel like you're sipping on a milkshake while you nourish your body with 17 grams of protein and 20 grams of healthy fats per serving.
2. Brain Boosting Triple Chocolate Breakfast Smoothie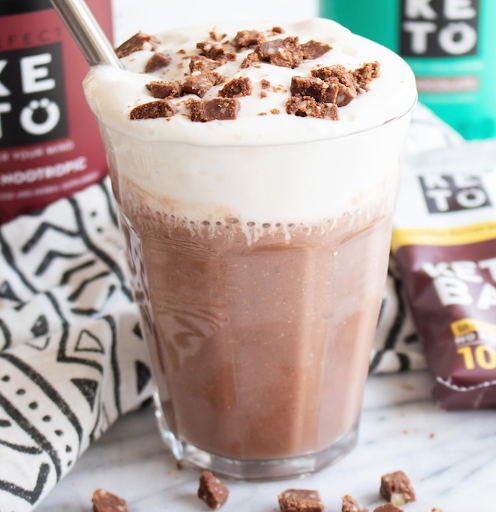 Sick of morning brain fog? This brain-boosting triple chocolate breakfast smoothie adds nootropics to give you a little extra boost in the morning. In addition, chia seeds and cocoa powder add even more flavor and texture. Although this recipe calls for collagen powder, you can replace it with any type of protein that you like.
3. MCT Oil Powder Cinnamon Smoothie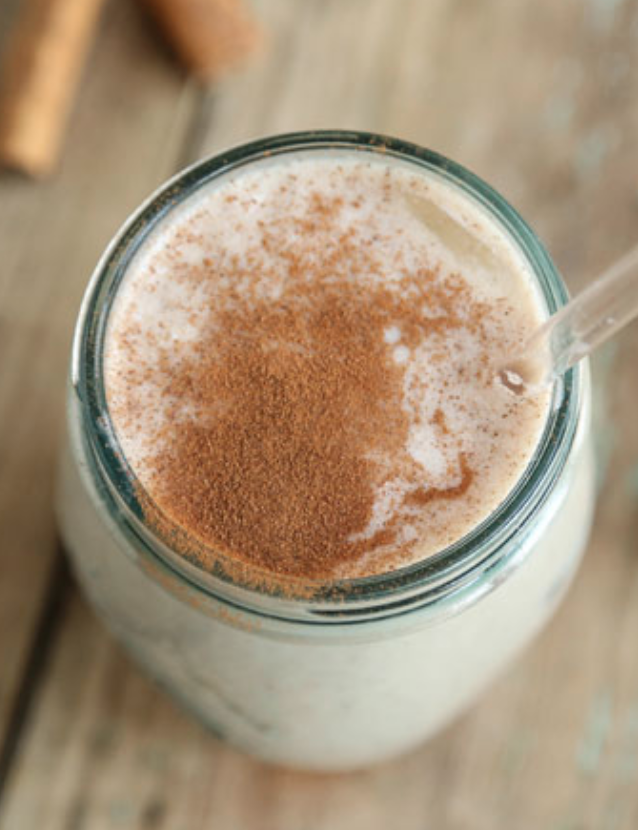 Adding MCT Oil Powder to your shake not only provides a creamy texture but can boost your weight loss efforts. As mentioned previously, MCTs can enhance your feelings of satiety, helping to crush cravings and keeping you full for hours[*]. When you're in a rush and don't have time to add a bunch of fancy ingredients, a little extra MCTs can go a long way for providing a satisfying meal.
4. Mean Green Matcha Protein Shake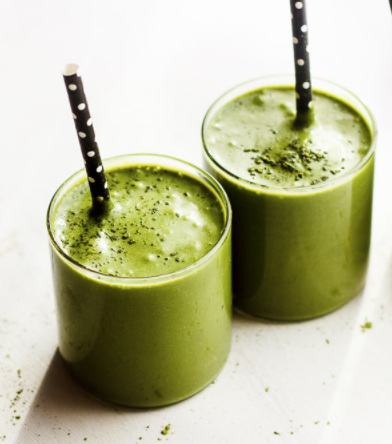 If you really want to pack in the nutrients, this mean green matcha protein shake has you covered. In addition to high-quality whey protein, this recipe adds avocado, spinach, Perfect Keto Matcha MCT Oil Powder, coconut oil, and coconut milk. Avocado not only adds healthy fats and lots of fiber, but it also creates a rich and creamy consistency.
5. Berry Chocolate Protein Smoothie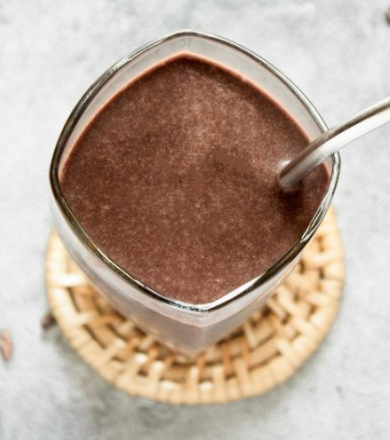 This berry chocolate protein smoothie recipe adds fruit and chia seeds for extra fiber and antioxidants. You can go with blackberries, as the recipe calls for, or switch it up with blueberries, strawberries, or raspberries for some variety.
What Makes a Shake a Meal Replacement?
You can use protein powders for a variety of purposes. Maybe you need a little afternoon or mid-morning snack, or perhaps you want to fuel up before or after a workout.
To make a shake a complete meal, however, there are a few things that you should consider:
Calories
A common misconception is that you need to drastically cut your calories if you want to lose weight. In fact, making sure you are getting enough calories throughout the day will help to keep you on track and signal to your body that you're not in starvation mode. While many shakes contain somewhere between 100 to 200 calories per serving, you should aim for close to 300 or 500 calories per serving to make it a meal.
You can do this by doubling up on your serving size or add in nutrient-dense ingredients.
Protein
In addition to calories, to make your meal replacement a full meal, it should contain a significant amount of protein. Protein is the most satiating macronutrient, and it helps you burn more calories each day — which is crucial for weight loss. What's more, your body needs protein to maintain lean muscle mass as you burn away your fat stores[*].
Aim for at least 20 grams of protein when throwing together a meal replacement.
Fat
Incorporating healthy fats into your meal replacement helps to round out the nutrients. While many meal replacement shakes focus on protein, fat often gets the back-burner. Add in ingredients like avocado, coconut oil, coconut cream, or peanut butter to enhance your meal's fat content and provide a more satisfying mouthfeel.
Fiber
Another nutrient that's typically low in protein powders or meal replacements is fiber. Luckily, you can add in fiber easily by throwing some fruit or veggies into your blender along with your powder. Chia seeds, flax seeds, and psyllium husk are also excellent sources of fiber to consider.
Fiber  is crucial for maintaining the balance of your gut bacteria, which in turn plays a vital role in weight management[*][*].
Health Benefits Of A Meal Replacement Shake
If you're wondering why you might want to start using meal replacement shakes, there's no shortage of reasons. With that being said, in terms of weight loss, some of the top benefits include:
Provides On-The-Go Nutrition
Whether you're trying to lose weight or not, getting hangry can be a one-way-ticket to over-eating. If you don't have options to grab on-the-go, you may find yourself throwing your hands in the air and just grabbing the first thing you see.
When you have a meal replacement option handy, on the other hand, you always have a nutritious option just a reach away. Most shake recipes take no more than 5 minutes to whip up, and in a real pinch, you can just add your powder to some water and shake.
Safeguards Against Energy Crashes
In the same vein as above, if you don't consistently have convenient options around, you may find that going without food leaves you in a serious energy deficit. While intermittent fasting can be an excellent way to boost your weight loss efforts, if you're not mentally prepared for your fast, you may find that the energy-dip that comes with skipping meals throws you off course in both your diet and your day.
Since meal replacements come packed with protein, you can be sure that you won't have to face energy crashes that typically send you searching for caffeine or sugar.
Nutrient-Dense
Meal replacement shakes are an excellent way to get a bunch of nutrients in one place. You can throw all kinds of good stuff into your shakes, like nuts, seeds, fruits, and vegetables. Unlike a typical meal option that may provide some nutrients, you can get a day's worth of greens in one cup with a meal-replacement shake.
Calorie Control While Keeping You Satisfied
If you're looking to drop pounds, keeping an eye on your calorie intake is crucial. One of the biggest benefits of meal replacement shakes for the weight-loss crowd is that you can estimate your calorie intake pretty accurately.
What's more, since the ingredients in meal replacement shakes tend to be so nutrient-dense, you'll get all the nutrition you need with only nominal calories.
Who Should Use a Meal Replacement Shake?
While meal replacement shakes could be beneficial for just about anyone, certain people really benefit from opting for a meal replacement. Consider adding meal replacements to your daily routine if you:
Don't have time to cook your meals
Want something nutrient-dense and quick before or after your workout
You don't love cooking for yourself but want to make sure you're getting adequate nutrients
You want to cut back on eating fast food or ordering in, either for financial or health reasons
You're looking for a way to sneak more fruits and vegetables into your day
You're looking for a way to sneak more protein into your day
How to Choose The Best Meal Replacement For Your Goals
There are hundreds of meal replacement options out there, so how do you know which one to choose? In addition to high-quality ingredients, depending on your goals, there are specific things you should look for.
Weight Loss
If your primary goal is weight loss the most important thing to focus on is your shake's macronutrient content, plus the calorie count.
If you find a powder with 300 or 400 calories per serving, you may want to pass it over for a lower calorie option. While a meal containing 300 or 400 calories is still low-calorie, this leaves little room for tasty, nutrient-rich additions like nut butter or avocado.
In addition, keep your eye on the macronutrient content of your shake. If you're following a keto diet, net carbs should be minimal (ideally only 2 or 3 grams). And regardless of your diet, if you notice added sugar, you're better off just passing altogether. Although most meal replacements focus on protein, many of them will add in sugar to enhance the flavor — that's a no-go for weight loss.
Nutrient-Density
Some protein powders are very straight-forward. You turn over the container, and there's only one or two ingredients, whey protein, egg protein, and so on.
However, if you're looking to really get some nutrient-density in, look for a long list of high-quality ingredients. Many meal replacements add in greens, antioxidants, and micronutrients to enhance the nutritional profile. While a long ingredient list is typically something you want to avoid with packaged foods, in the case of meal replacements, it's a good thing — as long as they're health-quality ingredients and not fillers or artificial sweeteners.
On-The-Go
If you're always on-the-go and want to make sure that you aren't missing out on a meal, choose a meal replacement shake that has enough protein and calories so that it's as simple as adding water and heading out the door. Hunger can come back to bite you if you don't stay on top of it, and it's very easy to end up overeating if you're not careful.
Some meal replacements focus on staying low-calorie. If you're a run-out-the-door type, look for a moderate amount of calories (300-400), so you don't have to mess with adding other ingredients for your meal to feel complete.
How to Use Meal Replacement Drinks for Weight Loss
1. Watch Calories
While most meal replacement powders contain around 100 to 200 calories per serving, you want to make sure that what you add to your shake doesn't dial the notch up too high.
Depending on your daily calorie burn, you may want to go easy on ingredients like nut butter and coconut oil. Instead, add in ingredients that contain fewer calories like vegetables or fruits like blueberries and strawberries. It's okay to add fat to your meal (especially if you're following a keto diet); you just want to make sure you keep calories in mind.
2. Use Your Meal Replacement Wisely
It's very common for people to use meal replacements as a snack or pre or post-workout. While they can certainly work for those circumstances, if your goal is weight loss, your meal replacement should actually replace a meal — not act as a dessert or post-meal snack.
Again, calories do play a role in weight loss, so if you want to get the most from your meal replacement shake, use it as intended and replace your meals.
3. Enjoy Mindfully
Mindful eating allows you to slow down, taste your food, and gives your brain a chance to talk to your stomach and signal when you're full and satisfied. Unfortunately, due to the liquid nature of meal replacement shakes, it's all too easy to chug it down mindlessly while driving, on a call, or working.
If you want to give your body the signal its energy needs are being satisfied, drink your meal replacement slowly and mindfully. Enjoy each sip as if it were a bite, and make an effort to notice the flavor and mouthfeel and any other sensory observations you may have.
4. Add-In Nutrient-Dense and Flavorful Ingredients
When it comes to weight loss, satisfaction is the name of the game. You can eat the healthiest meal in the world, but if it wasn't satisfying (physically and emotionally), you'd keep craving for more.
With this in mind, it's a great idea to add ingredients that you find to be flavorful and satisfying. You can also take advantage of your blender by adding in nutrient-rich ingredients like spinach, berries, chia seeds, and so on that add nutrition and fiber.
Takeaway
Using a meal replacement is an excellent way to support your weight loss goals. When looking for a meal replacement shake, make sure that it's high protein (at least 20 grams), so you can get the benefits of feeling full, supporting your metabolism, and promoting lean muscle mass.
You'll also want to keep an eye on the fiber content; at least 10 to 15 grams of fiber is ideal. Although many shakes don't come with that much fiber, it's easy to add when you incorporate ingredients like vegetables and low-carb fruit.
To make sure you have a truly balanced meal, you'll also want to incorporate some healthy fats like nut butter or avocado — just keep an eye on your total calorie intake.
In general, the best meal replacement for weight loss will keep your blood sugar stable and include plenty of whole food ingredients to enhance nutrient density and safeguard you against cravings.