The number one thing most people miss on the keto diet? Pizza.
You waved goodbye to your favorite Italian hoagie. You learned to pass on the garlic bread. But pizza? That's a harder relationship to end.
Luckily, now you don't have to miss your favorite comfort food. With this cauliflower pizza crust, you can indulge without feeling guilty. There are only 5 grams of total carbohydrates in this recipe, making it perfectly keto-friendly. And the best part? It tastes just like the real thing.
What Makes This Cauliflower Pizza Crust Different
By now, there are hundreds of cauliflower pizza crust recipes available online. Some brands, including Trader Joe's, even came out with a frozen pizza with a cauliflower crust in recent years. What sets this recipe apart?
It's Not Made with Cornstarch or Tapioca Starch
It might pain you to read this, but most cauliflower crust recipes online are not low carb. Here's why: Riced cauliflower — as used in this recipe and many others — is full of moisture. Therefore, it can be tricky to cook with (we dive into a few tips below). Many recipe developers and brands combat the moisture by adding in starch.
Corn, potato or tapioca starch are often used, which are made up of 100% carbohydrates [*][*][*]. The starch ensures the pizza dough doesn't stick to the pizza pan (causing your entire dinner to fall apart), but does nothing for the glycemic load.
It's Made with Coconut Flour
Many cauliflower pizza crust recipes use regular white flour as an ingredient. Read that sentence again. They simply mix cooked cauliflower florets into the dough, marketing it as a healthy recipe. In reality, it's still high in carbs and not gluten-free.
This recipe uses coconut flour, which contains 4 grams of healthy, saturated fats per two tablespoons. Coconut flour is an excellent source of MCTs (medium chain triglycerides), your body's preferred energy source for converting fat to energy (ketones).
It's Dairy-Free
For all the cauliflower crust pizza recipes available online, it's incredibly difficult to find one that's dairy-free. Most recipes mix shredded mozzarella or parmesan cheese into the crust, making it unsuitable for anyone who can't tolerate dairy.
This recipe doesn't use mozzarella cheese or any other form of dairy. Instead, Italian seasoning gives this crust its flavor. You can find Italian seasoning at the grocery store, or make your own blend by combining basil, garlic powder, oregano, thyme and marjoram.
How to Make a Cauliflower Pizza Crust
As mentioned earlier, making a cauliflower crust is a tricky process. Carve out 30 minutes of prep time in order to assemble your crust. Here are a few tips to help you.
Buy Pre-Riced Cauliflower
Most large grocery chains now carry pre-riced cauliflower, which is incredibly convenient. Avoid riced cauliflower that comes in the frozen aisle, as it might make your recipe too soggy.
If you can't find cauliflower florets that are already riced, the best method is to use a food processor. Purchase a one head of cauliflower at the store, then chop into small- to medium-sized florets. Transfer cauliflower to the food processor, and pulse until it comes out in small bits.
Extract as Much Moisture Out of the Cauliflower as Possible
Cauliflower contains a lot of water, so it's best to extract as much as possible before molding it into pizza dough. To do this, microwave your cauliflower, then use a dish towel, cheesecloth or other cloth to wrap up the cooked cauliflower and squeeze as hard as possible. It's best to do this over a large bowl, as water will drip out the bottom of the cloth.
Use Parchment Paper
Since it's incredibly difficult to extract all the water for the cauliflower, your dough may still be a little sticky. Be sure to place a sheet of parchment paper on the baking sheet below the pizza. If you place the dough directly on a pizza stone or baking sheet, it might remain glued to the surface after baking.
The Benefits of Cooking with Cauliflower
Substituting cauliflower for flour in your crust makes your pizza low carb, but it also carries a host of nutrition benefits. Here are three:
1. Abundant in Vitamins and Minerals
Cauliflower is a strong source for vitamins C and K. The human body isn't capable of producing vitamin C itself, so it's important we add foods into our diet that are a strong source of this immune-boosting vitamin. In fact, only a single cup serving of cauliflower contains over 73% of the daily recommended value of vitamin C.
Vitamin K is another important vitamin we get when we consume cauliflower. It is a fat-soluble vitamin, so eating it with healthy fat sources are not only recommended, but necessary to get the benefits of the vitamin. Vitamin K is also known to improve bone health and keeping the skeletal muscle structures healthy[*].
2. Anti-Inflammatory Properties
Inflammation is one of the root causes for most of the chronic diseases. Cauliflower contains a variety of antioxidants and anti-inflammatories including beta-carotene, beta-crypotoxanthin and caffeic acid which all help reduce oxidative stress in the body (the damages of free radicals)[*].
3. Helps the Balance of Hormones
Hormonal imbalances are more common than you may think. And (no surprise here) they're often caused by poor diet and poor lifestyle choices. Foods such as soy, dairy, yeast and refined oils can have a negative impact on the one hormone in particular, estrogen.
These foods are capable of increasing your levels of estrogen, which can throw off the rest of your hormone patterns. Cauliflower has been shown to provide antioxidants that help balance and reduce the levels of estrogen[*].
One Final Tip: Stick to Low Carb Toppings
Since you're preparing this pizza as a keto-friendly option, stick to meat and vegetables as toppings. Tonight isn't the time to prepare a Hawaiian pizza (and, it must be said — pineapple doesn't belong on pizza, anyway).
After your crust has baked until golden brown, add a layer of pizza sauce. Top with pepperoni, onions, olives, turkey sausage, bell peppers or other toppings you enjoy on a traditional pizza.
The next time you're craving that satiating slice of pizza, try out this keto pizza crust with cauliflower rice as a healthy alternative! You'll get the same fulfilling taste while maintaining ketosis and creating healthy eating patterns for the future.
Print
Dairy-Free Cauliflower Keto Pizza Crust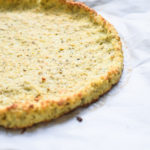 Craving pizza? This dairy-free cauliflower pizza crust is keto-friendly and is a great alternative to high-carb pizzas.
Author:
Prep Time:

20 minutes

Cook Time:

30 minutes

Total Time:

50 minutes

Yield:

2

1

x
Category:

Dinner

Cuisine:

Neapolitan
Instructions
Preheat oven to 405ºF.

Microwave the riced cauliflower for 5 minutes then transfer it to a nut milk bag or clean kitchen towel. Carefully squeeze out as much water as you can. Let it rest a few minutes then squeeze out even more water.

You should have about a cup of this cauliflower paste. Add that to a large bowl and mix in the rest of the ingredients until a soft dough forms.

Line a sheet pan with parchment paper and shape your pizza crust on it. Do not spread it thinner than ¼ inch or it will tear.

Roast for 25-30 minutes until the cauliflower crust is golden in color and lightly browned on the edges.

Add your favorite toppings and pop it in the oven for an extra 5 minutes.
Nutrition
Calories:

278

Fat:

21g

Carbohydrates:

12g

Fiber:

7g

Protein:

11g
Keywords: cauliflower keto pizza crust