Think your staple comfort foods are off limits on the keto diet?
Here's some good news for you: this mind-blowingly delicious keto fathead pizza recipe means you can enjoy the traditional pizza you loved as a kid. Except this time, you don't need to stress over the high carbs or artificial ingredients.
With a total time of 30 minutes — it takes just 10 minutes prep time and 20 minutes in the oven — this low-carb keto pizza serves a group of eight.
You could eat the whole thing yourself, but the 3 grams of net carbs per slice might catch up to you. Don't worry, the carb count is low enough to keep you in ketosis — even with an extra slice.
How Do You Make a Keto Pizza Crust?
You're probably wondering, "How do you make a keto-friendly, low-carb pizza crust?" It makes sense for the rest of the pizza. After all, pepperoni, mozzarella cheese, and all of your other favorite pizza toppings on a "regular pizza" are naturally keto-friendly. But how do you make the crust?
You may have seen low-carb pizza crusts that call for cauliflower or coconut flour, but for this fathead pizza dough you'll use:
You will also need a few pieces of parchment paper and a pizza pan. If you find that the dough is difficult to flatten, you can try to use a rolling pin. However, you might want to dust it with psyllium husk or coconut flour first to prevent it from sticking.
To ensure your pizza crust doesn't break apart, you'll bake your crust before placing any toppings on it. Roll your pizza crust onto a pizza stone or baking sheet lined with a piece of parchment paper. Bake for 10 minutes, flip, then bake for another couple minutes. If you like an extra crispy crust, bake for an additional 4 minutes. To speed up the process, you can try to poke holes in the crust.
Keep reading past the recipe for more information about this mouthwatering recipe!
Print
Fathead Pizza: The Secret Low Carb Keto Pizza Recipe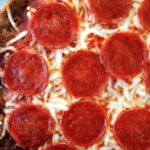 Going keto or low carb doesn't seem so hard the second you take a bite of this decadent fathead pizza, with only 3.3g of net carbs.
Author:
Prep Time:

10 minutes

Cook Time:

20 minutes

Total Time:

30 minutes

Yield:

8

1

x
Category:

Dinner

Cuisine:

Neapolitan
Instructions
Preheat oven to 400 degrees and line baking sheet with parchment paper.

In a microwave-safe bowl, melt mozzarella in 30 second increments until fully melted, stirring to avoid burning.

To bowl of melted mozzarella, add all crust ingredients and, using hands, knead together until fully combined. Roll dough into a ball and flatten into ¼ inch circle on prepared baking sheet.

Bake for 10 minutes, remove from oven, flip, and bake for another 2 minutes.

While crust is baking, in a small bowl, mix the tomato sauce with the salt, red pepper flakes, Italian seasoning and black pepper..

Remove crust from oven and top with sauce, cheese, and pepperoni.

Return pizza to oven and bake for 5-7 minutes.

Remove from oven, allow to cool for 5-10 minutes, cut, serve, and enjoy!
Nutrition
Serving Size:

1 slice

Calories:

202

Fat:

14g

Carbohydrates:

5.2g (3.3g net)

Protein:

15.1g
Keywords: keto fathead pizza
Recipe FAQs: How to Make a Winning Fathead Crust Pizza 
If it's your first time attempting this fathead pizza crust recipe, you may have a few lingering questions. Here are a few tips, tricks, and answers to your most commonly asked questions:
Is there a sugar-free pizza sauce you suggest? Well, yes there is. Rao's makes a great, low-carb pizza sauce. (Note: do not use marinara sauce). Otherwise, you can easily make your own with this Perfect Keto pizza sauce recipe that uses canned tomatoes, garlic powder, oregano, olive oil, basil, and onion powder.
What kinds of cheese are keto-friendly? If you tolerate dairy, you can top your pizza with parmesan or mozzarella cheese. Simply look for the highest quality version, choosing full-fat and preferably organic cheese.
What's the best way to reheat this recipe? You can reheat your pizza in the oven or in the microwave.
What is the nutrition info of this recipe? This recipe contains 14 grams of fat, 3.3 grams of net carbs, and 15.1 grams of protein, making it perfect for your keto meal plan.
Health Benefits of Fathead Pizza 
While you'll enjoy devouring one of your favorite foods, you'll love this recipe even more for the nutrition facts. The combination of eggs, cheese, and almonds make a protein-packed slice of pizza. Top with pepperoni, and you're looking at more than 15 grams of protein and 14 grams of total fat per slice.
With nutrients piled as high as the toppings, this is one gluten-free comfort food you can feel good about.
Benefits of Baking With Almond Flour
This fathead pizza crust is made with two incredible ingredients: almond flour, which you'll learn about here; and psyllium crust, which you'll learn about below. Using these ingredients instead of regular white flour cuts down on carbs while sneaking in quite a few health benefits.
Almond flour is a low-carb alternative to regular wheat flour. If you can't find almond flour at your local grocer, purchase almond meal instead. Then, simply grind it to a finer consistency using your food processor. Read on to discover other reasons for using almond flour.
#1: May Improve Heart Health
Almonds play a key role in keeping your heart healthy. In a study done by Aston University in Birmingham, researchers monitored participants who consumed 50 grams of almonds daily for a month. Results showed that eating almonds increased the level of antioxidants in their bloodstream. The subjects showed improved blood flow, reduced blood pressure, and increased antioxidant levels[*].
#2: May Improve Blood Sugar
Almond flour can also help regulate your blood sugar. The Journal of Nutrition published a study where participants consumed meals of either almonds, potatoes, rice, or bread. Researchers found that the blood sugar and insulin levels of participants decreased after eating the almonds, helping to regulate post-meal blood glucose levels[*].
#3: It Could Increase Weight Loss 
Almond flour is a great addition to any ketogenic diet because it can help with weight loss. A study published by the International Journal of Obesity and Related Metabolic Disorders studied the effects of almonds and complex carbs on overweight people.
The participants were divided into two groups — one group who consumed a low-calorie diet plus three ounces of almonds a day, and the other group who ate a low-calorie diet plus their choice of complex carbohydrates.
This study showed that the group who ate the almonds showed a 62% percent greater reduction in weight and a 56% greater reduction in fat mass compared to the complex carbohydrate group[*].
Benefits of Incorporating Psyllium Husk
If you've never heard of psyllium husk, don't worry — you're not alone. Psyllium husk is made from the seeds of the Plantago ovata plant. You'll commonly find it in keto recipes as a replacement for gluten in gluten-free recipes or eggs in vegan baking. This makes it an ideal ingredient for those with food allergies. It's an excellent source of dietary fiber, so throw it in your morning smoothie or chia pudding for an extra fiber boost.
Psyllium is a prebiotic — the food that probiotics need to thrive and grow in your gut. It also keeps your pipes (read: stools) running smoothly, making it a chosen ingredient for people with IBS or Crohn's disease[*].
If you can't find psyllium husk at your local health food store, you can easily find it on Amazon.
Benefits of Eating Healthy Fats
No matter what you've been told, fat is a healthy component of any diet — and yes, that includes saturated fats. With the eggs, shredded mozzarella, and cream cheese packed into this crust, you're sure to get your share of healthy fats with only one gram total carbohydrates.
While nutrition data from the 1970s told you saturated fats are bad, new studies show that fats are not the real culprit[*]. A diet high in fats is what allows you to enter ketosis, using ketones for energy rather than glucose.
In fact, a good rule of thumb is 60% of your calories (percent daily values) should come from fat, while 35% of calories should come from protein to stay in ketosis.
Get Ready for Low-Carb Pizza Night
Who would've thought you could indulge in a delicious pizza that tastes just like your favorite childhood slice without all the artificial junk mixed in?
Roll out your fathead dough on your baking sheet and bake until golden brown. After your pizza crust has cooked halfway through, grab your favorite pizza toppings.
The original recipe is smothered in tomato sauce, pepperoni, and red pepper flakes, but feel free to choose whatever keto-friendly toppings you like. Just remember — this is a low-carb recipe. Forgo the high-carb pineapple and stick to meat and veggies.
Indulge tonight guilt-free — this is one of the best low-carb pizzas you'll ever have.