It's keto-friendly Italian dinner night, so pull out the keto wine and your favorite saucepan, because it's time to whip up this keto marinara sauce.
Store-bought sauce is likely full of added sugar and preservatives, which is a problem if you're trying to keep your blood sugar low.
Not only that — when it comes to marinara sauce, fresh always tastes better.
Whether you're looking for a low-carb tomato sauce for your keto pizza, spaghetti squash, or chicken parmesan, this tasty and easy recipe has you covered. No matter where you fit this spaghetti sauce into your meal plan, it's sure to become one of your favorite keto recipes.
A blend of tomato puree, olive oil, oregano, and garlic with a sprinkle of salt and black pepper make this low-carb marinara sauce as delicious as it is nutritious.
And with a prep time of only 3 minutes and a cook time of 5 minutes, you'll have this delicious tomato sauce ready for your next keto meal in under 10 minutes.
Want to add a little extra flavor? Add some parmesan, red pepper flakes, or fresh basil and let the flavors mingle.
The main ingredients in keto marinara are:
Optional additional ingredients:
3 Health of Benefits of Keto Spaghetti Sauce
Aside from its fantastic taste and easy-to-make convenience, this keto marinara sauce is loaded with nutrients and health benefits. Read on to learn about some of the benefits from the ingredients in this low-carb pasta sauce.
#1. Boosts Immunity
Supporting your immune system isn't just for flu season.
Strong immunity is your ticket to energy and the ability to fight infection and disease as you age. Nutrition plays a huge role in the strength of your immune system.
This marinara sauce recipe is packed with immune-boosting compounds. Antioxidants from oregano, tomatoes, and olive oil support your body's ongoing fight against cellular oxidative stress[*][*][*].
Oxidation plays a massive role in your immune system. The stronger your antioxidant force, the more likely you are to fight off everything from the common cold to more serious diseases like cancer[*].
But antioxidants aren't the only stars in this immunity show.
Oregano and olive oil have antibacterial properties that are known to fight off harmful bacteria and fungus like candida albicans[*][*].
Candida is a widespread and pervasive fungal infection, and treatment with oregano oil showed complete inhibition of candida growth in both mice and in vitro[*][*].
A group of phytochemicals known as carotenoids are abundant in tomatoes. Among many other health benefits, carotenoids have been studied for their potential to protect against breast cancer[*].
Statistics say that one in eight women will develop breast cancer in their lifetime. One way to help protect your body is to add more potent phytochemicals like carotenoids[*].
#2. Anti-Inflammatory
Inflammation is at the root of many common diseases, and tomatoes are packed with anti-inflammatory compounds.[*].
The bright red peel of tomato contains a flavonoid called naringenin. Naringenin has been studied for its anti-inflammatory activity and protective effect against a wide variety of diseases. Most studies to date have been done in animal models, but more research is certainly warranted[*].
The essential oil of oregano contains a compound called carvacrol. Carvacrol is an analgesic, which means it can provide pain relief similar to when you take a pain reliever[*].
Among the pain-relieving activities of carvacrol are its anti-inflammatory effects, which have been demonstrated in mouse models[*].
Olive oil is rich in oleic acid, which is credited for many of this oil's heart-healthy and anti-inflammatory effects[*][*].
Oleic acid, a monounsaturated fatty acid, has also been shown to increase insulin sensitivity in animal models[*].
In addition, olive oil contains a compound called oleocanthal which works similarly to ibuprofen in your body[*].
#3. Heart Healthy
If you've ever heard of the doctrine of signatures, then it won't surprise you that tomatoes are great for your heart. The doctrine of signatures states that a food or herb that resembles a part of your body is healing for that part of the body[*].
Tomatoes are red, and when you slice them in half, they contain four chambers — just like your heart.
But you don't need to count on the doctrine of signatures.
Tomatoes contain two carotenoids called lycopene and beta-carotene. Research has shown that low levels of these two compounds are associated with increased risk of both heart attack and stroke[*][*].
The lycopene in tomatoes also enhances antioxidant activity in people with coronary heart disease[*].
The olive in this recipe is another big player when it comes to heart health. Not only is olive oil consumption linked with lower blood pressure, but it may also improve the integrity of your blood vessels[*].
In a review of 140,000 people, researchers found that olive oil consumption also significantly reduced the risk of stroke[*].
About Keto Marinara Sauce
Everyone loves Italian dinner night. Keto pizza, lasagna, and chicken parmesan sing with this delicious sugar-free marinara sauce. Low-carb pasta substitutes like spaghetti squash, zoodles (zucchini noodles), and shirataki noodles have found the perfect accompaniment in this sauce.
Easy keto meals like these are perfect for sharing, even for people who aren't on a keto diet. Invite the family over, and get ready for a keto-friendly feast.
Keto Spaghetti Sauce Serving Suggestions
Add some fresh basil, red pepper flakes, garlic powder, or organic parmesan to this easy recipe and enjoy. If you like your marinara chunky, you can add some diced tomatoes or even bell pepper.
San Marzano has some of the best tomato products anywhere. If you can't find the brand locally, you can try Amazon.
You can also make this a meat sauce by adding cooked ground beef and/or ground sausage. You can even add meatballs. If meat isn't your thing, you can dice up veggies, like cauliflower to add some extra nutrition to this low-carb spaghetti sauce.
Just remember that adding extra ingredients will change the nutritional information a bit, so be sure you're using keto-friendly ingredients.
Use the free Perfect Keto macro calculator to make sure you stay on track.
Use Tomato Puree Not Tomato Paste
It's an easy mistake to make when glancing at a recipe before dashing out to the grocery store, so make sure you get tomato puree, not tomato paste.
Before you get busy cooking, check out the recipe section for other great keto meal ideas.
Print
Keto Marinara Sauce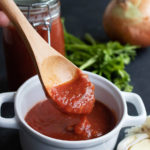 The perfect staple for keto Italian night, this marinara is ideal for spaghetti sauce, pizza sauce, or low-carb chicken parmesan. This easy sauce is sure to become one of your favorite low-carb recipes.
Author:
Prep Time:

3 minutes

Cook Time:

5 minutes

Total Time:

8 minutes
Instructions
In a medium to large saucepan, add olive oil and garlic.

Saute over low to medium heat for 3 minutes or until fragrant.

Add the tomato puree and stir well.

Add the monk fruit, oregano, pepper, and salt.

Turn off the heat and stir.

Cool the sauce and store in the fridge or eat immediately with your favorite low-carb veggie, pasta, or protein.
Nutrition
Serving Size:

2

Calories:

66

Fat:

4.5g

Carbohydrates:

4g (3.7g net)

Fiber:

1.3g
Keywords: keto marinara sauce