There's nothing more decadent than cookie dough. Every kid can remember scraping the chocolate chip cookie dough bowl for those last bites after mom put the cookies in the oven.
Cheesecake has its own place in the minds of most Americans as a classic tangy and sweet dessert that everyone loves.
Put the two together — cookie dough and cheesecake — and you've got a slam dunk dessert that will leave everyone at the table satisfied.
Even if you're on a low-carb or ketogenic diet.
With this low-carb twist, you'll get a delicious, satisfying cheesecake, packed with full-fat cream cheese, vanilla extract, and sugar-free chocolate chips.
These mini cheesecakes won't just satisfy your sweet tooth, they'll make you feel indulgent. But with only 4 net carbs per serving, you'll stay in ketosis and enjoy a gluten-free, sugar-free keto dessert.
This cheesecake recipe is:
Rich
Creamy
Delicious
Sweet
The main ingredients in these mini cookie dough cheesecakes are:
Optional additional ingredients:
3 Health Benefits of Chocolate Chip Cookie Dough Mini Cheesecakes
#1: Balances Blood Sugar
Balanced blood sugar is one of the main keys for success on a keto diet. But most desserts are packed with flour and sugar (high in carbs, low in protein) — a recipe for blood sugar disaster.
This low-carb dessert flips the script on typical cheesecake nutrition with 12 grams of protein and only four grams of carbohydrates, plus 30 grams of satiating fat.
Research shows that eating protein and fat have a minimal effect on your blood glucose levels; this means your insulin stays level.
Eating carbohydrates, on the other hand, can spike your blood glucose and subsequent insulin response, which may lead to insulin resistance over time[*][*]
#2: Contains Antioxidants
Although this dessert is sugar-free, you won't be missing out on taste.
Monk fruit is an excellent sugar replacement because it not only provides a sweet flavor; it also comes packed with health-promoting compounds.
One compound in particular, mogroside, acts as an antioxidant in your body. In an animal study, researchers found that mongroside can protect pancreatic cells from oxidation, which is one of the causes of insulin resistance[*].
Another study showed that mogroside was able to inhibit the growth of pancreatic cancer by inducing cancer cell death[*].
#3: Supports Weight Loss and Metabolic Health
Following a keto diet means you get to throw away your low-fat yogurt and skim milk and opt for the full-fat, creamy originals — milk and cheese just the way they should be.
There's still a fair amount of fear-mongering out there about full-fat dairy, but research shows that eating full-fat dairy may support not only weight loss, but also heart health[*].
In addition, researchers have found that consuming full-fat dairy may be inversely associated with metabolic syndrome, in part due to their saturated fat content[*].
Of course, avoid dairy if you're allergic or lactose intolerant.
Chocolate Chip Cookie Dough Mini Cheesecakes
If you're ready for some low-carb chocolate chip cookie dough cheesecake then gather your ingredients and get ready for true indulgence.
Start by chopping up your chocolate chip cookie dough bar and warming it the microwave.
Remove it from the microwave and then divide it into two portions and press the warmed pieces into the bottoms of two ramekins to create your cheesecake crust layer.
Next, put your cream cheese in a large bowl and with an electric mixer beat it until it's light fluffy. Add in the monk fruit, vanilla, and eggs and continue to beat until all ingredients are well incorporated.
If you want to add sugar-free chocolate chips, now is your chance. Make sure to mix them in well.
Add one cup of water to your instant pot, and pour your mixture into the ramekins and then place the ramekins in your instant pot and set to "steam" for 6 minutes.
Once the timer goes off, let the instant pot slowly release the pressure then remove your mini cheesecakes and let them cool to room temperature.
Place them in the refrigerator to chill a bit, and enjoy!
Print
Chocolate Chip Cookie Dough Mini Cheesecakes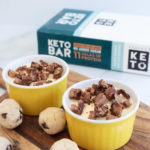 Satisfy your sweet tooth guilt-free with this gluten-free, sugar-free keto chocolate chip cookie dough cheesecake, with only 4 grams net of carbs.
Author:
Total Time:

15 minutes

Yield:

2

mini cheesecakes

1

x
Instructions
For the crust, remove Perfect Keto bar from wrapper and cut into small pieces. Remove from microwave. Divide into two equal portions and press into bottoms of 2-small ramekins or silicone molds.

For the cheesecake filling, beat cream cheese with an electric mixer until light and fluffy.

Add remaining ingredients. Beat just until combined and smooth.

Divide and pour onto crusts. Top with mini chocolate chips if desired.

Place 1 cup of water in the bottom of your Instant Pot. Layer ramekins with tray or trivet. Set to "steam," and adjust the time to 6 minutes.

When the timer goes off, let the cooker naturally release the pressure. Carefully remove ramekins and let cool to room temperature, then chill in the fridge.
Nutrition
Serving Size:

1 cheesecake

Calories:

351

Fat:

30g

Carbohydrates:

4g

Fiber:

0g

Protein:

12g
Keywords: Chocolate Chip Cookie Dough Cheesecake