Buying in bulk has many benefits. It saves you time by helping to keep your pantry stocked with staples — that means fewer trips to the store, it's a money saver, and it's better for the environment (less packaging).
When most people think about bulk items, however, their minds go straight to canned foods like black and pinto beans, or whole grains like quinoa and rice.
While these options are clearly not keto-friendly, there are plenty of keto-approved bulk items that you can buy in bulk and stock up on.
Bulk Foods To Stock Up On
Snack Foods
Nut butter
Nut butter like peanut butter, almond butter, cashew butter, etc. will stay good for months, and they make an incredibly satisfying snack. Buying nut butter in bulk is also a really great way to save some money. High-quality nut butter can be up to $20 per container, but when you buy in bulk, you can get the same high quality at a great discount.
Nuts
Nuts, just like nut butter, make excellent keto snacks. Go for snack mixes that include a variety of nuts, or you can just stick to your favorites. Almonds, macadamia nuts, pecans, brazil nuts, and walnuts are all fantastic options.
Keep your nuts in a well-sealed container, and they'll last for months.
Pork Rinds
Pork rinds are the ultimate keto snack. They're crunchy, salty, flavorful, and rich in protein and fat. You can enjoy pork rinds alone or on top of salads or soups. They're basically your go-to for any dish you would want to add a little crunch to.
Protein
Stocking up on protein is the trickiest macronutrient of all. Most protein options are fresh — eggs, meat, dairy, and fish. The good news is, there are a few ways around the bulk protein dilemma.
Canned Fish
Canned food doesn't always make the mark when it comes to flavor and texture. Canned fish, however, seems to be the exception to the rule. Canned fish can stay good for years, so stocking up on this item is never a bad idea.
Best of all, fish is loaded with protein. Some great canned fish options include tuna, salmon, sardines, and mackerel. Just be sure to buy BPA-free cans and choose companies like Wild Planet or Safe Catch.
Jerky
Stocking up on chicken and meat can be difficult when freezer space is limited. Jerky offers an alternative option that allows you to stock up on meat without taking up too much precious refrigerator space.
Protein Powder
There are a lot of protein powder options out there, but most of them are filled with junk, or frankly, they taste awful. Perfect Keto Protein Powder is made with high-quality protein and avoids the additives and sweeteners that give many powders an off-flavor.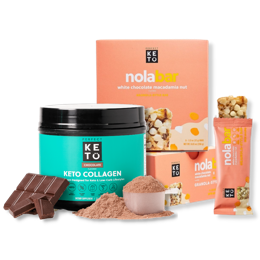 Browse our curated collection of fan-favorites and discover your new favorite snack or supplement.
Shop Best Sellers
It also comes in three varieties of flavors — chocolate, vanilla, and unflavored.
Protein powder not only offers a boost to your shakes, but you can add it to your baked goods to sneak a little extra protein in there as well.
Baking Ingredients
Baking ingredients are great to stock up on for a couple of reasons:
They typically last a long time in the pantry.
You never know when you're going to have a keto dessert craving.
Sugar Alternatives
Sweeteners like stevia, swerve, monk fruit, and erythritol are all great staples to have around. Aside from offering a sweet flavor in lieu of sugar, you can add a sprinkle of these sweeteners to keto pancakes, keto bread, and homemade keto sauces.
Sugar-Free Chocolate
Having some sugar-free chocolate around is always a good idea. You can use it in your baking, or you can snack on it when your chocolate cravings hit. Obviously, this isn't something you need every day. However, having something sweet and sugar-free around is a great way to get ahead of a sweet tooth that might throw you off track.
Flour Alternatives
One of the benefits of keto-friendly flour alternatives is that they're also gluten-free. Almond flour and coconut flour are two options that you can use to make pretty much any keto baked goods you could think of.
You can also use these flour alternatives to "bread" chicken, add bulk to your soups, or in any other recipe that calls for wheat flour.
Condiments and Oils
Herbs and Spices
Herbs and spices are essential ingredients for adding flavor to your food. Most spices contribute very few, if any, carbs at all so you can use them freely.
They'll stay good for years in your pantry, but make sure to keep them stored in closed containers. Some tasty options include sea salt, ground pepper, oregano, basil, garlic powder, cumin, cinnamon, and turmeric.
Oils and Ghee
While items like butter and lard are great, they don't last as long as oils or ghee.
When purchasing ghee or oils, make sure to always go for organic when possible, and if you plan to keep them around for a while, choose oils that won't oxidize as easily. Think high-heat options like avocado oil, coconut oil, or high-oleic sunflower oil.
Flax Seeds and Chia Seeds
Flax and chia and fantastic keto staples to keep around. They're not only loaded with fiber and healthy fats, but they're also incredibly versatile.
You can use them in your baked goods to replace eggs if you don't have any handy, you can add them to shakes and smoothies, or you could make a chia seed pudding with protein powder for a protein-rich snack.
Where to Buy In Bulk
You're probably avoiding the dry goods bulk section at the grocery store at the moment as those dispensers tend to get a lot of action, but the good news is that everything you need you can find online.
Below are a few of the best options for online bulk shopping:
Costco
When it comes to bulk foods, no one does it better than Costco. This is the place to go to stock up on your staples like oils, spices, and nut butter. If you want to do some serious stocking-up on a budget, Costco is the way to go.
Some examples of keto-friendly Costco options include:
Amazon
Amazon is one of the easiest ways to order bulk food online. While Costco offers amazing deals, Amazon offers pretty much anything you could think of. And if you have Prime, you can expect your orders to arrive within a couple of days — no waiting for you.
Some examples of keto-friendly Amazon options include:
Thrive Market
Thrive Market is the go-to for high-quality niche products. They have a wide selection of keto-friendly options that are organic and GMO-free, and they also provide Thrive branded products which are a bit cheaper.
As a member, you also get a pretty significant discount on brands that you would usually buy at the grocery store. Membership options include $9.95 a month, or if you purchase a yearly membership, it's only $5 a month.
Some examples of keto-friendly Thrive Market options include:
If you decide to become a Thrive Market member, keep an eye on their offerings because they're always adding new keto-friendly products.
Boxed
Boxed is an online wholesale retailer that offers a wide selection of products. You can think of Boxed as your one-stop-shop for anything you could possibly need; groceries, hand soap, toilet paper, and even school and office supplies.
They offer free delivery on all orders of $49, and most orders arrive within two business days. The best part about Boxed is that unlike Thrive Market and Amazon, you get these perks with zero membership fees.
Some examples of keto-friendly Boxed options include:
Takeaway
Whether you're planning an emergency preparedness kit, or just trying to stock up, so you don't have to go to the grocery store as much, there are plenty of keto-friendly items that can be stored in your pantry for months (if not years).
Always think about quality when you're considering bulk items. Just because you're looking for a deal on price, it doesn't mean you should have to compromise on quality.