Did you know that making ice cream at home can be done in a matter of minutes and it only takes a very simple base recipe and a handful of ingredients?  Yes, it's true. What's even better is flavors can easily be changed, you have control over all of your ingredients, this ice cream is completely keto friendly, and can also be made entirely dairy free.  You will never look at chocolate ice cream quite the same.
Some of the ingredients in this ice cream:
There is nothing inherently wrong with incorporating dairy on a ketogenic diet, but the problem is that many people are not aware they actually have a sensitivity to it.  Food intolerances and sensitivities can lead to things like acne, headaches, and even stalled weight loss.  The best way to determine a sensitivity is to remove the food from your diet for a few weeks and see if symptoms improve and weight loss returns.  Removing dairy is easier than you think and this ice cream will have you wondering if you ever need to have a traditional heavy cream based ice cream ever again.
Reasons to Use Coconut Milk:
#1: Heart Health
Coconuts are a rich source of lauric acid and minerals which can improve cholesterol levels.  These compounds help to keep blood vessels flexible and free from build up. Coconuts are also antibacterial and antiviral which help reduce stress on the body by fighting off viruses and bacteria.
#2: Blood Sugar
Coconuts are a rich source of saturated fats which helps slow the rate of glucose that is released into the body.  Controlling insulin levels can help reduce the risk of conditions like diabetes. Utilizing a ketogenic diet which is low in carbs and high in fat helps to maintain steady energy levels and regulate blood sugar.
#3: Digestion
Coconut milk helps nourish and protect stomach lining.  The electrolytes and rich fats also help the body to better absorb nutrients, vitamins, and minerals.  Coconuts are wonderful for those who suffer from symptoms of IBS and leaky gut.
Eliminating dairy is much easier when you see the health benefits to alternatives such as coconut milk.  This simple ice cream will tame the most powerful chocolate craving you may have, leave you feeling refreshed, completely satisfied, and perhaps even a bit healthier.
Print
Chocolate Mint Keto Ice Cream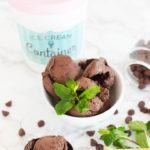 Rich in taste and texture, but low in carbs this 5 ingredient dairy-free chocolate keto ice cream is refreshing and delicious.
Author:
Prep Time:

10 minutes

Cook Time:

N/A

Total Time:

10 minutes

Yield:

3 cups

1

x
Category:

Dessert

Cuisine:

French
Scale
Ingredients
2

cans coconut cream or coconut milk

3

large egg yolks

1/4 cup

cacao powder

1/2 teaspoon

peppermint extract

1/2 cup

stevia, monk fruit sweetener

1 cup

sugar free chocolate chips (optional)
Instructions
Add coconut milk, extracts, cacao powder, and sweetener to a small pot. Under very low heat, bring mixture to a very soft boil (just heat until small bubbles appear). Turn stove off and let cool slightly.

Add egg yolks to a stand mixer or large bowl and beat on high for 20-30 seconds until pale and fluffy. With the mixer still on high, SLOWLY drizzle in 1/4 cup of the hot cream mixture to the egg yolks to temper. Add additional cream mixture slowly in 1/4 cup increments. If you add the hot mixture to the eggs too quickly, it will result in scrambling the eggs. Let cool 5 minutes.

Pour contents into an ice cream maker and churn until it is soft serve consistency, stir in optional chocolate chips if desired, then place into a container and freeze. Let container sit out for 10-15 minutes before scooping.

This recipe can also be used without an ice cream maker, simply pour mixture into a container after it has cooled slightly and freeze. Stir every 10 minutes until thick and creamy.
Nutrition
Serving Size:

1 cup

Calories:

155

Fat:

15g

Carbohydrates:

Net Carbs: 2g

Protein:

2g
Keywords: chocolate mint keto ice cream