Thankfully, the days of low-fat diet fads are mostly behind us, and people are better understanding the importance of eating healthy fats for health. But still, many of those eating keto will underestimate just how much fat they need to eat to see success on this way of eating. So, how much fat can you eat on a ketogenic diet?
This article will cover why fat intake matters on the ketogenic diet and how it makes it successful, as well as how to find out how much fat you need. Then, we'll touch on how you can make sure your fat intake stays high (while still getting enough calories) and the best types of fat to eat.
The Importance of Fat on the Keto Diet
Dietary fat is the cornerstone of the ketogenic diet. It's the high fat intake and low carb intake that makes the diet "work" and keeps your body in ketosis — using those ketones for fuel and burning through fat.
Having a very low carb intake allows you to deplete your body of carbohydrates and stored carbohydrates (glycogen) and conditioning it to begin turning to fat instead, leading to the creation of ketones for energy. Getting and keeping the body in this state of ketosis has many benefits that include weight loss and better health.
High Fat and Enough Calories Matters
Those new to keto or who have taken a break from it often struggle with eating enough fat at first. Since you're greatly reducing your carb intake, you have to really increase your fat intake to replace the calories you were eating before from carbs. This can take some adjustment.
If you're not used to eating high fat, it might seem like a lot at the beginning. Fat is satiating, which is one of the advantages of keto because you can naturally avoid overeating due to its satisfying nature.
That being said, it's important to also eat enough calories on the ketogenic diet to avoid any metabolic or thyroid problems that are associated with a low calorie intake and do more harm than good. While lower caloric intake can help you in the beginning for reducing body fat, it's harmful over the long term.
Bottom line: Besides eating very low carb, you also must make sure your fat intake is HIGH and that you're getting enough calories. You can do this by calculating just how much fat you'll need to eat to support your ketogenic diet and stay healthy.
How to Increase Your Fat Intake
First, let's review the general ratio for the ketogenic diet: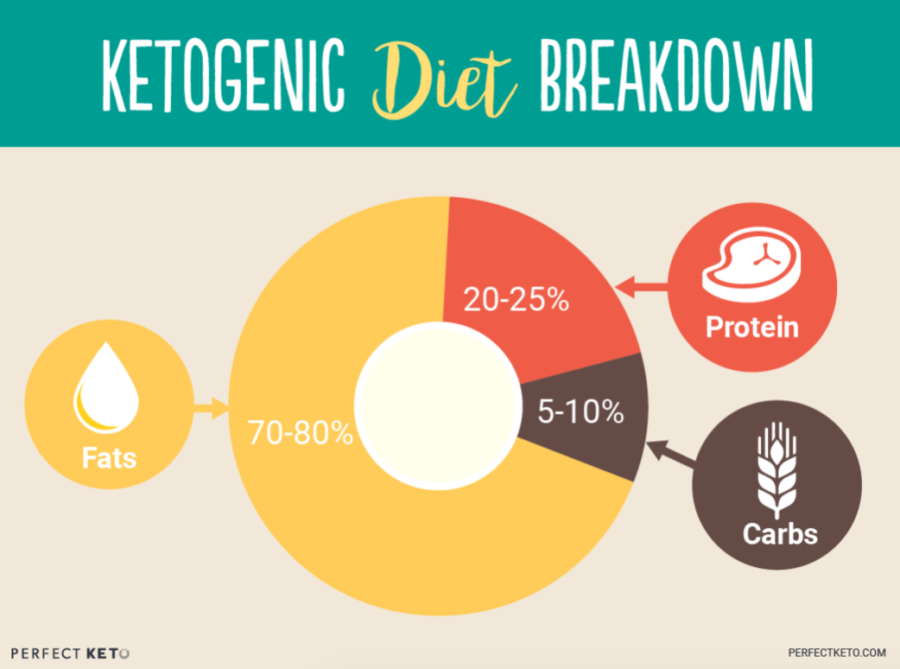 Although these percentages offer a good guideline, they really don't do much good until you know how they fit into your specific needs.
You'll need to find out how many grams of fat this comes out to for you by using an online calculator (such as MyFitnessPal) to calculate your daily caloric intake. Then, you can input these percentages to find out the amount of carb, protein, and fat grams you need. You'll get a baseline amount of fat grams per day.
For example, someone who consumes 2,000 calories a day, a fat intake of 70-80% would be around 144g to 177g of fat each day. If your calories needed are greater, you might need even more than that.
Now, to meet those fat needs, let's cover some of the healthiest fat sources to choose from and include in your diet:
Sources of Healthy Fats
There are many places you can get fat on the ketogenic diet. The best sources are whole foods saturated and monounsaturated fats, including:
Egg yolks (preferably pasture-raised)
Healthy oils like coconut oil, olive oil, MCT oil, and avocado oil
Nuts and seeds (watch your overall nut intake and choose fattier versions like almonds and macadamia nuts)
Fatty fish
Avocados
Butter or ghee
Coconut butter
Cocoa butter
Cheeses
Full fat yogurt
Fatty cuts of meat
For more ideas, see our ketogenic diet foods list.
Track Your Ketones and Fat Intake
Besides regularly tracking the amount of calories and fat, protein, and carbs you're consuming each day to make sure you're eating enough of each, it's crucial to continue testing and monitoring ketone levels.
The best indicator of ketosis on the ketogenic diet is the amount of ketones in your blood. Even if you're eating lots of fat, very low carb, and adequate protein, you can't know for sure if you're on the right track unless you monitor your ketone levels. Remember to test often and keep some exogenous ketones nearby.
Summary: Eating Fat on the Ketogenic Diet
We've talked about why fat is important on the keto diet, how to calculate the amount that's right for you, and the best sources from which to get it. Now, use this information to go out and enjoy one of the best aspects of the keto diet: eating delicious, satiating foods full of fat!