Remember the days of Pillsbury cinnamon rolls? What about waking up Christmas morning or Easter brunch to some freshly baked french toast?
Everybody loves cinnamon rolls, and everybody loves french toast, so why not combine the two for a delicious breakfast casserole?
This is the perfect breakfast for your Sunday morning sweet tooth, or to impress some friends. You'll have everything baked, sliced, and ready to go in just one hour.
This breakfast recipe is:
Sweet
Comforting
Tasty
Delicious
The main ingredients are:
Optional additional ingredients
3 Health Benefits of Cinnamon Roll French Toast
#1: Supports Weight Loss
Cutting the sugar out of your cinnamon roll french toast bake is certainly a step in the right direction for weight loss. But this french toast recipe takes weight management to the next level.
Ingredients like eggs, coconut oil, and butter will keep your macronutrient ratio heavy on the fat side (a very good thing). But almonds may add an additional boost to your weight loss efforts.
In a study done with overweight women, researchers divided the volunteers into two groups. Each group consumed the same amount of calories each day for three months, with one group consuming almonds and the other almond-free.
When measurements were taken after three months, the almond group not only lost more weight, but they also saw significant improvements in markers for metabolic syndrome and heart disease[*].
#2: Anti-Inflammatory
Inflammation is at the root of many common diseases today. And if you're body is feeling inflamed, or you have a condition marked by inflammation, diet is the first place you should look.
Luckily, the plant world is full of nutrients and compounds that can help combat inflammation and settle your body down.
So what does this have to do with cinnamon roll french toast?
Cinnamon happens to be loaded with anti-inflammatory compounds. As an anti-inflammatory agent in your body, cinnamon can lower the levels of pro-inflammatory compounds that throw your body out of whack.
In one study, researchers gave inflamed mice extracts of cinnamon and assessed the anti-inflammatory activity. They found that the cinnamon significantly blocked the pathways for inflammation, resulting in a significant anti-inflammatory effect[*].
#3: Promotes Eye Health
Discussions about health and prevention usually center around organs like your heart, liver, and kidneys, but what about the health of your eyes?
As you get older, the importance of maintaining healthy eyes increases, and eggs are a fantastic eye-health boosting food to keep in your diet rotation.
As a source of a wide range of nutrients, eggs are particularly abundant in the carotenoids lutein and zeaxanthin. These two phytonutrients act as antioxidants and can be found fighting off oxidation in the retina of your eyes[*].
In your retina, these antioxidants help protect your eyes from degenerative diseases like cataracts and macular degeneration. It should be noted, however, that they're only found in the yellow of the egg, so make sure to leave that egg white omelet back in the 90's where it belongs[*].
Cinnamon Roll French Toast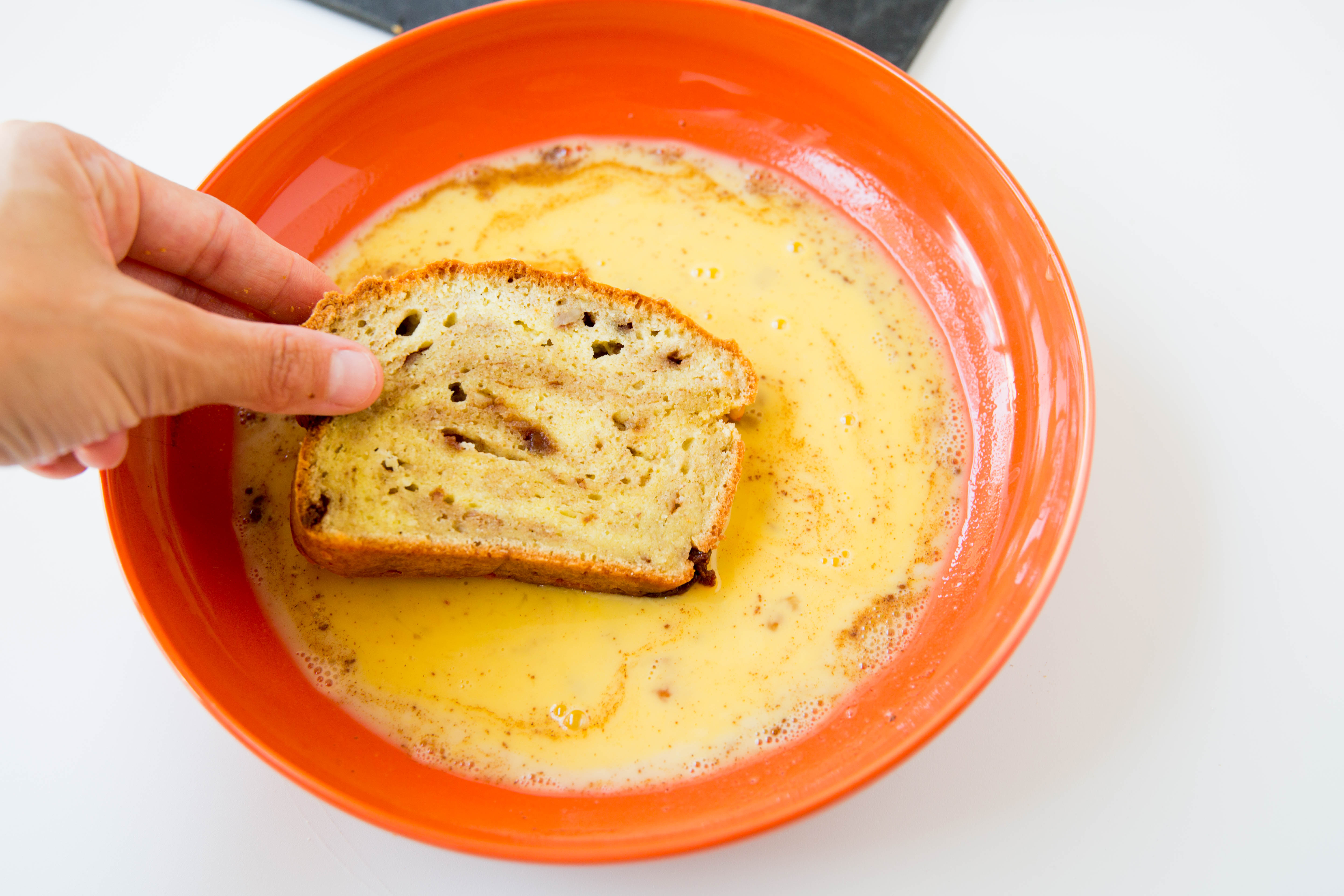 Sometimes bacon and eggs just don't cut it for breakfast. Even a keto bagel and cream cheese can run its course.
If you find yourself in a breakfast rut, it's time to switch things up.
The good news — breakfast is the only meal where you can go full dessert-mode, and no one thinks twice. And thank god for that.
This recipe is bursting with flavor, but if you're craving a little extra sweetness go for some sugar-free monk fruit maple syrup. You could even make a sugar-free cream cheese frosting if you wanted to go all out.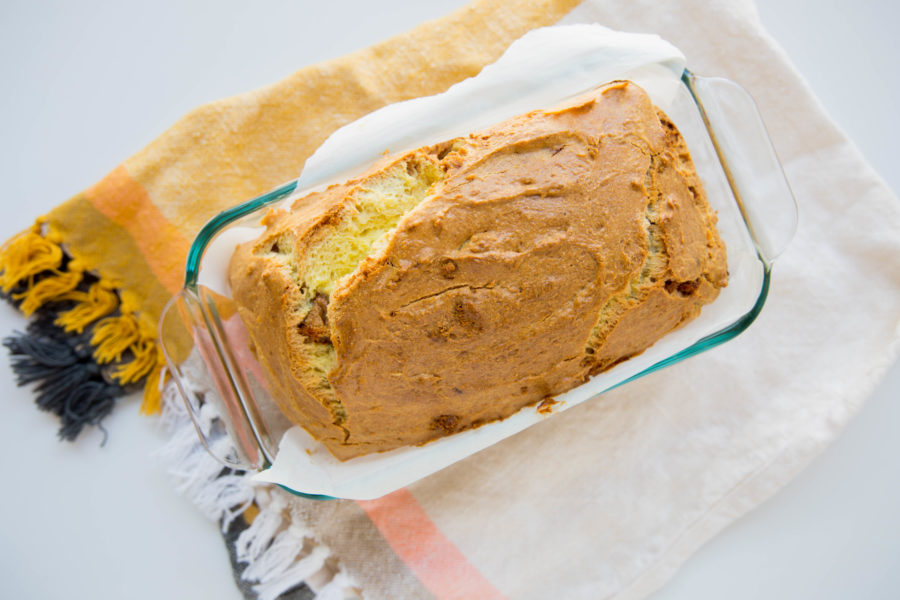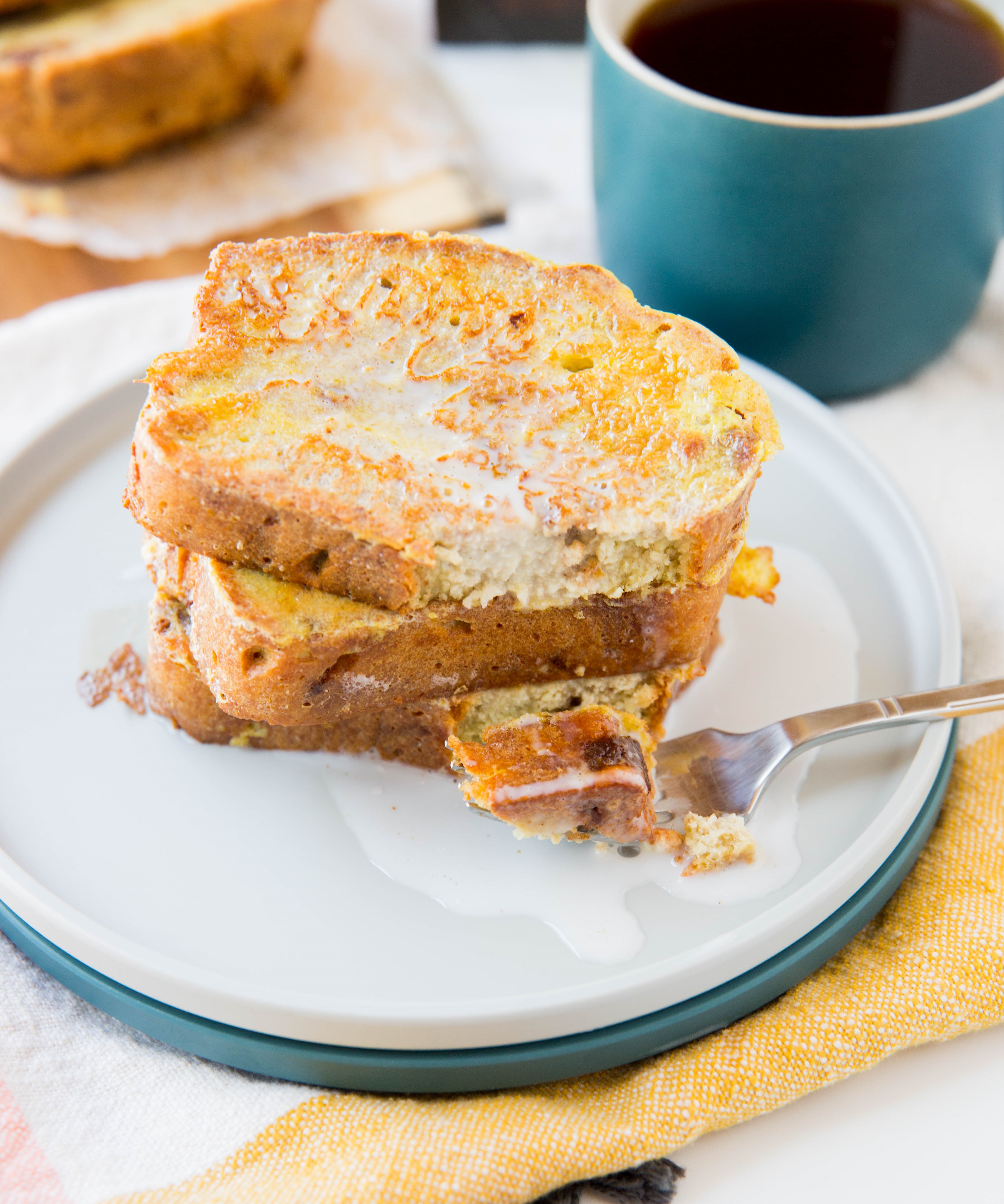 Print
Cinnamon Roll French Toast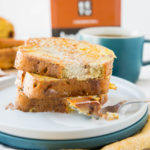 Tired of bacon and eggs? Your perfect breakfast or brunch option is cinnamon roll french toast. This tasty french toast recipe is a breakfast must-try.
Author:
Total Time:

1 hour

Yield:

12

pieces

1

x
Scale
Ingredients
For the bread:
For the egg wash:
Instructions
Preheat the oven to 375 degrees F.

Line a loaf pan or baking dish with parchment paper.

Mix the eggs in a medium bowl on high for up to two minutes.

Add the almond flour, xanthan gum, melted coconut oil and melted butter to the egg mixture. Continue to mix.

Scrape the mix into the loaf pan.

Bake for 45 minutes until golden brown (or until a toothpick comes out clean).

Allow bread to cool, then slice it into 12 slices.

Whisk together the egg wash ingredients in a small bowl and dip each slice into the wash, flipping to fully cover.

 In a medium-sized skillet over medium heat, fry the french toast for about 3-4 minutes on each side.
Nutrition
Serving Size:

1 piece

Calories:

252.4

Fat:

20.5g

Carbohydrates:

7.5g (4g net)

Fiber:

3.5g

Protein:

10.04g
Keywords: Cinnamon Roll French Toast