Need more Instant Pot keto recipes to add to your low-carb meal plan?
You'll find easy low-carb keto recipes for appetizers, dinner, and dessert in this roundup.
If you're already part of the Instant Pot (IP) fan club, you can skip ahead to get started.
If you don't have one of these popular multicookers, keep reading to determine if you should invest in one.
What Is an Instant Pot?
An Instant Pot is a small kitchen appliance that does the job of six or more cooking gizmos.
With its multipurpose features, an Instant Pot can become your new all-in-one:
Pressure cooker
Slow cooker
Rice cooker
Steamer
Saute pan
Food warmer
Yogurt maker
You don't need an expensive name brand to score the benefits of a kitchen gadget like this.
Instant Pot may be the most popular, but you can find similar options from companies like Cuisinart, Breville, and more.
No matter which multicooker you choose, the upsides are worth it.
Why It's a Good Idea to Use an Instant Pot on Keto
A multicooker won't just free up counter space or give you another reason to replace your old Crock-Pot — it can help you reach your health and weight loss goals.
Makes Cooking and Cleanup Easier
Most Instant Pots come standard with one-touch presets to cook your food correctly, even if you're a beginner. Choose an automated setting and let the Instant Pot do all the heavy lifting.
Switch it to "slow cooker," and you can "set it and forget it" to conquer things elsewhere.
And since everything cooks neatly inside one vessel, you won't have to clean multiple pots and pans after each meal.
Helps You Save Money
Learn the art of keto meal prep and start batch-cooking meals in your IP. You'll spend less money on restaurants and won't be as likely to break keto.
Plus, running a small appliance like an Instant Pot instead of a conventional oven may lower your energy bill. It may also keep your home cooler.
Shrinks Your Cooking Time
Besides money, you'll also save loads of time using an Instant Pot.
The best low-carb Instant Pot recipes take between five minutes and one hour, including prep time and cook time.
The Instant Pot pressure cooking function cooks food extremely fast — up to 70% faster, according to their website.
This fast pressure cooking is also what many people fear about the Instant Pot.
Why Do People Think Instant Pots are Dangerous?
Some people avoid IPs because old-school pressure cookers can explode, burn you, or blow up if you're not careful.
A pressure cooker shortens the cooking time for foods that typically require a long braise by trapping the steam from the cooking liquid.
As the temperature rises and the pressure builds, your food gets infused with flavor and cooks quickly.
Your pressure cooker won't pressurize right if you're low on liquid (not enough steam). And if you have too much food or liquid, pressure could climb to dangerous levels.
Back in the day, home cooks needed to slowly release the steam in pressure cookers to prevent an explosion.
However, Instant Pots let people release the pressure manually or automatically before opening the vessel safely.
Many models also have special safety features, such as:
Automatic lid lock to prevent opening your Instant Pot before all the pressure has been released. Opening a pressure cooker before it's fully depressurized can be dangerous.
Automatic temperature control so it shouldn't overheat or melt.
Anti-blockage vent, so food doesn't clog the valve, block steam from being released, or build unsafe pressure levels.
Automatic timers, so you don't have to guess about pressure or struggle with cooking math.
All-in-ones like the Instant Pot take the danger out of pressure cooking and make it easy to stick to a strict diet like keto.
7 Low-Carb Instant Pot Keto Recipes for Soups, Stew, and More
These recipes prove the best keto soups, stews, and dips can be made using an Instant Pot with delicious results.
#1. Keto Bone Broth
Most recipes for homemade bone broth take (almost) forever to simmer carcasses in the slow cooker. Use an Instant Pot, and you'll have inflammation-crushing bone broth in less time.
As an excellent source of collagen, bone broth can help treat leaky gut by healing your tissues and reducing inflammation[*].
This bone broth has a near-perfect recipe rating, and one cup delivers 6 grams of protein and 4 grams of fat for just one carb.
Drink it on its own or use it as the base for these next healthy soups.
#2. Soothing Keto Chicken Soup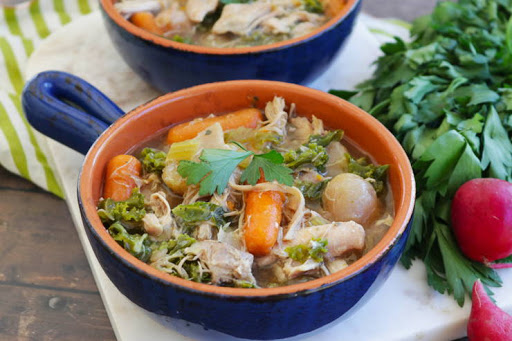 For a total cooking time of 30 minutes, you'll have 17 grams of fat and 17 grams of protein per serving in this keto chicken soup.
All you need is chicken, bone broth, radishes, kale, garlic, and grass-fed butter.
Saute and brown the chicken thighs in grass-fed butter right in your Instant Pot. Then add everything except the kale and stew for 25 minutes.
#3. Instant Pot Spicy Keto Buffalo Chicken Soup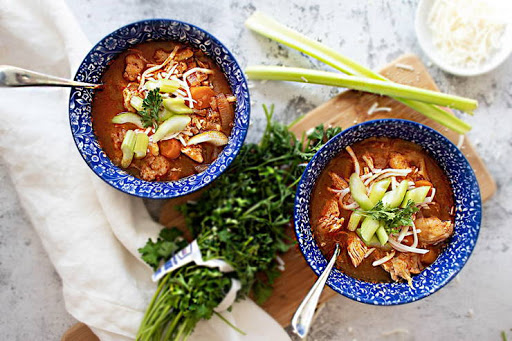 Fuel up with this high-fat, gluten-free keto buffalo chicken soup, and you'll be satisfied for hours.
You can use your favorite low-carb hot sauce for flavor. Then top each bowl with crumbled blue cheese, diced celery, and keto-friendly ranch dressing.
Thanks to the chicken breasts, one cup dishes up 12 grams of fat and 27 grams of protein for only 6 grams of net carbs.
#4. Weeknight Keto Beef Stew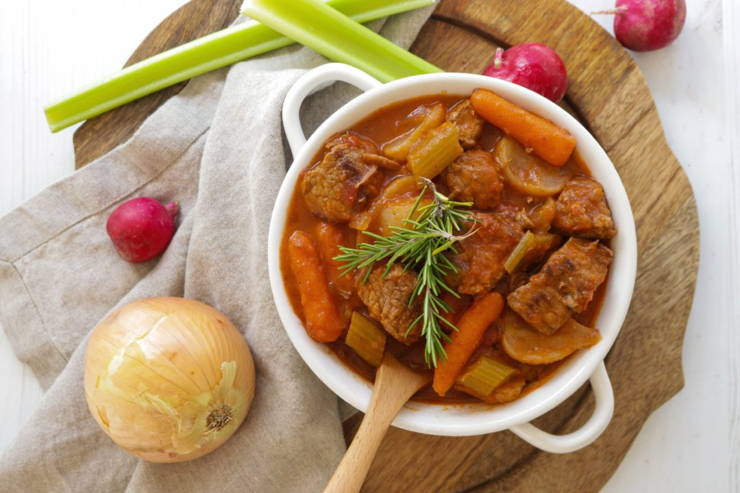 Weeknights or weekends at home call for the perfect keto beef stew recipe.
Made with keto bone broth, each serving offers a healthy dose of electrolytes and amino acids.
Serve this hearty beef stew with cauliflower mash, and you won't even miss the high-carb potatoes.
#5. Instant Pot (or Stovetop) Low-Carb Loaded Cauliflower Soup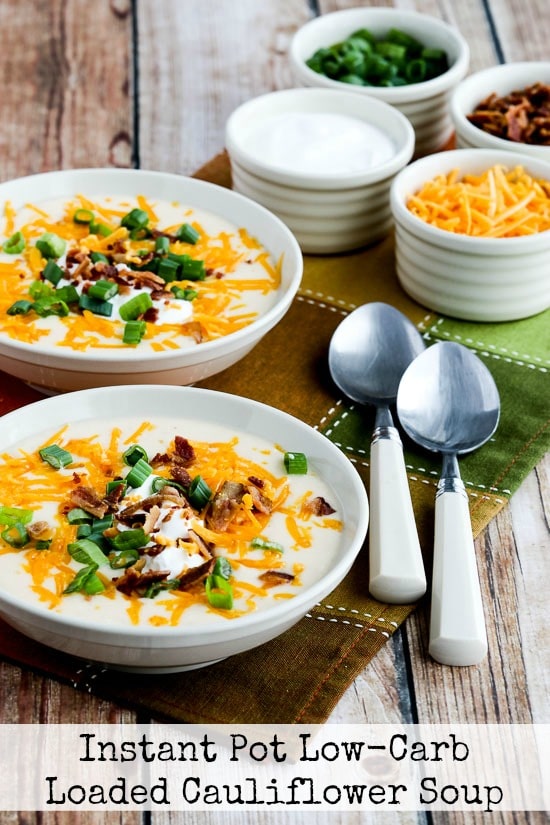 Craving a loaded baked potato but not the carbs?
This filling recipe for low-carb loaded cauliflower soup is keto, low-glycemic, gluten-free, and takes less than 30 minutes to make.
#6. Instant Pot Low-Carb Taco Soup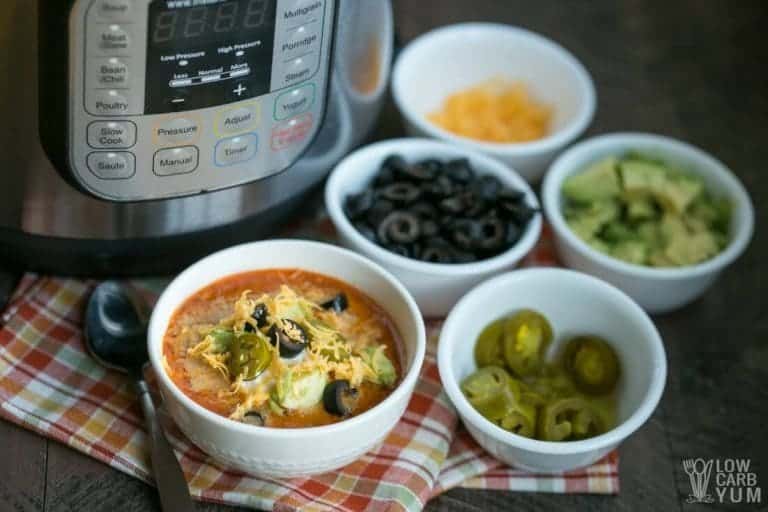 You'll find all the delicious Mexican flavors of taco night in this low-carb taco soup recipe.
Once your Instant Pot reaches the right pressure, your soup will be done in 15 minutes. You'll have 28 grams of fat, 27 grams of protein, and 7 grams of net carbs per serving.
#7. Cheesy Keto Buffalo Chicken Dip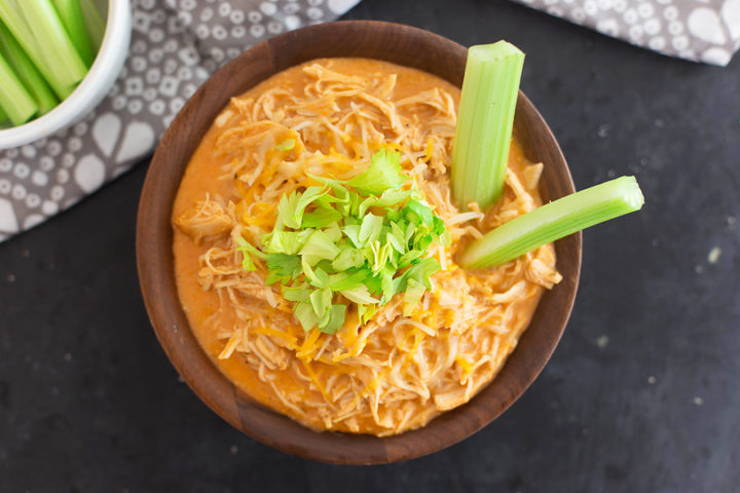 This keto buffalo chicken dip makes the perfect appetizer for a party or tailgate when you're staying low-carb.
Just add chicken thighs, onions, spices, and your favorite low-carb buffalo sauce to your Instant Pot or slow cooker. Leave it for 25 minutes up to six hours, then shred the chicken and add cream cheese and cheddar cheese for maximum creaminess.
A ¼ cup serving clocks in at 17 grams of fat, 16 grams of protein, and 2 grams of net carbs.
7 Instant Pot Keto Dinner Recipes
From fall-off-the-bone meat to warm chili and lasagna, these keto dinner recipes are healthy and satisfying.
Pair them with low-carb sides like cauliflower mash, Brussels sprouts, or broccoli for a real winner.
#1. Ultimate Low-Carb Keto Pot Roast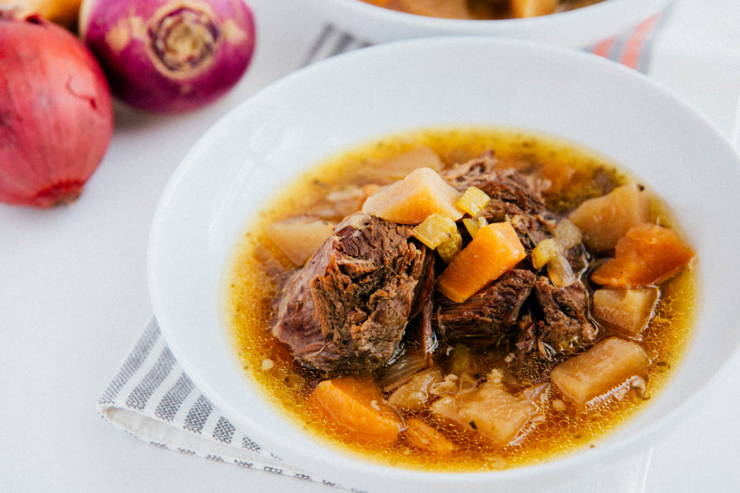 This keto pot roast recipe is the epitome of a hot, stick-to-your-ribs kind of meal.
Unlike classic pot roast recipes, this savory take ditches the potatoes for celery, turnips, and rutabagas. The result is just 6 grams of net carbs per serving.
#2. Instant Pot Holiday Pork Roast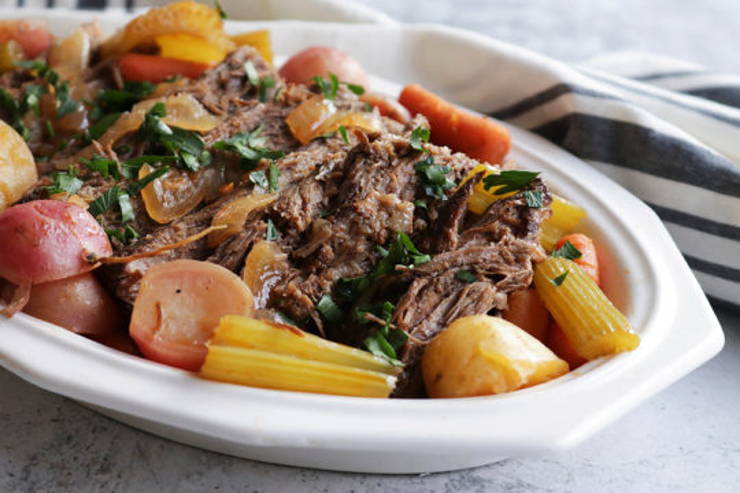 Low-carb dieters love this keto pork roast recipe because each serving provides 34 grams of protein for 9 grams of fat and only 2 grams of carbs.
Because potatoes aren't low-carb, you'll cook celery, carrots, and radishes to recreate the same comforting flavors without sabotaging ketosis.
Cook until the roast is fork-tender, and you'll have an easy weeknight meal that tastes like a special holiday feast.
#3. No Noodle Instant Pot Lasagna Pressure Cooker Recipe
This no-noodle lasagna recipe comes in handy when there's no time to spiralize zucchini noodles or deal with spaghetti squash. You don't even have to turn on the oven.
Pressure cooking speeds up this Italian dish and also does wonders for chili.
#4. Keto Low-Carb Chili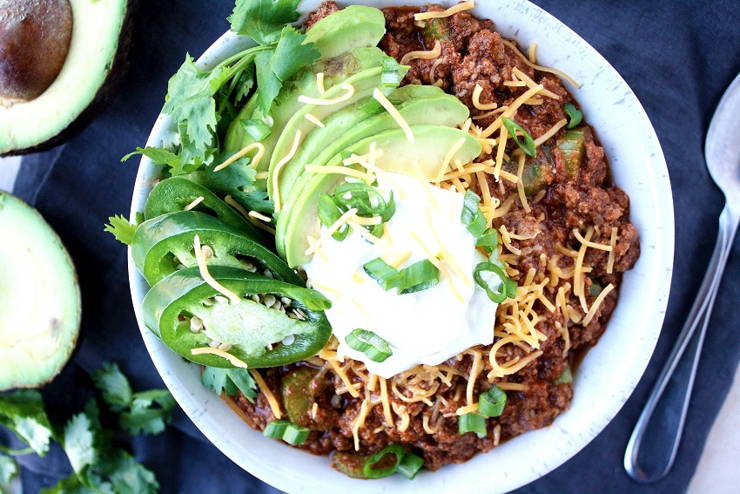 Full of healthy fats and low in net carbs, this keto chili recipe makes meal prepping for the week a breeze. Each serving has a whopping 34 grams of protein and 23 grams of fat for only 5 grams of carbs.
Swapping the stovetop cooking method for an Instant Pot means you'll spend less time babysitting the meat and more time doing what you want.
Top and garnish this ultimate bowl of comfort food with:
Sour cream
Avocado
Cheddar cheese
Jalapenos
Cilantro
Green onions
#5. Low-Carb Turkey Chili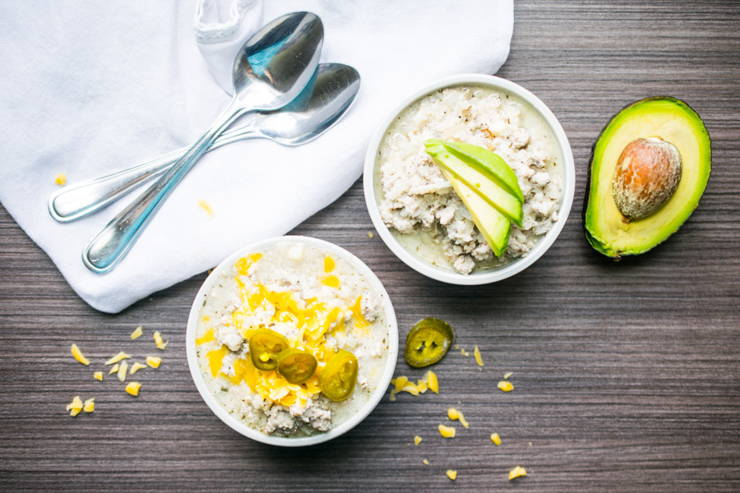 Switch up your chili game with this easy white turkey chili recipe. It contains just 5.5 grams of net carbs and almost 30 grams of protein per serving.
While traditional chili calls for ground beef and tomatoes, white chili simmers ground turkey or shredded chicken in a light, creamy broth.
#6. Paleo and Keto Instant Pot Butter Chicken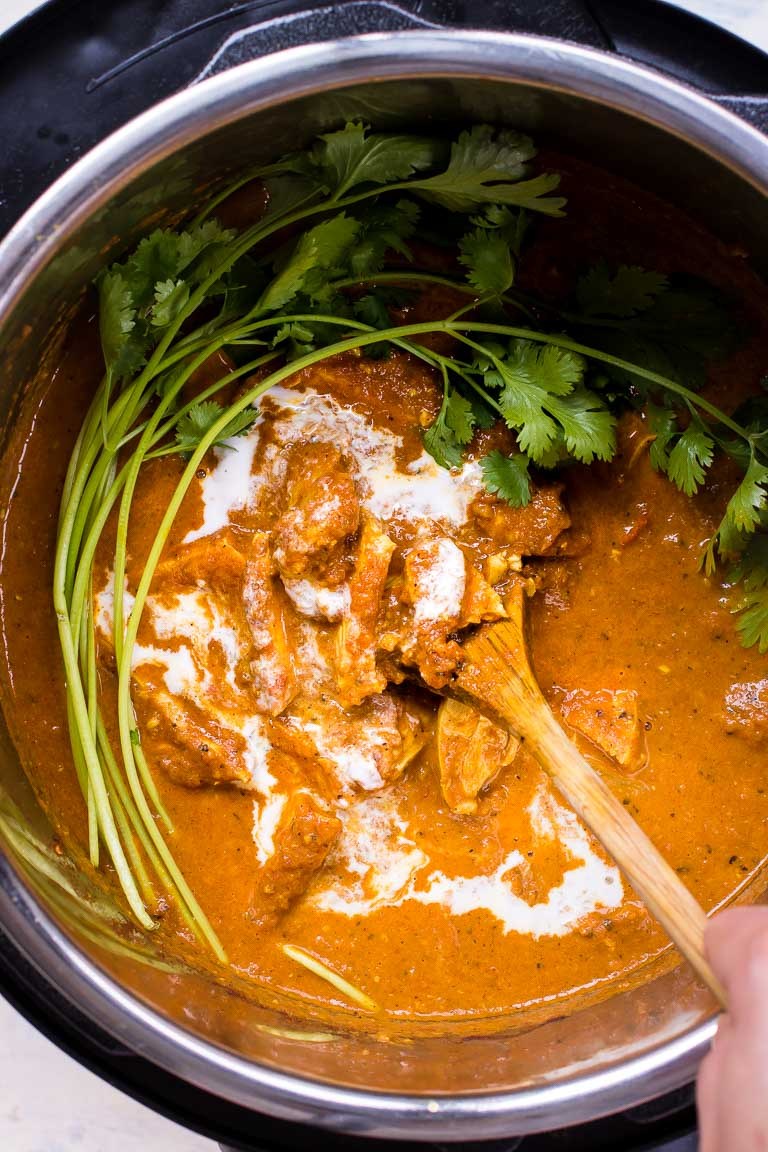 Classic Indian takeout meets low-carb living with this 10-minute dairy-free and paleo butter chicken recipe. Serve it with cauliflower rice or keto naan bread, and you'll never feel like you're on a low-carb diet.
For 22 grams of fat, 35 grams of protein, and 2 grams of net carbs per serving, it's worth trying.
#7. Keto Instant Pot Crack Chicken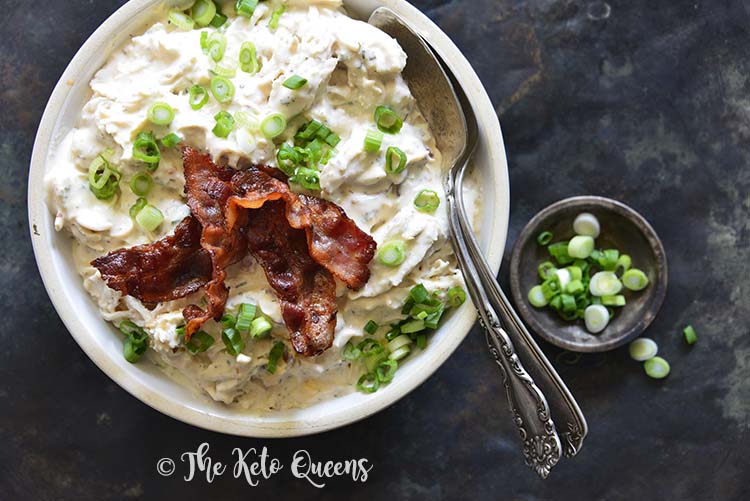 As its name suggests, "crack chicken" can be addicting.
Here's the bad news: crack chicken typically includes ranch seasoning, which can be full of carbs, sugar, and harmful preservatives and additives.
This keto Instant Pot crack chicken recipe swaps the packaged seasoning for real herbs and spices like chives, dill, and garlic powder.
Pair your crave-worthy keto chicken with zucchini noodles, a salad, or different types of keto bread.
3 Easy Keto Instant Pot Dessert Recipes
These easy Instant Pot keto recipes are just what you need to satisfy your sweet tooth. Low-carb and tasty, these recipes are sure to be a hit.
#1. Keto Instant Pot Lemon Cheesecake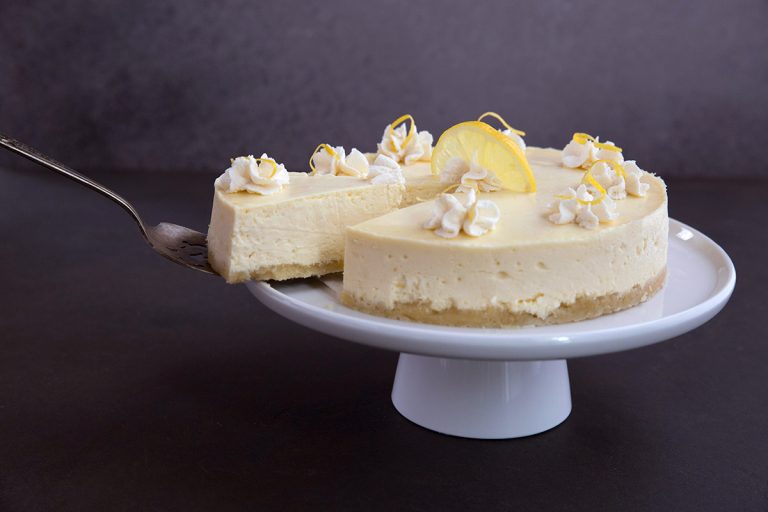 Cooking your cheesecake in an Instant Pot will guarantee a creamy center without cracking or sinking. This keto Instant Pot lemon cheesecake is light and full of spring and summer flavors.
Each serving has over 7 grams of protein, almost 27 grams of fat, and 4 grams of net carbs.
#2. Keto Instant Pot Molten Brownie Cups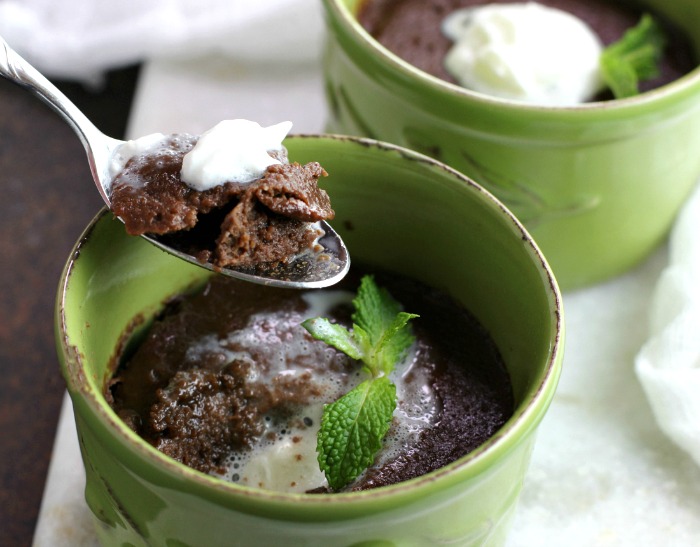 These moist, creamy Instant Pot brownies literally ooze molten fudge despite being sugar-free. Decadent yet simple to make, each brownie bakes in its own ramekin, so portion control is easier.
#3. Instant Pot Keto Carrot Cake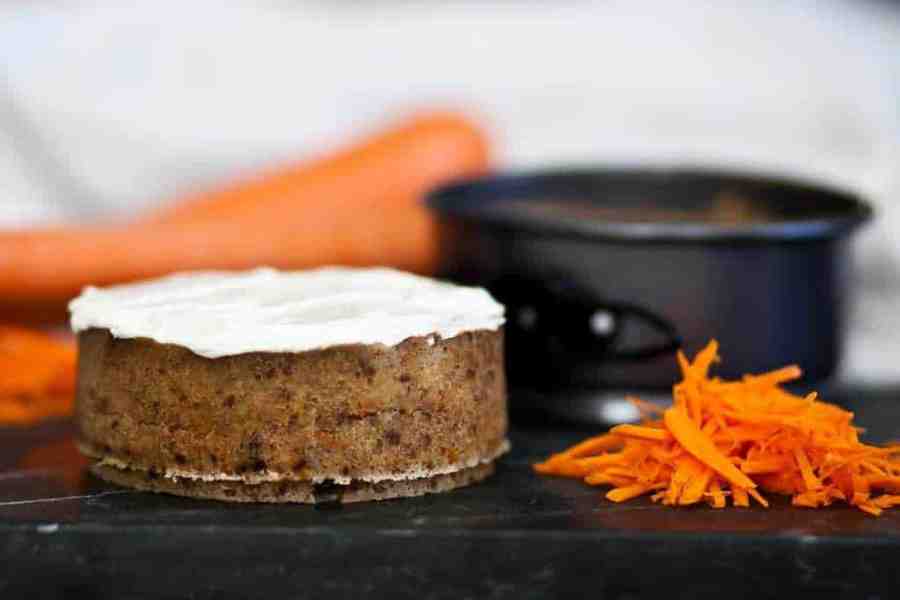 Use an Instant Pot to make a gluten-free keto almond carrot cake without heating up your kitchen. Top with keto-friendly cream cheese frosting and your friends and family will never suspect it's part of your low-carb diet.
Get Started on Instant Pot Keto Recipes Today
An Instant Pot may be a lifesaver if you find that you're spending more time cooking and washing dishes on a keto diet.
These easy Instant Pot keto recipes are healthier than taking the dirty keto route yet just as simple and quick.
Bookmark this page, try out a few recipes, and discover for yourself why the IP craze is here to stay.