If you're on a low-carb or ketogenic diet, you may wonder about how alcohol fits in.
Not to worry — hot summer evenings and happy hours filled with red wine, lemon drops, and Moscow mules aren't completely off the table.
Plenty of your favorite cocktails have low-carb versions, including this classic summer cocktail.
Low-carb, sugar-free, and packed with citrus from real fruit — this citrus white rum keto cocktail is the perfect way to unwind keto-style, absolutely guilt-free.
Pair with an array of homemade low-carb, keto recipes and you've got a party that isn't just satisfying and fun — it will also support your weight loss goals.
This citrus white rum keto cocktail is:
Fresh
Bright
Delicious
Citrusy
Gluten-free
The main Ingredients in this delicious cocktail are:
White rum
Ginger
Lemon
Orange zest
Health Benefits Of Citrus White Rum Keto Cocktail
#1: May Help Protect Your Liver
In all seriousness, alcohol is never good for your liver.
Luckily, this fresh summer cocktail contains enough real-food ingredients to help counteract the effects of the rum.
And for an even healthier cocktail, you can make this recipe as a mocktail, leaving out the alcohol altogether.
Ingredients like citrus and ginger — plus the super low sugar content — won't just keep you in ketosis, but will also help mitigate some of the stress that alcohol usually has on your liver.
Ginger has been studied as a potential natural supplement to aid those with one of the most common liver diseases, NAFLD (non-alcoholic fatty liver disease).
When you consume ginger, it acts as an anti-inflammatory, protecting against oxidative stress. It also has insulin-sensitizing effects, meaning it makes your cells more apt to take up glucose from your blood[*][*][*].
All of these benefits work to promote liver health, and have given scientists a reason to believe that ginger may help prevent and treat NAFLD.
Citrus fruits, like oranges and lemons, contain the compound limonene, which has been studied in animals to assist in liver detoxification[*],[*].
When your liver is doing its job, it detoxifies anything your body doesn't want in two phases.
The first phase loosens up the toxins and gets them ready for removal from your tissues, while the second phase actually escorts these unwanted substances out of your body.
By enhancing the second phase of detoxification, citrus fruits may be taking some of the stress off your liver and quite literally take a toxic load off your body[*].
#2: Balance Blood Sugar
One downside to having a cocktail or two can be the crash in blood sugar that follows, leading to diet-crushing "drunk munchies."
Most keto cocktails are going to be low sugar and therefore won't send you spiraling as some sugar-laden beverages will.
However, this Citrus White Rum Keto Cocktail takes it a step further when it comes to balancing blood sugar.
Ginger not only adds a spicy kick to this cocktail, but its blood sugar balancing properties have been tested against the most insulin-resistant population, those with type 2 diabetes.
In fact, in a randomized controlled study, ginger was found to benefit blood sugar as well as several other health markers[*].
Oranges are another all-star when it comes to managing blood sugar.
The bioflavonoids in oranges appear to balance blood sugar by inhibiting the absorption of some of the sugar you consume.
They also increase secretion of insulin — your blood sugar balancing hormone — and have a healing effect on your pancreas[*][*]. The best part is that these bioflavonoids are found mostly in the peel of the orange, your orange zest in this refreshing recipe.
#3: Good for Indigestion and Nausea
Let's face it — alcohol can help you relax and give you a light buzz, but many people are also often hit with indigestion and nausea after a couple of drinks.
It could be the drink itself, or the appetizers, desserts, and snacks that tend to hang around when you're at a party or an event that throw your stomach off.
Either way, this cocktail has your back if indigestion tends to be a problem for you.
Ginger is known as a carminative, which means that it reduces intestinal gas. It also increases intestinal motility, meaning it helps move food through your digestive tract[*][*].
Often times, indigestion happens when some part of your digestive process is stalled. This can be due to several factors, but overeating or eating something your body isn't prepared to digest tend to be the most common causes.
Ginger has also been studied for its anti-nausea properties and has been used as a nausea remedy for more than 2000 years.[*][*].
Other drinks to avoid on a keto diet include heavy, sugary white and red wines, bloody mary drinks, tonic water, and fruit juice mixers. All of these are sure to trigger an insulin response and kick you out of ketosis.
Don't drink? Keep your carb count low by making this keto cocktail sans rum or replace it altogether with some flavored sugar-free La Croix or soda water with lemon juice or lime juice.
Citrus White Rum Keto Cocktail
This Citrus White Rum Keto Cocktail is low in carbs, completely free from sugary simple syrup, and bursting with orange and lemon flavor. It's a perfect keto-friendly drink to enjoy poolside during the summer months.
Don't have lemon juice handy? Try adding lime juice for another tropical variation of this killer cocktail.
When it comes to low-carb cocktails, the key is to keep it sugar-free. But adding fresh ingredients like citrus and ginger don't hurt when it comes to supporting your keto diet.
Add some fresh mint or muddle mint leaves and ice cubes in the bottom of your glass for another fresh twist. The sky is the limit when it comes to a low-carb diet — regardless of what the mainstream might say.
Leave the rum punch and sugar-laden cocktail recipes in the dust with this perfect summer drink. And pair with plenty of keto appetizers from your keto meal plan for the perfect low-carb party.
Print
Citrus White Rum Keto Cocktail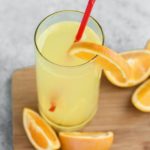 Orange extract, white rum, lemon juice — this Citrus White Rum Keto Cocktail contains less than 1 net carb and will be your low-carb, sugar-free, happy hour go-to this summer.
Author:
Prep Time:

10 minutes

Cook Time:

7 minutes

Total Time:

~20 minutes

Yield:

2

cocktails

1

x
Scale
Ingredients
Syrup:
2 tbsp

water

2 tbsp

monk fruit sweetener

1 tsp

grated fresh ginger
Zest of

one

medium orange
Cocktail:
2 oz

white rum

1 tbsp

fresh

lemon juice

Ice
Seltzer water
Instructions
Add water, monk fruit sweetener, grated ginger, and orange zest to a small pot over medium heat

Whisk ingredients and allow monk fruit sweetener to dissolve before reducing heat to low to simmer for 5 minutes.

Remove pot from heat and, using a mesh strainer, strain pulp from the syrup.

Add

white rum

,

lemon juice

, prepared syrup, and ice to a

cocktail shaker

.

Split contents equally among two tall cocktail glass. Fill remaining part of glasses with seltzer water.
Nutrition
Serving Size:

1 cocktail

Calories:

68

Fat:

0g

Carbohydrates:

12.7g (0.7g net)

Protein:

0g
Keywords: Citrus White Rum Keto Cocktail