Are you looking for easy dinner recipes and low-carb meals for kids?
Think your kids will only eat junk food, sloppy Joes, and mac and cheese?
If you're tired of making two separate meals to stick to your ketogenic diet and keep your whole family happy, you're in luck.
This low-carb recipe roundup delivers kid-friendly meals that aren't packed with carbs or sugar yet satisfy everyone's taste buds.
And it includes quick, simple, delicious options for breakfast, lunch, dinner, sides, and even dessert.
But before we get to those, there's an important message you must understand first:
These Keto Meals for Kids Are Not About Restriction
Feeding your kids low-carb meals isn't about restricting their carb intake. Instead, these meals will help you:
Focus On Nutrient Density
The goal here isn't ketosis for kids; the aim is nutrient density.
So if your picky eater struggles to eat enough protein or veggies, these meals disguised as their favorite foods will help correct those imbalances in their diet.
They'll have all the essential vitamins, minerals, and vital nutrients they need to grow strong. And they'll never even realize the unhealthy carbs are missing.
Keep Your Kids Feeling Fuller Longer
Eating filling dishes packed with wholesome, whole-food ingredients means your kids can go longer between snack and meal times.
Rather than quickly burning through processed carbs and feeling hungry shortly after, they'll feel satisfied, energized, and focused.
So say goodbye to the endless need to snack and hello to delicious and nutritious meals everyone can enjoy.
Prioritize Your Family's Health
Eating keto-friendly foods with your kids means you won't have to make two separate dishes for every meal. Your kids can eat what you eat, and vice versa.
Now you'll never have to worry about sacrificing your health and weight loss goals to make everyone happy at the dinner table. And you'll save time, effort, and money streamlining your weekly meal prep.
All these reasons highlight why it's time to swap out highly processed foods like hot dogs and chicken fingers for low-carb family meals.
So let's begin this roundup with a handful of healthy breakfast ideas.
8 Breakfast Meals for Kids that Also Work Great as Brinner
Help your family start their day on the right foot with these eight quick and easy breakfast recipes.
Many of these low-carb recipes are healthier versions of popular high-carb family favorites. So you can still have a healthy breakfast without giving up the foods your family loves, such as:
#1. Quick and Easy Keto Egg Muffins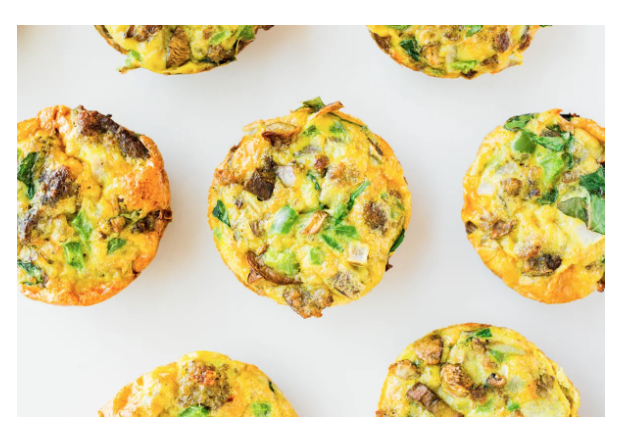 Always rushing around in the mornings trying to get everyone ready for work and school?
Make these keto egg muffins ahead of time, and you'll have one less task to do before you leave.
This super versatile recipe means you can customize your muffins depending on what your family likes, what you have leftover, or whatever's in your fridge.
The best part? You can sneak in loads of veggies without hearing any protests.
Your mornings just got a little easier.
#2. Best Keto Pancakes (Three Ways)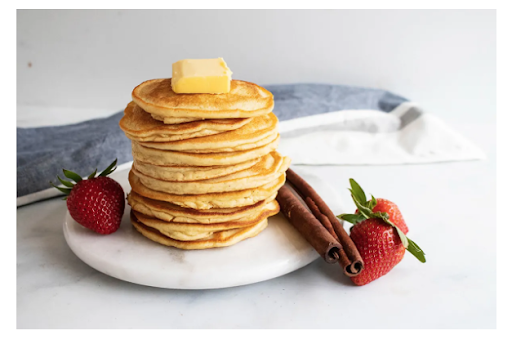 If you have 15 minutes to spare in the AM or over the weekend, you can whip up a batch of these fluffy keto pancakes. They're sugar-free, gluten-free, and low-carb (on top of being delicious).
You can add your favorite toppings to that recipe, or you can try these protein-packed blueberry keto pancakes for a kid-and-company-approved option.
These cream cheese pancakes also work well for busy mornings, especially if you're short on time. They take just 10 minutes to make and only contain four simple ingredients you may already have on hand in your stocked keto pantry.
#3. Keto Cinnamon Roll French Toast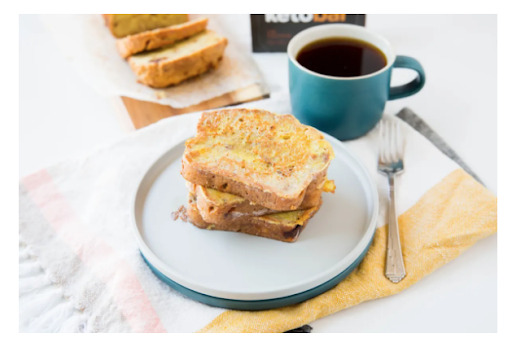 While you may not have enough time to make a batch of french toast before your family heads out for the day, that doesn't mean you can't enjoy this breakfast staple.
So make a big batch of this keto cinnamon roll french toast recipe over the weekend. You'll have a killer brunch and leftovers for a few days (depending on the thickness of your slices).
#4. Low-Carb Breakfast Muffins (Three Ways)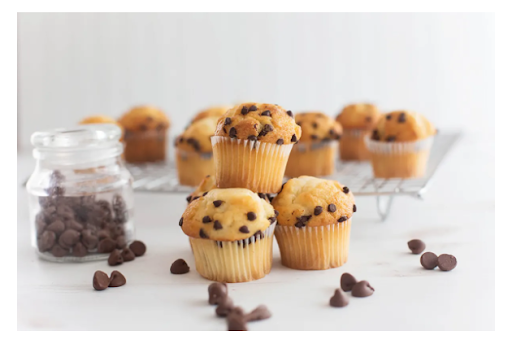 For a grab-and-go option that's both tasty and satisfying, try these fluffy keto chocolate chip muffins, which are guaranteed to be a hit.
If you don't want your kids to start their day with chocolate, you can opt for these lemon poppy seed muffins or these festive pumpkin cream cheese ones instead.
#5. Chocolate Almond Smoothie Bowl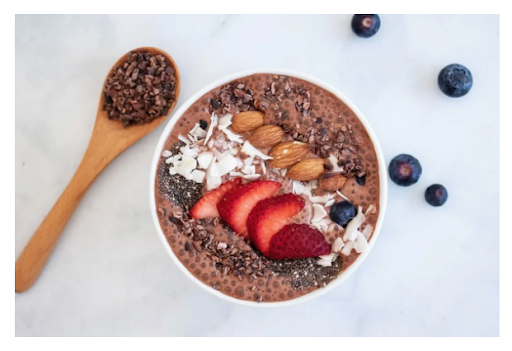 Do your picky eaters refuse to eat anything savory for breakfast?
Satisfy their sweet tooth and sneak in some nutrition with this creamy low-carb smoothie bowl. It's cleverly disguised as a chocolate treat yet packs all the nutrition they need.
#6. Best Homemade Keto Cinnamon Rolls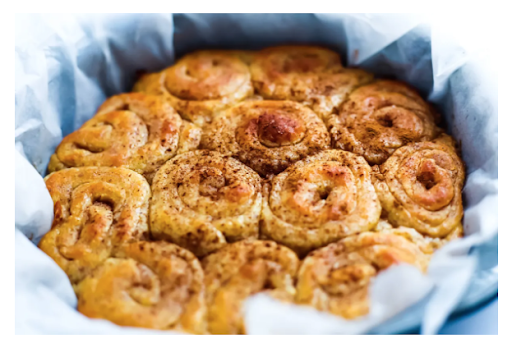 Want to keep the weekend tradition of freshly baked cinnamon rolls you grew up with alive?
Now you can without dumping a ton of carbs or sugar into your kids' system thanks to this satisfying keto cinnamon rolls recipe.
#7. Keto Waffles (Three Ways)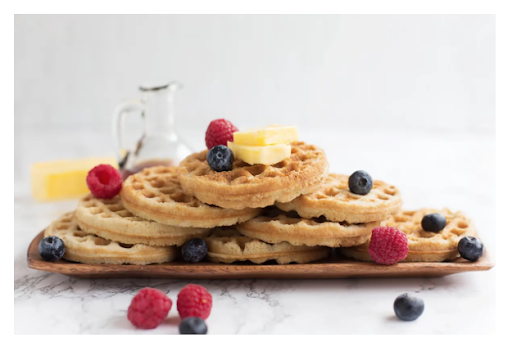 Instead of buying artificially-made frozen waffles, make your own homemade version from scratch in under 10 minutes from start to finish.
That's possible with this fluffy keto waffle recipe.
For extra flavor, you can also try these salted caramel pumpkin chaffles or this chocolate chaffle recipe. Both are more flavorful and filling than anything you'll find in a box.
#8. Low-Carb Oatmeal (Two Ways)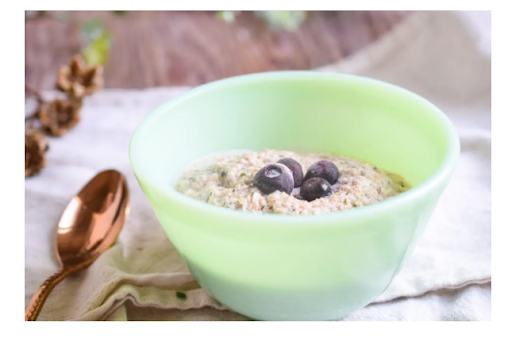 If a warm bowl of oatmeal is what you like serving for breakfast, don't settle for instant packets full of artificial ingredients.
This low-carb oatmeal recipe takes just five minutes to make. And it will keep your kids feeling fuller much longer than instant oatmeal does.
You can kick the flavors up a notch by copying this snickerdoodle n'oatmeal recipe.
20 Lunch and Dinner Recipes the Whole Family Can Enjoy
Need some lunch and dinner ideas that everyone can agree on?
These 20 easy recipes are sure to please all palates and cravings:
#1. Almond Butter and Jelly Sandwiches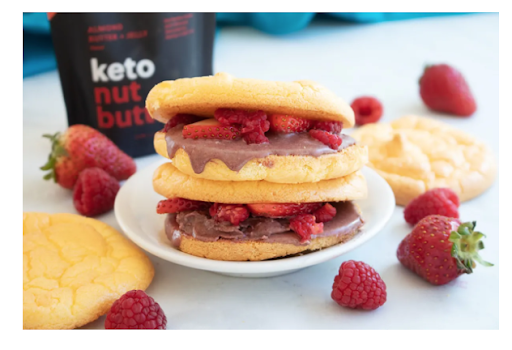 For a fun and filling twist on a traditional peanut butter and jelly sandwich, try this low-carb version. It's sugar-free, gluten-free, and unbelievably delightful.
#2. Chaffle BLT with Turkey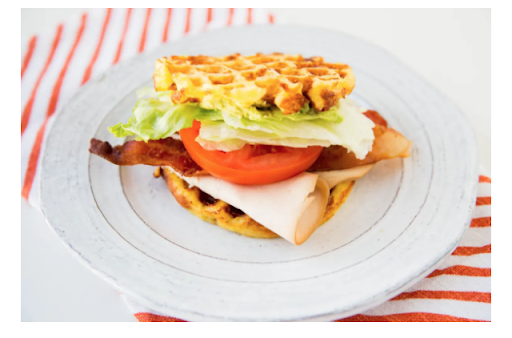 This simple chaffle BLT with turkey sandwich is also guaranteed to be a hit with your kids, no matter how old they are.
The even better news is that you can whip it up in under 10 minutes.
#3. Delicious Keto Chicken Salad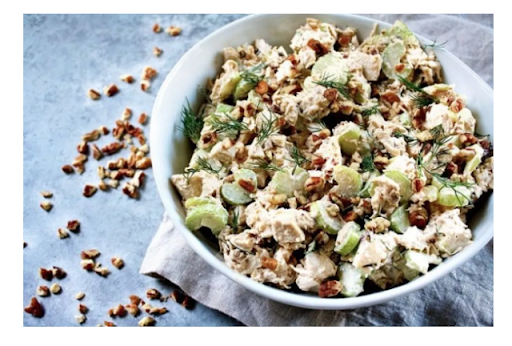 Need a quick meal for your kids that you can prepare in advance and also take on-the-go?
This keto chicken salad recipe is filling, bursting with nutrition, and easy to make with kids. It's packed with protein, healthy fats, and some veggies thanks to the celery.
Make a batch of this, and you'll have lunch for most of your week.
#4. Classic Keto Tomato Soup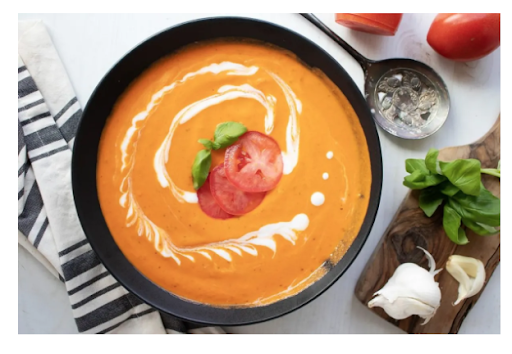 You can make this homemade creamy tomato soup in less than 20 minutes.
Plus, it pairs perfectly with grilled cheese on four-ingredient keto cloud bread or slices of low-carb bread. Just place some cheddar cheese on either bread and cook as usual for perfection.
#5. Low-Carb Pizza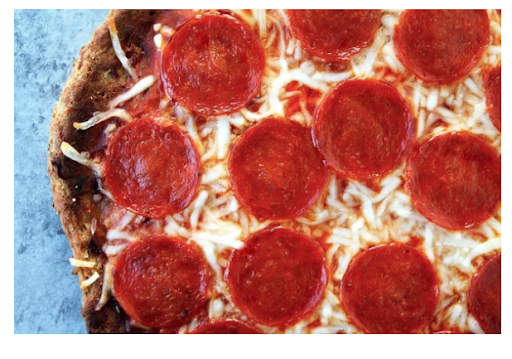 Pizza is the ultimate kid-friendly dinner. But it's far from healthy.
So satisfy their wishes without settling for delivery or frozen options using this low-carb fathead pizza recipe. You can make this recipe in less than 30 minutes from start to finish.
And for a spin on a classic, consider swapping out the tomato sauce and pepperoni for pesto and chicken breast.
Or try this Halloween-inspired low-carb pizza recipe, a crowd-pleaser and excellent way to sneak in more veggies.
To experiment with your own pizza recipes, try these healthier alternatives:
#6. Low-Carb Keto Nachos

Nachos are another kid-friendly meal you should keep in your arsenal of dinner ideas.
But ordinary nachos may have your kids screaming for more than just one batch.
Instead of turning your kitchen into a nacho factory, use this delicious and filling keto nachos recipe. It contains a fraction of the carbs and much more protein than traditional options.
They also make the perfect taco night replacement, like the next recipe idea.
#7. Low-Carb Quesadillas and Street Tacos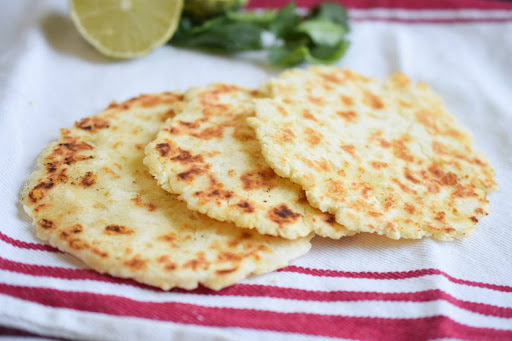 Whether for lunch, dinner, or an afternoon snack, it's always smart to keep this recipe for keto tortillas handy.
Have leftover chicken thighs or ground beef from dinner? Now you can make chicken quesadillas or mini beef burritos in a snap.
Load up your tortilla with cheese, avocado, cilantro, and whatever else your kids like for a tasty, customized treat.
#8. Macaroni and Cheese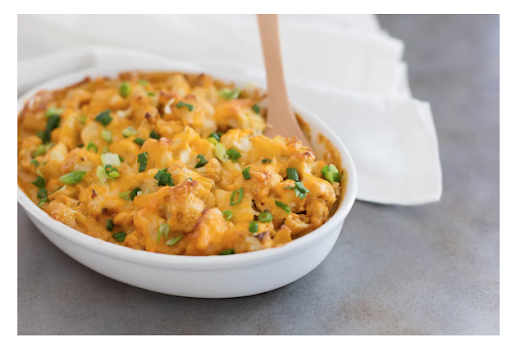 What do you do when your kids want mac and cheese, but you know that notorious blue box isn't the healthiest choice for them?
You turn to this low-carb cauliflower mac and cheese recipe. It will help you ditch the artificial ingredients while also adding real nutrients and fiber into every serving.
Now you can feel good about giving your family what they want, not guilty.
#9. Creamy Keto Spaghetti Squash Carbonara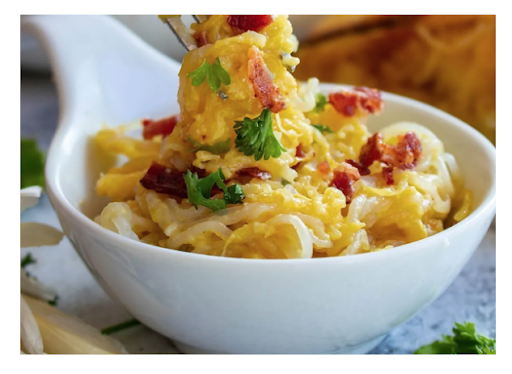 Spaghetti and marinara sauce or chicken alfredo may be your kids' favorite go-to family dinners.
But these pasta dishes don't contain much in the way of nutrition. And they very rarely keep tummies feeling full, as you've probably seen a hundred times.
As a better alternative, try this creamy keto spaghetti squash recipe. It's loaded with flavor, fiber, and protein — three things guaranteed to keep your kids satisfied longer.
#10. Delicious Low-Carb Keto Lasagna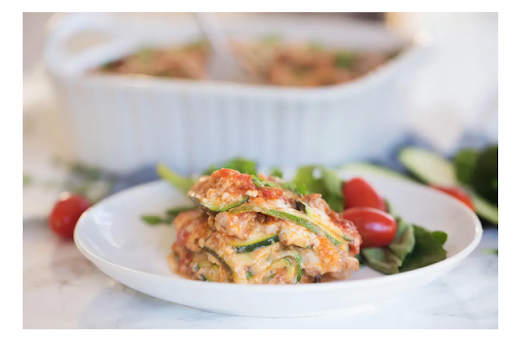 This low-carb keto lasagna recipe uses zucchini noodles instead of pasta.
This gives you the same great flavors without all of the carbs. Bonus: You get a dose of nutrients from the zucchini.
Trust us, your kids won't even realize this dish is missing real noodles, or that it's veggie-based and (gasp!) healthy.
#11. Crispy Keto Chicken Tenders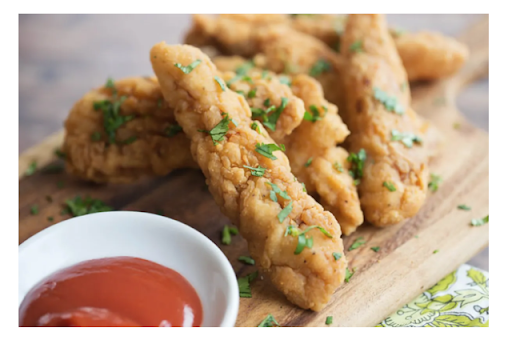 Don't worry if your kids are going through a phase where all they want to eat is chicken nuggets.
Even this popular dish can be recreated into a healthier option without much effort, as this crispy chicken tenders recipe proves.
The low-carb "breading" also works well on flaky white fish, so you can easily create homemade fish sticks too.
#12. Fried Chicken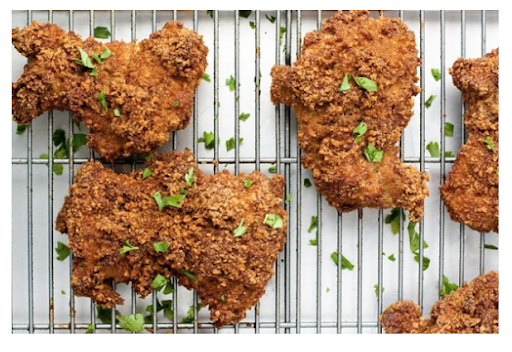 You no longer have to turn down your family's requests for fried chicken.
With the help of this crispy keto fried chicken recipe, you can satisfy the craving without settling for greasy fast food options.
#13. Crispy Parmesan Crusted Chicken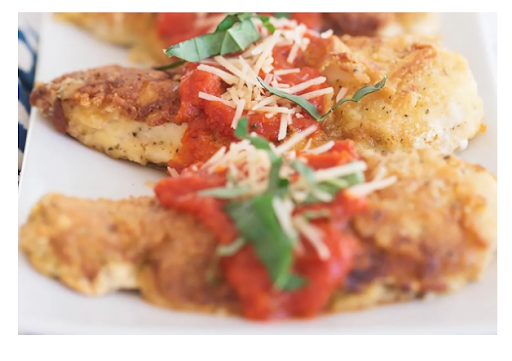 You can also transform chicken parmesan into a mouth-watering low-carb dish thanks to this crispy parmesan crusted chicken recipe. It takes less than 20 minutes to make and delivers all the flavors you're craving.
#14. Nutritious BBQ Baked Keto Pork Chops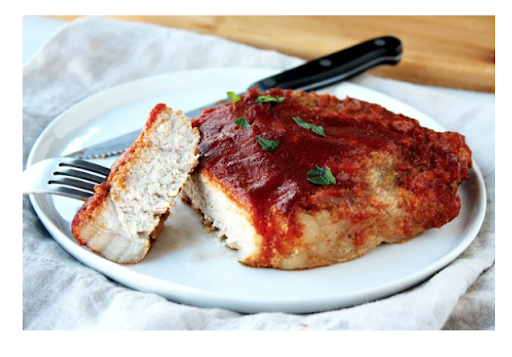 Pork chops are another weeknight dinner meal that works well for both adults and kids alike.
So plan on cooking this nutritious BBQ baked pork chop recipe, and don't be surprised if it becomes a weekly favorite.
It's easy to whip up and incredibly satisfying; everyone will appreciate it when it comes up in the dinner rotation.
#15. Delicious Low-Carb Keto Meatloaf
Not sure how to drop the breadcrumbs in your traditional meatloaf recipe?
Give your crew the family favorite they love with this low-carb alternative. You'll score the same comforting taste without the unnecessary carbs.
#16. Simple Keto Meatballs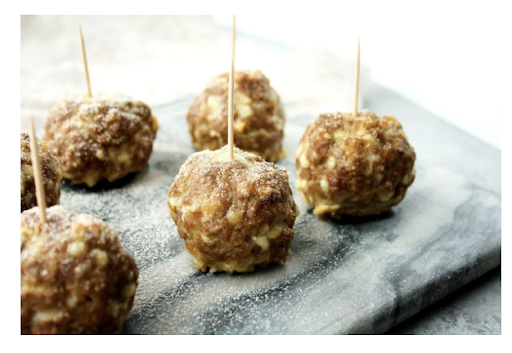 Kid-friendly meals should be both fun to eat and filling. So these delicious keto meatballs tick both boxes. And they pair perfectly with a green salad or your kids' favorite veggies on the side.
#17. One-Pan Cheesy Chicken Casserole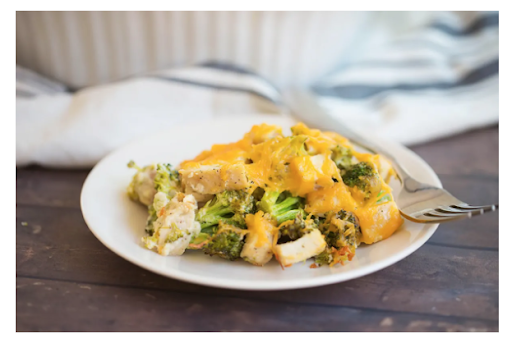 Does your hectic schedule demand easy one-pot meals?
Check out this cheesy chicken casserole, which is sure to be a hit with the entire family. On top of bursting with flavor, it's also hiding fiber and nutrients your family needs to thrive.
#18. Super Simple Chicken Cauliflower Fried Rice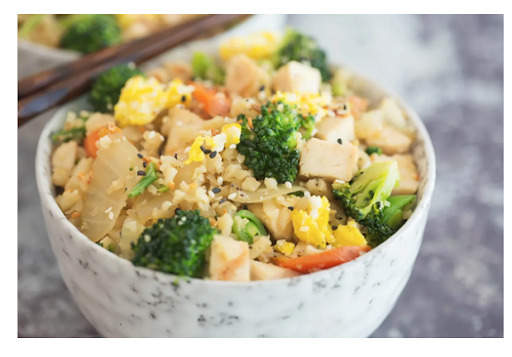 You can skip the sushi or teriyaki takeout without missing the Asian flavors your family craves. This super simple chicken cauliflower fried rice recipe works well for dinner and as lunch leftovers the next day.
#19. Portobello Bun Cheeseburgers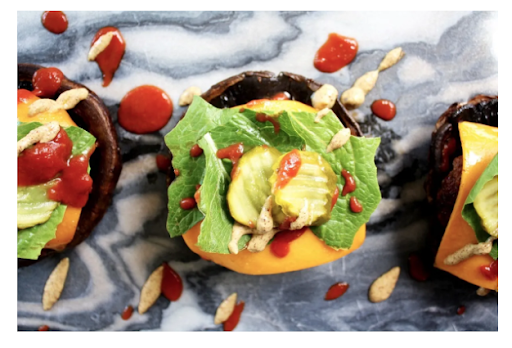 These portobello bun cheeseburgers make ditching fast food burgers a no-brainer. This recipe piles a juicy burger on top of nutrient-dense portobello mushroom caps for maximum flavor sans high carbs.
#20. Turkey Burgers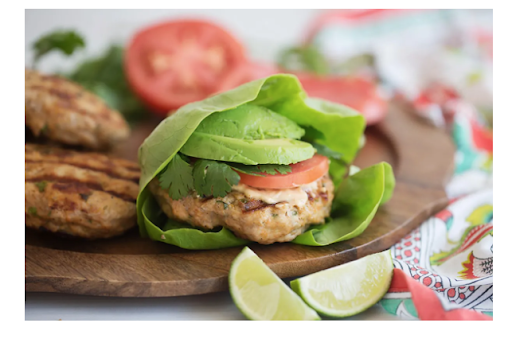 For a lighter burger option that's just as filling, consider making turkey burgers for your family.
You can choose a Mexican inspired option, like these zesty chipotle lime bunless turkey burgers (pictured). Or try this BBQ Ranch recipe for a more traditional American take.
7 Delicious Snacks, Sides, and Dessert Options
These next recipes will help you replace store-bought snacks and side dishes, which are usually loaded with carbs and artificial ingredients.
You'll also find three sugar-free desserts that taste like the real deal.
#1. Easy Homemade Mozzarella Sticks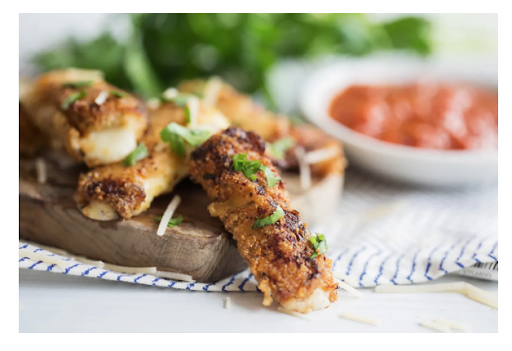 Try making these homemade mozzarella sticks as an afternoon snack or as an appetizer for your next party. They're a fan-favorite with both kids and adults alike.
#2. Keto Cream Cheese Crackers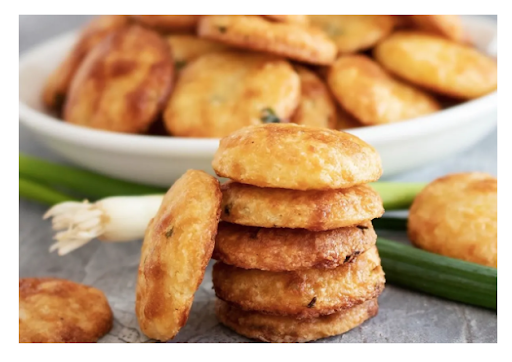 Why settle for processed crackers that leave your kids hungrier for more? These keto cream cheese crackers are the perfect Cheez-It alternative, and they're not difficult to make.
#3. Cheddar Cheese Crisps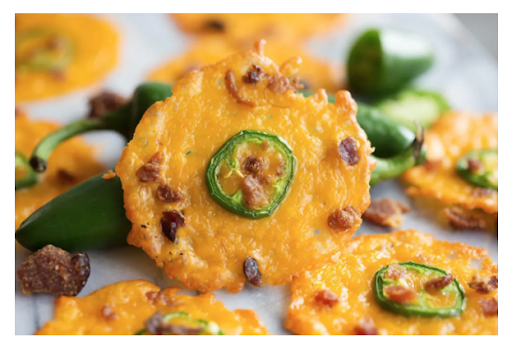 These keto cheddar cheese chips are another simple yet filling snack you can put together in under 15 minutes.
Simply ditch the jalapenos to make the recipe kid-friendly. Then they'll have a snack that keeps them full until dinner.
#4. Garlicky Cauliflower Mashed "Potatoes"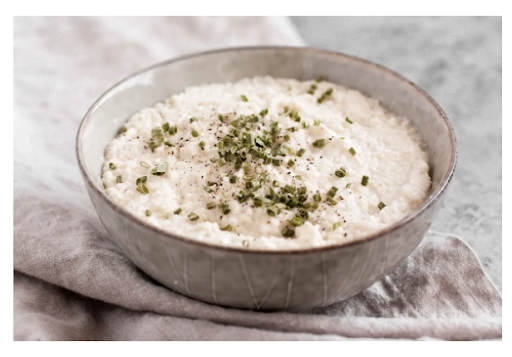 Trying to sneak more non-starchy veggies into your kids' diets?
Give this batch of garlicky cauliflower mashed "potatoes" a go. Or try this creamy mashed cauliflower recipe if garlic isn't a favorite in your household.
These low-carb sides make the perfect stand-in for mashed potatoes — especially when you're craving comfort food.
#5. Sugar-Free Red, White, and Blue Cupcakes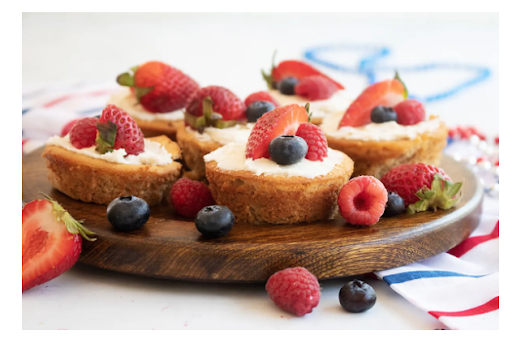 If you want to enjoy dessert with your family, but you dread the sugar high that comes with it, don't sweat it.
These sugar-free red, white, and blue cupcakes won't make your kids start bouncing off the walls. They're also an ideal way to sneak in natural sweetness, fiber, and antioxidants from fruits like strawberries and blueberries.
#6. Superfood Nice Cream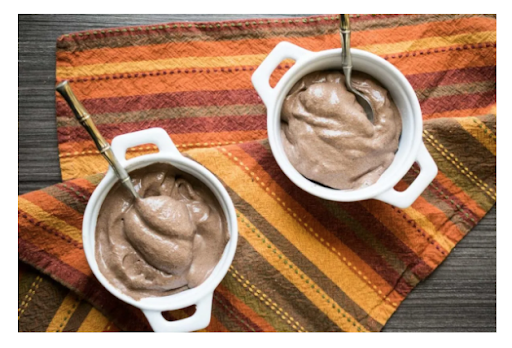 Homemade "nice" cream makes an easy dessert that's also hiding a dose of healthy nutrition from superfoods in each serving.
Your kids will just think it's regular ice cream — but you'll know it's so much more than that.
#7. Keto Chocolate Chip Cookies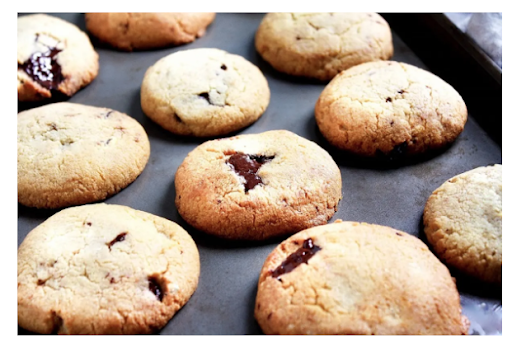 These keto-friendly sugar-free chocolate chip cookies are soft and chewy right out of the oven. Now you don't have to turn down freshly-baked chocolate chip cookies because they're too high in carbs and sugar.
Your kids won't even realize they're not the same cookies they used to enjoy.
Want chocolate chip cookies to go anytime? Try our new guilt-free keto cookies now!
Try These Keto-Friendly Meals for Kids Today
Voila! You now have 37 amazingly delicious low-carb, kid-friendly recipes your whole family will devour.
These recipes are all easy to make and packed with nutrition instead of carbs and sugar. You can even cook a few in your trusty slow cooker or Instant Pot to save time and effort.
Because they're loaded with wholesome ingredients, you'll feel good about what your kids are eating. And you may find sticking to your keto meal plan less challenging.
Be sure to bookmark this page so you can refer back to these recipes anytime you need to figure out what's for dinner (or any other meal).