Did you know that eggplant is actually considered a fruit? It's true.
And it's one of the few fruits you can safely eat on keto. Aside from being extremely low in net carbs, its unique spongey texture lets it soak up all the flavors you add to your dish. You can grill it, roast it, use it as a hearty filling in stews and soups, or serve it as a low carb chip replacement, as we'll do today.
These eggplant chips are perfect for satisfying those cravings for salty, crunchy foods — you don't have to cheat on keto with potato chips anymore. They're also the ideal low carb chips for keto dips.
The main ingredients in these chips include:
Aside from the cooking versatility that eggplant has to offer, it's extremely nutrient-dense. Its deep purple skin is loaded with antioxidants and it's also a great source of vitamins, minerals, and fiber.
3 Health Benefits of Eggplants
#1: Rich in Fiber
One of the greatest benefits of eggplants is the amount of fiber they contain, which helps digestion and keeps bowel movements regular. Fiber has also been linked to lowered risk of heart disease and improving "bad" cholesterol levels.
In addition to gastrointestinal health, fiber can also help boost your weight loss efforts because it allows you to feel more full and less inclined to eat larger portions.
#2: Loaded With Antioxidants and Immune-Boosting Nutrients
The color of eggplant alone should be a key indicator of how healthful it is. The skin is loaded with antioxidants, phytonutrients, manganese, and vitamin C, which help keep your immune system healthy.  Having high levels of these nutrients will help stimulate the production and activity of white blood cells in your body.
#3: Improve Cognition
The phytonutrients found in eggplants also help boost your brain power and cognition.  These nutrients help fight free radical damage in your body, reduce toxins, and increase blood flow to the brain.  More oxygen-rich blood going to the brain can stimulate brain power.
When you decide to eat the rainbow and need a way to add that rich purple color, giving eggplant a try. And if you aren't quite sure about how to incorporate it or cook it, start with these chips. They make for a great introduction to eggplant and a low carb chip replacement.
Print
Crispy Roasted Eggplant Chips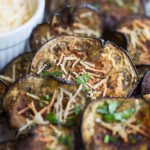 Author:
Total Time:

30 minute

Yield:

15

chips

1

x
Instructions
Preheat oven to 325 degrees.

Add 1/4 cup of extra virgin olive oil and the dried spices to a small bowl. Coat the sliced eggplant with the oil and spices. Arrange them on a baking tray.

Bake for about 15-20 minutes until the chips are evenly browned. Flip 1/2 through baking time. Remove from the oven and sprinkle on parmesan cheese if desired. Let cool completely to serve.
Nutrition
Serving Size:

1 chip

Calories:

60

Fat:

5g

Carbohydrates:

Net Carbs: 2g

Protein:

1g