Halo Top was founded in 2011 with the goal of delivering premium desserts that people can feel good about. Their original line consisted of a variety of high-protein, low-calorie flavors like birthday cake, sea salt caramel, and lemon cake, which highlighted their "calories per pint" front and center on the packaging. 
Depending on the flavor, an entire pint of Halo Top ice cream (original) was anywhere between 280 to 360 calories — not bad considering the same volume of Ben & Jerry's could run you upwards of 1200 calories.
With the growing popularity of these calorie-controlled sweet treats, the company decided to expand its offering in 2018 to include dairy-free, vegan-friendly options[*].
And now, this health trend-savvy company has turned its eye to the keto market, launching seven new flavors aimed at low-carb dieters.
Senior Brand Manager Meg Graeff stated in a recent press release, "Our brand is focused on making a delicious dessert that everyone can feel good about eating, and these new flavors allow us to do that for our fans looking to limit their sugar intake[*]." 
But are the new keto Halo Top flavors good for you? Let's dig in and find out.
New Keto Halo Top Flavors
The new flavors run the gamut, from classic peanut butter chocolate to innovative banana cream pie. Straight from the press release, the full list is[*]:
Peanut Butter Chocolate:

One of life's best combos, peanut butter, and chocolate, come together in this delicious frozen dessert filled with peanut butter, mini peanut butter cups, and chocolate swirl. Calories/pint: 630, Net Carbs/pint: 8g

Caramel Butter Pecan:

Making smarter choices just became easier with buttery caramel syrup and pieces of roasted pecans swirled into this creamy, ultra-filtered milk frozen dessert. Calories/pint: 460, Net Carbs/pint: 5g

Chocolate Cheesecake:

One of your favorite desserts now in frozen form, with cheesecake pieces that feature real cream cheese in a yummy chocolate base, for a delicious flavor combination. Calories/pint: 470, Net Carbs/pint: 10g

Jelly Donut:

Bring the donut shop home and enjoy the taste of strawberry swirl and actual glazed donut pieces in this winning dessert flavor combination. Calories/pint: 450, Net Carbs/pint: 7g

Berry Swirl:

Fruit lovers, rejoice! Loaded with blueberries and strawberries, then layered with a swirl of both syrups, this flavor feels like spring has sprung. Calories/pint: 410, Net Carbs/pint: 8g

Banana Cream Pie:

Grandma's favorite dessert just got a makeover, with creamy bananas, chocolate syrup, and pie flavors. Calories/pint: 500, Net Carbs/pint: 8g

White Chocolate Macadamia Nut:

The sophisticated taste of macadamia nut and white chocolaty goodness unite in this creamy, ultra-filtered milk frozen dessert. Calories/pint: 460, Net Carbs/pint: 8g
Is Halo Top Keto-Friendly?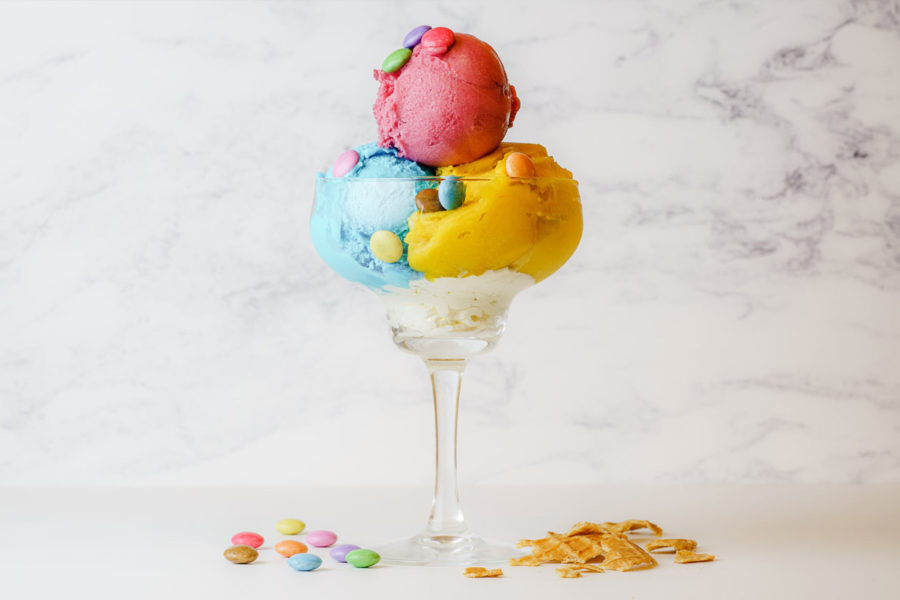 But the real question is: will these new pints kick you out of ketosis?
The original and dairy-free lines of Halo Top were semi-keto-friendly, with a bit too many grams of carbs for a whole pint — but low enough if you were only to consume one or two servings.  
This line, however, definitely hits the mark in terms of macronutrient ratios. With total carbs per pint anywhere from 5 to 10 grams, you could take down an entire carton and still be within your daily carb allotment. 
Keep in mind, however, that in addition to a more favorable macro ratio, the new keto versions also come with higher calorie counts. With the original line keeping calories under 360 per pint, the new keto line has anywhere between 410 to 630 calories. 
You also may want to check your personal ketone levels after trying out these new flavors. Although they're designed to be keto-friendly, everyone's body reacts differently, especially to processed foods. And these are still processed foods.
Halo Top Ingredients: Are They Healthy?
Whenever you purchase a low-carb or keto-friendly dessert, it's crucial that you take a look at the sweeteners, fillers, binders, and other additives they use. 
While some companies will throw questionable ingredients like Splenda and aspartame into their products, others keep it clean with sugar substitutes like stevia, monk fruit, and erythritol. 
Luckily, Halo Top sticks with erythritol and stevia. 
Erythritol is a sugar alcohol that can be found naturally in some foods, and scores extremely low on the glycemic index — keeping blood sugar levels steady. While some sugar alcohols can cause digestive discomfort, erythritol is typically well-tolerated in small amounts[*].
Stevia is a natural sugar substitute derived from the plant stevia rebaudiana. This sugar alternative not only replaces the sweetness of cane sugar, but it also helps to keep blood sugar stable and supports healthy insulin activity[*].
The full list of ingredients for the new keto line is still under wraps until the pints are launched. Stay tuned for an update once we know more.
Will Keto Halo Top Support Weight Loss?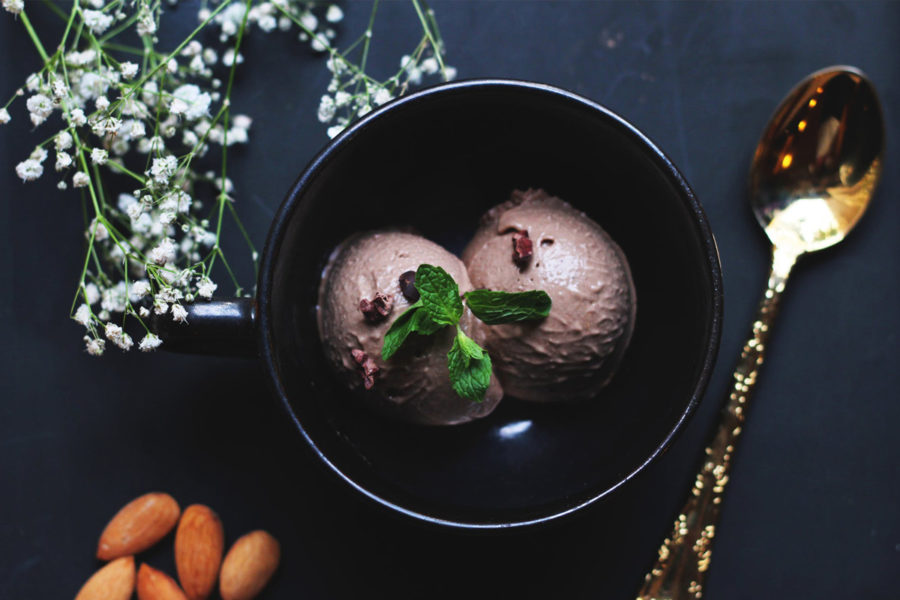 If part of your goal with the keto diet is weight loss, you may want to think twice about eating highly processed packaged foods like ice cream. Research shows that consuming these types of processed foods often leads to overeating and subsequent weight gain[*]. 
What's more, even on the keto diet, consuming excess calories will prevent weight loss. With one pint of keto ice cream racking up 630 calories, moderation is still key with this low-carb dessert. 
In general, always try to focus on real, whole foods and enjoy keto-friendly treats on special occasions. That goes for any diet.
Read next: Do Calories Matter on Keto?
Where To Find Keto-Series Halo Top
As the brand rolls out this new line of low-carb ice cream, you can check out your local grocery store's freezer section to see if they're carrying the new flavors. 
If you're not sure which stores near you carry Halo Top, check out their website and find your way to the "Buy Now" tab where you can buy online or search for local retailers.
The Takeaway
If you're craving some keto-friendly ice cream and don't feel like making it yourself, Halo Top's new keto series may be just what you're looking for. 
Compared with traditional ice cream, this new line of ice cream flavors keeps a super low carb count, while maintaining a relatively low-calorie count. However, you still may want to watch your serving size — especially if weight loss is your goal. 
And remember, although these keto-friendly treats can make following the diet a lot easier, your staple foods should also fall under the real, whole foods category.