While there are a handful of keto-friendly options at Starbucks, all the good stuff is loaded with carbs. Espresso macchiatos and americanos are great for your morning pick-me-up, but sometimes you want something a little more exciting. 
Enter Starbucks copycat recipes. 
Fans of keto dieting are nothing if not creative. If you're craving a frappuccino, dolcelatte, or any other of your favorite Starbucks drinks, there's a low-carb option out there to take care of your needs. 
15 Keto Starbucks Recipes
#1 Pumpkin Spice Latte


PSLs are an Autumn classic. But there's no need to limit your enjoyment of pumpkin spice lattes when the carb count is just over one net carb per drink. This delicious and creamy latte uses pumpkin puree, pumpkin spice, and ground cinnamon for a delightfully warming beverage with flavors coming from real food.

#2 Salted Caramel Frappuccino


Salted caramel frappuccinos are the ultimate dessert beverage. There's just something about a rich caramel flavor with a hit of salt to magnify the taste. While the Starbucks version is a classic, this frappuccino recipe contains a fraction of the carbs and skips the low-quality syrups and hard to pronounce ingredients. 
Each serving has only one gram of net carbs, so you can make it a double without any guilt. Top it with a drizzle with sugar-free chocolate syrup.
#3 Cinnamon Dolce Latte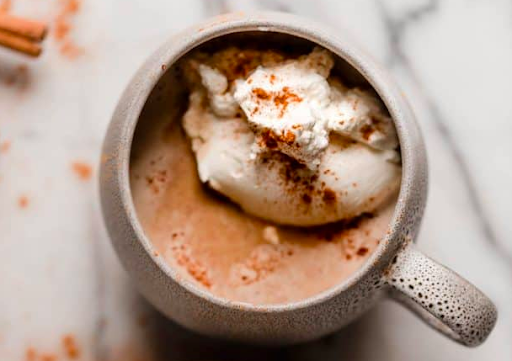 With only six ingredients, this keto cinnamon dolce latte blows the Starbucks version out of the water in not only taste but quality as well. While the Starbucks version packs a whopping 43 grams of sugar (yes, that's sugar net carbs), this version has only five net carbs per serving. 
Enjoy this delicious beverage in the morning to wake you up, or as an afternoon treat to keep you alert. 
#4 Mocha Frappuccino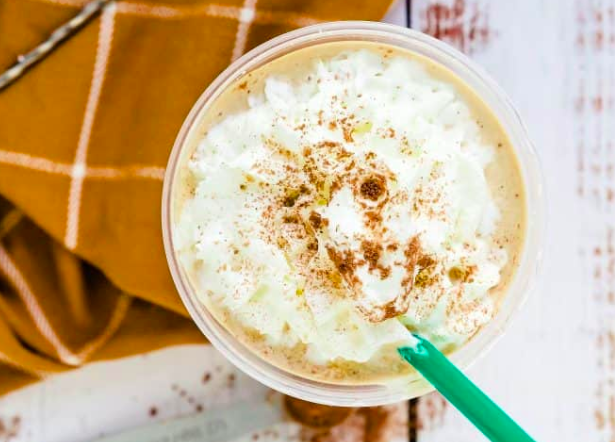 Mocha frappuccinos are a classic, but I bet you haven't spent much time digging into the ingredients and nutrition facts of the standard recipes out there. For instance, one mocha frappuccino at Starbucks comes with 52 grams of sugar, and 55 carbs — say goodbye to ketosis. 
This copycat Starbucks recipe uses only four ingredients; monk fruit sweetener, cocoa powder, heavy cream, and instant coffee. Top your frappuccino with some keto whipped cream, or add some sugar-free chocolate chips for a chocolate chip frappuccino.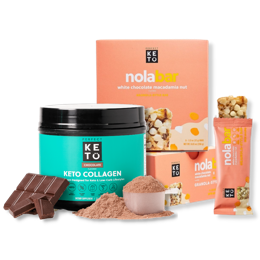 Browse our curated collection of fan-favorites and discover your new favorite snack or supplement.
Shop Best Sellers
#5 Gingerbread Latte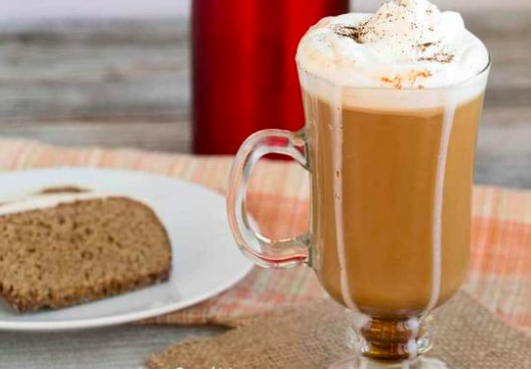 It may be a seasonal treat, but gingerbread lattes are delicious nonetheless. This recipe calls for warming herbs like ground ginger, cloves, and cinnamon, making it the perfect beverage to snuggle up with on a Sunday morning. 
Whether it's the holidays or not, you can enjoy a low-carb gingerbread latte guilt-free with only 1.5 net carbs per serving.

#6 Hot Chocolate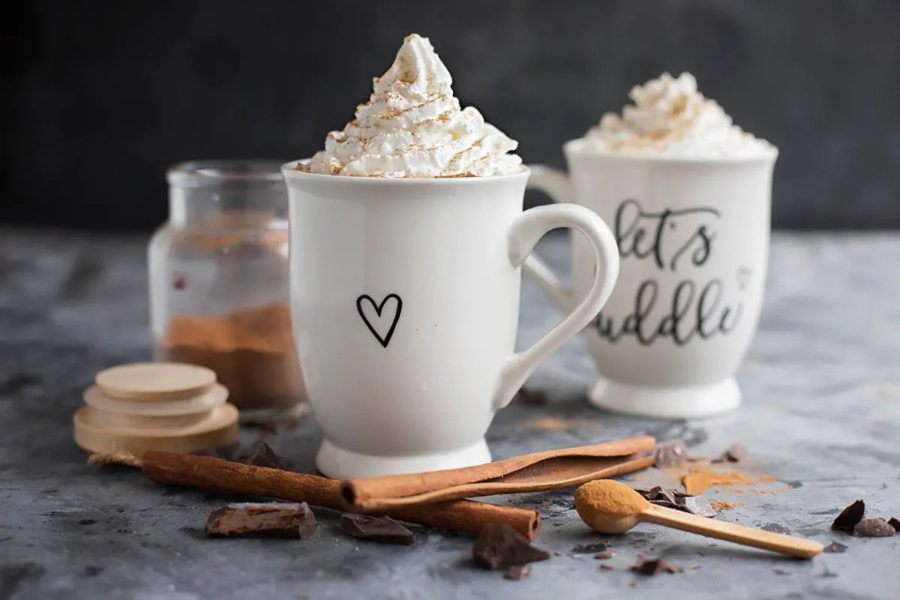 If you're not looking for a hit of caffeine, you may have stopped by Starbucks for some creamy hot chocolate. 
Hot chocolate is one of the most popular dessert beverages out there, but of course, it comes packed with sugar. The Starbucks version has 400 calories and 43 grams of sugar per serving, while this low-carb version cuts the calories to 280 and the carbs all the way down to 3. 
In addition, the use of Perfect Keto Chocolate Collagen Powder provides this hot chocolate with 13 grams of protein per serving.  
#7 Passion Fruit Iced Tea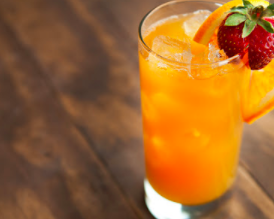 Do you remember when passion fruit iced tea hit the scene? Everyone was walking around with bright pink beverages and enjoying every fruity sip. Ice tea is an excellent alternative to coffee, especially when the weather is warm.
This iced tea latte adds heavy cream to make your traditional passion fruit tea creamy and smooth. Other than that, the recipe is pretty close to the original, with the primary exception being the use of stevia in place of sugar. 
#8 Peppermint Mocha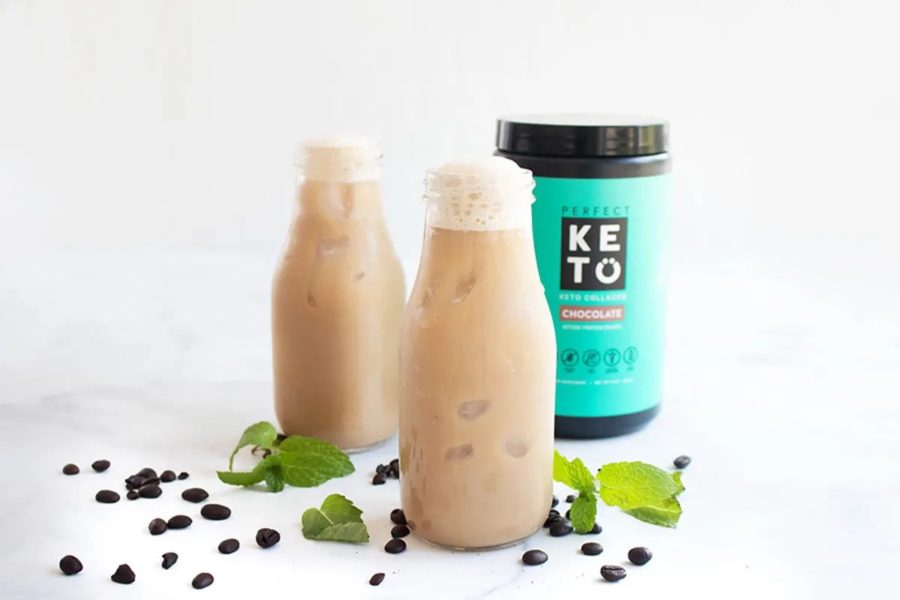 Chocolate and mint were a match made in heaven, which is probably what made peppermint mochas so popular. This seasonal treat is a fan favorite for many, but alas, the carb count is through the roof. 
This keto-friendly version has only five ingredients, including collagen powder, which provides some extra protein and only one gram of net carbs. What's more, instead of using artificial flavoring, you'll be adding a minty touch with peppermint essential oil that comes with benefits like enhancing cognitive health and supporting mood[*].
#9 Pink Drink Refresher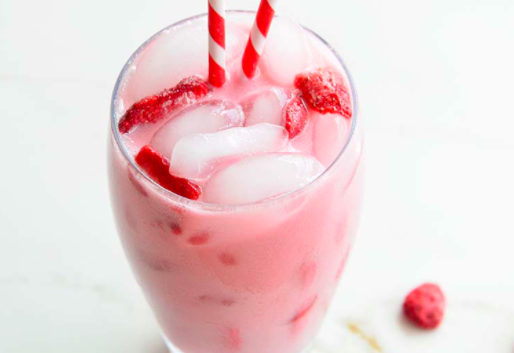 It's all in the name — this pink drink is refreshing and satisfying. As a favorite in their "refresher" line of beverages, the pink drink is a strawberry-flavored treat that traditionally packs 24 grams of sugar per serving. 
In this keto-friendly version, you're cutting the carbs down to four net carbs per serving by omitting ingredients like sugar and juice concentrates. Instead, you'll sweeten your pink drink with stevia and fresh strawberries, and add some healthy fats with coconut milk. 
#10 Iced Caramel Macchiato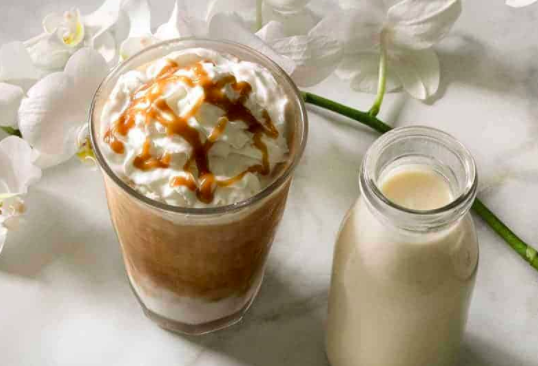 This keto caramel macchiato goes the bulletproof coffee route and adds in some butter for extra fat. You can use the suggested Torani sugar-free syrup, or if you want to stick to something a little healthier, go with monk fruit sweetener or stevia.
#11 White Chocolate Mocha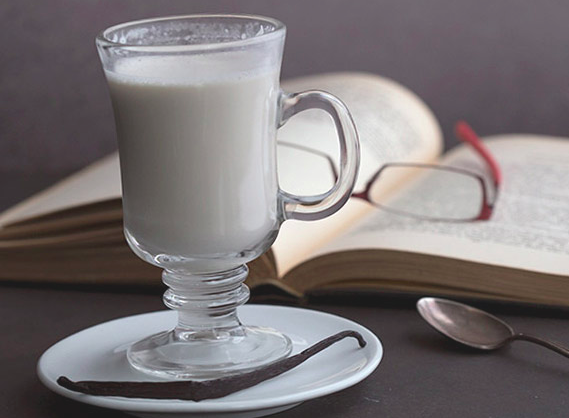 For those that like to try something a little different, white chocolate mochas are the way to go. The Starbucks version of this recipe contains 430 calories and over 50 grams of sugar. That pretty much makes it an entire meal of carbs. This keto version, however, comes with only 260 calories and just 1.5 net carbs. 
You can also add optional collagen powder to make it extra creamy and smooth.
#12 Matcha Green Tea Latte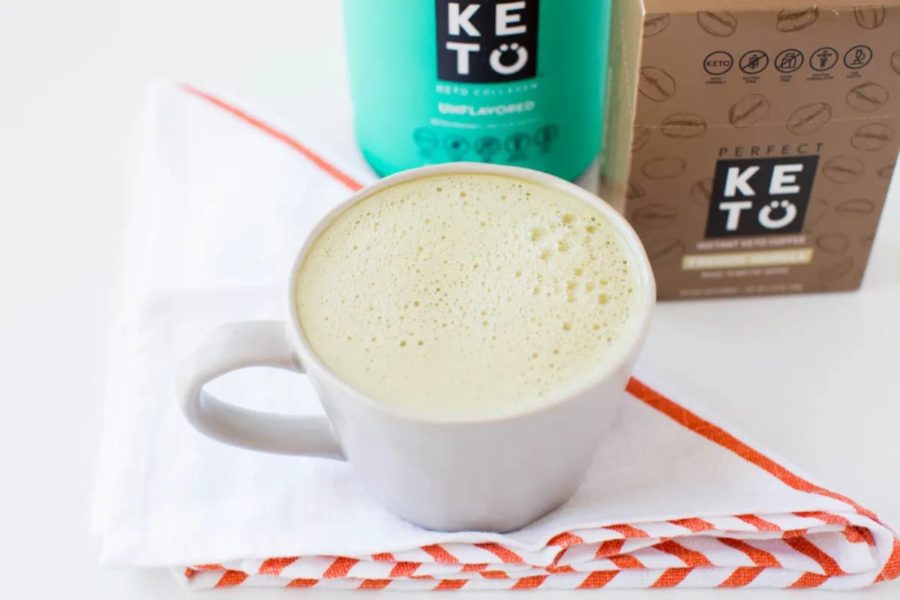 Matcha is loaded with health benefits coming primarily from the high antioxidant content of green tea. Specifically, green tea contains a polyphenol compound called EGCG that can help to fight oxidative stress in your body[*].
This matcha green tea latte takes the high-quality ingredients up another notch by including Perfect Keto MCT Oil Powder and Perfect Keto Unflavored Collagen. 
With only one gram of net carbs and six grams of protein, this matcha is more like a mini snack than merely a way to get a caffeine boost.
#13 Vanilla Chai Latte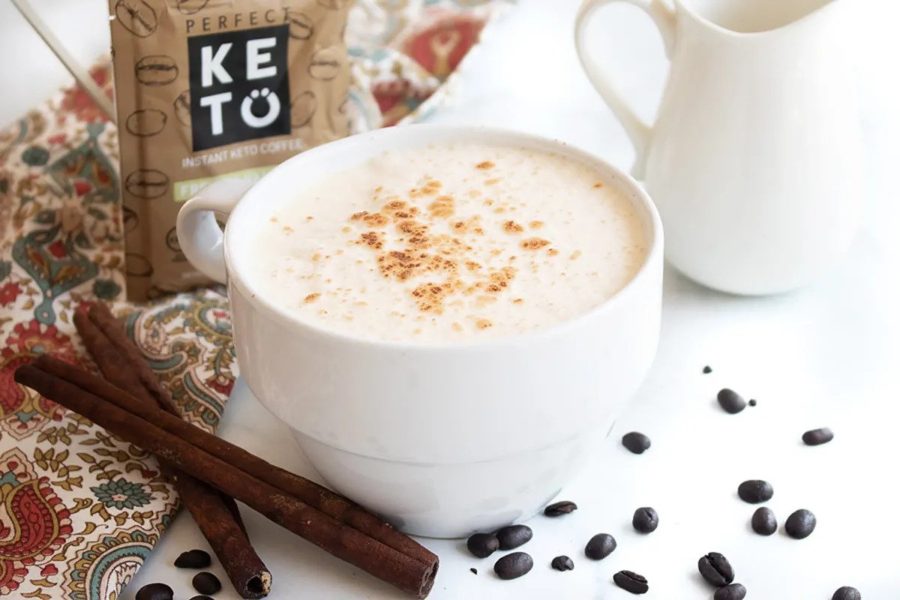 Adding warming spices like cinnamon, nutmeg, cardamom, and ginger to your coffee drink is an excellent way to warm up your system and enhance your digestion[*]. 
If you're a fan of chai, this vanilla chai latte is sure to hit the spot with natural flavors coming straight from the herbs, spices, and vanilla extract, and a smooth consistency coming from coconut cream. Each cup is only one net carb, so you can sip away guilt-free as often as you like. 
#14 Caramel Latte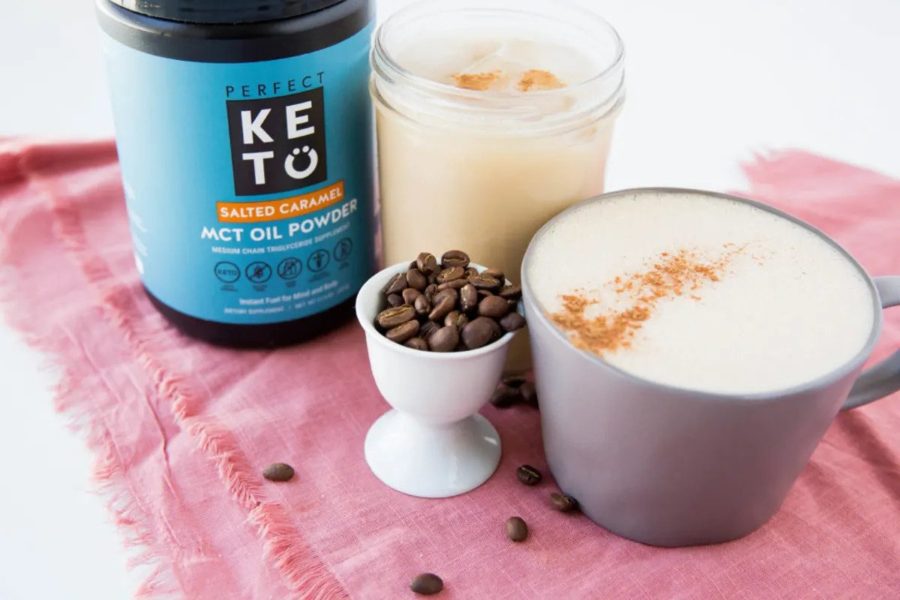 This caramel latte recipe is an incredibly simple coffee recipe that's packed with sweet caramel flavor. It calls for only four ingredients — one shot of espresso, Perfect Keto Caramel MCT Oil Powder, coconut milk, and monk fruit (or stevia). 
You can throw it in the blender and serve it on ice, or enjoy it hot. It comes in at just over 100 calories and packs just three net carbs.
#15 Matcha Green Tea Lemonade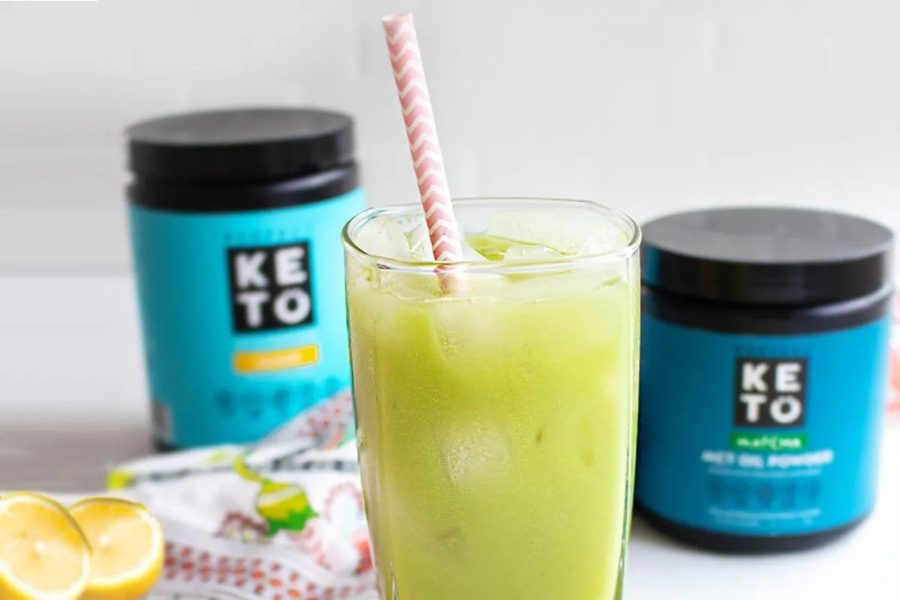 If you want all the benefits of matcha green tea but need a little lemonade twist, then this is the drink for you. Refreshing and light, this keto matcha green tea lemonade contains fresh lemon juice and matcha green tea MCT oil powder for a delicious and satisfying pick-me-up.
The Takeaway
Most Starbucks drinks fit squarely outside of the keto-friendly zone. 
The good news is, however, that even though your favorite barista may not be able to provide what you need in terms of flavor plus nutrition — there are plenty of alternative drink recipes out there.
So hit the grocery store and pick up what you need for these simply DIY coffee drinks, and you'll not only save carbs, but you'll save money and time as well. 
Goodbye overpriced coffee shop drinks, hello simple and delicious keto-friendly alternatives.