Ribs are typically saved for special occasions when you have the time and energy to take on the process of cooking them. With this simple Instant Pot ribs recipe, however, you can make ribs your main course any day of the week.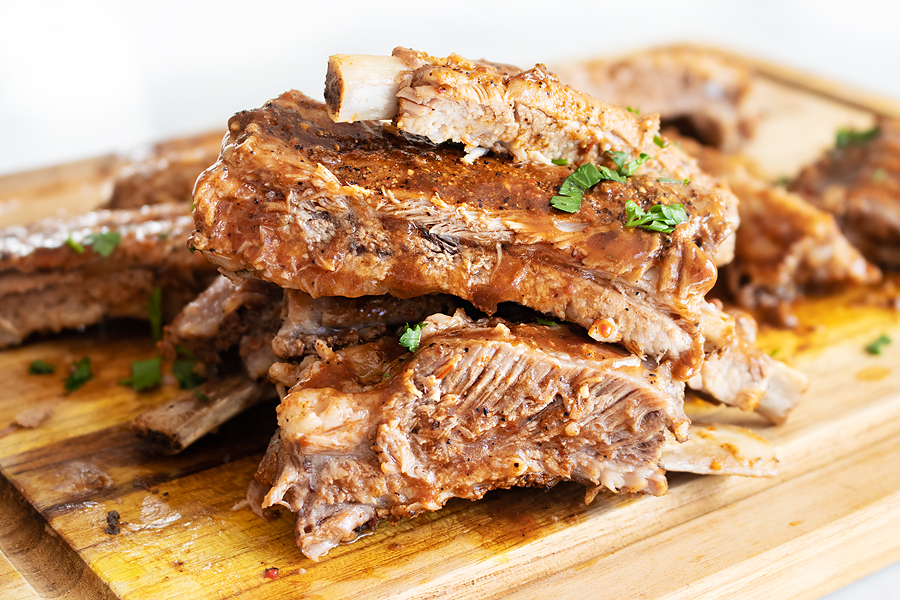 This Easy Instant Pot ribs recipe is:
Spicy 

Flavorful

Filling

Delicious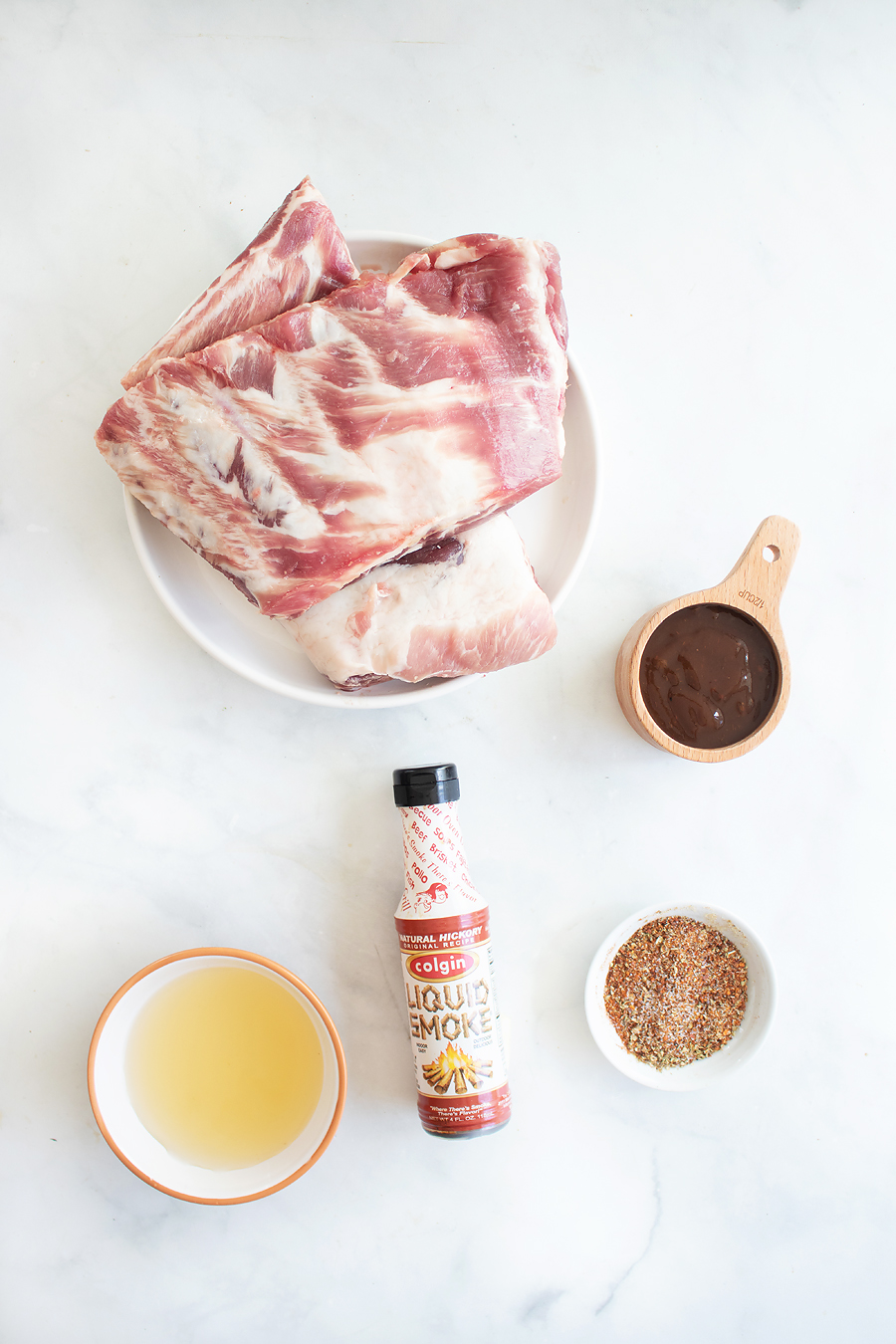 The main ingredients are:
Pork ribs

Barbecue sauce

Liquid smoke
Optional additional ingredients:
Onion powder

Cayenne powder

Garlic powder
Health Benefits Of Instant Pot Ribs 
Immune-Supportive
This recipe calls for a fourth of a cup of apple cider vinegar (ACV), which research shows may support immunity through its antimicrobial activity. 
One study found that ACV inhibited the growth of e.coli, as well as candida Albicans. In addition, the ACV treatment resulted in an anti-inflammatory effect by downregulating inflammatory chemicals[*].
Rich In Protein
Just one serving of these Instant Pot ribs provides 18 grams of protein. While the keto diet focuses mainly on reducing carb intake, the consumption of protein is a vital component to keeping your macronutrients in range. 
If you're an athlete or have a focus on muscle growth or maintenance, consuming adequate protein becomes twice as important. While there is a lot of debate in research as to how much is enough versus too little when it comes to protein intake, one thing is for sure — if you want to gain muscle, you need to get your protein needs met[*]. 
Tips For The Best Instant Pot Ribs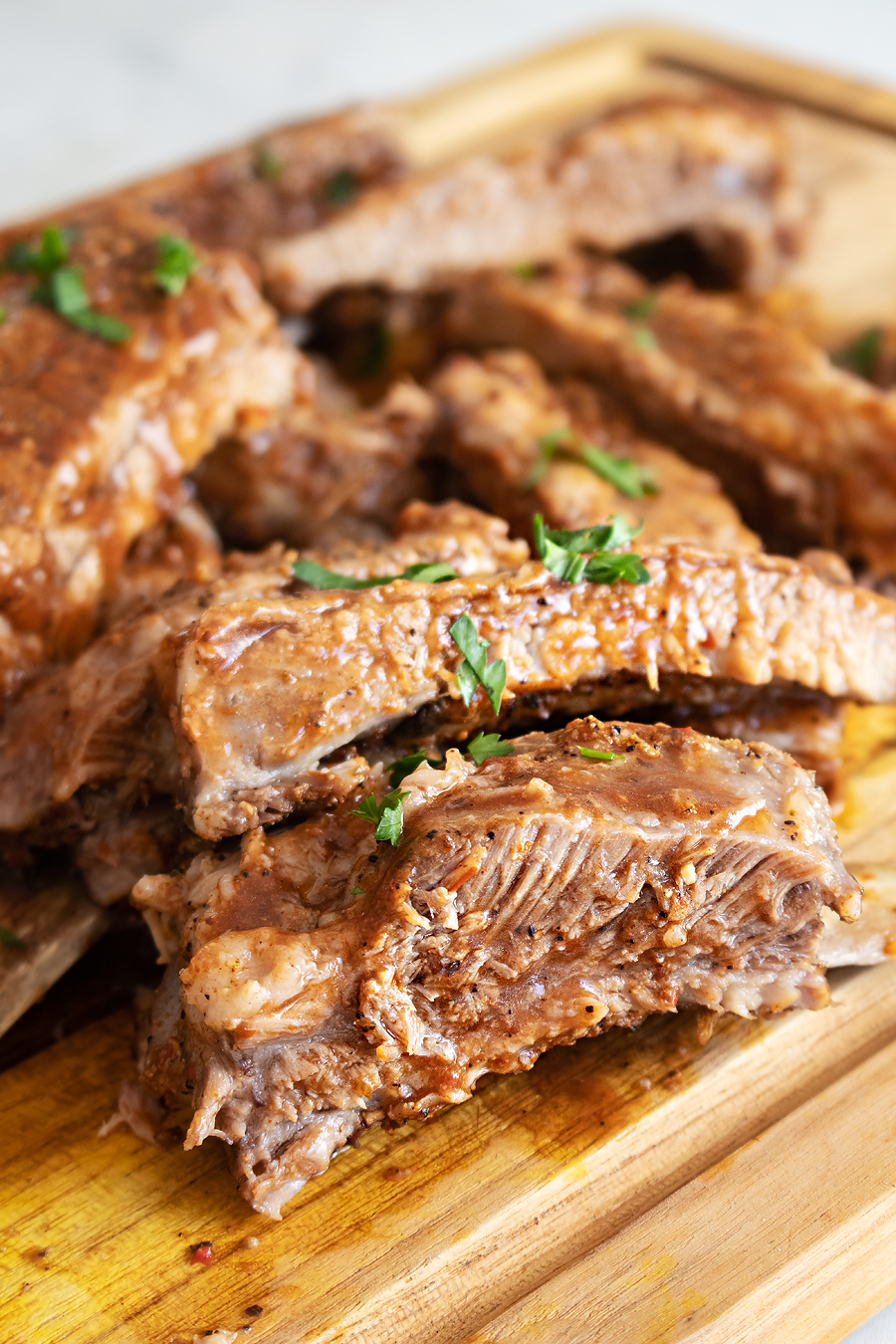 Ribs are delicious no matter what you choose to add for flavor. However, there are a couple of ingredients that will make your ribs stand apart from the rest — liquid smoke and dry rub. A lot of people overlook the importance of these two crucial, flavorful ingredients, and that's a mistake. 
Liquid smoke
If you don't have some liquid smoke in your cooking cabinets, now is the time to invest. It may not be an everyday condiment, but it can make all the difference in your recipes when it's called for. Seriously, if you don't have liquid smoke, go out and get some. 
Since the Instant Pot allows you to cook your ribs quickly and efficiently, you lose out on some of the natural smokey flavors that you would get from cooking ribs in the traditional way. Therefore, to preserve the authenticity of the flavor you're going for, liquid smoke is an absolute must. 
Dry rub
The spice rub you use can be any keto-friendly rub, or if you're feeling creative, you can put together your own blend. There are plenty of dry rub recipes out there, but a fantastic keto-friendly version may contain garlic powder, chili powder, salt, black pepper,  paprika, onions powder, and a touch of cayenne pepper.  
You can also add a dash of sweetener like monk fruit for even more flavor.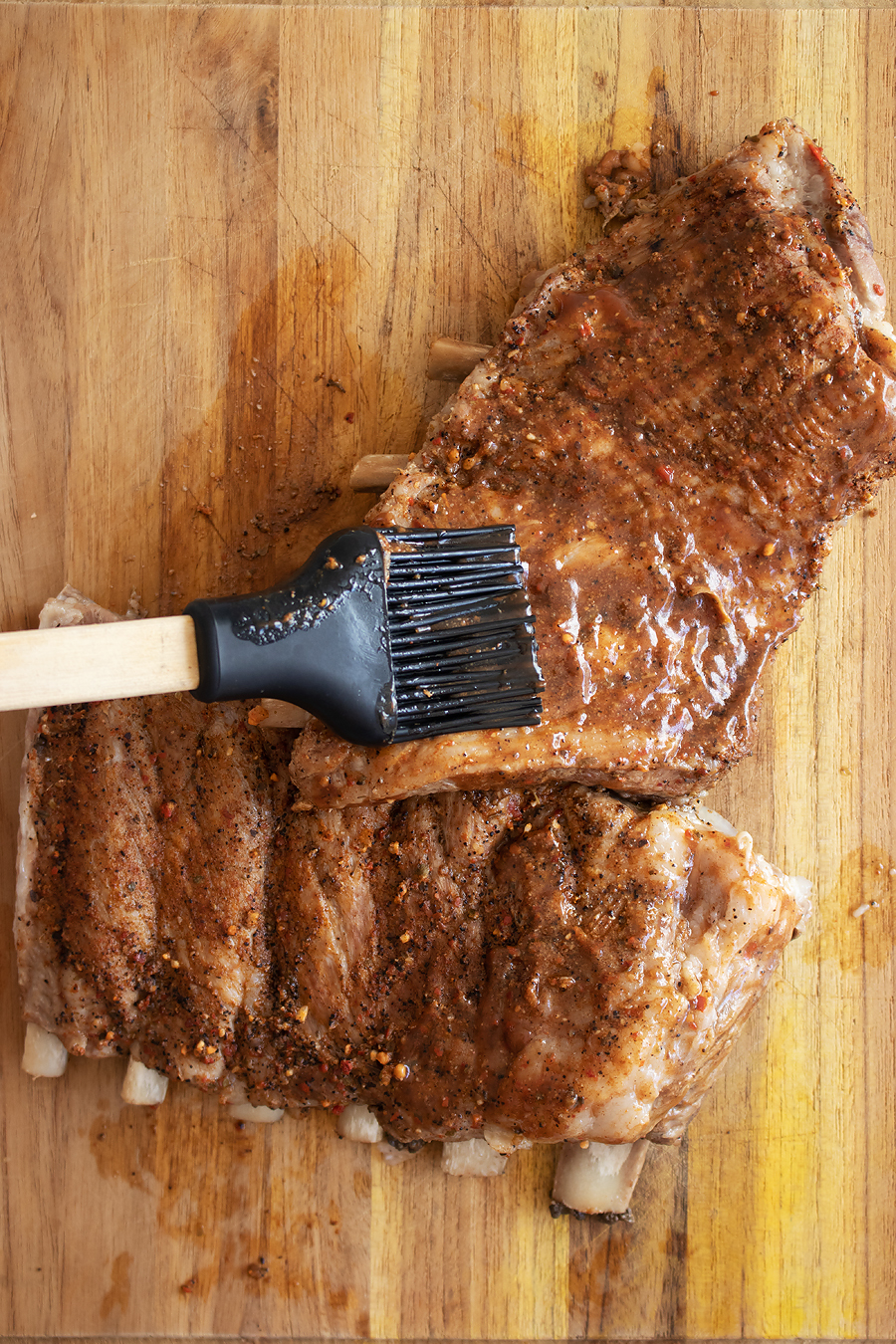 How To Choose The Best Ribs
There are several different styles of ribs out there, so choosing the rack of ribs you're going to cook is a crucial part of the process. Baby back ribs are an excellent choice if you're looking for smaller, more tender ribs that you could cut with a butter knife.
If you want meatier and fatter ribs, however, go for the larger spare ribs. 
Either way, the flavor will come through beautifully, but why not cater to your own tastes as much as possible?
How To Serve Your Instant Pot Ribs
Ribs make a fantastic main dish, but you'll want delicious sides to accompany your meaty main. Some side dish options that go great with this recipe include:
You may also want to provide some extra BBQ sauce on the side so you and your guests can add even more flavor if you feel called. 
Instant Pot Ribs Recipe
Much faster than grilling, pressure cooker ribs allow you to enjoy a delicious rack of ribs as a weeknight meal instead of having to wait for the weekend.
And don't worry, if you don't own an Instant Pot, a slow cooker will work just fine.
To begin, place the trivet in the bottom of your Instant Pot and pour in water and liquid smoke.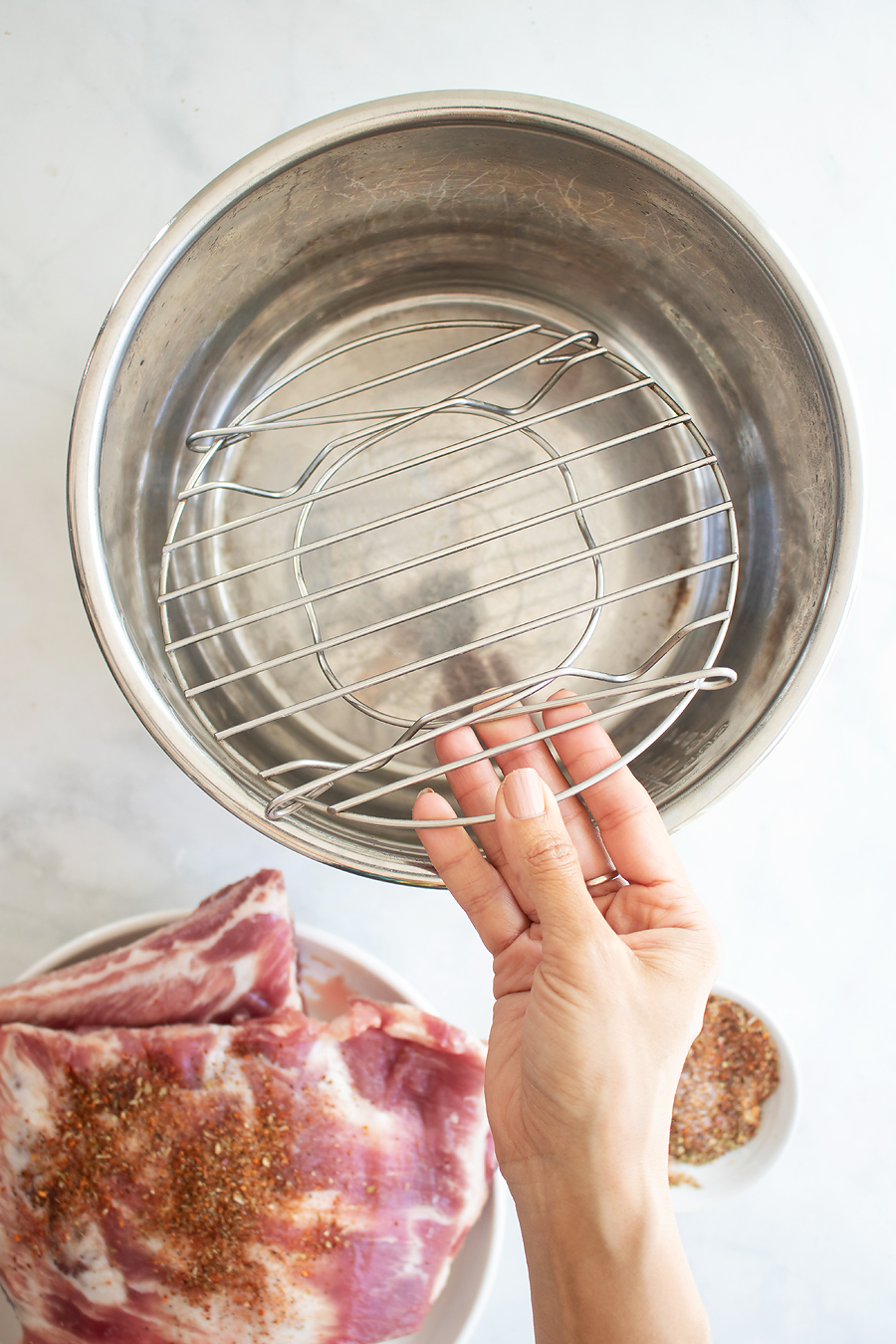 Generously add your dry rub to all sides of the ribs, gently patting the spices into the meat.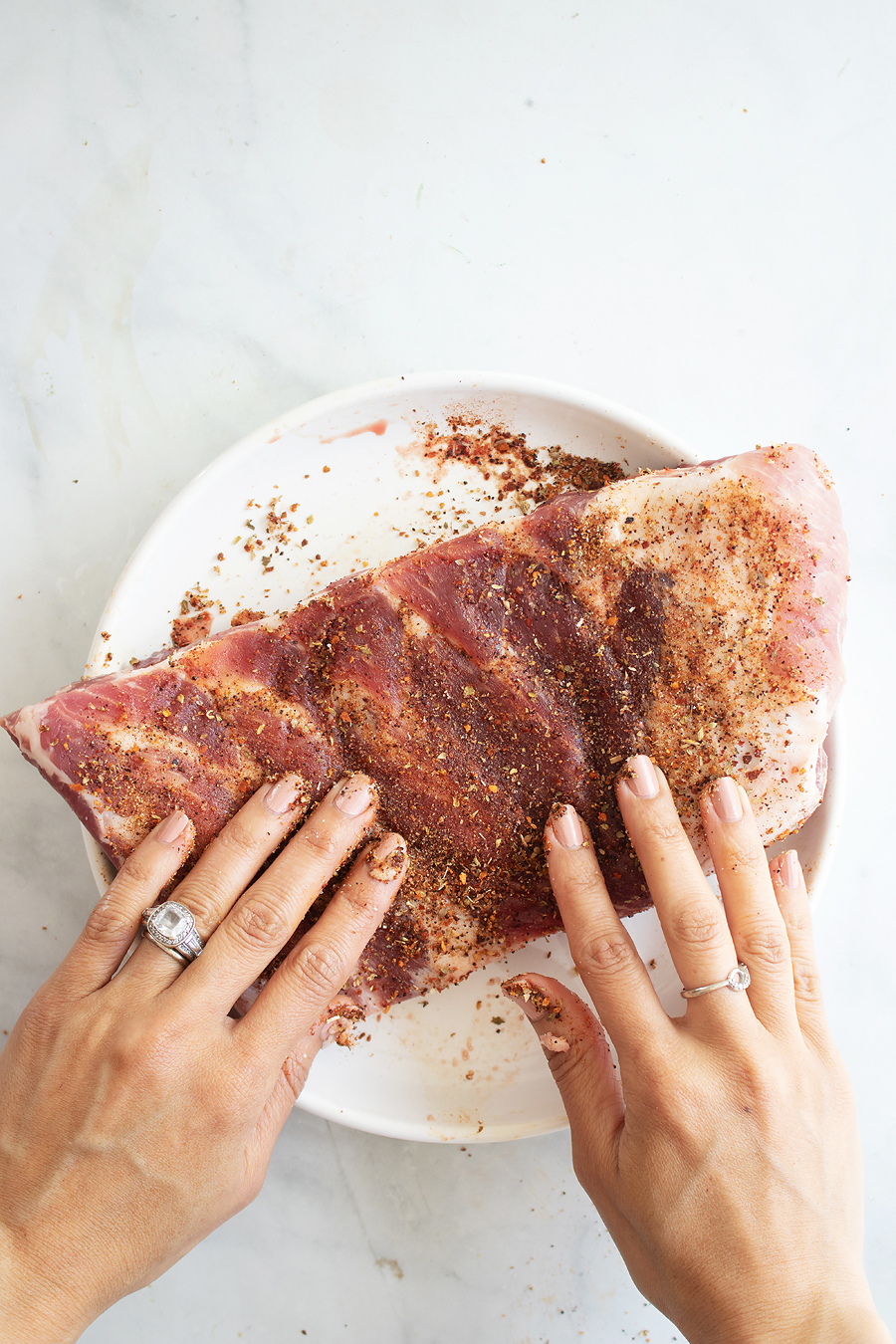 Add the ribs into the Instant Pot, placing on the trivet, and then close the lid and valve.  Press MANUAL +25 minutes, and when the timer goes off, let the pressure release manually.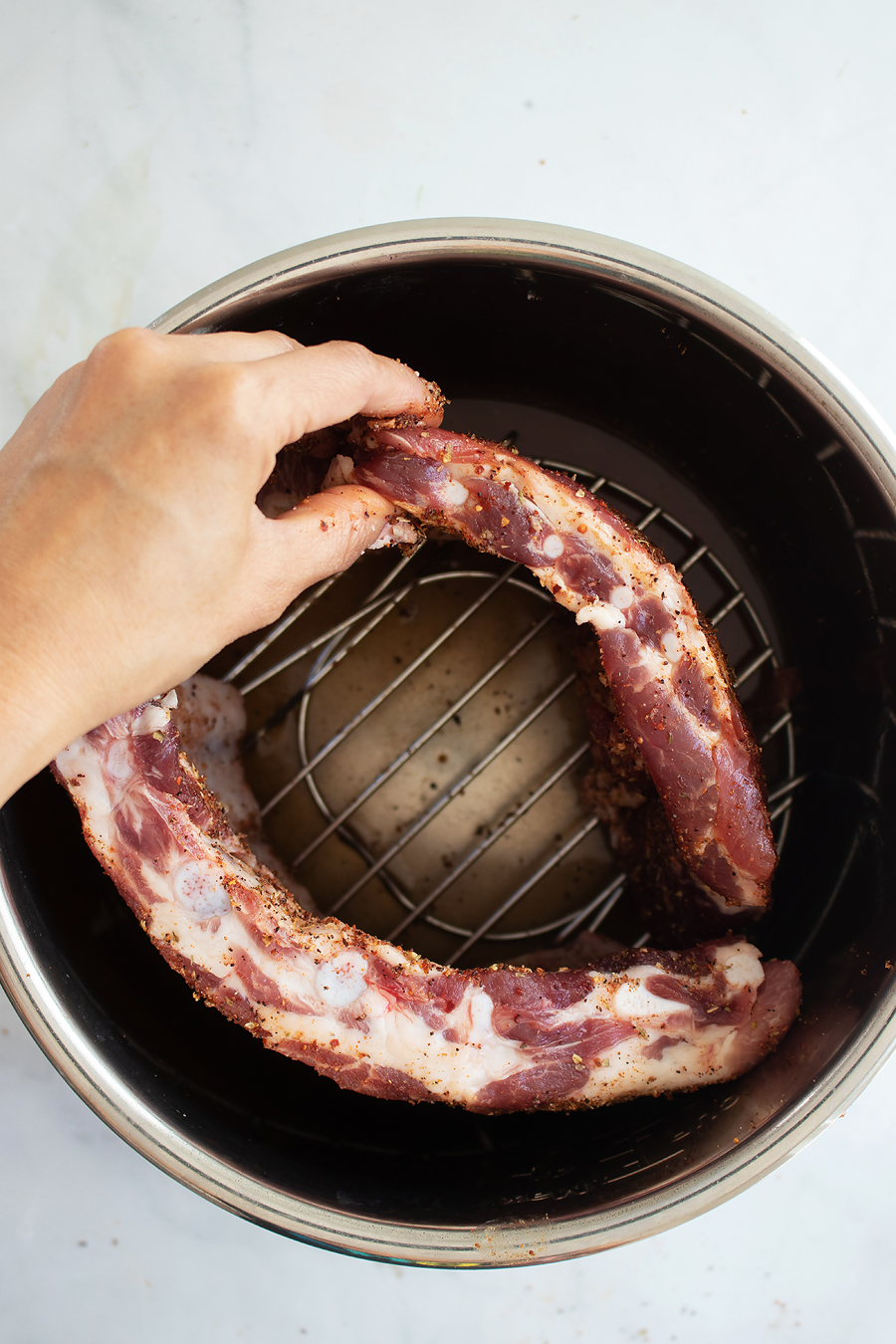 Next, carefully remove the lid and remove ribs, placing them on a parchment-lined baking sheet.  
Slather ribs with your favorite keto-friendly BBQ sauce (you can try your handing at making some from scratch), and then place the ribs into your oven and broil them for a quick three to four minutes.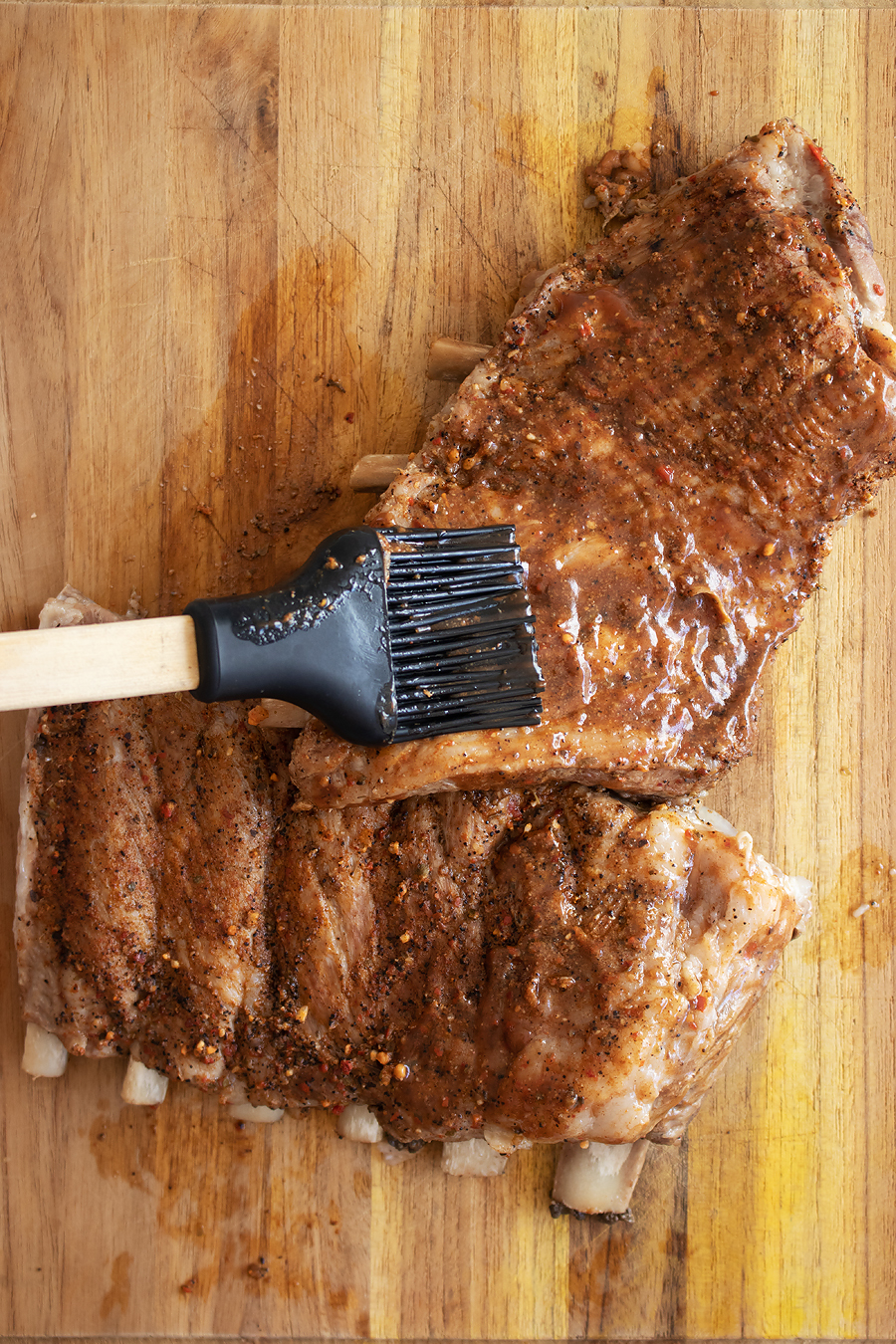 Be sure to keep an eye on your ribs so they don't burn in the oven. Once the sauce is caramelized and bubbly, remove your ribs and enjoy.
Print
Instant Pot Ribs
Everyone loves a rack of ribs, but very few people have the time or patients to make them. That's where this simple, yet delicious, Instant Pot rib recipe comes in. Ready in just 30 minutes, you'll be enjoying ribs on a weekly basis from now on.
Author:
Cook Time:

25 minutes

Total Time:

35 minutes

Yield:

12

ribs

1

x
Instructions
Add trivet to the bottom of the Instant Pot.  Pour in water and liquid smoke.

Generously add dry rub to all sides of the ribs.  Gently pat spices into the meat.

Roll ribs into a C shape and place into the Instant Pot onto the trivet.

Replace lid and close valve.  Press MANUAL +25 minutes.  When the timer goes off, let pressure manually release.

Carefully remove the lid and remove ribs, place them on a parchment-lined baking sheet.  Slather ribs with BBQ sauce.

Place ribs into the oven and BROIL for 3-4 minutes, do not walk away.  Keep an eye on the ribs to ensure they don't burn.  Remove when the sauce is caramelized and bubbly.
Nutrition
Serving Size:

4 ounces

Calories:

311

Fat:

25g

Carbohydrates:

3g (Net: 3g)

Fiber:

0g

Protein:

18g