on June 5, 2018
You're familiar with low carb pasta dishes — you tried spaghetti squash, made zoodles with your favorite pasta sauce and even transformed zucchini into lasagna. But a low carb mac and cheese recipe? Do tell.
Like many low carb pasta alternatives, low carb mac and cheese involves substituting a vegetable for pasta. In this recipe, you'll combine roasted cauliflower with a creamy cheese sauce for a keto, gluten-free twist on the classic favorite. But unlike the original, this recipe comes with only 6 grams of net carbs per serving.
The Secret to Cauliflower Mac and Cheese
The trick to making delicious mac and cheese — a dish just as good as the real thing — is in the cheese sauce. You'll use three different kinds of cheese plus heavy cream to make a thick, gooey sauce the cauliflower can absorb.
To make the cheese sauce, you'll need 4 ounces of both fontina and sharp cheddar cheese, plus 2 ounces cream cheese. Combine the cheeses with 1 cup heavy cream, paprika, salt and freshly ground black pepper in a large pot over medium heat.
While the sauce is simmering, chop your cauliflower into florets and boil until tender. When the sauce has simmered until smooth and the cauliflower florets are cooked, combine the two into a baking dish. Set the baking dish into a 375 F preheated oven.
While your favorite mac and cheese recipes might include a crunchy topping like potato chips and breadcrumbs, these two additions are not low carb friendly. If you'd like some added texture, consider crumbling some bacon bits or green onion on top.
Is Dairy Allowed on the Keto Diet?
With four forms of dairy included in this recipe, you must be wondering, "Is dairy keto friendly?" The simple answer is yes — with a few caveats.
Keto-Friendly Dairy Options
Dairy, like other animal products, should be of the highest quality you can reasonably afford. Select organic, grass-fed dairy products whenever possible, avoiding low-fat or fat-free dairy products. Dairy products such as butter, heavy whipping cream, heavy cream and ghee are high in fat and contain zero carbs, making them ideal for the ketogenic diet.
Dairy Products to Avoid on Keto
Some forms of dairy are not keto-friendly. Milk, half and half and condensed milk contain moderate-to-high amounts of carbs, primarily due to its sugar content (a glass of whole milk contains over 12 grams of carbs). Lactose in the sugar found in milk, which is not easily digested by many people.
When using dairy in keto recipes — such as this low carb cauliflower mac — avoid dairy with high lactose content. Substitute heavy cream for milk or half and half whenever possible, or ghee for butter if you are overly sensitive to lactose.
Health Benefits of Cauliflower
Cauliflower is a common ingredient in keto recipes due to its versatility. It's been made into mashed potatoes, pizza crusts, and rice, and now it's the main ingredient in this mac and cheese.
It's Loaded With Vitamins
Cauliflower is rich in vitamin C and provides over 70% of the daily value in just one cup.  The human body isn't capable of producing vitamin C itself, so it's important we add foods into our diet that are a strong source of this immune-boosting vitamin. This water-soluble vitamin is responsible for a wide variety of processes in the body including repair of tissues, absorption of iron and decrease of LDL or "bad" cholesterol.
Cauliflower also contains vitamin K which helps prevent blood clotting, helps to maintain brain function, bone building and a healthy metabolism. Vitamin K is also known to improve bone health and keeping the skeletal muscle structures healthy[*].
It Could Help Lower the Risk of Cancer
Cruciferous vegetables like cauliflower have been shown to slow cancerous tumor growth[*]. How? Cruciferous vegetables are rich in glucosinolates, a sulfur-containing compound that has been shown to slow tumor growth[*]. A high intake of cruciferous vegetables like cauliflower has been shown to reduce the risk of lung and colorectal cancer, in particular[*].
It Helps Fight Inflammation
Inflammation is one of the root causes for most of the chronic diseases. Cruciferous vegetables like cauliflower are known for their abundant source of antioxidants. These antioxidants — particularly beta-carotene, beta-cryptoxanthin, and quercetin — help to reduce oxidative stress and boost the immune system[*].
Enjoy Cauliflower Mac and Cheese
Aside from the nutritional value of this dish, the combination of three different types of cheeses and addition of heavy cream gives the most rich, creamy and luxurious texture. This is the ultimate comfort dish that will allow you to stay in ketosis, satisfy any pasta craving and provide a wide variety of nutritional benefits you can feel really good about.
This cauliflower mac is ready in a total time of just 40 minutes and won't cause a blood sugar spike like traditional recipes. Enjoy it as a side dish or top with bacon bits for a complete meal.
Print
Low Carb Cauliflower Mac and Cheese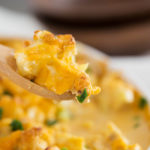 This baked keto cauliflower mac and cheese casserole is filled to the brim with cheesy goodness but without all the carbs.
Author:
Total Time:

30 minutes

Yield:

3 cups

Category:

Sides

Cuisine:

American
Ingredients
8 oz heavy cream
4 oz sharp cheddar (shredded)
4 oz fontina (shredded)
2 oz cream cheese
1 teaspoon salt
1/2 teaspoon black pepper
1 1/4 teaspoon paprika
1 large head of cauliflower
Instructions
Preheat oven to 375 degrees and coat an 8×8 baking dish with butter or non stick spray.

Cut cauliflower into small 1/2″ to 1″ pieces. Steam for 4-5 minutes until barely tender. Remove from heat and drain well. Pat dry with paper towels. Set aside.

In a small pot, combine heavy cream, cheeses, cream cheese, salt, pepper, and paprika. Heat under medium fire until smooth. Stir well.

Add cauliflower to cheese mixture and toss to coat.

Pour into baking dish and bake for 25-30 minutes until the top is golden brown and bubbly.
Nutrition
Serving Size:

1/2 cup

Calories:

393

Fat:

33g

Carbohydrates:

10g

Fiber:

4g

Protein:

14g
Keywords: keto cauliflower mac and cheese