If you're thinking about grilling for dinner, this delicious asparagus salad recipe makes an excellent side dish.Of course, there are hundreds of asparagus recipes out there, but the dressing really sets this one apart. Just imagine the lemony tang of citrus, plus a touch of sweetness from monk fruit finished off with a pinch of sea salt.
You can add in your own favorite ingredients like balsamic vinegar, dijon mustard, or feta cheese if you like. But first try this recipe as is, it won't disappoint.
This grilled asparagus salad is:
Savory
Flavorful
Delicious
Satisfying
The main ingredients are:
Fresh asparagus
Lemon juice
Optional additional ingredients
3 Health Benefits of Grilled Asparagus Salad with Lemon-Herb Dressing
#1: Rich In Chlorophyll
"Eat your greens," is a common statement made by health professionals, but did you ever wonder — "why greens?" There are so many different plant foods out there with a variety of beautiful colors, what makes the green ones so special?
While there are many reasons to eat a variety of colors, green plants tend to be particularly high in the phytonutrient chlorophyll. Chlorophyll gives plants their green color and provides a unique source of nutrition to your body.
Some studies even suggest that chlorophyll may inhibit cancers caused by aflatoxin (a toxic compound produced by mold in certain foods)[*].
And you're in luck; this recipe happens to be loaded with chlorophyll packed plants like asparagus, parsley, and wheatgrass from the microgreens powder.
#2: Supports Heart Health
You'd be hard-pressed to find a vegetable that doesn't support heart health. However, asparagus takes it to the next level with specific compounds that work directly to lower your blood pressure.
High blood pressure, but the way, is a risk factor for heart disease.
In a rat study, researchers found a compound in asparagus that helped to relax the rat's blood vessels. In turn, as their blood vessels relaxed, their blood pressure decreased.
It seems that the compound in asparagus was able to inhibit a specific enzyme which causes restriction to your blood vessels, thereby allowing blood flow to happen more easily[*].
Human trials also support asparagus's blood pressure-lowering activity. When a group of 28 volunteers took asparagus extracts, they all experienced significant reductions in blood pressure[*].
A topic we've written about — link to it!
#3: Anti-Inflammatory
Consuming a diet high in anti-inflammatory foods is one of the most crucial steps you can take to support overall health and longevity.
In fact, inflammation may be the underlying issue in many diseases, including autoimmune, cancer, and infectious disease[*].
And when it comes to anti-inflammatory foods, olive oil is a superstar. Research shows that olive oil has a similar potency to ibuprofen, a common non-steroidal anti-inflammatory drug.
A compound in olive oil, oleocanthal, acts as a natural anti-inflammatory and inhibits the same inflammatory pathways as ibuprofen[*].
Grilled Asparagus Salad
Sometimes it's hard to remember to get your greens in. With so many veggie options available, greens can take the back burner from time to time.
That's why this grilled asparagus salad recipe is such a gem. It not only provides greens from the asparagus and parsley, but you're also getting a hit of greens in the dressing.
Not a big fan of grilling?
You can easily make this recipe in the oven, just place the asparagus on a baking sheet for some roasted asparagus salad.
Print
Grilled Asparagus Salad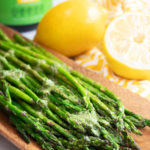 This grilled asparagus salad with extra virgin olive oil, lemon juice, black pepper, a pinch of salt and a green dressings is the perfect keto side dish.
Author:
Total Time:

10 minutes

Yield:

4

servings

1

x
Instructions
Heat a grill pan under medium-high heat or fire up the BBQ.

Drizzle asparagus spears with 1 tablespoon olive oil, ¼ teaspoon salt, and a pinch of pepper.  

Grill asparagus for 5-6 minutes until slightly charred and tender.

Meanwhile make the vinaigrette by adding Perfect keto greens powder, parsley, lemon juice, lemon zest, olive oil, sweetener, and remaining salt and pepper to a high-speed blender.  Mix on high until smooth. Adjust seasoning to taste.

Cut asparagus into 1" pieces and drizzle with vinaigrette.  Toss to coat. Add to a large bowl and serve cold, warm, or room temperature.
Nutrition
Serving Size:

1 serving

Calories:

76

Fat:

7g

Carbohydrates:

2g (1g net)

Fiber:

1g

Protein:

1g
Keywords: grilled asparagus salad