While eggs and bacon certainly have their place in your breakfast keto rotation, these delicious low-carb pancakes are a perfect way to mix it up. Sugar-free and gluten-free, with only 5.9 grams of net carbs — this American breakfast classic is as satisfying as it is keto-friendly.
And this is no cheat meal — you can enjoy these berry pancakes guilt-free as you reap all the benefits from the high-quality ingredients — berries, almond flour, coconut flour, eggs, and monk fruit.
Add different berries to make blueberry pancakes, raspberry, or mixed berry. So next time you're craving some fluffy pancakes for your low-carb breakfast, look no further than this simple recipe.
These low-carb pancakes are:
Fluffy
Comforting
Delicious
Sweet
The main ingredients in these keto berry pancakes are:
Raspberries, blueberries, or mixed berries
Eggs
Monk fruit sweetener
Optional additional ingredients
The Main Health Benefits of Keto Berry Pancakes
#1: Balances Blood Sugar
Is there anything more comforting than a warm, fluffy pancake?
Unfortunately, most pancake recipes are disastrous for your blood sugar. And high blood sugar and insulin spikes mean energy slumps and brain fog that keep you from functioning at your highest.
Luckily, recipes like these incredible low-carb berry pancakes offer all of the flavor and satisfaction with none of the blood sugar issues. Plus, you'll benefit from nutrient-dense ingredients that provide an array of vitamins and minerals your body needs.
Almond flour is a great example. Almonds provide meaningful amounts of magnesium, which improves blood sugar control and enhances insulin sensitivity[*][*].
Adding almonds at breakfast time could also decrease your blood sugar concentrations and increase satiety[*].
Most keto breakfasts are savory, but this keto pancake recipe is sweetened with natural monk fruit. Monk fruit's sweetness comes from an antioxidant called mogroside, which has a blood sugar-balancing effect in human and rodent studies[*][*][*].
#2: Enhances Cognitive Function
Raspberries are a wonderful source of antioxidants, which protect your cells and balance oxidative stress.
One antioxidant in raspberries, a flavonoid called quercetin, may boost brain health and increase cognitive output[*]. It's also a potent anti-inflammatory and it counteracts oxidative stress in the brain.
One way quercetin boosts your brain health is by increasing the number of mitochondria in your brain cells[*]. Mitochondria are known as the powerhouse of the cell, constantly pumping out the energy that runs your entire body. In this case, more mitochondria translate into more energy for your brain.
Eggs are another amazing brain food. Packed with B vitamins and protein, eggs provide nutrients that keep your brain and body humming.
It's the choline in eggs, however, that's the real superstar nutrient when it comes to brain function.
Choline is an essential nutrient for brain development and cell-signaling, making it easier for your brain cells to talk to each other[*]. This is extremely important because without cellular cross-talk, your brain and body can't communicate effectively.
Choline may even help enhance your memory. Although more human trials are needed, animal studies consistently confirm choline's ability to enhance both long-term and short-term memory[*][*].
#3: Boosts Immune System
As mentioned above, the role of antioxidants is to protect your cells and balance oxidative damage. When it comes to immune health, antioxidants are one of your major lines of defense against the breakdown of your cells.
For a healthy immune system, antioxidants are key.
Both monk fruit and raspberries are great sources of antioxidants[*][*]. Quercetin from raspberries has been recognized for its role in the treatment of asthma, most likely due to its anti-inflammatory and antioxidant properties[*].
Raspberries also contain a powerful antioxidant called ellagic acid. Ellagic acid helps fight free radicals and even inhibit the growth of cancer cells in test tubes[*][*][*][*][*].
Mogrosides from monk fruit play their own important role in immune function. They're not only great at balancing blood sugar (which is an important factor when looking at immune health), but they also have blood-lipid lowering, anti-inflammatory, and anti-carcinogenic effects[*].
And who said pancakes can't be healthy? Check out our Keto panckes + waffles mix.
Keto Berry Pancakes
Following a LCHF diet (low-carb high-fat) doesn't mean you need to miss out on the delicious things in life.
Regular pancakes involve sticky sweet sugar and syrup that will spike your blood sugar and put you into a food coma. It's not worth it. Stick to low-carb recipes and you'll not only stay in ketosis, you'll also have more energy and feel better in your body.
This low-carb pancake recipe is packed with nutrients and low in net carbs, making it the perfect breakfast or dessert for your healthy keto lifestyle.
Drizzle with some coconut oil, grass-fed butter, or nut butter for some extra fat, or top with some sugar-free maple syrup. Add a few more fresh blueberries for an additional pop of antioxidants and enjoy.
Print
Keto Berry Pancakes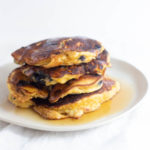 Almond flour, coconut flour, monk fruit, and berries make these low-carb pancakes a healthy and satisfying twist on an American classic.
Author:
Cook Time:

20 minutes

Total Time:

20 minutes

Yield:

4

pancakes

1

x
Instructions
In a large mixing bowl, add in all your ingredients and mix until a thick batter forms.

Let it sit for 5 minutes to thicken.

Preheat a large non-stick pan over low-medium heat.

Once hot, pour 1/4 cup portions of the pancake batter onto the pan.

Allow the pancakes to cook for 2-3 minutes, until the edges turn a golden brown, before flipping and repeating for the next three pancakes.
Nutrition
Serving Size:

1 pancake

Calories:

219

Fat:

13.9g

Carbohydrates:

12.7g (5.9g net)

Protein:

11.4g
Keywords: keto berry pancakes