Buddha bowls are traditionally deep bowls filled to the brim with grains, vibrant veggies, and tofu — covered in umami-style salad dressing and sprinkled with sesame seeds. They're a favorite in the vegan and vegetarian communities — but what about the keto diet community?
As is the case with most other food trends, just because you're eating a low-carb diet doesn't mean you have to miss out.
This keto-friendly buddha bowl has all the flavor and texture of a traditional bowl, without the carb load from grains like rice or quinoa.
It's also paleo and gluten-free, what more could you ask for?
This low-carb bowl recipe is:
Comforting
Satisfying
Delicious
The main ingredients are:
Optional additional ingredients:
Cauliflower rice
Cilantro
3 Health Benefits of This Keto Buddha Bowl
#1: Boosts Immune Health
When you're eating a bowl that's chock-full of veggies like this Buddha bowl, you know you're getting your antioxidant needs met.
Vegetables like kale, cauliflower, broccoli, and cabbage are loaded with phytonutrients that can combat oxidative stress in your body.
One type of antioxidant found in abundance in cruciferous vegetables is flavonoids. Flavonoids not only act as an antioxidant, but they also have antimicrobial, antiallergenic, antiviral, and anti-inflammatory properties[*].
Quercetin, a type of flavonoid, is particularly effective for boosting your immune health. It has potent anti-inflammatory and antiviral properties that may support immune function in general. Broccoli and kale are both great sources of quercetin[*].
#2: Rich In The Nutrient Choline
Choline is a nutrient that you don't hear about often but plays a significant role in the health of your body.
And cauliflower, the base ingredient for your Buddha bowl, happens to be a fantastic source of choline.
One of the most vital roles of choline is creating the structural integrity of your cell membranes, along with supporting signaling functions between cells. This neurotransmission allows your cells to talk to one another, and coordinate efforts to keep your body in balance[*].
The crucial roles of choline span your entire body. In fact, insufficient choline may impact the development of several diseases, including liver disease, heart disease, and neurological disease[*].
#3: Supports Skin Health
The health of your skin can dictate how you feel when you look in the mirror on any given day. If you're like most people, you want the outside of your body to be just as healthy as the inside — and vice versa.
One way to ensure healthy skin is to consume a diet that's rich in skin-health promoting nutrients. And lucky for you, this recipe includes collagen; a type of protein that plays a vital role in the health of your skin.
You can think of collagen as the scaffolding that lives under your skin and keeps everything looking firm and tight.
In fact, consuming collagen regularly has been linked to significantly increased levels of skin elasticity[*].
A loss of skin elasticity is a natural part of the aging process and is related to the thickness of the dermis layer of your skin.
Keto Buddha Bowl
Are you ready for a truly satisfying meal that contains almost all of your veggies for the day? Just because you're keto doesn't mean you can skimp on your leafy greens.
This bowl recipe makes fantastic leftovers, so if you're not someone who wants to cook every night, make sure to prepare a large batch.
You can even batch cook each component of your Buddha bowl — the cauliflower, sauteed veggies, and salad, and keep those in the fridge. When you're ready to eat, simply prepare your bowl and enjoy!
Print
Keto Buddha Bowl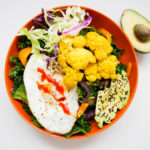 Keto buddha bowls make the perfect weeknight meal. And this bowl recipe gives the traditional vegan version a keto-friendly twist for your low-carb diet.
Author:
Total Time:

45 minutes

Yield:

6

bowls

1

x
Scale
Ingredients
Spicy Cauliflower
Sauteed vegetables
1 cup

broccoli florets

½

red onion, sliced

1

bell pepper, chopped

½ cup

cabbage
Salad
Additional toppings (macros not included)
1

pastured egg per bowl, avocado, sriracha
Instructions
Preheat the oven to 400 F.

Add all the ingredients for the spicy cauliflower in a large bowl and mix together until well-combined.

Add the cauliflower mixture to an 8×8 baking dish and bake for 25 minutes.

While the cauliflower is baking, get a large saucepan and add enough water to cover the bottom. 

Add the vegetables from the "sauteed vegetables" list into the saucepan over medium heat for 5-10 minutes, then remove from heat and set aside.

In a large bowl add the kale, oil, lemon, garlic powder, sea salt, and pepper. Use your hands to massage the kale.

To plate: kale, sauteed vegetables, cauliflower,  plus whatever toppings you desire.
Nutrition
Calories:

129

Fat:

4.6g

Carbohydrates:

18.3g (12.3g net)

Fiber:

6g

Protein:

6.8g
Keywords: Keto Buddha Bowl