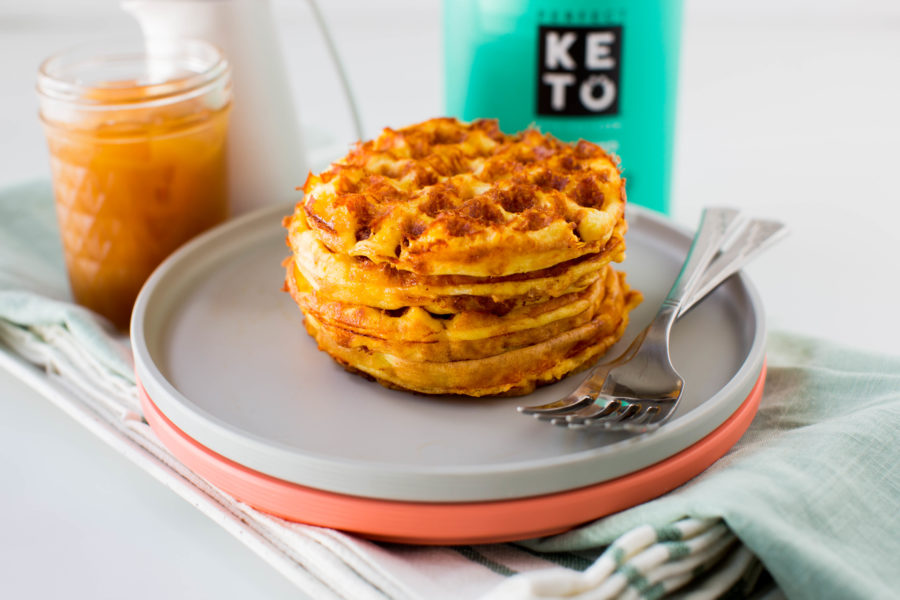 Have you heard of chaffles? 
Chaffles (short for cheese waffles) are the latest popular food in the keto world. It's no surprise — the chaffle has a lot going for it. This simple keto recipe is crispy, golden brown, sugar-free, low-carb, and very easy to make. 
You can whip up a basic chaffle recipe in just a few minutes with just two ingredients: eggs and cheese. You can also customize your chaffle with a variety of sweet and savory options, use it in place of a hamburger bun or bagel, make a chaffle sandwich, or turn it into a pizza chaffle. 
This Ultimate Guide to Chaffles + keto chaffle recipe to will cover everything you need to know, including cheese waffle recipes, nutrition and net carbs, and popular variations of the traditional chaffle. 
What is a Chaffle?
A chaffle, or cheese waffle, is a keto waffle made with eggs and cheese. Chaffles are becoming a very popular keto/low-carb snack. 
You can cook up a chaffle using a waffle iron or mini waffle maker. The cook time is only a few minutes, and if you cook the chaffle right, you end up with a crispy, cheesy, delicious bread/waffle alternative. 
Chaffles are becoming a bit of a craze with followers of the keto diet. They're less fussy to make than most keto bread recipes and they're easy to personalize. You can turn the basic recipe for a chaffle into your own creation, ranging from savory to sweet and anything in between. You can also change the kind of cheese you use, producing major changes in the flavor and texture of the chaffle. Cheddar cheese and mozzarella cheese are the two most common choices, but you can also add in parmesan, cream cheese, or any other cheese that melts well. 

Snack Like a Keto Pro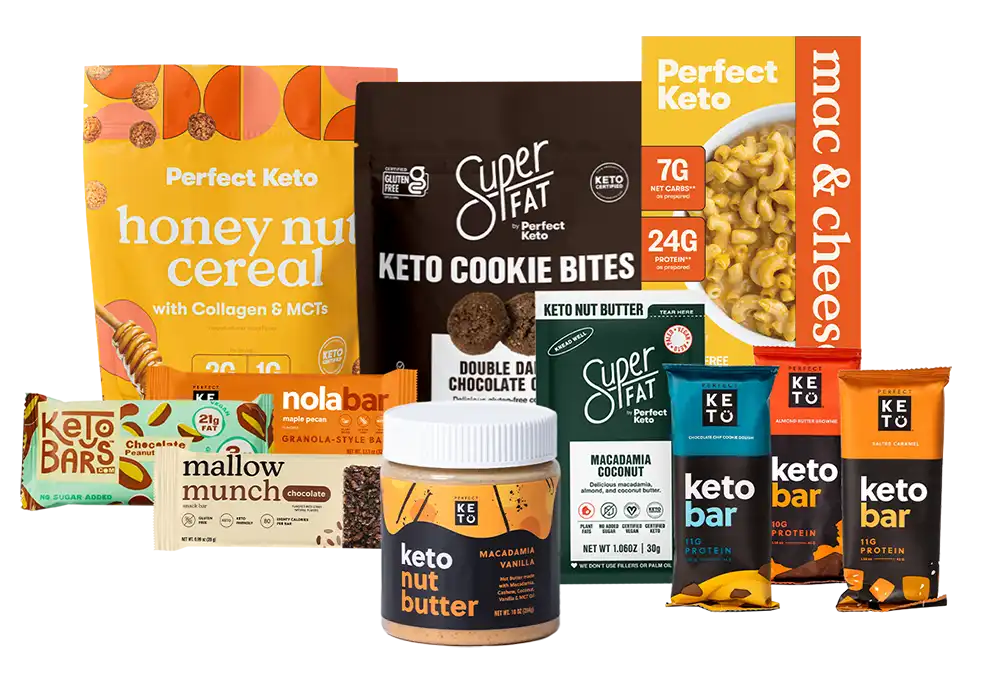 Master the Art of Keto Snacking with Perfect Keto. Nola Bars, Keto Cereal, Nut Butter & More. Fuel Your Body, Delight Your Senses.
Chaffles Nutrition And Carb Count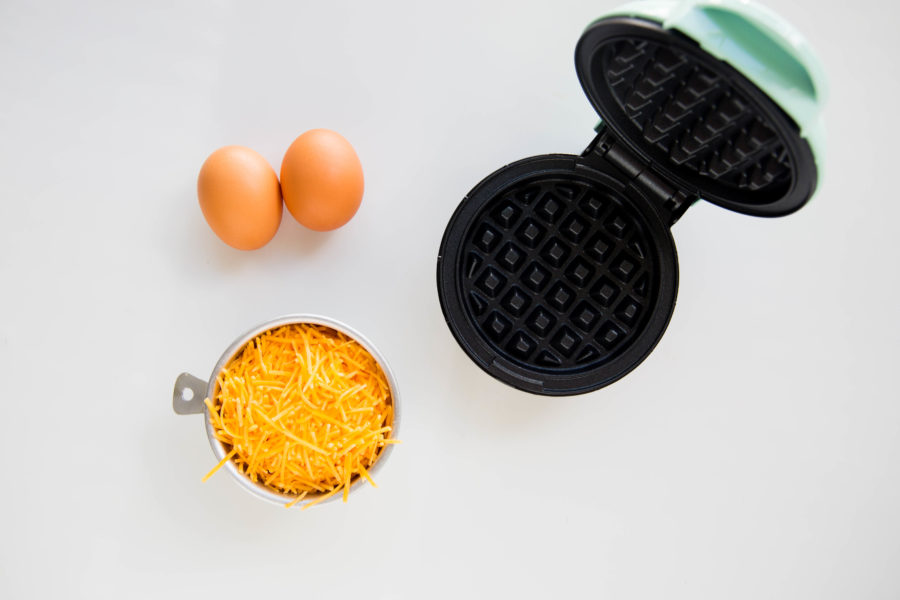 You'll get two chaffles out of a large egg and about half a cup of cheese. Depending on the cheese you use, your calories and net carb count will change a little bit. But in general, assuming you use real, whole milk cheese like cheddar or mozzarella (as opposed to cream cheese or American cheese), chaffles are entirely carb-free. A typical serving size of two chaffles contains roughly:
300 calories

0g total carbs

0g net carbs

20g protein

23g fat 
As you can see, chaffles are about as keto as a recipe can be: high-fat, high-protein, and zero-carb. They even work on the carnivore diet, provided you eat cheese. 
The Perfect Keto Chaffle Recipe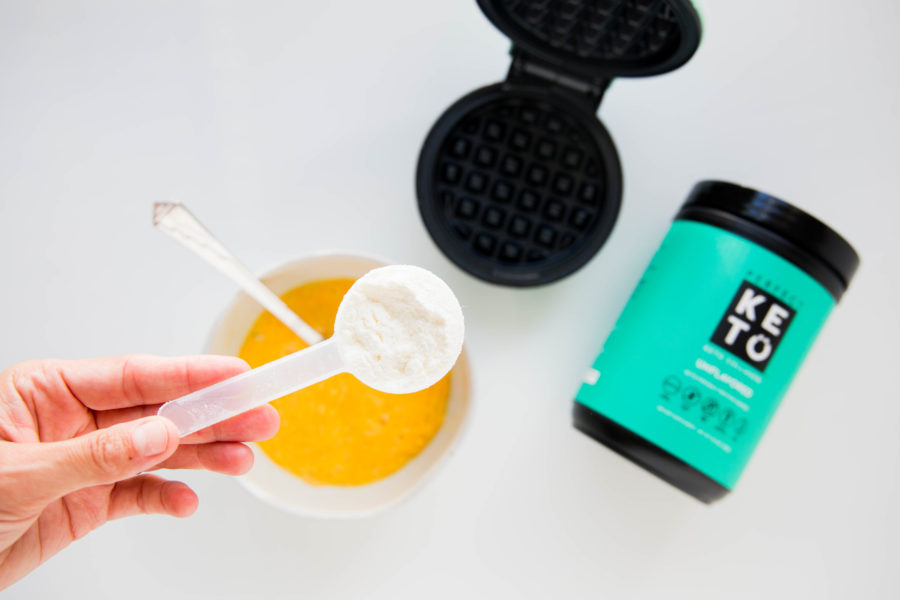 How to Make Extra Crispy Chaffles
There are a couple tips you'll want to know to make your chaffles especially crispy. 
First of all, don't eat your chaffles right out of the waffle iron. They'll be soggy and eggy at first, but if you let them sit for 3-4 minutes, they'll crisp right up. 
Second, for extra crispy chaffles, you can add an extra layer of shredded cheddar cheese (or another cheese that gets crispy, like parmesan) to both sides of the waffle maker's surface. Lay down the shredded cheese, pour in the batter, put more cheese on top, and then cook the chaffle normally. You'll end up with crispy, browned bits of cheese embedded in the surface of the chaffle. 
Use these two tips to get the crispiest chaffles possible. 
The Best Tools To Make Easy Keto Chaffles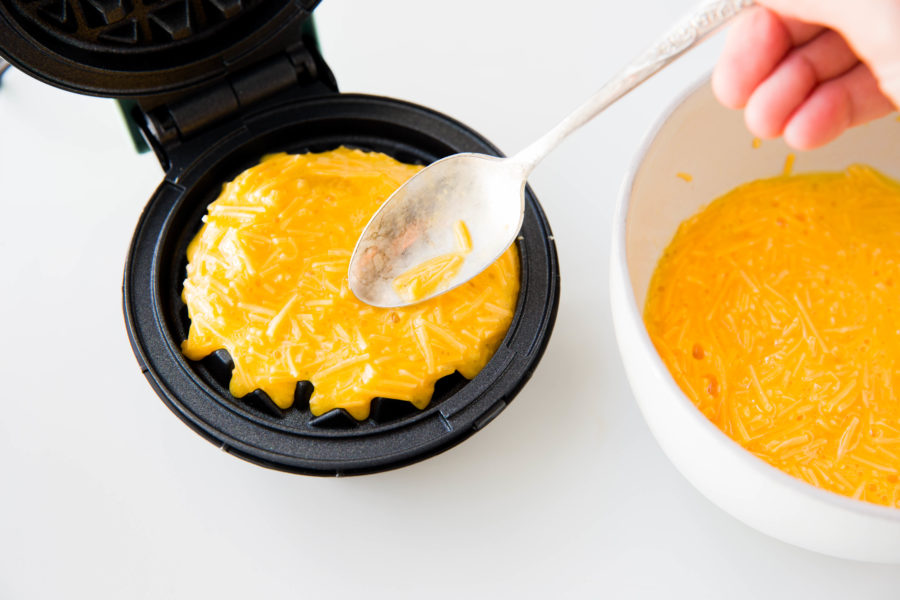 A standard waffle maker will produce a chaffle that looks like everyone's favorite circular frozen toaster waffles, which is perfect as keto bread for sandwiches, a bun for burgers, or even a shell for tacos. One popular brand is the Dash mini waffle maker, which is very affordable and makes thin, crisp chaffles. 
A Belgian waffle maker makes thicker waffles with deep grooves. That's great for normal waffle-making, but it isn't ideal for chaffles. They end up less crispy, with more of an omelette-like consistency. Your best bet is to get a standard waffle maker. 
You'll also need a small bowl for mixing the chaffle batter, but that's about it. Chaffles are pretty simple to make. 
Chaffle FAQ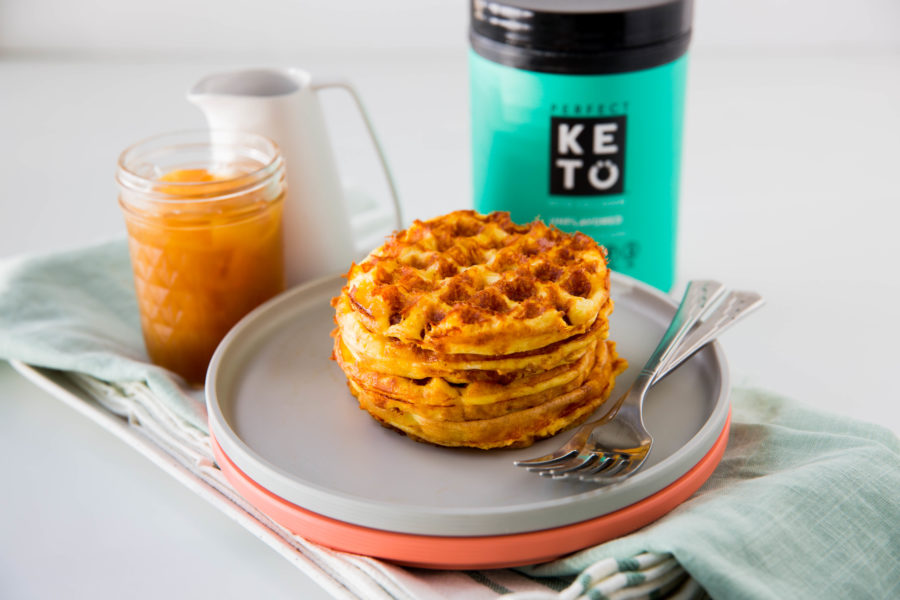 Here are a few frequently asked questions about chaffles. 
Do Chaffles Just Taste Like Eggs and Cheese?
Not necessarily. While plain chaffles can taste like eggs and cheese, you can customize chaffles with just about any flavor. Using a neutral cheese like mozzarella will mitigate a lot of the cheese and egg flavor, leaving you with a blank canvas to fill as you see fit. 
A lot of people like adding extras to their chaffles. For example, mixing dried oregano, garlic powder, and diced pepperoni into the batter will make a delicious pizza chaffle. Alternatively, adding your favorite sweetener and some keto chocolate chips can make an excellent sweet chaffle. Just make sure you use a neutral cheese like mozzarella — cheddar and chocolate don't mix. 
Can You Make Chaffles Without a Waffle Maker?
It's difficult to get the crispiness of chaffles without a waffle iron. That said, you can try mixing up your chaffle batter and fry it like a pancake in a pan that retains a lot of heat, like a cast iron. You likely won't end up with a neat, uniform end result, but it'll probably still be pretty tasty. 
Can You Freeze Chaffles?
You can freeze chaffles for up to a month. However, defrosting them introduces a lot of moisture, which makes it difficult to get them crisp again. Because they're so quick and easy to make (total time for cooking is under 10 minutes), you're probably better off just whipping up a fresh batch whenever you feel like a chaffle. 
Can You Reheat Chaffles?
If you plan on making chaffles ahead of time and reheating them, you may want to invest in an air fryer. It can be tricky to get chaffles crispy again once they've been in a fridge or freezer. An air fryer will dehydrate them and crisp them back up nicely in just a few minutes. 
You can reheat chaffles by heating them in a dry pan for 1-2 minutes a side, or you can put them in a 300-degree Fahrenheit oven for 3-4 minutes, or until heated through. However, they likely won't get crispy because they'll retain too much moisture. If you don't have an air fryer, your best bet is to make smaller batches of chaffles and eat them fresh. They'll be more delicious that way.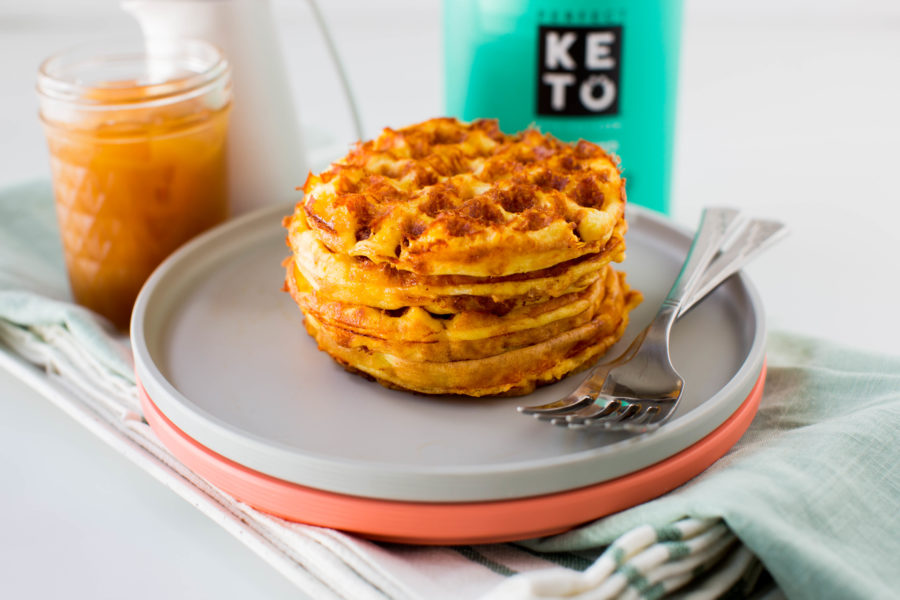 How Can You Use Your Chaffles?
There are a lot of popular ways to eat chaffles. 
Plain

. Chaffles are great on their own as a breakfast food. You can serve them up alongside bacon, eggs, avocado, and other standard keto breakfast fare. 

Keto chaffle sandwich

. Make two chaffles and use them as bread for your favorite sandwich. Chaffles are great as the bread for BLTs, turkey clubs, breakfast sandwiches, or any other keto-friendly sandwich. 

Chaffle dessert

. Try one of the sweet chaffle variations listed below and serve with keto maple syrup or your favorite

keto ice cream

.
Variations on the Traditional Chaffle Recipe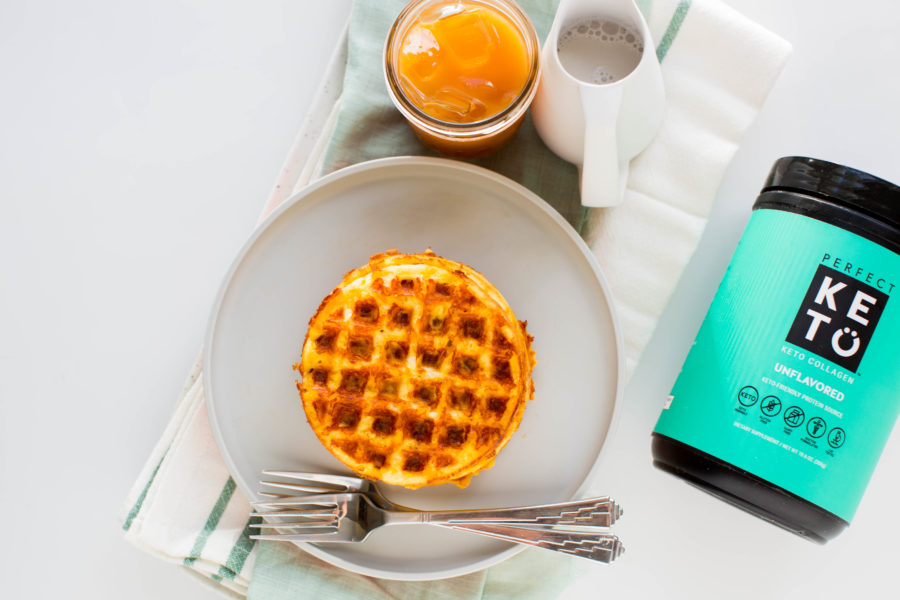 You can customize your chaffle in all kinds of ways. Here are a few options. 
Different Cheeses
Cheddar, mozzarella, parmesan, cream cheese, colby jack — any cheese that melts well will work with a chaffle. Different cheese produce different flavors and slightly different textures. Try a few and find your favorite. 
Sweet Chaffles 
Use a neutral cheese like mozzarella or cream cheese, then add a bit of your favorite keto sweetener to the batter before you fry it up. You can also chocolate chips or low-sugar fruits like blueberries or strawberries. Top with keto ice cream or keto whipped cream for a delicious chaffle dessert.
Savory Chaffles
Add savory ingredients like herbs and spices to your chaffle. For a pizza chaffle, add oregano, garlic powder, and diced pepperoni in the batter, with tomato sauce and extra cheese on top. Or you could use cream cheese and add everything bagel seasoning to the batter for an everything bagel chaffle. Serve with more cream cheese on top, capers, onions, and smoked salmon. 
Give chaffles a try and come up with your own favorite variations. They're an excellent addition to a ketogenic diet and a lot of fun to experiment with in the kitchen. And for inspiration and more awesome keto food, check out all our low-carb recipes.
Print
The Best Keto Chaffle Recipe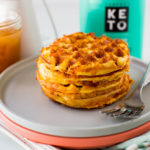 Total Time:

10 minutes

Yield:

4

Chaffles

1

x
Instructions
Heat the mini waffle iron.

While the waffle iron is heating, mix all the ingredients in a medium-sized bowl until combined.

Spoon out ¼ cup of the mix into the waffle maker and cook for 3-4 minutes, or until waffles are desired crispness.

Serve and enjoy!
Nutrition
Serving Size:

2 chaffles

Calories:

326

Fat:

24.75g

Carbohydrates:

2g (Net: 1g)

Fiber:

1g

Protein:

25g