This roundup of easy, low-carb shirataki noodle recipes spans more than Asian and Italian flavors to satisfy your pasta cravings on a keto diet.
So you've recently discovered the awesomeness that is shirataki noodles on your low-carb journey.
This zero-carb pasta alternative is the closest in appearance and texture to standard, high-carb noodles you can't have on a ketogenic diet.
But while many keto dieters know the hype about shirataki noodles, not many have ventured outside their zucchini noodle comfort zone to actually try them.
And that's a huge mistake you'll regret as soon as you make one of the easy, low-carb shirataki recipes in this roundup.
Not quite sure what a Miracle Noodle is?
Keep reading to discover why these Japanese noodles deserve all the praise.
Shirataki Noodles: The Gold Standard for Pasta On a Keto Diet?
Shirataki noodles are naturally gluten-free and contain zero carbs or calories despite their gelatinous, pasta-like consistency.
And for once, you're not dealing with a Frankenfood to get killer macros like those.
Shirataki noodles are made from a tuber called the konjac yam (or konnyaku potato).
Konjac contains a fiber known as glucomannan.
This fiber is extracted from the yam, combined with water to form a dough, and cut into long strands.
Shirataki noodles are translucent and have almost the same shape and texture as rice noodles.
Some companies even offer pasta-style alternatives of shirataki noodles such as fettuccine, angel hair, and ziti.
Now you see why they're perfect for anyone following a keto diet.
Shirataki noodles allow you to satisfy your pasta fix — whether that's an Italian-, American-, or Asian-style dish you're craving — without jumping out of ketosis.
Bonus: Shirataki noodles are also loaded with health benefits.
4 Health Benefits of Shirataki Noodles
Research shows shirataki noodles may be beneficial for your health thanks to the glucomannan (i.e., fiber).
This ultimate guide on shirataki noodles takes a deep dive into the research on this zero-calorie, no-carb pasta.
But if you're short on time, here are the top four health benefits of shirataki noodles at a glance:
#1. Type 2 Diabetes Prevention. A small study showed that consuming shirataki noodles could help lower fasting blood sugar levels[*].
The researchers discovered they could help prevent high blood glucose levels too[*].
#2. Reduce LDL Cholesterol and Triglycerides. According to a review of 14 studies, regularly eating glucomannan — the fiber in shirataki noodles — may improve heart health and lower heart disease risks.
When added to the diets of study participants, they lowered their LDL cholesterol, fasting blood sugar levels, and their body weight[*].
#3. Possible Weight Loss Booster. The high fiber content in shirataki noodles helps slow down the absorption of food so you feel fuller for longer.
And this healthy fiber also helps feed your gut bacteria.
Researchers in one study say this powerful combo may lead to lower body weight[*].
#4. Decrease Constipation. Meeting your daily water and fiber goals will keep your digestive system moving along and constipation at bay.
Since shirataki noodles are 97% water and 3% fiber, they may prove useful for maintaining regular bowel movements.
Scientists in one study added glucomannan to their participants' diets and successfully increased their average weekly bowel movements by 30% after 21 days[*].
If you'd like to read more about the health benefits and research, check out that shirataki noodle guide when you're done here.
Now that you know why you need them in your life, find out how to cook them if it's your first time experimenting.
How to Cook Shirataki Noodles Like a Pro
Even though you can replace standard pasta with shirataki noodles, you can't cook them quite the same.
First, you'll need to run the noodles under cold water before cooking them. Rinsing the noodles gets rid of all the packing liquid and semi-weird odor (which does disappear).
Then you'll cook them in lightly boiling water for less than two or three minutes.
However, you can't dump your sauce on top of your noodles at this point and call it a day like you would with standard pasta.
Do this and you'll have a slimy, watery, tasteless mess on your hands.
It's recommended to pan-fry your cooked noodles over medium heat to "dry" them out and help your sauce stick to them.
With that crash course out of the way, these healthy recipes will give you plenty of fresh ideas to work with.
5 Asian-Inspired Low-Carb Shirataki Noodle Recipes
The konjac plant is native to Asia. That's why so many of the best ways to use shirataki noodles incorporate flavors of that region.
You'll find them in recipes for everything from stir-fry and Japanese ramen to traditional pad Thai, curry, and laksa.
And you'll score the same amazing flavors without any of the carbs you'd normally find in takeout.
See for yourself:
#1. 30-Minute Spicy Keto Ramen Bowl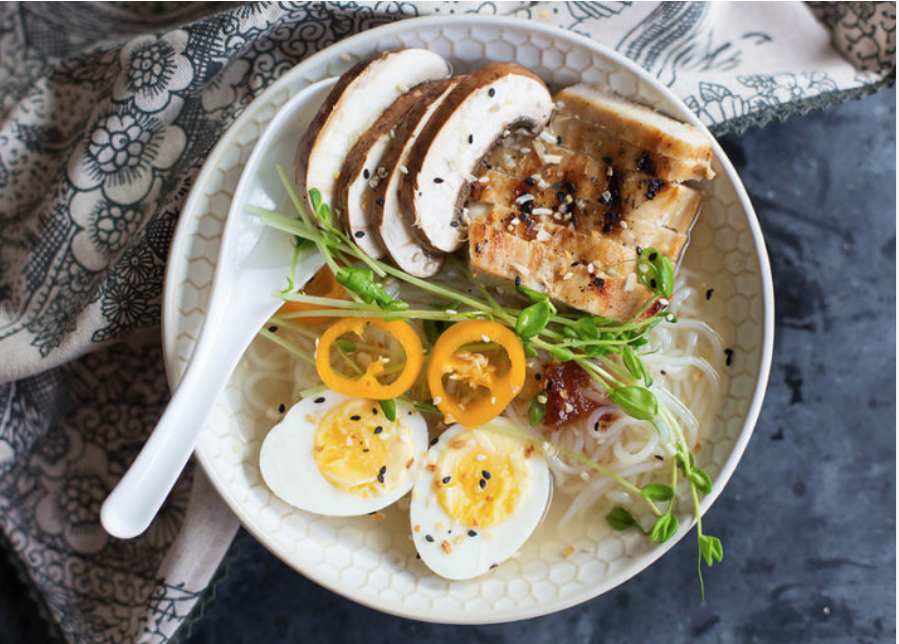 This spicy keto ramen bowl will become your favorite noodle soup recipe.
It manages to capture all the flavors of a rich ramen broth — using bone broth, soy sauce (or coconut aminos), and fish sauce — for a fraction of the calories and carbs.
And it only takes 30 minutes to make from start to finish. So you'll have it ready faster than anything you could order and have delivered.
The best part? You can customize your keto ramen bowl to keep life interesting or use what's in your fridge.
Consider toppings like cilantro, avocado, green onions, red pepper flakes, or sesame seeds.
#2. Keto Chicken Pad Thai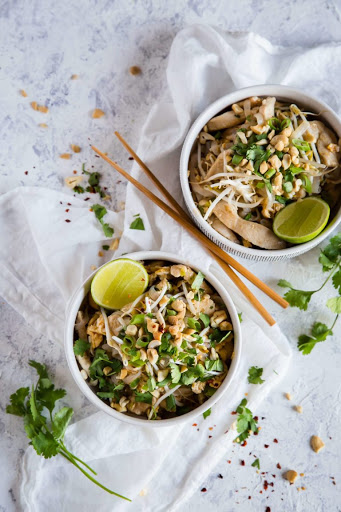 This keto chicken pad Thai recipe from Peace, Love and Low Carb replaces the high-carb pasta with fettuccine-style shirataki noodles.
Using a homemade sugar-free sauce of erythritol, tamarind, rice vinegar, and oyster sauce, you'll never believe it's not the "real" thing.
Each recipe makes four servings so you can have dinner and lunch ready to go in one cooking sesh.
#3. Low-Carb Vegetable Laksa with Shirataki Noodles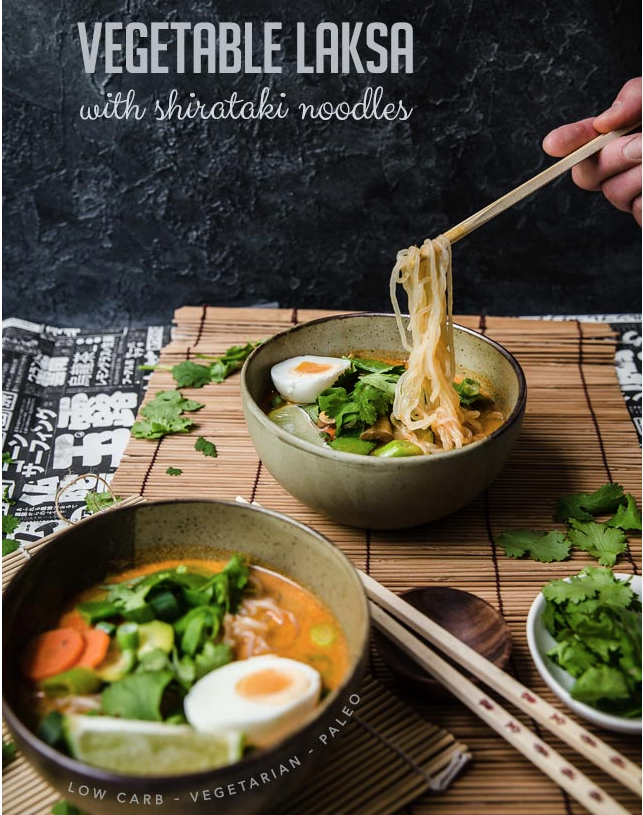 Laksa is a spicy, curry noodle soup from southeast Asia that's similar to ramen.
It starts with either a spicy coconut milk broth or a sour tamarind sauce (like pad Thai).
While traditional recipes call for wheat noodles or rice vermicelli, this low-carb vegetable Laksa recipe goes with shirataki noodles.
It works well with chicken, shrimp, and veggies, but you can try it with any other protein you have on hand. It's sure to be a winner at your table.
#4. Dairy-Free Nut-Free Asian Beef "Noodle" Bowls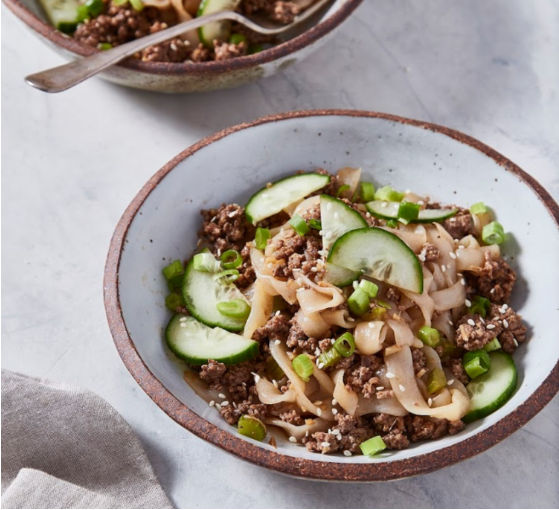 This paleo beef "noodle" bowl from Keto in the City gives you another delicious way to use ground beef or turkey, aside from taco night.
The even better news is that it only takes 20 minutes to make, including prep time and cook time. It may be the easiest, tastiest weeknight recipe on the list.
#5. Healthy, Low-Carb Chicken Biriyani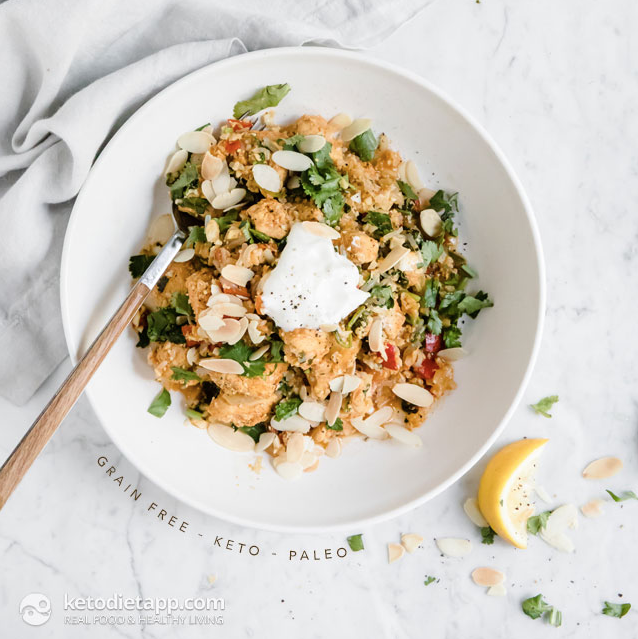 For those nights you'd rather order Indian food from your local takeout place, this chicken biryani is low-carb and bursting with flavor.
It subs out standard rice for shirataki noodles for a keto-friendly and grain-free recipe you'll make on the regular.
With a total time of just 30 minutes, you'll have a delicious meal that rivals any restaurant in less time.
And it only requires one pot to cook with, which makes for super easy cleanup. You can even use a slow cooker.
Though shirataki noodles upgrade traditional Asian dishes for low-carb macros, that's not all they have to offer.
6 Unexpected and Delicious Ways to Use Miracle Noodles
Don't pigeon-hole these no-carb noodles to simply Asian dishes.
Since shirataki noodles are tasteless until you add your own pizzaz, they're just as capable of transforming your favorite Italian or American pasta dishes.
And they add an unexpected element to all your other keto meals, such as:
#1. Mouth-Watering Miracle Noodles Stuffed Chicken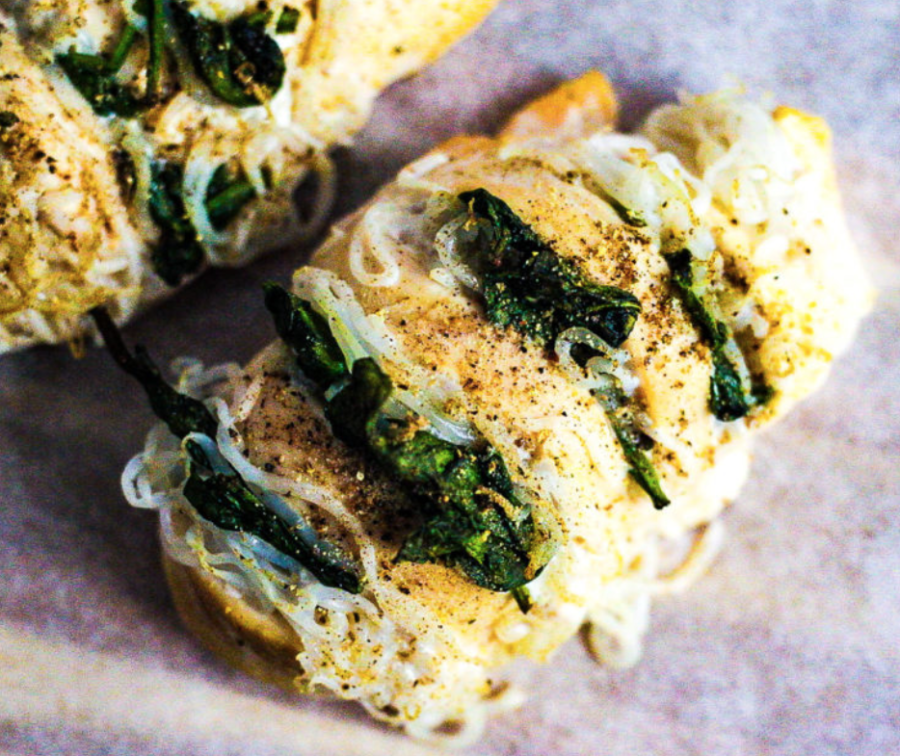 Tired of the same ol' boring grilled chicken?
Try this Miracle Noodle stuffed chicken recipe that takes flavor and nutrition up several notches.
With creamy mozzarella chunks and spinach, you'll have a filling meal packed with nutrients and deliciousness.
#2. Low-Carb Gluten-Free Shirataki Noodle Macaroni and Cheese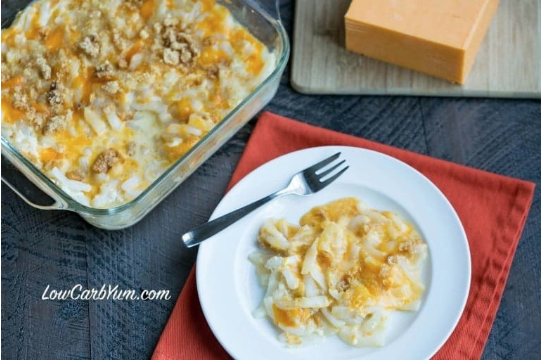 One of the nice features about shirataki noodles is that their texture is closer to actual noodles than zoodles (zucchini noodles) or cauliflower.
This creamy, low-carb gluten-free macaroni and cheese recipe makes an excellent main or side dish.
The crunchy crushed pork rinds on top give a nice breadcrumb knockoff that really matches what you're craving, minus the carbs.
#3. Creamy Keto Carbonara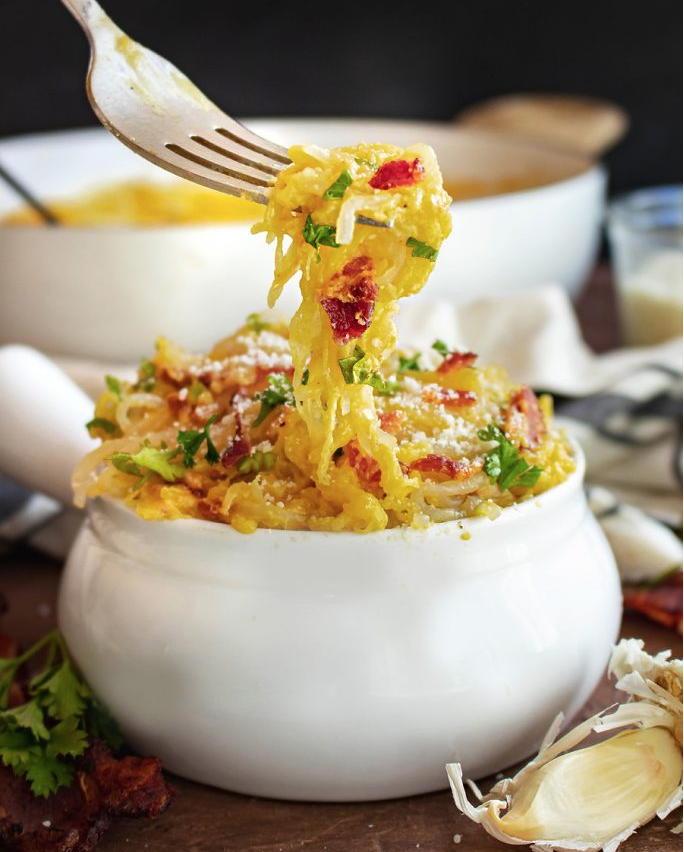 The creamy sauce in traditional carbonara recipes is made with crunchy bacon, grated parmesan, and chopped fresh parsley.
It's fairly keto-friendly until you get to the pasta.
So Corina Nielsen, one of our recipe creators, whipped up this creamy, keto version with shirataki noodles that's just as delightful.
Plus, you can have this easy recipe ready and plated in 20 minutes or less.
And it makes enough for dinner and leftovers for tomorrow's lunch, which your co-workers will be jealous of.
#4. Keto Fettuccine Alfredo With Pesto Chicken And Broccoli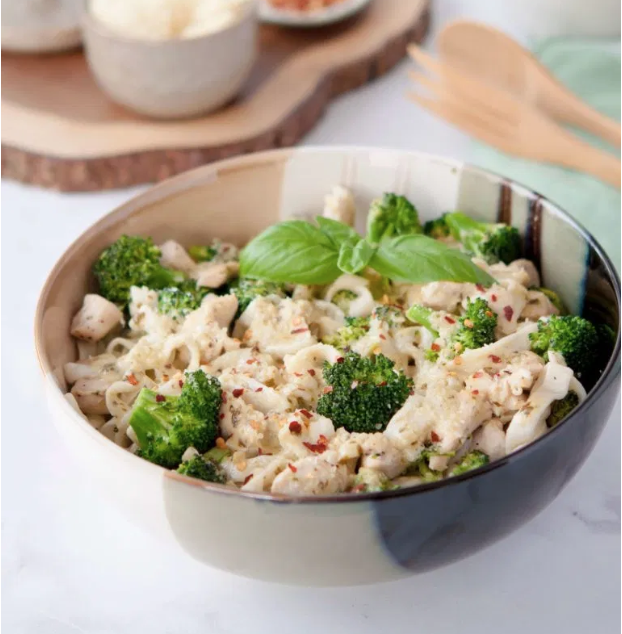 If you thought fettuccine alfredo was off-limits on your keto-diet, the good news is you can have a low-carb version that's even better.
This keto fettuccine alfredo with pesto chicken and broccoli recipe is as filling as it is delicious.
The healthy fats from butter, heavy whipping cream, and grated Parmesan cheese combine to form a creamy homemade alfredo sauce.
And the thick chunks of pesto chicken and broccoli add protein and fiber so you won't be ravenous for more carbs later.
Each serving only clocks in at 6.8g of net carbs so you can easily weave it into your weekly keto meal plans guilt-free.
#5. Gluten-Free Garlic Shrimp with Puttanesca Sauce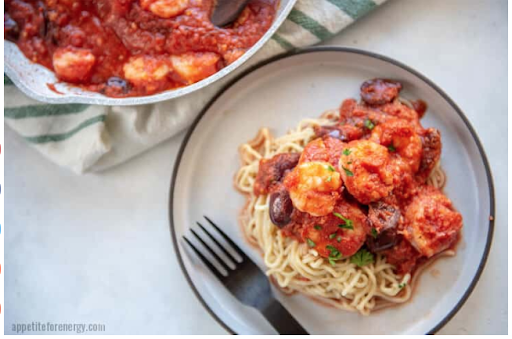 Similar to carbonara, puttanesca is a traditional Italian pasta sauce you may be missing on keto. It's made with anchovies, olives, and capers.
This dairy-free garlic shrimp with puttanesca sauce shirataki noodle recipe doesn't skimp on those flavors and still fits your macros.
A serving is just 8g of net carbs and under 220 calories.
#6. Low-Carb Gluten-Free Shirataki Tuna Noodle Casserole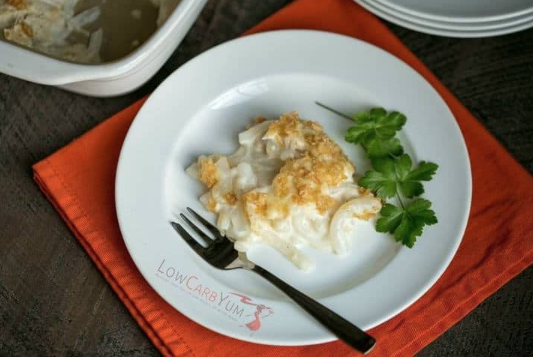 For another unique way to use shirataki noodles, check out this low-carb tuna noodle casserole from Low Carb Yum.
Similar to the keto-friendly casserole dishes in this guide, this one is nothing like your mother's or your grandmother's recipe — sorry, it's true!
This lighter version delivers close to 23g of fat and almost 23g of protein.
And it does so for under 300 calories per serving.
So if you're looking for a light, low-calorie dinner that won't leave you hungry and wanting a snack before bed, give this one a try.
Each recipe makes six servings, which means you'll have plenty of leftovers.
Time To Finally Try Shirataki Noodles
Now you have 11 delicious recipes to take full advantage of these no-carb Miracle Noodles on your keto journey.
You can find shirataki noodles at most grocery stores in the refrigerated or Asian sections. They come packed in liquid versus dry like pasta, just a heads up.
You can also order them online at Amazon.
Bookmark this page so you can easily refer back to this roundup like a cookbook anytime a craving strikes.
And to learn more about shirataki noodles — including the research behind glucomannan — check out this guide next.
Enjoy the flexibility that these noodles offer and you'll have no trouble staying in ketosis.