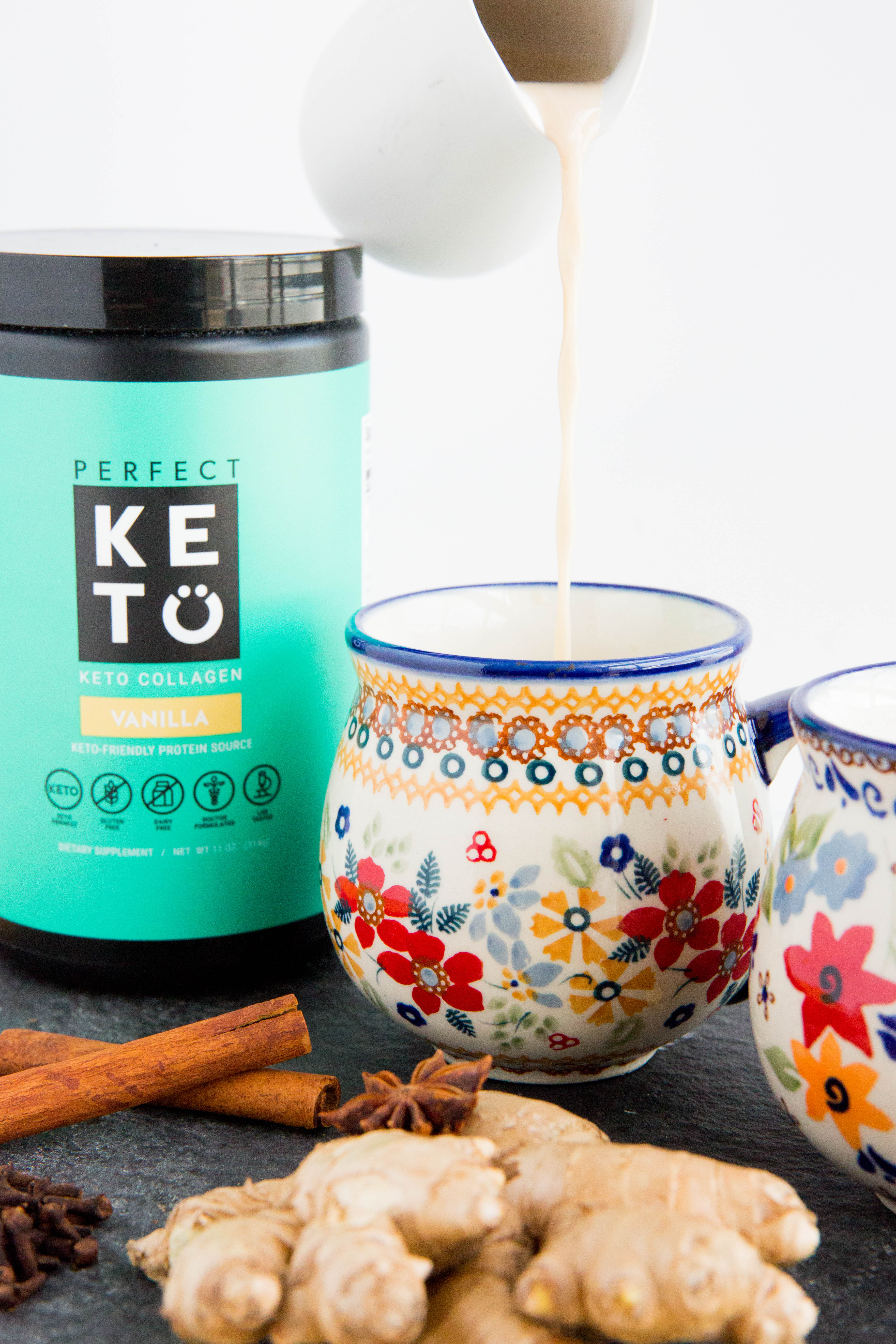 Who says that creamy tea lattes aren't part of a healthy low-carb diet? Not only is this chai latte completely keto, but it also comes with a host of health benefits from its unique blend of herbs and spices.
Try this keto chai tea latte when you're not in the mood for coffee or hot chocolate, but you're craving something warm, creamy, and slightly sweet.
The Problem With Chai Tea Lattes
Traditional chai tea — or Masala chai — is a recipe from India that has spread throughout the globe. The recipe usually includes black tea, whole milk, a blend of fragrant spices, and granulated sugar.
And there lies the problem for most people on the keto diet — the sugar content.
Go to any local coffee shop or your nearest Starbucks, and you'll be shocked at the amount of sugar they add to their coffee and tea drinks.
A Grande Chai Latte at Starbucks, for instance, contains 42 grams of sugar and 45 grams of carbohydrates when it's made with their chai mix and 2% milk[*].
That's more added sugar than you should have in a month on a healthy keto diet and a day's worth of carbs in one 16-oz. cup.
But that doesn't mean you need to avoid chai altogether.
Make your chai latte keto at home, with minimal prep time and all of the taste and texture of your favorite creamy drink.
This warm, spicey tea drink is:
Comforting
Creamy
Spicey
Fragrant
Gluten-free
Sugar-free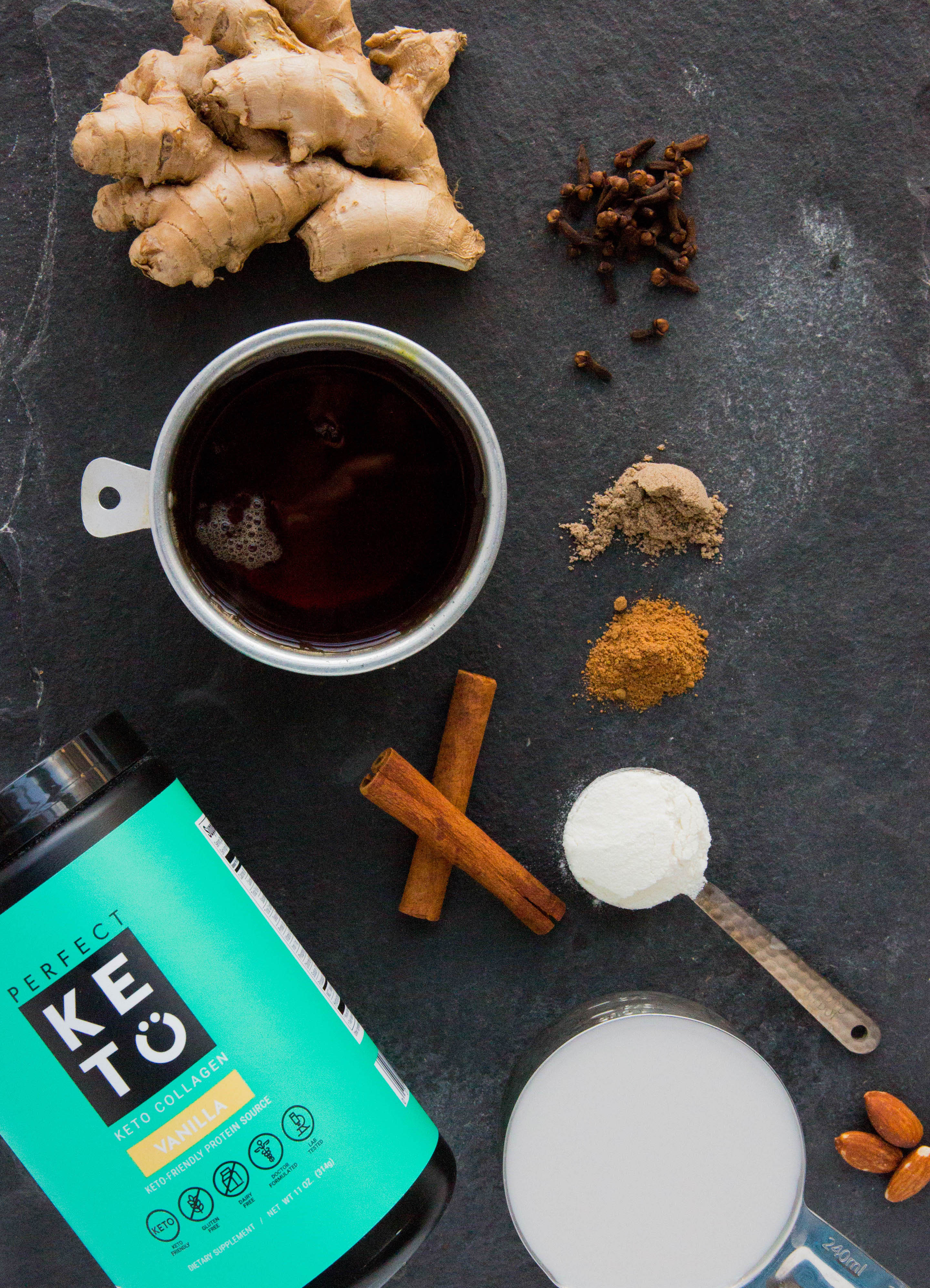 The main ingredients in this keto chai latte are:
Black tea
Almond milk or full-fat coconut milk
Spices
Optional additions:
1/2 teaspoon of MCT oil or a scoop of MCT powder
1/2 teaspoon melted coconut oil
Health Benefits of Keto Chai Latte
#1. Packed With Antioxidants
Black tea is known for its high antioxidant content — compounds that fight free radical oxidation in your cells. That means less damage to your cells and DNA, and that means less disease[*]
Polyphenols are phytochemicals in tea leaves that also scavenge for free radicals. And they may help protect against metabolic diseases like type 2 diabetes, elevated cholesterol, and obesity; although the science is mixed and most of the positive in vivo studies are in rodents[*].
Cinnamon is by far one of the most antioxidant-packed spices in your spice rack, and also may help fight inflammation and infection, according to some rodent studies[*][*].
Ginger's antioxidant effects also may help lower systemic inflammation and pain[*].
#2. Contains Healthy Fats
Whether you're opting for almond milk, full-fat coconut milk, or heavy whipping cream, this chai latte is full of healthy fats.
Fat increases your absorption of certain fat-soluble nutrients like vitamins A, E, D, and K.
And fat also helps you feel full quickly and doesn't trigger much of an insulin response, if any. Low blood sugar and insulin levels mean less body fat storage and fewer energy crashes.
#3. Soothes Digestion
Ginger, collagen peptides, and antioxidants in black tea all help support your digestive health.
Ginger can help alleviate the pain and discomfort that comes with indigestion. In one study, just 1.2 grams of ginger powder before eating sped up stomach emptying by 50%, improving indigestion symptoms[*].
Black tea — rich in polyphenols — may help promote the growth of good gut bacteria and inhibit the growth of unfavorable gut bugs like Salmonella[*]. And a healthy gut microbiome is the key to better digestion, nutrient absorption, immune function, and even brain health.
Collagen may also help heal and strengthen your stomach lining, which helps with nutrient absorption and can help prevent leaky gut syndrome[*].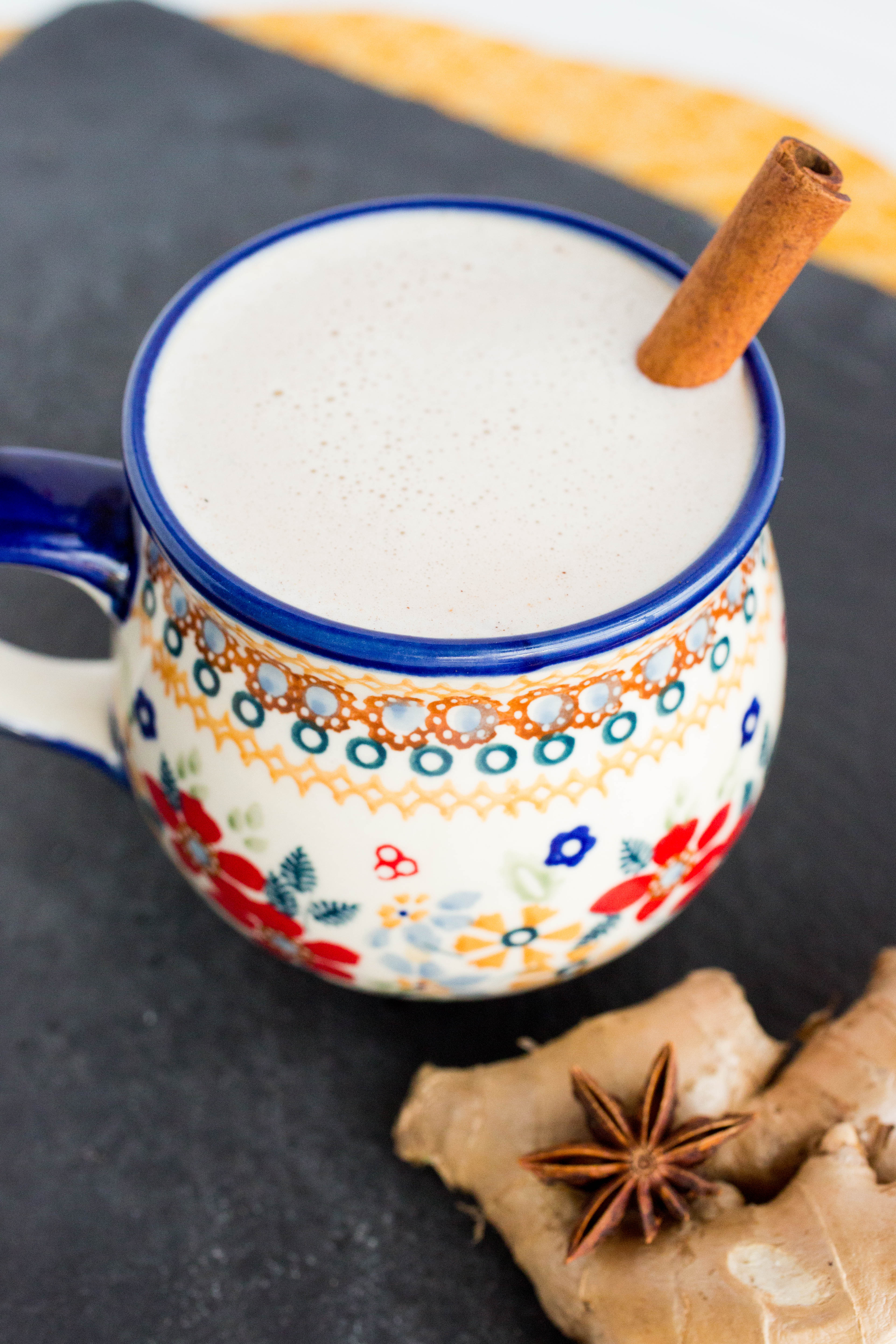 Perfect Keto Chai Latte
Of all your favorite recipes for satiety, weight loss, and better brain function, this might be your new favorite.
With a total carbohydrate count of just 6.7 grams and a net carb count of 1.1 grams, you can safely enjoy this sweet treat whenever you're feeling cozy.
For a dairy-free chai tea latte, use sugar-free almond milk or full-fat coconut milk. If you're not avoiding dairy, you can try this keto recipe with heavy cream or heavy whipping cream.
If you're craving an iced tea, simply steep your chai tea bags, blend with the ingredients listed below and pour it over ice for a cold high-fat treat that doubles as an icy keto dessert.
Need more calories or want more healthy fats? Add a scoop of MCT Oil Powder or coconut oil to your blender.
And lastly — if you're craving a little more caffeine and an extra boost of polyphenols, you can make a dirty chai with a shot of organic espresso.
Print
Simple, Creamy Keto Chai Latte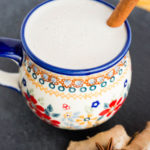 Author:
Total Time:

5 minutes
Scale
Ingredients
2

black tea bags steeped in 2 cups hot water

2 cups

almond or coconut milk, warmed

2

scoops

Perfect Keto Vanilla Collagen

½ teaspoon

cinnamon

⅛ teaspoon

ginger

⅛ teaspoon

cardamom

⅛ teaspoon

nutmeg

⅛ teaspoon

ground cloves

Stevia extract to taste
Instructions
Add all of the ingredients to a high-speed blender, blending until well-combined.
Nutrition
Serving Size:

2

Calories:

120.5

Fat:

8.7g

Carbohydrates:

6.7g (1.1g net)

Fiber:

5.6g

Protein:

10 g
Keywords: keto chai latte