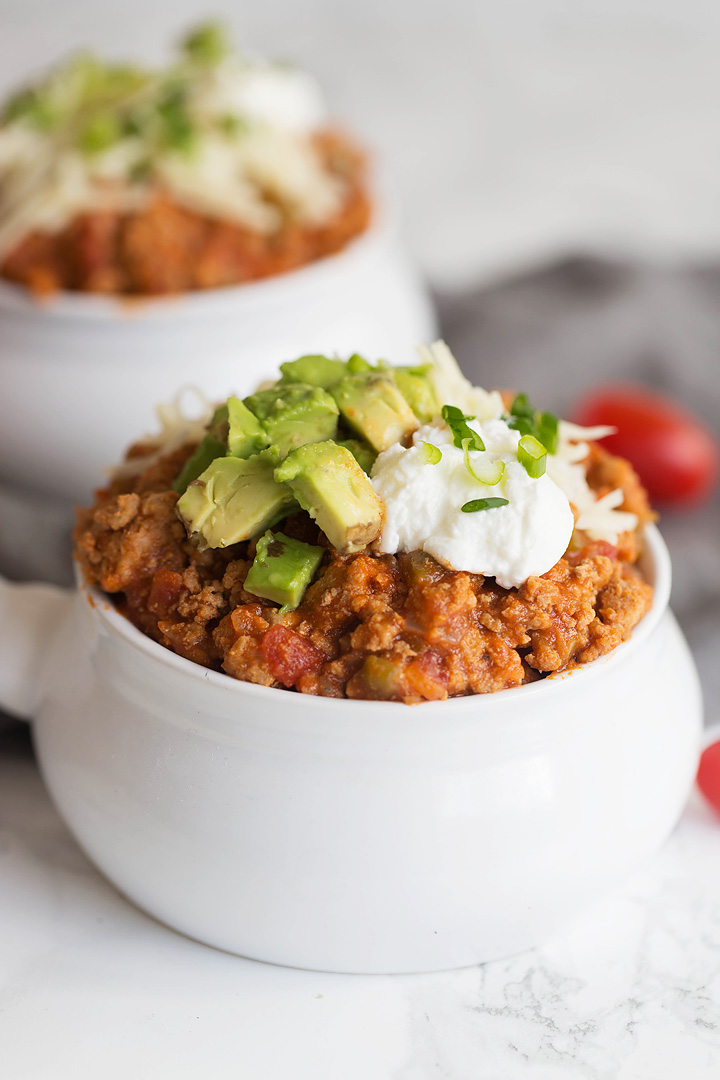 When you're looking for an easy keto meal to prepare, this no-bean keto chili recipe will come to your rescue. And since you can whip it up quickly with pantry staples, there's a good chance you won't even need to head to the grocery store ahead of time.
Traditional chili is typically made with beans and a variety of tomato products that will most likely kick you out of ketosis. Fortunately, this keto-friendly recipe is low-carb and extremely satisfying. It's rich in healthy fats, full of bold flavors, and so easy to prepare — even if it's your first time.
Serve it alongside keto bread, cloud bread, keto tortillas, or even in the morning with a few over-easy eggs. Having this tasty keto chili with your eggs for breakfast is a delicious way to help you avoid the bacon-every-morning blues.
Keto Chili: Main Ingredients
Grass-fed ground beef
Onion
Green pepper (aka bell pepper)
Diced tomatoes
Seasonings (garlic, chili powder, and cumin)
Benefits of Grass-Fed Beef
This keto chili recipe calls for grass-fed beef, which not only tastes richer in flavor but also provides a number of health benefits.
#1. Heart Healthy
One of the best health benefits of grass-fed beef is that it contains more CLA (conjugated linoleic acid) than regular grain-fed beef. This polyunsaturated fatty acid has been known to fight unwanted fat, help build muscle, and reduce the risk of heart disease[*]. Grass-fed beef can also help lower overall cholesterol and contains higher amounts of disease-fighting antioxidants such as vitamin E[*].
#2. Balanced Blood Sugar
Getting a good amount of healthy fats in your diet helps regulate blood sugar. CLA is linked to improving insulin sensitivity, which helps reduce the risk of diabetes, even if you are insulin resistant.[*]
#3. No Antibiotics or Hormones
Grain-fed cows are typically given hormones to increase their size quickly. These hormones may pose a health risk to you as they can increase the risk of different types of cancer[*].
In addition, grain-fed cows are also given antibiotics which can contribute to antibiotic resistance in your own body[*]. This increases drug-resistant bacteria in your system and could pose serious problems if you have a medical concern that requires antibiotics that may no longer be as effective.
#4. More Vitamins, Minerals, and Healthy Fats
Science has shown that grass-fed, organic beef contains a higher ratio of healthy fats than its grain-fed counterpart, as well as more vitamins, minerals, and antioxidants[*].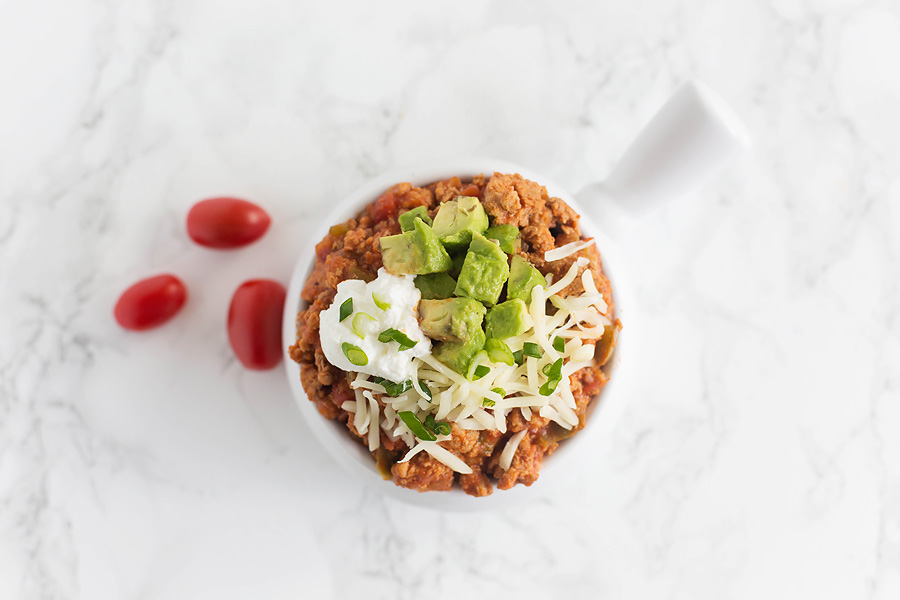 Grass-Fed Beef: Unaffordable or Not Available?
When getting grass-fed ground beef isn't possible, a great keto-friendly substitute is 80/20 ground beef. If that's not available, choose the highest fat count available. If all you can find is leaner ground beef, you can supplement your fats a little by cooking it in butter, ghee, avocado oil, coconut oil, or lard.
This low-carb keto chili recipe can also be made with ground turkey if that's what you have on hand.
Importance of Tomato Paste
Tomato sauce isn't a good substitute for tomato paste in low-carb cooking. Not only is tomato paste thicker, which is necessary for some recipes like this keto chili, but it has a lower carb count compared to tomato sauce. Tomato sauce can be a source of hidden sugars, which can throw a wrench into an otherwise low-carb diet.
Gluten-Free Concerns
If you're sensitive to gluten and have no bone broth available, use a gluten-free beef broth. Commercially prepared broths usually contain gluten from wheat or other gluten-based thickeners.
Other Cooking Methods
Although this recipe is cooked on the stovetop, you can also use your slow cooker or instant pot with just a few adjustments.
Slow Cooker
If you'd like to skip cooking after a long day, you could take some prep time the morning and throw it all in the crockpot before you leave for work. Dinner will be ready in the time it takes to prepare your side dishes. You can prepare these ingredients the night before or in the morning.
Simply modify the recipe as follows:
Add the chopped onion to a skillet over medium-high heat and cook until translucent, about 5-7 minutes.
Add the ground beef, breaking it up with a spatula. Cook until brown, but not completely cooked through, approximately 8-10 minutes.
Transfer this mixture to the crockpot and add the remaining ingredients, stirring to combine.
Cook on low for 6-8 hours or on high for 3-4 hours.
Instant Pot
While cooking in the Instant Pot isn't any faster for this recipe, you may prefer its ability to produce tender meat. Or maybe you simply want to avoid heating up your kitchen on an already hot day. If you prefer the pressure cooker, you can do it all in one pot using these modifications:
 Press the sauté button on the Instant Pot. Sautéing is done without the lid.
Add chopped onion to the pot and cook until translucent, about 5-7 minutes.
Add garlic and cook until fragrant, about 1 minute.
Add the ground beef to the pot to brown, breaking it up with a spatula, approximately 8-10 minutes.
Add remaining ingredients to the pot, stirring until mixed. Then, since it's a pressure cooker, add a cup of water or beef broth and stir.
Close the lid and select Keep Warm/Cancel to end the sauté function. For the final stage, you'll press Meat/Stew (cook time 35 minutes) to begin the cooking cycle.
After cooking, wait for natural release, if possible. If you're pressed for time, you can release pressure yourself by turning the valve to the vent position.
With both of these methods, you'll follow the initial prep and garnish instructions in the regular recipe.
Print
30-Minute Hearty Keto Chili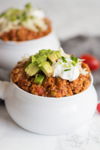 Cozy up and fill your belly in under 30 minutes with this simple no-bean keto chili that is bursting with traditional Tex-Mex flavors.
Top this hearty bowl of chili with some shredded cheddar cheese, a dollop of sour cream, chopped avocado or jalapeno, and a sprinkle of green onions for a meal you'll come back to again and again. You could even serve it atop veggies, like a bed of zucchini noodles or riced cauliflower.
Author:
Prep Time:

5 minutes

Cook Time:

25 minutes

Total Time:

30 minutes

Yield:

5 cups

1

x
Category:

Dinner

Cuisine:

American
Scale
Ingredients
1 tablespoon

olive oil

1

small onion (finely chopped)

1

medium green pepper (finely chopped)

1

clove garlic (finely minced)

1

lb grass fed ground beef

3

heaped tablespoons tomato paste

1/2 cup

diced tomatoes

8 oz

beef bone broth

1 1/2 teaspoon

chili powder

1 teaspoon

cumin

1 1/2 teaspoon

salt

1/2 teaspoon

pepper
Instructions
In a large stock pot or dutch oven, heat olive oil under medium heat. Add onions and bell peppers. Sauté for 1-2 minutes. Stir in garlic, salt, pepper, and spices.

Add ground beef and cook until browned. Stir in tomato paste, tomatoes, and broth.

Bring to a boil, then reduce heat to low. Cook for 20-25 minutes, stirring occasionally.

Top with cheese, sour cream, and avocado if desired.
Nutrition
Serving Size:

3/4 cup

Calories:

156

Fat:

8g

Carbohydrates:

Net Carbs: 4g

Protein:

18g