A healthy, low sugar, and low carb chocolate bar? Doesn't that sound like an oxymoron?
For all of you chocolate lovers out there, here's a bit of good news: Chocolate isn't bad for you. It's the excess ingredients added to chocolate (soy lecithin, emulsifier, artificial flavors, and sugar) that negatively impact your health.
But the core ingredient within all chocolate bars, cocoa, has been shown to have many health benefits, helping to treat allergies, cancers, oxidative stress, insulin resistance, and inflammation[*].
The key to enjoying healthy chocolate is to avoid store-bought brands and make your own version at home. Below, you'll learn how to make a gluten-free, low carb, vegan, and sugar-free chocolate that's perfectly suitable for the keto diet.
How to Make Keto-Friendly Chocolate
Lucky for you, this keto-friendly chocolate requires just two steps: Melt all ingredients together in a small saucepan, then place into molds. Here's a quick kitchen tip: When melting your ingredients together, you want to do so slowly — as in, painfully slow. Be sure to turn your burner on low heat, and continuously mix the ingredients. Otherwise, you run the risk of burning your chocolate.
If you look at the nutrition facts below, you'll see this recipe contains just 1 gram of net carbs per serving. The ingredients you will need for this recipe are:
You will also need a silicone mold, a small pot, and 5 minutes of prep time.
3 Ingredients for Keto Chocolate
These ingredients used in this chocolate recipe are powerhouses for energy. They also contain vitamins, minerals, antioxidants, and dietary fiber.
#1: Cacao Butter
Raw cacao butter is the pure, cold pressed oil from the cacao bean (cocoa powder is raw cacao that's been roasted at high temperatures).
It is an amazing source of flavanoids, which are antioxidants that could help support healthy inflammatory levels. The antioxidants can help boost the immune system, lower inflammation, and improve heart health[*].
Cocoa butter is a healthy fat, containing roughly 60% of the total fat content[*]. Two of the fatty acids it contains are palmitic acid and stearic acid, which may help improve cholesterol levels[*].
#2: MCT Oil
MCTs, or medium chain triglycerides, are a form of saturated fatty acids which may be able to support your weight loss goals. Unlike long-chain fatty acids, MCTs don't need digestive enzymes to be broken. Found naturally in foods like coconut oil, cheese, butter, and yogurt, MCTs are efficiently broken down into ketones in the liver, which can then be used for energy.
MCTs support your overall health in ways that extend beyond weight loss. MCTs can help improve mental clarity, support digestive health, boost hormonal health, and decrease your risk of developing heart disease and diabetes[*].
#3: Maca Powder
Maca root is a popular adaptogen native to the Andes of Peru. Adaptogens are commonly used in herbal medicine, recognized as a natural substance that can help the body adapt to stress within your daily life. It's been used for over 2,000 years to help rheumatoid arthritis, respiratory disorders, anemia, and reproductive health[*].
Maca is rich in antioxidants, helps to balance and regulate hormones, and naturally boosts energy and mood. Many athletes take maca root to increase stamina and performance. It's a wonderful remedy for ongoing fatigue and adrenal issues.
Low Carb Chocolate Variations
If you look at the ingredients list, you will quickly notice this is a completely sugar-free chocolate, without a trace of sweetener. Therefore, the chocolate will have a similar taste to a dark chocolate bar, rather than milk chocolate.
If this is too bitter a taste for you, consider adding a few drops of monk fruit or stevia to sweeten the taste.
Avoid any sugar alcohols or high-carb, high sugar sweeteners, as they're not keto friendly.
Feel free to add a few low carb toppings to your keto chocolate. After your ingredients are completely melted and combined, feel free to stir in almonds, macadamia nuts, or coconut flakes.
When pressing your chocolate mixture into molds, you could layer in almond butter or peanut butter to make your own low carb peanut butter cups.
Finally, you can swap out your molds to make different variations. Rather than a chocolate bar, you could make your own homemade chocolate chips.
These would be perfect in keto chocolate chip cookies, chocolate chip ice cream, fat bombs, or other low carb desserts.
Indulge in Keto-Friendly Chocolate
If you have a sweet tooth, this recipe might be just what you need. These delicious keto chocolate bars are the perfect treat when you're craving something sweet.
Remember: The ketogenic diet, when done correctly, should not leave you feeling deprived. Therefore, the best keto recipes are those which help you stay focused, allowing you to enjoy your favorite foods while sticking to a low carb lifestyle. For other keto dessert ideas, be sure to visit the recipe section on this website.

Print
Healthy Homemade Keto Chocolate Bars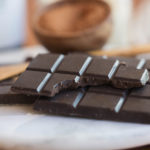 Overcome that nagging sugar craving with these zero guilt homemade keto chocolate bars which will leave you with tons of energy and a boost in your ketones.
Author:
Prep Time:

5 minutes

Cook Time:

N/A

Total Time:

5 minutes

Yield:

24

pieces

1

x
Category:

Dessert

Cuisine:

American
Instructions
Add all ingredients to a small pot and cook under low heat until cacao butter is completely melted. Turn off heat and mix well until smooth.

Pour contents into a chocolate bar silicon mold. Freeze for 10 minutes until set.
Nutrition
Fat:

2g

Carbohydrates:

Net Carbs: 1g

Protein:

0g
Keywords: keto chocolate bars