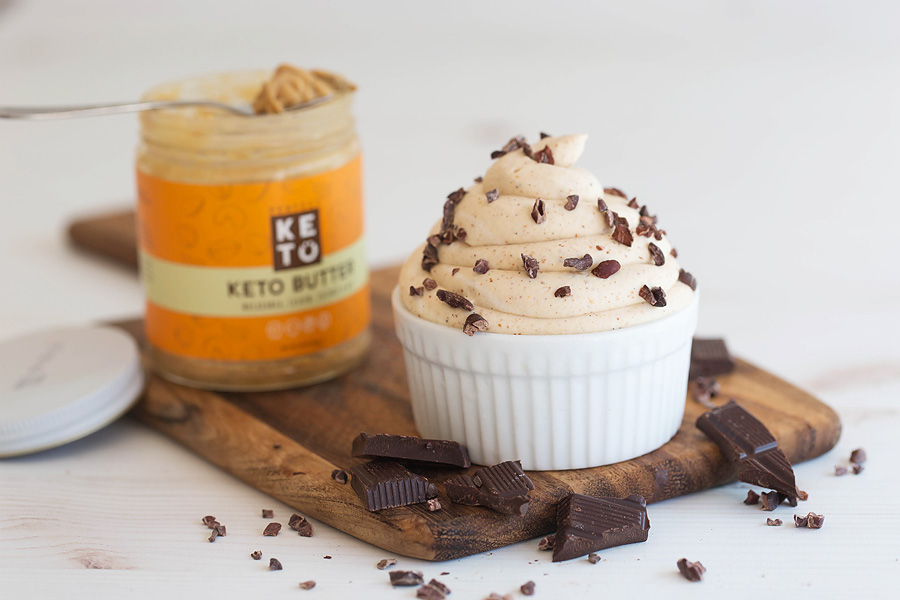 When Santana and Rob Thomas wrote their chart smashing hit single "Smoothe", we think they were secretly talking about this Nut Butter Keto Fluff.
Each bite tastes deliciously decadent and silky, but it won't leave you feeling guilty.
The best part is this cloud-like dessert can be whipped up and eaten in under 5 minutes and only requires a handful of simple healthy ingredients.
It's thick, rich, creamy, and provides a wonderful variety of healthy fats including MCT oil, macadamia and coconut butter, which help keep you in fat-burning mode.
The main ingredients in this fluff include:
This velvety fluff is flavored with our keto-friendly Perfect Keto Nut Butter, which is a special nut butter blend of macadamia nuts, cashews, coconut butter, MCT oil, and real vanilla bean powder.
The variety of fats from the nut butter combined with the fat from the coconut milk and cream cheese make this fluff the ultimate keto fat bomb. MCTs (medium-chain triglycerides) in particular are a wonderful fuel in the ketogenic diet and provide numerous health benefits.
3 Health Benefits of MCTs
#1: Keep Your Heart Healthy
Studies have shown MCTs can help prevent cardiovascular disease by decreasing blood triglycerides and LDL particle size. Reducing these markers is helpful for those suffering with metabolic syndrome and cardiovascular disease.
MCTs are also anti-inflammatory, easy to digest, and satiating, which helps reduce the severity of these conditions.
#2: Boost Gut Health & Immunity
MCTs are considered natural antibiotics, antiviral, and antifungal. They can help reduce the amount of "bad" bacteria in your stomach without removing the "good" bacteria, keeping your gut microbiome in check. These healthy fats also boost the absorption of nutrients and vitamins.
#3: It's The Ultimate Energy Source
One of the greatest benefits of incorporating MCTs into your ketogenic diet is they provide quick energy.  Because they are rapidly absorbed by your body, they convert to clean and sustained energy for your cells instead of getting stored as fat.
It also boosts your blood ketones levels, which is why ketoers usually mix exogenous ketones with MCTs.
So have an amazingly delicious dessert, feel awesome, satisfy your sweet tooth, get energized, and stay in ketosis with this Irresistible Nut Butter Keto Fluff.
Print
Irresistible Nut Butter Keto Fluff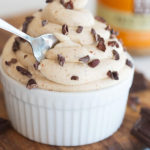 Author:
Total Time:

5 minutes

Yield:

1 cup

1

x
Instructions
Adding coconut milk to a stand mixer or bowl. Beat on high for 1-2 minutes until it forms stiff peaks.

In a separate bowl, add softened cream cheese, Perfect Keto Nut Butter

, vanilla extract, and sweetener. Mix well until smooth. Adjust sweetener to taste.

Slowly fold whipped coconut milk into cream cheese mixture. Stir in chocolate chips. Refrigerate to harden a bit or enjoy immediately.
Nutrition
Serving Size:

1/4 cup

Calories:

213

Fat:

20g

Carbohydrates:

Net Carbs: 4g

Protein:

2g