Jump to recipe
There is something so comforting about a giant bowl of freshly made gnocchi. These little mounds of pasta are traditionally made with flour and cooked mashed potato, so unfortunately they would not work for a ketogenic diet. The good news is that I have come up with an amazing low carb version that feels every bit as indulgent as the original, minus the carbohydrates. It may feel like an intimidating recipe to make, but I assure you that these gnocchi are extremely easy to prepare and are sure to be a crowd pleaser amongst the entire family.
The first time I had gnocchi, I could not believe what I had been missing out on for most of my entire life. If you are a fan of traditional pastas, gnocchi is on an entirely different level. These little pillowy bites are so light and fluffy, yet hearty and filling. These take a little bit of prep, but cook within a couple of minutes. The best part about this keto gnocchi recipe is that you can prepare the dough ahead of time, even make a double or triple batch, and have them on hand for quick and easy dinners. It pairs well with a light salad, grilled chicken, and any sauce of your liking. Because the gnocchi are neutral in taste, the skies are the limits with your choice of sauce. Keep it traditional with melted butter and herbs, use marinara sauce, or even a classic pesto. The star of this dish is the gnocchi and it will quickly become a staple in your meal rotation.
Keto Gnocchi Ingredients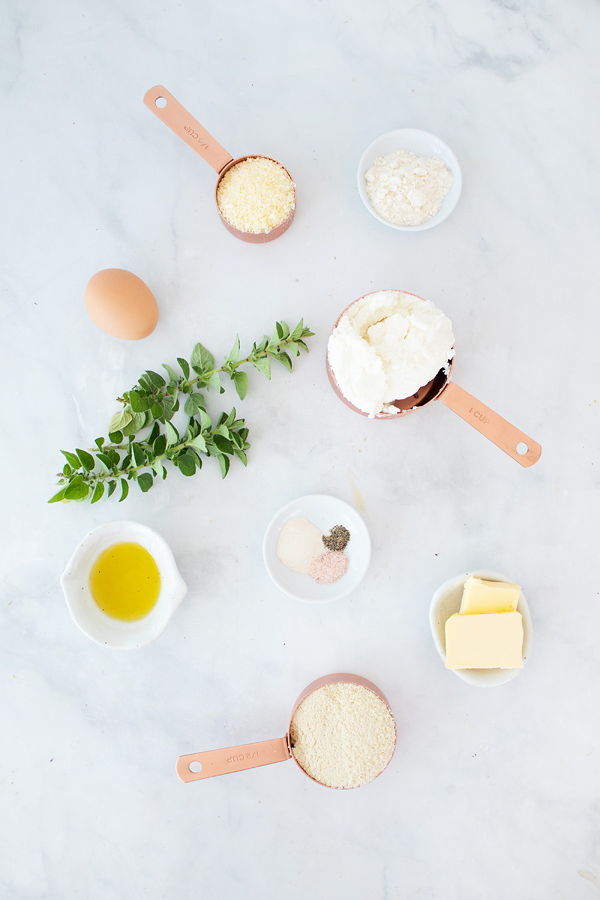 Almond Flour – fine, unbleached almond flour
Coconut Flour 
Ricotta cheese – whole milk
Cheese – Whole milk ricotta cheese and finely grated parmesan cheese
Egg – one large whole egg
Butter – grass fed butter
Seasonings – garlic cloves, fresh sage leaves, salt and pepper
How to Make Keto Gnocchi
Make Gnocchi Dough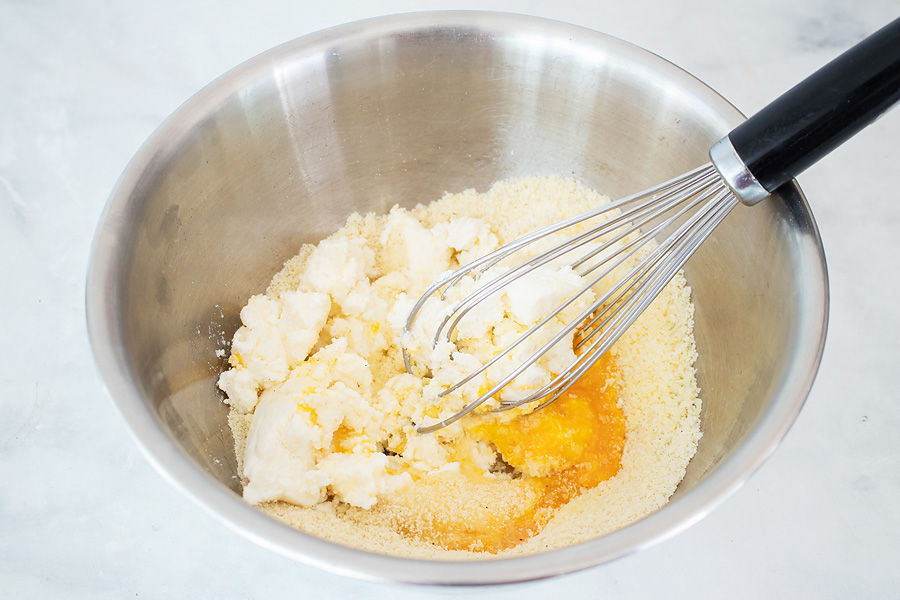 Combine dry ingredients and mozzarella cheese in a large bowl. Melt in the microwave and then add ricotta cheese, egg, and parmesan cheese.  Stir well and refrigerate.
Form Gnocchi Dough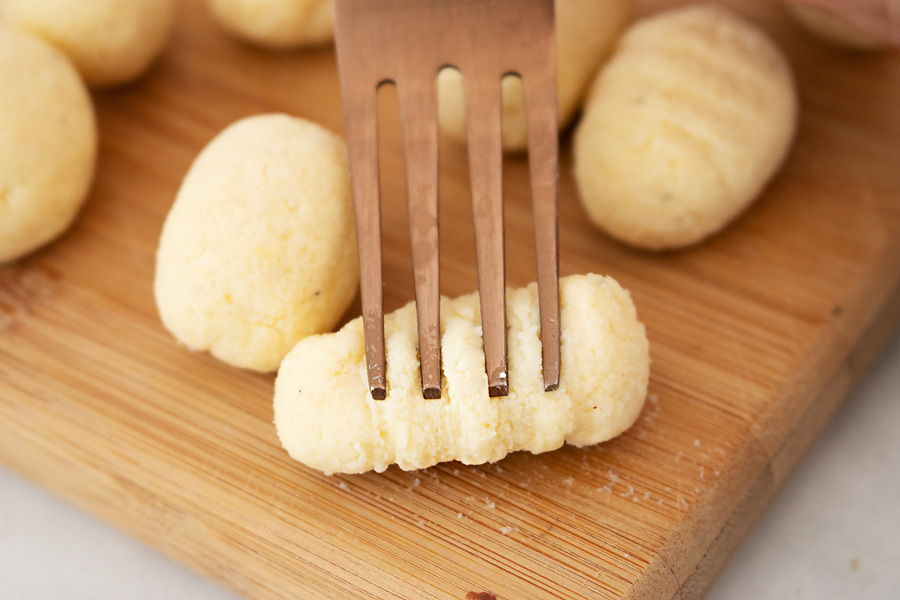 Take one tablespoon of dough and roll into a small oval ball. Roll with a fork to create the classic gnocchi indentions.  Freeze for 15 minutes.
Cook Gnocchi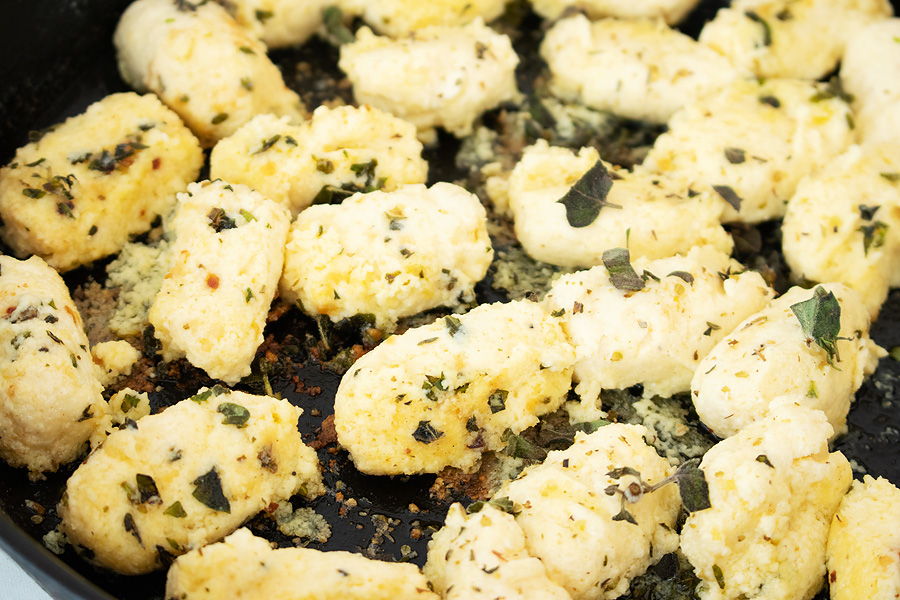 Add gnocchi to a preheated skillet along with butter, garlic, olive oil, sage, salt, and pepper. Gently toss and cook until warmed through.
Keto Gnocchi Sauce Ideas
Pesto Sauce Marinara Sauce Alfredo Sauce
Storing, Freezing, and Reheating
These low carb gnocchi are best eaten freshly made, but unused portions can be stored in an airtight container in the fridge. Keep them in a single layer to avoid them sticking together. The dough also tends to get mushy when cooked with a lot of liquid. To avoid this, cook gnocchi in a preheated pan set over high heat with a splash of desired sauce.
Keto Gnocchi FAQs
Can I use different herbs in this keto gnocchi recipe?
Yes! Sage is traditionally used in this dish, but fresh basil or thyme would be equally delicious.
Can I bake these gnocchi instead of pan frying them?
Unfortunately, baking them changes the texture quite a bit. They are best pan fried to keep their shape as well.
Is there a substitute for xanthan gum?
Flax would also work in these low carb gnocchi's.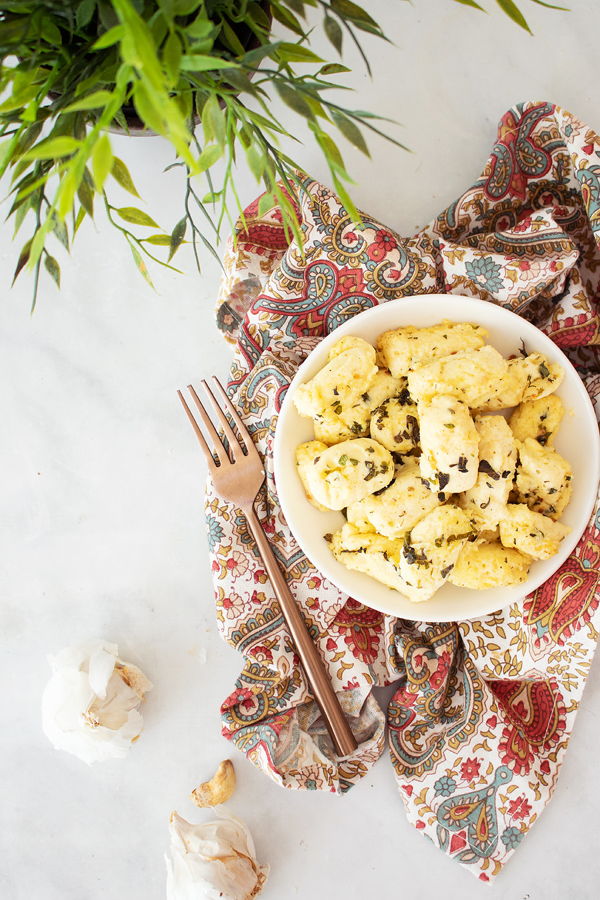 Print
Keto Gnocchi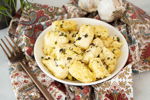 When the craving for pasta and classic Italian flavors kicks in, this keto gnocchi will come to your rescue. Grab your fork and dive into these pillowy soft bites of goodness! 
Author:
Prep Time:

15 minutes

Cook Time:

5 minutes

Total Time:

40 minutes

Yield:

2 cups

1

x
Scale
Ingredients
1/2 cup

almond flour

1 tablespoon

coconut flour

1 teaspoon

xanthan gum

1 cup

ricotta cheese

2 ounces

mozzarella cheese

1/4 cup

parmesan cheese (finely grated)

1/4 teaspoon

salt

Pinch of pepper

1

egg

4 tablespoons

butter

1

clove garlic (thinly sliced)

2 tablespoon

olive oil

1/4 cup

fresh sage leaves

Salt & pepper to taste
Instructions
In a large bowl whisk together almond flour, coconut flour, xanthan gum, 1/4 teaspoon salt, and a pinch of pepper. Add the mozzarella cheese and microwave mixture for 10-20 seconds just to melt the cheese slightly.  

Add egg, ricotta cheese and parmesan cheese to the bowl. Stir well until all ingredients are well incorporated. Cover with plastic wrap and refrigerate for 1-2 hours.

Remove dough from the fridge. Sprinkle some almond flour on your work surface. Portion dough using a small cookie scoop, roughly 1" pieces and roll into a small ball. Place each gnocchi onto your floured surface and gently roll with a fork to create small ridges and flatten them slightly. Add to a lined baking sheet and freeze for 15-20 minutes.

When ready to cook add butter, olive oil, garlic, sage, a pinch of salt and pepper to a small skillet set over low-medium heat. Carefully place gnocchi into the pan and gently toss in butter. Cook for 3-4 minutes until golden brown. Gnocchi will be very delicate, so move them in the pan very carefully.

Remove gnocchi from the pan and serve with fresh parmesan cheese and cracked black pepper.
Nutrition
Serving Size:

1/4 cup

Calories:

317

Fat:

27g

Carbohydrates:

7g

Fiber:

2g

Protein:

13g