Do you ever wish you could bake a plate of brownies, cookies or other dessert, but worry you'd eat the whole batch?
With this keto mug cake, you can bake one dessert at a time. You can satisfy those sweet cravings whenever they strike, without worrying that one slice of cake will turn into two (or three).
But baked-in portion control isn't the only thing you'll feel good about. If you look at the nutrition facts, you'll see this keto mug cake recipe contains 9 grams of protein, 15 grams of fat and only around 6 grams of net carbs.
And the best part? You don't need to be an expert baker (or even have an oven) to whip up this little cake. Simply microwave the batter for a cook time of 90 seconds and your mug cake is ready to enjoy. You read that correctly — this cake is ready in a total time of 2 minutes flat.
How to Make Keto Mug Cake
Mug cakes are made by pouring cake batter into a coffee mug, microwaving on high (typically for 1-2 minutes) and allowing to cool.
To make your mug cake low carb, sugar-free and gluten-free, you'll need to swap out a few ingredients for your typical cake batter. Instead of making a cake with flour, sugar and melted butter, you'll use a keto-friendly sweetener and low carb flour (while many recipes call for almond flour, you'll use coconut in this one).
To make your keto mug cake, you'll need these ingredients:
One large egg
You will also need a coffee mug, two bowls and a microwave.
What is Monk Fruit?
Monk fruit, also known as lo han guo, is grown in Southeast Asia. It's been used for hundreds of years in Eastern medicine as a cold and digestive remedy.
Monk fruit, when eaten whole, contains 35% of your daily carbohydrate intake. However, the monk fruit used in paleo and keto baking is actually compounds extracted from the whole fruit. The result?  While monk fruit extract is 150 to 200 times sweeter than normal sugar, it contains zero calories and does not impact blood sugar.
Monk fruit is commonly preferred over other sugar-free sweeteners, like stevia or monk fruit. It contains antioxidants such as mogroside which has health benefits like decreased cancer risk, anti-inflammatory properties, decreased risk of obesity and improved allergy symptoms[*][*][*][*].
There are only 0.4 grams of carbohydrates per teaspoon of In The Raw monk fruit sweetener. If you do the math, it would take 80 teaspoons of monk fruit sweetener to consume 30 grams of carbs. Even then, there's a good chance that you will still stay in ketosis.
The Benefits of Coconut
There are two coconut-derived ingredients in this recipe: coconut flour and coconut oil. Both have become common in the health and wellness industry.
Some health benefits of coconut oil include:
Prevents heart disease: With its abundance of saturated fats, it increases healthy cholesterol, heart health and lowers the risk of heart disease by converting LDL (low-density lipoproteins) cholesterol into good cholesterol.
Reduces inflammation: Studies have shown that inflammation is the root cause of most chronic diseases. A study was published showing the levels of antioxidants found in coconut oil actually treated arthritis more so than leading medications[*].
Improves digestion: Coconut oil helps the body with many things, including the absorption of fat-soluble vitamins, such as calcium and magnesium. It also helps your body's digestion by getting rid of bad bacteria and increasing gut health.
Make a Single-Serving, Low Carb Dessert
This is the first time you can eat an entire cake on your own, and not feel the slightest bit guilty about it.
If you enjoy this keto mug cake recipe, feel free to make it your own. Sprinkle in a few sugar-free chocolate chips (be sure to check the ingredients list carefully) on top, add half a teaspoon of cocoa powder to make it a chocolate cake, or add a little almond butter and dark chocolate for a peanut butter chocolate mug cake.
You should enjoy being on the keto diet. You don't need to give up your favorite foods or sweet treats, you simply need to make a few swaps in ingredients. We have dozens and dozens keto recipes. They are there for you as a resource — to help you satisfy that sweet tooth when you need it.
But when this recipe takes just two minutes to cook, you might devour this cake before the other recipes stand a chance.
Print
Keto Chocolate Mug Cake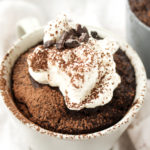 This is the first time you can eat an entire cake and not feel guilty about it. Make this microwavable keto mug cake in just a few minutes!
Author:
Prep Time:

5 minutes

Cook Time:

1 minutes:30

Total Time:

6 minutes:30

Yield:

1

mug cake

1

x
Category:

Dessert

Cuisine:

American
Instructions
In a ceramic mug, microwave coconut oil until melted, about 20 seconds.

In a small bowl, combine dry ingredients and whisk until well-combined.

In a separate small bowl, add wet ingredients and stir until well-combined.

Add wet ingredients to bowl of dry ingredients and whisk until all ingredients are incorporated.

Microwave mixture in 30 second increments for about 90 seconds total (total time may vary depending on the strength of your microwave).

Allow mug cake to cool slightly before enjoying.
Nutrition
Serving Size:

1 mug cake

Calories:

207

Fat:

15.5g

Carbohydrates:

24.3g (Net Carbs: 6.6g)

Protein:

9.2g