If you're on the keto diet and you're still getting hit with late-night sugar cravings, this keto recipe is for you.
There's no shame in craving gooey sugar-free, salted caramel and chocolate. And with ingredients like almond flour, coconut, and eggs, you can enjoy this chocolate cake without worry.
This salted caramel mug cake recipe takes a new spin on the standard vanilla or chocolate mug cakes. Plus, you can top it with sugar-free dark chocolate, low-carb caramel sauce, or pair it with some keto, gluten-free ice cream for even more decadence.
With a total prep time of just 5 minutes and barely any cleanup, this is one mug cake that will stay on your list of low-carb recipes.
Note: This recipe is cooked in the oven, not the microwave like most mug cakes. The good news? This low-carb chocolate cake is 100% worth the wait.
This mug cake recipe is:
Sweet
Warm
Delicious
Comforting
The main ingredients are:
Optional additional ingredients:
Sugar-free caramel sauce
Pinch of salt
A drizzle of peanut butter or keto Nut Butter
3 Health Benefits of Salted Caramel Mug Cake
#1: Good For your heart
Almonds are a great source of vitamin E, and this recipe calls for both almond milk and almond flour[*].
Among the many health benefits of vitamin E are its antioxidant and anti-inflammatory properties.
As an antioxidant, vitamin E can help protect your cholesterol from oxidation, a critical step in the progression of heart disease. It may also have the ability to lower levels of c-reactive protein in your blood, an inflammatory marker that is positively associated with heart disease.
Researchers have even concluded that consuming foods high in vitamin E, like almonds, may be a crucial step in the prevention of cardiovascular disease[*].
#2: Great For Skin Health
Who doesn't want to look a little younger? People spend hundreds (if not thousands) of dollars every year in an effort to reverse skin aging, but the real solution may be in your food.
One of the most well-known benefits of collagen is its ability to help promote young, healthy-looking skin.
Collagen is an integral part of your skin and connective tissue. It's a structural protein that helps your skin look firm and elastic, as opposed to loose and wrinkled.
In one study researchers found that women aged 35-55 given collagen supplements for eight weeks showed significant improvement in their skin elasticity as compared to the placebo[*].
#3: Boosts Immunity
Coconut oil is an amazing source of healthy fats, but it can also boost your immune system.
One of the primary fatty acids found in coconut oil is lauric acid. Lauric acid is a true friend to your immune system, and may, in fact, be the most beneficial fatty acid to help boost your immunity[*].
Once metabolized, lauric acid becomes a precursor to another compound called monolaurin.
Both monolaurin and lauric acid act as antivirals and antibacterials in your body, helping your immune system fight off colds and viruses[*].
Salted Caramel Mug Cake
If you're ready for your single serve cake, gather your ingredients and preheat your oven to 350°F.
Grab a couple of large mugs and grease them with some coconut oil, then set them aside for later.
In a medium sized bowl mix together your almond flour and baking powder until well combined. Then grab a smaller bowl for the eggs, almond milk, stevia extract, and coconut oil.
Once the wet mixture is well combined, add it to the dry mix and stir until all ingredients are evenly blended.
Pull out a cutting board and chop the salted caramel keto bar into bite-sized pieces. Fold the caramel bar pieces into the cake mix.
Divide the mixture evenly into the two greased mugs that you prepared, and bake in your oven for 35 minutes.
If you're in a rush, you can skip the oven altogether and place the mugs in the microwave for about 3 to 3.5 minutes.
Print
Salted Caramel Mug Cake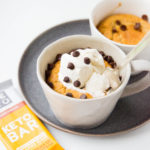 Want a sugar-free, dessert that takes under 5 minutes? Check out this salted caramel mug cake. Top with caramel sauce or keto ice cream and a pinch of sea salt for the perfect low-carb treat.
Author:
Prep Time:

5 minutes

Cook Time:

35 minutes

Total Time:

40 minutes

Yield:

2

mug cakes

1

x
Instructions
Preheat oven to 350°F.

Grease two oven-safe mugs and set aside.

In a medium-sized bowl mix together all the dry ingredients, except the salted caramel bar.

In a small bowl mix together the wet ingredients.

Add the wet ingredients to the dry ingredients, mixing until everything is well-combined.

Fold in the salted caramel bar.

Divide equally into two, greased mugs.

Bake for 35 minutes.
Notes
Pairs well with

no-churn keto ice cream

, whipped cream, and keto-friendly sugar-free chocolate chips.

Can be microwaved for 3-3.5 minutes instead of baking. Just make sure to use a microwave-safe mug.
Nutrition
Serving Size:

1 mug cake

Calories:

343

Fat:

29.8

Carbohydrates:

8.2g (2.8g net)

Fiber:

5.4g

Protein:

12.7g
Keywords: keto salted caramel mug cake