Searching for a great keto cookie recipe to add to your ever-growing list of low carb recipes shouldn't be hard. That's why we've created these keto shortbread cookies. These fantastic gluten-free cookies are perfect to make any time of year but especially late fall or around Christmas time. 
These low-carb cookies are also great for anyone following a keto diet due to their high-fat content, requiring little prep time and cook time of just 14 minutes. You'll only need one or two to feel completely satisfied. No one wants to miss out on shortbread cookies — especially around the holidays.
These cookies are:
Buttery

Sugar-Free

Dense

Delicious 
The main ingredients used are:
3 Health of Benefits of These Keto Pecan Cookies
#1: Helps Maintain a Healthy Weight
In general, nuts like pecans are highly concentrated with vitamins and minerals. Making them excellent fuel sources to increase your energy while keeping you full for longer periods of time. Research has shown that nut consumption can help lead to a reduced waistline and proper weight management [*][*][*].
It's very important to choose grass-fed butter over grain-fed butter. Grass-fed butter comes from cows that are fed a natural, organic grass-fed diet. These cows aren't pumped with hormones or given antibiotics; they're left alone to graze naturally. 
Because of this, these cows provide vital and unique ingredients that grain-fed cows lack, like Conjugated Linoleic Acid (CLA). CLA is a unique type of fatty acid that has been shown to assist in weight loss[*].
Eggs are extremely satiating. They satisfy your hunger and keep your appetite at bay longer than many other foods. Numerous studies have revealed that people who substitute eggs in place of other meals tend to feel fuller for longer and as a result, lose weight over time[*][*]. 
#2: Promotes a Healthy Heart
Pecans are excellent for maintaining a healthy heart. 
As a rich source of antioxidants and monounsaturated fats, pecans help to keep your heart beating strong for years to come. Studies have shown how pecans can improve lipid profiles and reduce risks of cardiovascular and coronary diseases [*][*].
And pecans aren't the only nut in this recipe that offers support to your heart.
Almond Flour is loaded with nutrients that help to improve your blood sugar and cholesterol levels. Through its antioxidants and other powerful nutrients such as magnesium, almond flour, is exceptionally beneficial for your circulatory system and heart health[*]. 
 #3: Energy Booster
Since nuts, such as pecans, are naturally high in fat, they serve as an excellent source of fuel for your body. 
This fat is converted into much-needed energy for your body and brain. Adding these into this recipe, or simply eating them as an afternoon snack can give you the healthy energy boost you need to get through the day[*][*].
Almond Flour provides a natural, solid, and sustained energy boost. It accomplished this through its nutrient-dense nature, packed with fats, fiber, and riboflavin, and greatly aids in the body's energy production capabilities[*].
Pecan Shortbread Cookies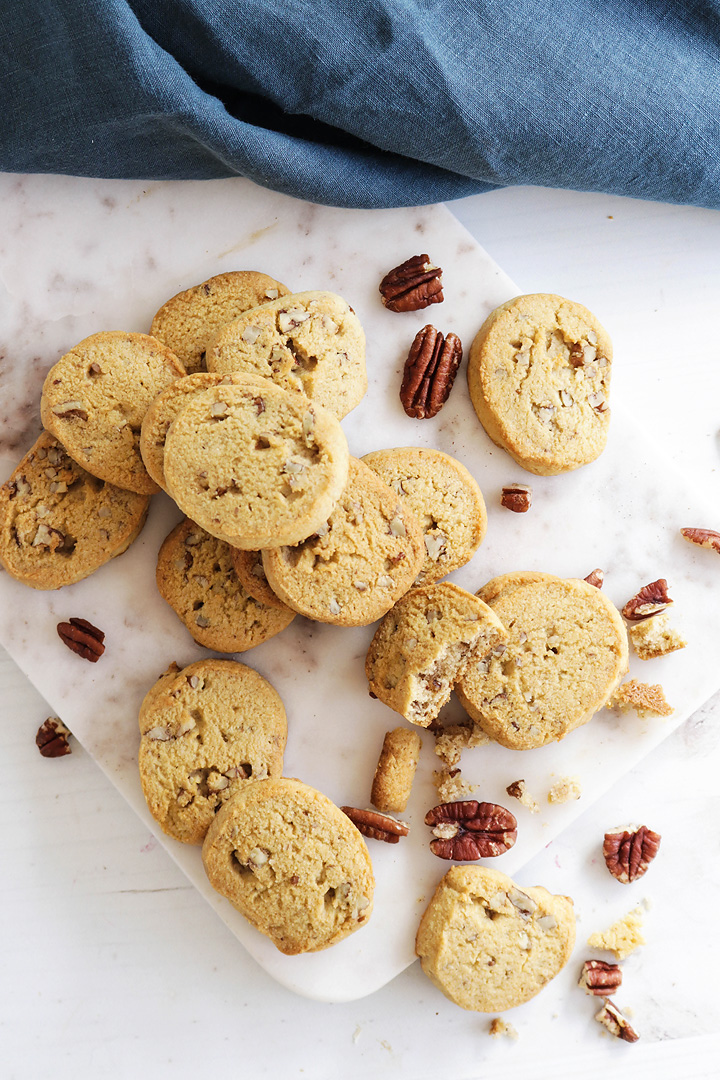 What's better than a batch of delicious, low-carb pecan cookies that only takes 15 minutes to make? Not much.
All you need to do is preheat your oven to 350 degrees Fahrenheit, line a baking sheet or cookie sheet with parchment paper, and gather your ingredients. 
In a small bowl add your flour, salt, and baking soda, whisking it until well-combined then set aside. 
In a standing mixer or large bowl, add the butter and sweetener together and whip it until it's nice and creamy in texture. Then add in your vanilla and maple extract and eggs. While you've still got the mixer on, carefully add the flour mixture, mixing until the dough forms. Set the mixer aside and fold in your pecans.
Place the dough onto a piece of plastic wrap and roll in until it resembles a log shape. Then remove the plastic and, using a sharp knife, cut the dough in disc shapes and place each disc onto the prepared baking sheet, topping with extra pecans if desired. 
You can even add in some keto-friendly dark chocolate to the mix if you're feeling adventurous. 
Bake for 12-14 minutes or until the cookies turn a lovely golden brown color and allow to cool for a minute or two. 
If you haven't already, add this low-carb cookie recipe to your batch of keto recipes for future use — you won't regret it. 
You may also want to make double or even triple amount of these delicious little pecan cookies, or pecan sandies. Don't say we didn't warn you!
Print
Pecan Shortbread Cookies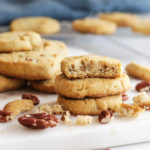 These delicious keto pecan cookies are the perfect little dessert or snack that will curb your sugar cravings and leave you feeling completely satisfied.
Author:
Total Time:

15 minutes

Yield:

12

cookies

1

x
Instructions
Preheat oven to 350°F and line a baking sheet with parchment paper. Set aside. 

Add flour, salt, and baking soda to a small bowl. Whisk and set aside.

Cream butter and sweetener together in a mixing bowl, stand mixer, or food processor. Whip for 1-2 minutes until light and fluffy. 

Add vanilla, maple extract, and egg. 

With the mixer on add flour, baking soda, collagen powder, and salt. Mix just until well combined and dough forms. Stir in chopped pecans.

Turn cookie dough onto a piece of plastic wrap. Roll into a log, about 12-inches long.

Cut dough into small disks and place on a prepared baking sheet. Top with an extra pecan if desired. 

Bake 12-14 minutes, or until golden brown.
Nutrition
Serving Size:

1 cookie

Calories:

129

Fat:

12g

Carbohydrates:

3g (1g)

Fiber:

2g

Protein:

3g
Keywords: keto shortbread cookies