As a keto-dieter, you need to get a little creative during the holiday season so you don't miss out on any fun. 
Whether it's trick or treat, or deck the halls, the holidays come packed with good times and (unfortunately) lots of sugar. 
But not to worry — this keto-friendly Halloween recipe round-ups got you covered. 
From Halloween keto pizza to gummy candy and keto Halloween cookies — you'll be indulging with the best of them. 
Sweet Halloween Recipes
#1 No-Bake Nut Butter Pumpkins
Step up your fat bomb game. These nut butter pumpkins are the perfect quick and easy Halloween treat. Serve them as an after school snack, a dinner party dessert, or an on-the-go breakfast. 
Check out the recipe here.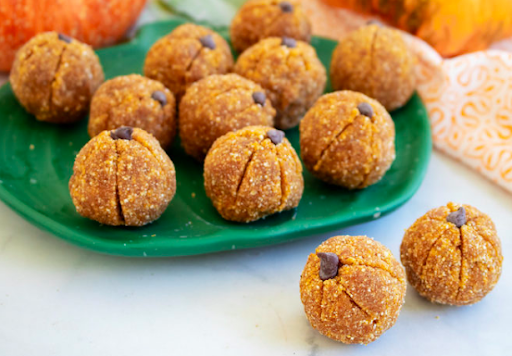 #2 Mini Cheesecake Ghost Bites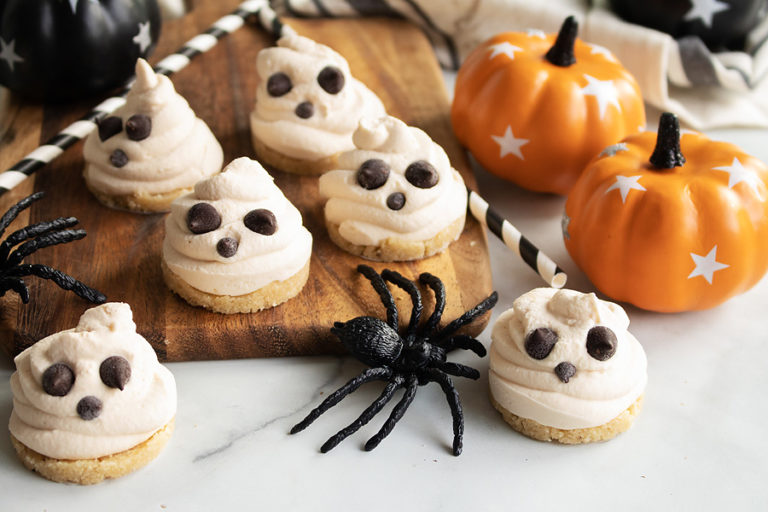 Boo! Don't be scared, they're just cheesecake bites. 
Check out the recipe here.
#3 Perfect Keto Mallow Munch Bars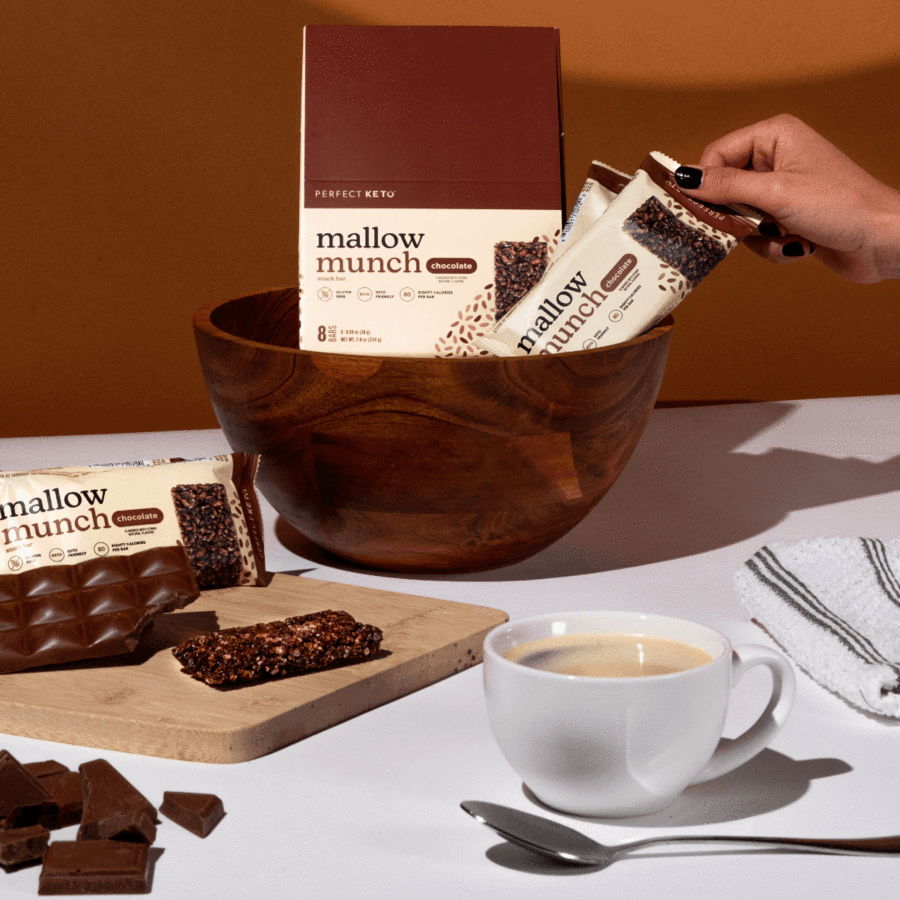 Perfect Keto Mallow Munch bars are a lot like rice krispie treats, but without the sugar and spooky ingredients you're not allowed to have on keto. 
Instead of using rice and sugar (which unfortunately aren't keto-friendly), we made these treats with dairy protein crisps and keto sweeteners, meaning they have 9 grams of protein, 90 calories, and only 2 grams of net carbs per serving.
They're available in Marshmallow, Chocolate, and Peanut Butter flavors. You can eat Mallow Munch bars straight from the package, drizzle them with nut butter, or even incorporate them into your own crunchy, seasonal keto recipe ideas if you're feeling creative!
#4 Chocolate Webbed Cupcakes
Spiders are super creepy, but spider webs are right there behind them (literally). These cupcakes are deceptively easy to make and are sure to impress. Add some collagen powder to the frosting for some added protein to help keep blood sugar stable.
Check out the recipe here.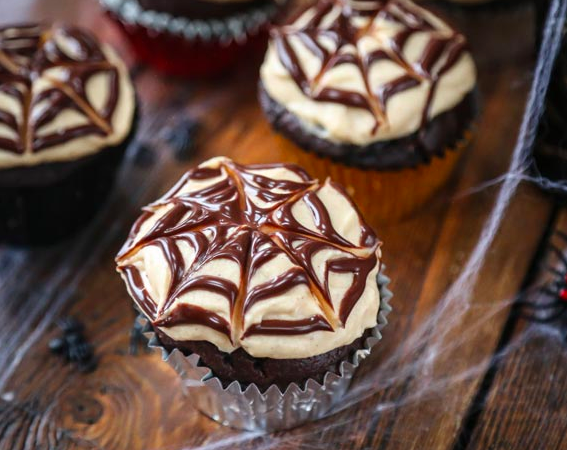 #5 Brains, Bloody Brains Halloween Cake
Okay, so for this one you will need a brain-shaped gelatin mold, but they're only $6 on amazon. Check out the recipe here.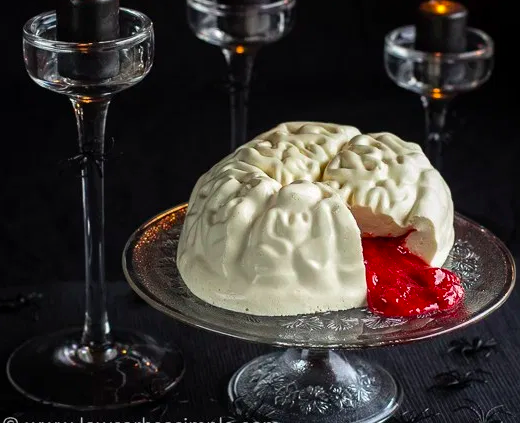 #6 Chocolate Bat Cookies
These sugar-free chocolate bats have nearly zero net carbs, and they're small enough that you can enjoy more than one. For the powdered sweetener go with stevia or monk fruit.
Check out the recipe here.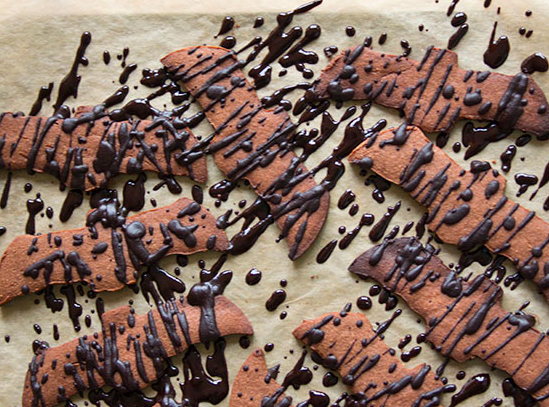 #7 Sugar-Free Gummy Worms 
For 11 months out of the year, you're allowed to eat keto gummy bears, but in October you better pull out those worm molds. The best part of this recipe is the versatility — add these worms to any and all keto Halloween treats. 
Check out the recipe here.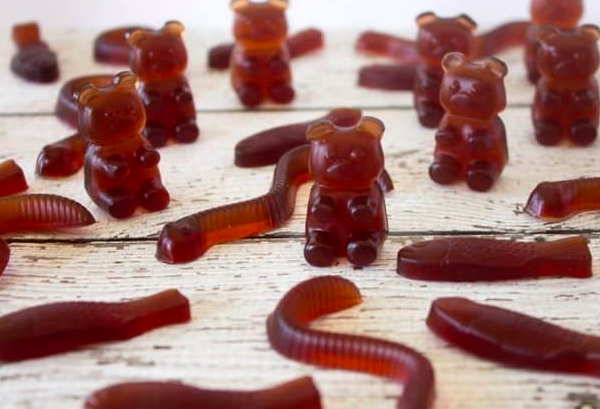 #8 Peanut Butter Pumpkins
If you love those Reese's peanut butter pumpkins — this is your keto answer. Feel free to switch out the peanut butter for almond butter on this one. If you like to stay away from sugar alcohols, go with stevia or monk fruit. 
Check out the recipe here.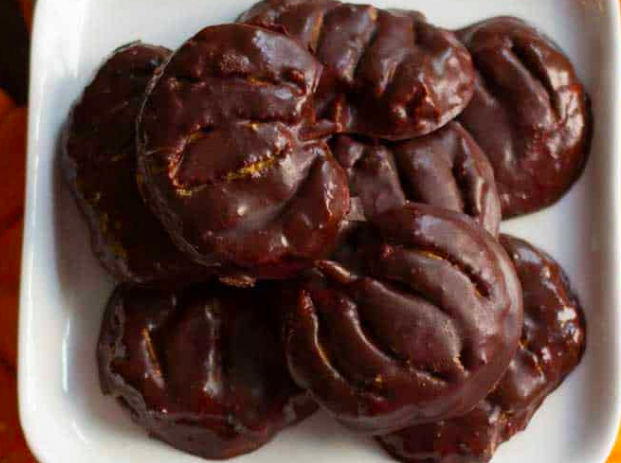 #9 Pumpkin Pie Dessert Pizza
Is it a pie? Is it a pizza? Or is it a spider web? 
Check out the recipe here.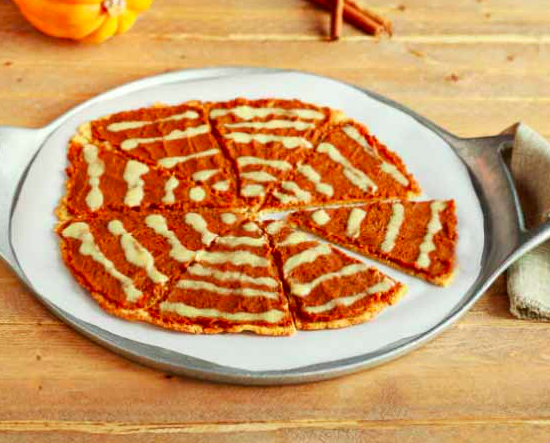 #10 Mummy Cookies
They're back from the dead, and they're delicious. These low-carb mummy cookies are topped with a creamy, buttery frosting and only have one gram of net carbs.
Check out the recipe here.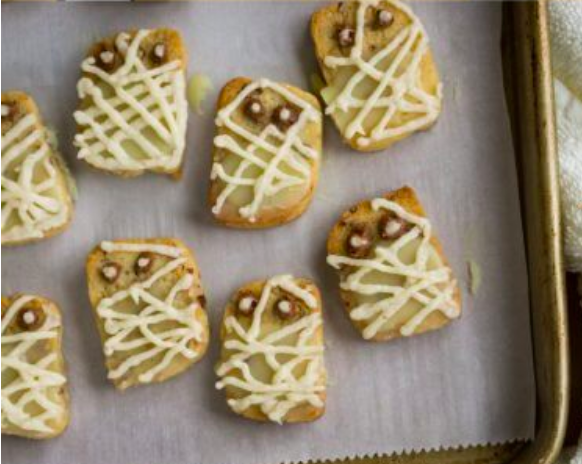 #11 Pumpkin Whoopie Pies
These festive little treats are not only in season, but they're dairy-free as well. 
Check out the recipe here.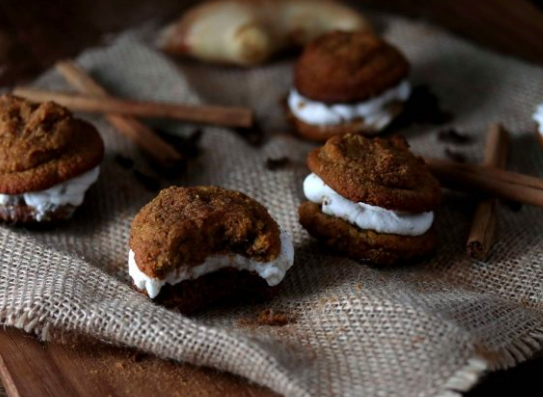 #12 Keto Brownies with Green Slime
Looking for a new way to get your avocado in? Add it to your brownies for a spooky, slimy twist on a classic dessert. 
Check out the recipe here.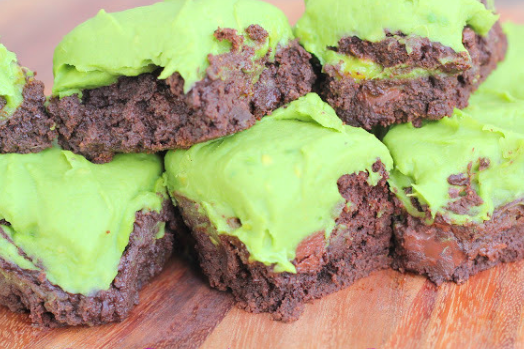 #13 Pumpkin Pie Spiced Donuts 
Okay so these guys aren't very spooky, creepy, or slimy — but they're delicious and festive, and who can turn down pumpkin anything during the Fall? The best part — they're only three net carbs. 
Check out the recipe here.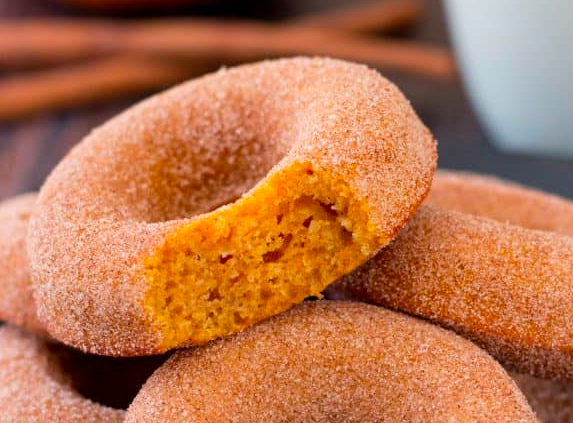 #14 Chocolate Peanut Butter Spider Cookies
With only one net carb per cookie, you could be stuffing your face with spiders…or cookies, whichever you prefer. 
Check out the recipe here.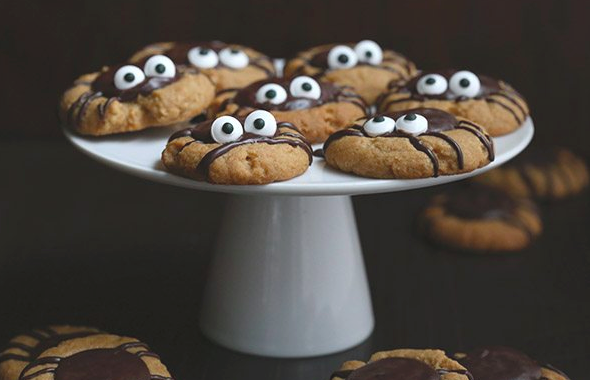 #15 Halloween Cut-Out Sugar Cookies
Think Christmas cookies with a Halloween twist. Each cookie is only 3.2 net carbs and you can make those pumpkin faces as sweet or scary as you like. 
Check out the recipe here.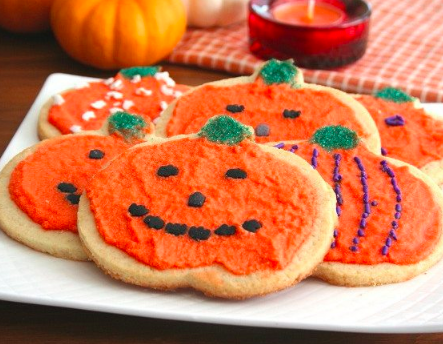 #16 Keto Green Cookies
These cookies look pretty innocent on the outside, but once you take a bite you'll find quite a surprise. But don't worry — that green color isn't mold, it comes from the reaction of sunflower butter and baking soda. 
Check out the recipe here.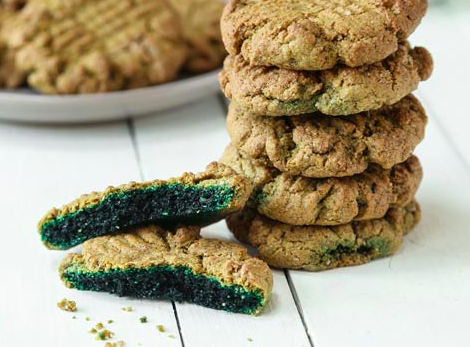 #17 Candy Corn Cookies
You'll have to take a pass on the classic Halloween candy corn this year, those chewy sugar-bombs will send your blood sugar soaring. But you can still get the feel for them with these low-carb cookies. Does anyone really like candy corn anyway?
Check out the recipe here.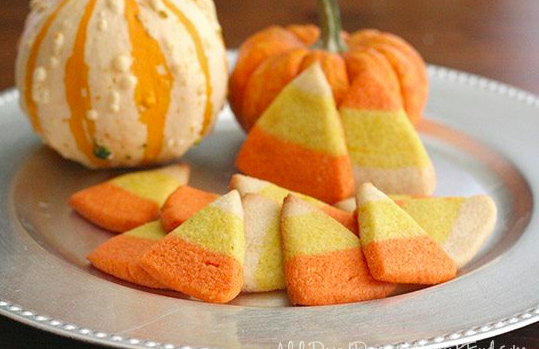 Savory Recipes
Now that you've got the dessert table covered, check out these 10 spooky Halloween recipes with a savory flair.
#1 Creepy Crawly Deviled Eggs
These creepy crawly deviled eggs make the perfect appetizer for your Halloween party. Give your party guests a little jump.
Check out the recipe here.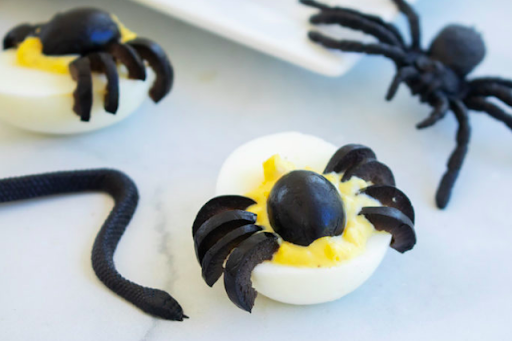 #2 Stuffed Jack O' Lantern Peppers
All you need is a paring knife and some creativity to turn your standard stuffed peppers into a Halloween inspired delight!
Check out the recipe here.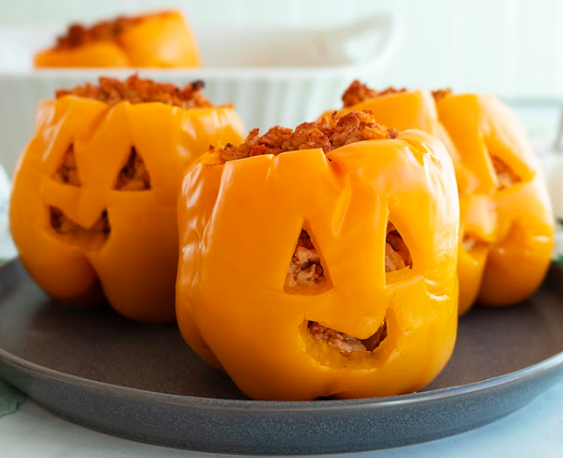 #3 Spider Pizza
This keto-friendly and gluten-free pizza recipe is crawling with delicious toppings.
Check out the recipe here.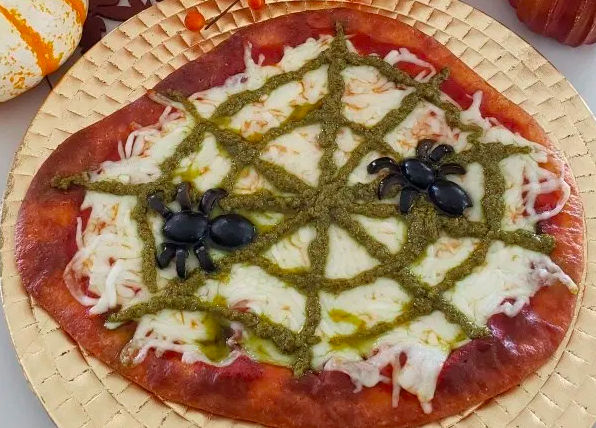 #4 Jack O' Lantern Dip
Cheese, cheese, cheese, please. This simple dip is fun and festive and you really can't go wrong with three ingredients — two of which are cheese. 
Check out the recipe here.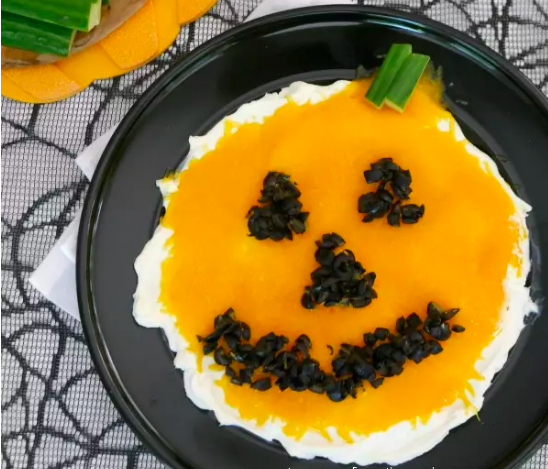 #5 Pumpkin Orange Cheese Bread
This is not your standard pumpkin bread, with an extra burst of orange plus a creamy cheese layer you'll need more than one piece of this slice of heaven. 
Check out the recipe here.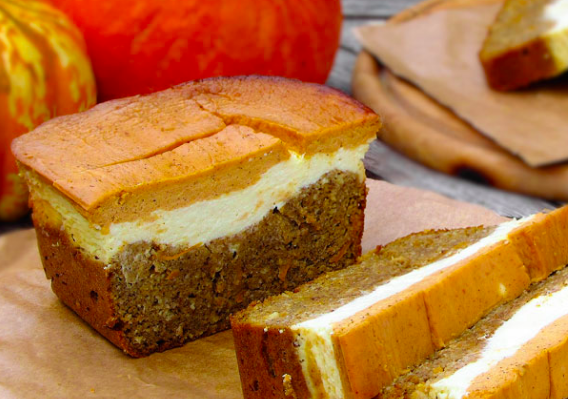 #6 Bleeding Hearts
These meaty, bloody hearts make a fantastic creepy breakfast dish, or you can tray them up as appetizers at a Halloween party. 
Check out the recipe here.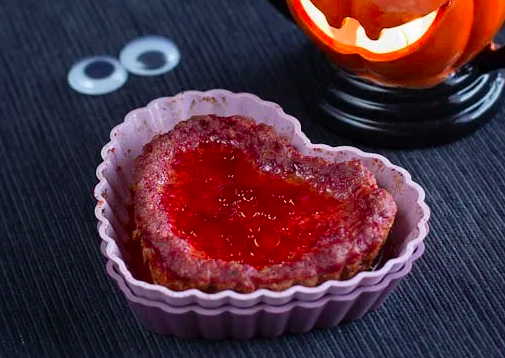 #7 Wormy Dip
It might take your guests a minute to dive into this wormy dip, but once they do they won't stop. You can get creative with the spices, and serve with low-carb crackers or chopped veggies.
Check out the recipe here.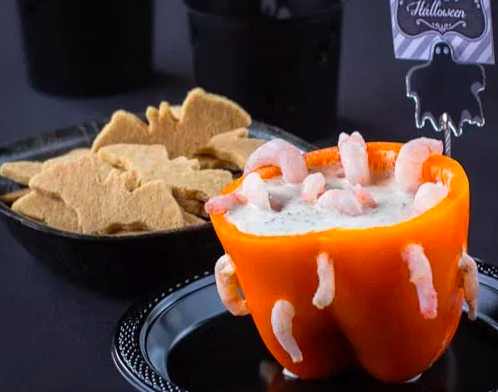 #8 Halloween Antipasto Skewers
These skewers couldn't be easier to make, but they look fantastic on an appetizer tray. Tomatoes, mozzarella balls, and olives make a perfect flavor combo. 
Check out the recipe here.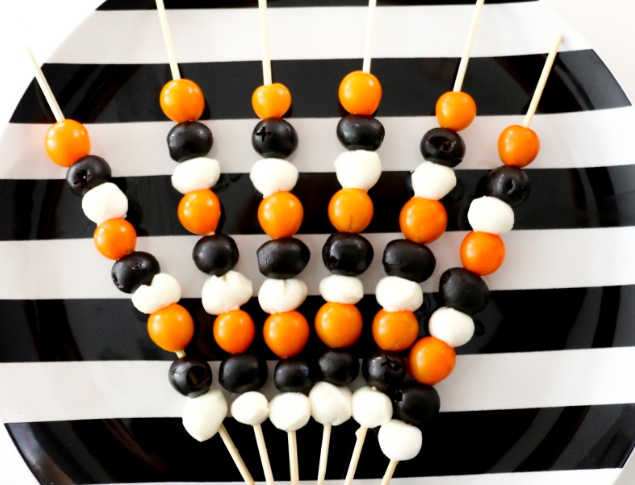 #9 Eyeball Caprese Salad
An Italian classic turned creepy. Do you ever feel like somebody's watching you? It could be your salad. Check out the recipe here.

#10 Keto Mummy Dogs
You can make these mummy dogs full-sized for an entree or get some mini-dogs for an appetizer. Make sure to go for quality (nitrate-free and organic) when shopping for your hot dogs. Check out the recipe here.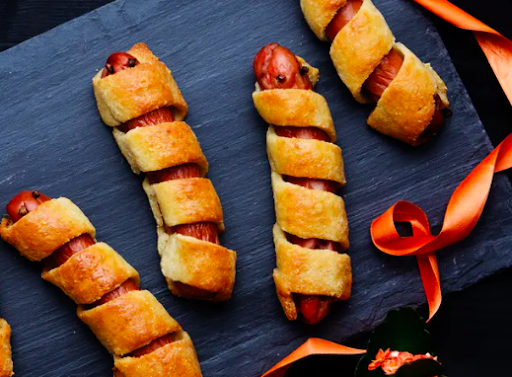 Beverages
Yes, even your beverages can get a Halloween makeover, check out these drinkable keto recipes. 
#1 Spider Blood Shot
It's the only time of year where a table full of bloody syringes won't have you running out the door. And these blood shots are a fun way to get your buzz on if you replace the water with some clear booze. Check out the recipe here.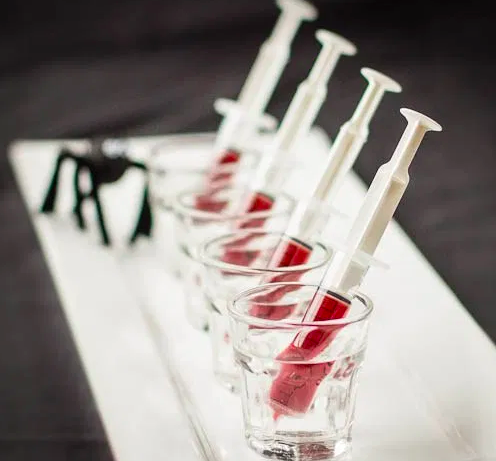 #2 Black Magic Cocktail 
Have you ever dived into a lake or a pond that was completely dark, with no clue what's hiding underneath? That's how your guests will feel diving into this black cocktail. What's in there? Who knows… Check out the recipe here.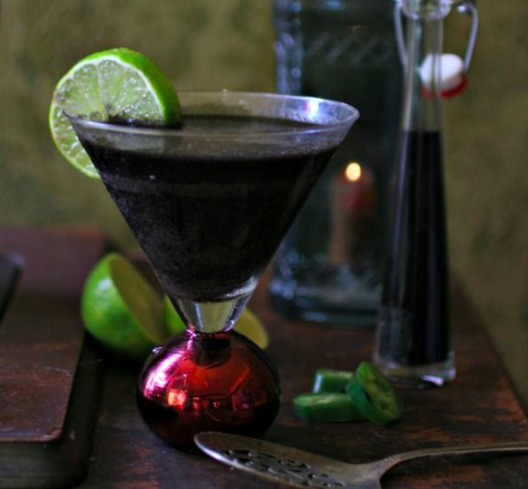 #3 Pumpkin Spice Hot Chocolate
This rich and creamy dessert beverage can be made with any type of milk, and heavy cream or coconut cream. Check out the recipe here.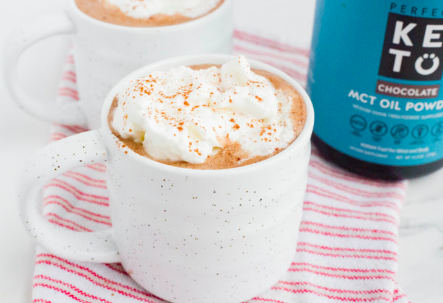 #4 Pumpkin Spice Mocha
Add a little pep to your festive step with this delicious and creamy pumpkin spice mocha. Add some Cinnamon Toast Collagen Powder for added flavor and spice, plus a protein boost!
Check out the recipe here.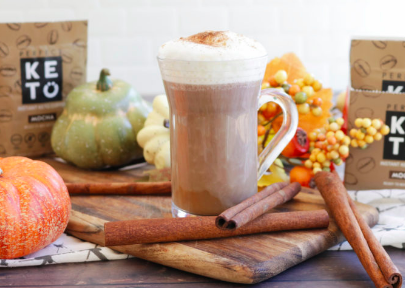 #5 Keto Blood Mary
While you can indulge in this boozy brunch favorite any time of year, bloody Mary's were pretty much made for Halloween. Just don't drink it three times.
Check out the recipe here.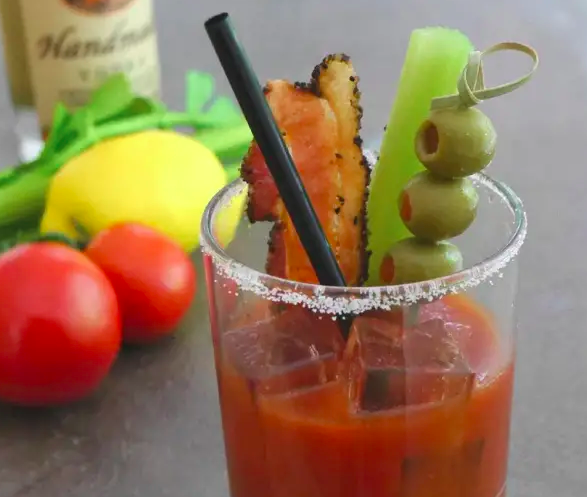 5 Ways to Stay in Ketosis During The Holidays
Halloween is the true beginning of a long holiday season of treats, big family meals, and long travel days. All of these can lead to overeating and worse — getting kicked out of ketosis. Here are just a few ways you can enjoy the holiday season while sticking to your health goals.
1. Look Up Delicious Keto Alternatives
This article is a great place to start. Research keto swaps for your favorite holiday treats and meals so you can enjoy yourself while staying in ketosis. Bring your own dishes to family gatherings so you're sure to have at least one keto-friendly meal to enjoy.
2. Beware of Hidden Carbs
Carbs often hide in sauces and salad dressings. Don't be afraid to ask the host about the ingredients, or bring your own keto-friendly versions.
3. Snack Before You Get There
Going to a party or get-together? Fill up before you go — especially if you're not sure what the menu looks like. You can even warn the host beforehand that you won't be eating much.
4. Keep it Simple
The holidays tend to bring rich, complex dishes that could have hidden carbs. Even some cauliflower casseroles contain hidden flour! Stick to simple dishes of meat and vegetables and keep your portions on the small side.
5. Drink Water (Especially Sparkling)
At a party with tons of tempting snacks and appetizers? Make sure to keep a tall glass of sparkling water in your hand to sip on. The bubbles will help keep you feeling satisfied and keep you away from tempting treats!
This Halloween season you've got your recipes covered. Whether you're looking for sweet treats, savory snacks, or beverages — there's a festive recipe to spook and delight your guests. 
Like every day, you can feel confident that you can enjoy yourself without sacrificing the tastes you love.