We've scoured the internet to bring you the top keto snacks Reddit users recommend. These tasty treats have not only gained the approval of real people but are also packed with nutrients that support a ketogenic lifestyle. Whether you need a quick breakfast, a satisfying afternoon bite, or a guilt-free sweet dessert, these keto snacks have got you covered.
15 Best Keto Snacks Reddit Users Recommend
Below is our list of Reddit's favorite keto snacks for those moments when you are short on ideas;

1. Rebel Ice Cream
This Redditer calls Rebel Ice Cream a gift from God and we couldn't agree more. Unlike some keto ice cream brands, Rebel doesn't compromise on taste and nutrition. With Rebel, you get the sweetness and creaminess of ice cream without the sugar. Each serving has only 1.3 grams of net carbs but even when you feel like taking on the whole pint, you get only 3.9 grams total. All this for only $6.49 per pint.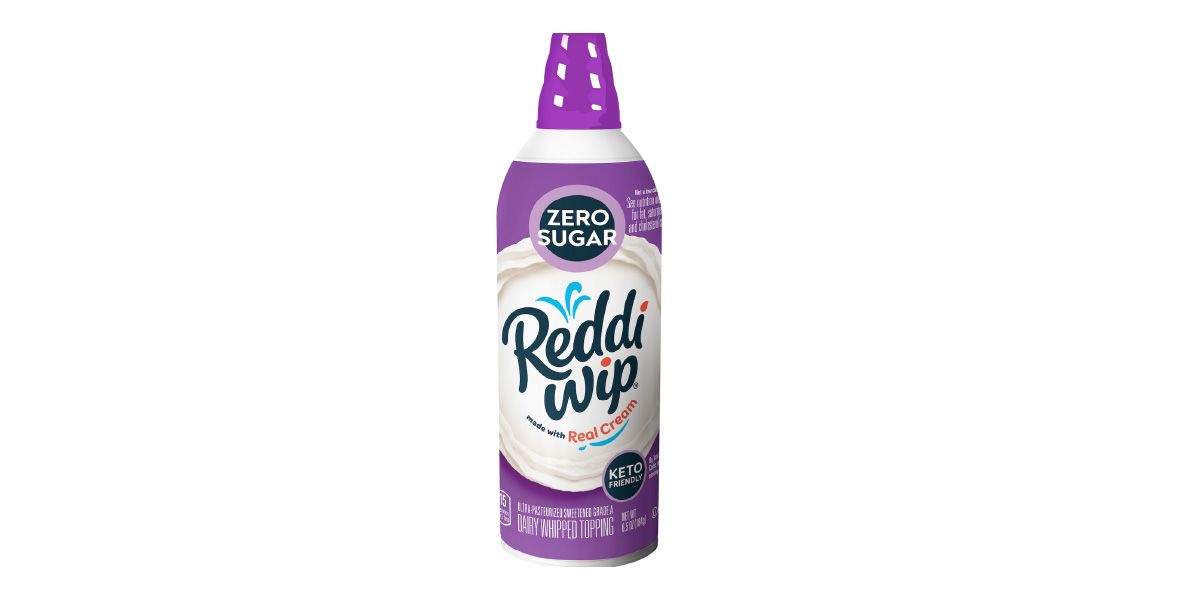 2. Reddi Wip Sugar Free Whipped Cream
This Redditor has a keto-friendly dessert hack featuring Reddi Wip Sugar-Free Whipped Cream. They suggest freezing a small dish of this creamy delight, transforming it into a delightful mini ice cream sundae. If you're not a fan of cinnamon, you can customize your sundae with alternative toppings. Consider sprinkling chopped nuts like almonds or walnuts for added texture and a nutty flavor. Additionally, you can drizzle a sugar-free caramel or butterscotch sauce for a rich and indulgent twist.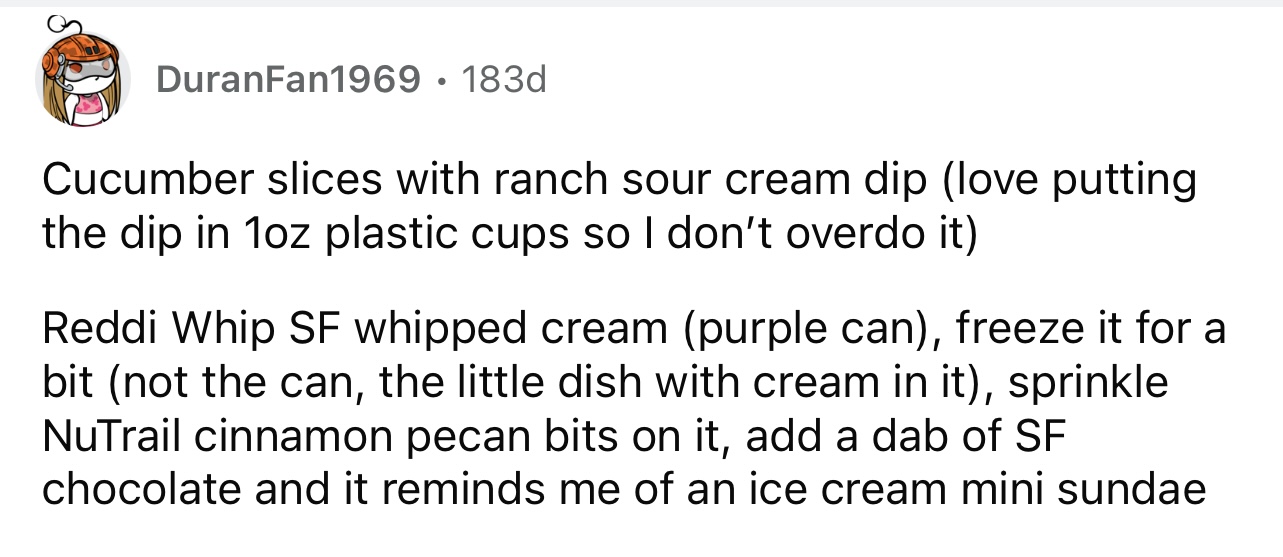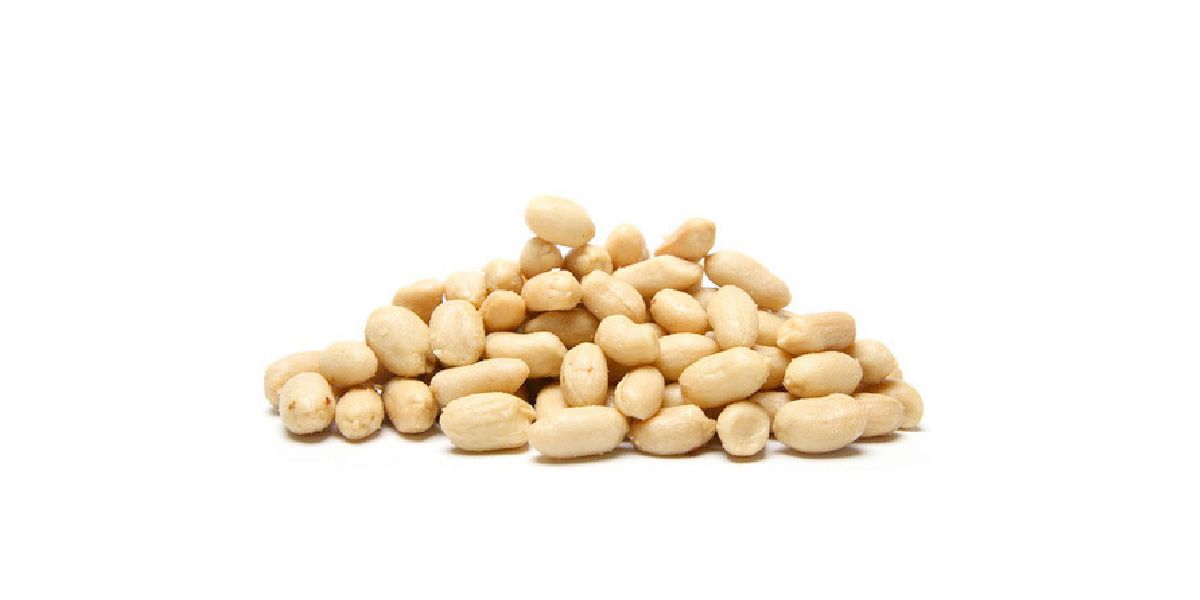 3. Salted Peanuts
Peanuts provide a satisfying crunch and savory flavor without compromising your carb intake. On average, a 1-ounce (about 28 grams) serving of dry-roasted, unsalted peanuts contains approximately 2.2 grams of net carbs. When choosing peanuts, avoid varieties with additives like sugar coatings or brittles. Go for the plain unsweetened versions to ensure that you are actually getting keto-friendly nuts.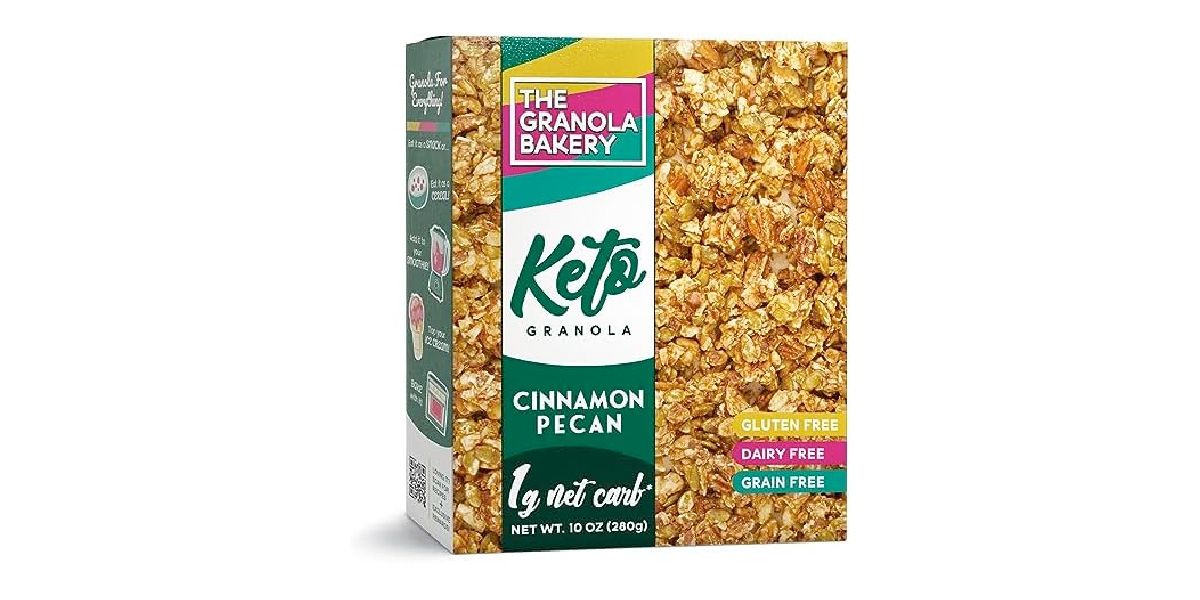 4. Keto Cinnamon Pecan Crunch Granola by The Granola Bakery
Keto Cinnamon Pecan Crunch Granola by The Granola Bakery has garnered a dedicated fan in this Redditor, and it's no wonder why. With only 1 gram of net carbs per serving, this granola is a keto dream come true. You can enjoy it on its own or sprinkle it over a bowl of full-fat Greek yogurt or unsweetened almond milk for a crunchy, satisfying breakfast or snack. If you're feeling creative, use it as a topping for sugar-free ice cream or blend it into a keto-friendly smoothie for added texture and flavor. In addition to its low net carbs, The Granola Bakery's Keto Cinnamon Pecan Crunch Granola also offers a good balance of healthy fats and protein, making it a well-rounded snack.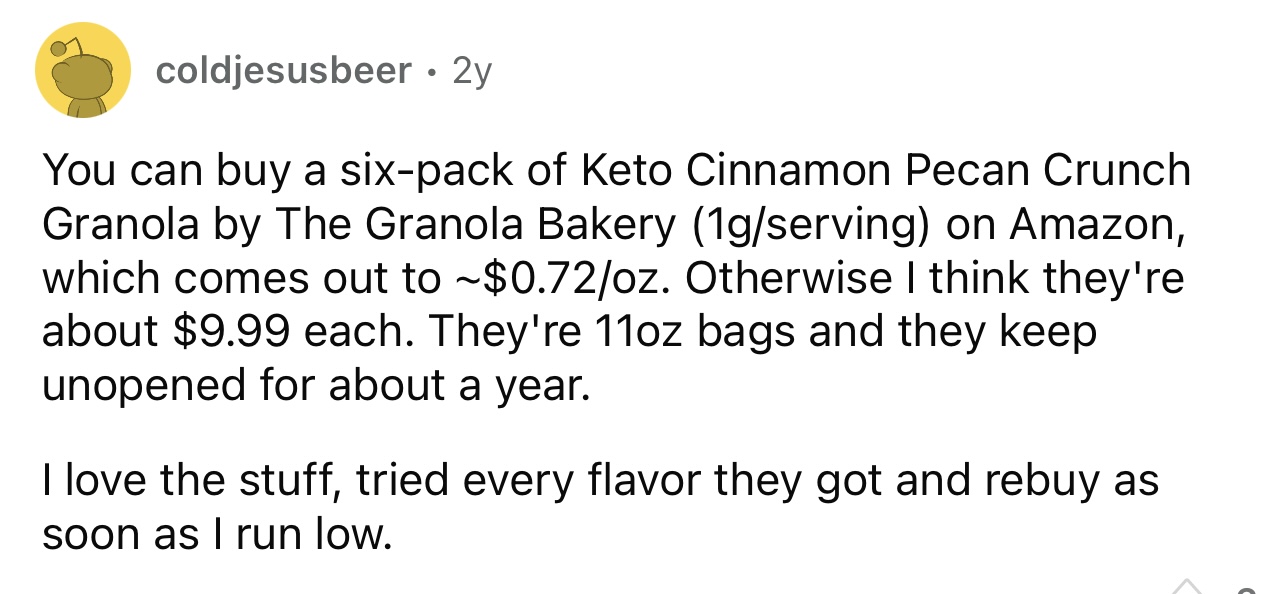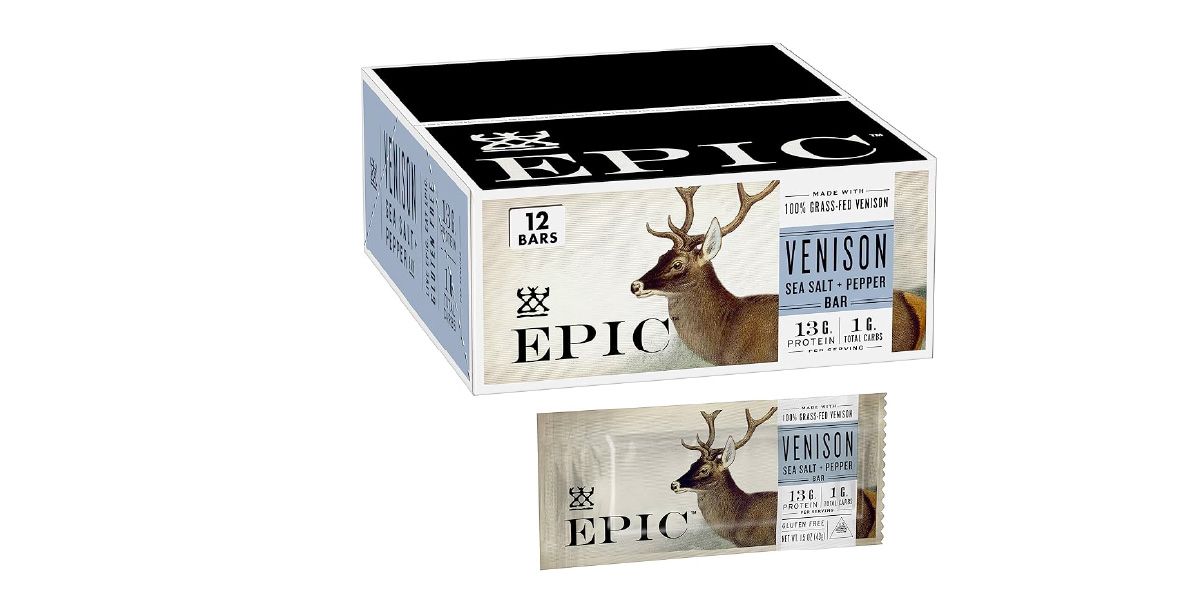 5. Epic Black Pepper and Salt Venison Bars
Epic Black Pepper and Salt Venison Bars offer a savory and protein-packed snack option that goes perfectly with a low-carb diet. These bars are not only delicious but also incredibly convenient for those seeking a high-fat, high-protein snack on the go. They come individually wrapped, making them an ideal choice for busy lifestyles or quick keto-friendly bites between meals. Whether you're at the office, hiking a trail, or just in need of a satisfying snack, these bars are a wonderful choice.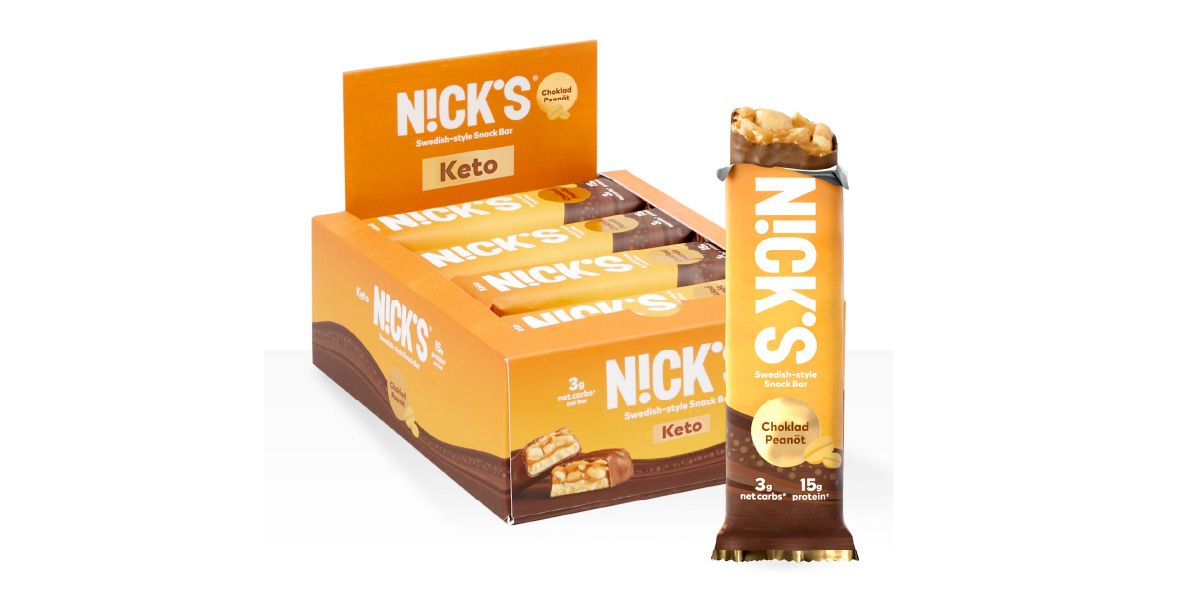 6. N!Cks Keto Protein Bars
N!cks Keto protein bars are a delightful low-carb treat, as described by this Redditor who says they taste just like candy bars. The bars pack an impressive 15 grams of protein and just 190 calories. With a variety of seven flavors to choose from, you'll surely be able to find one that suits your taste.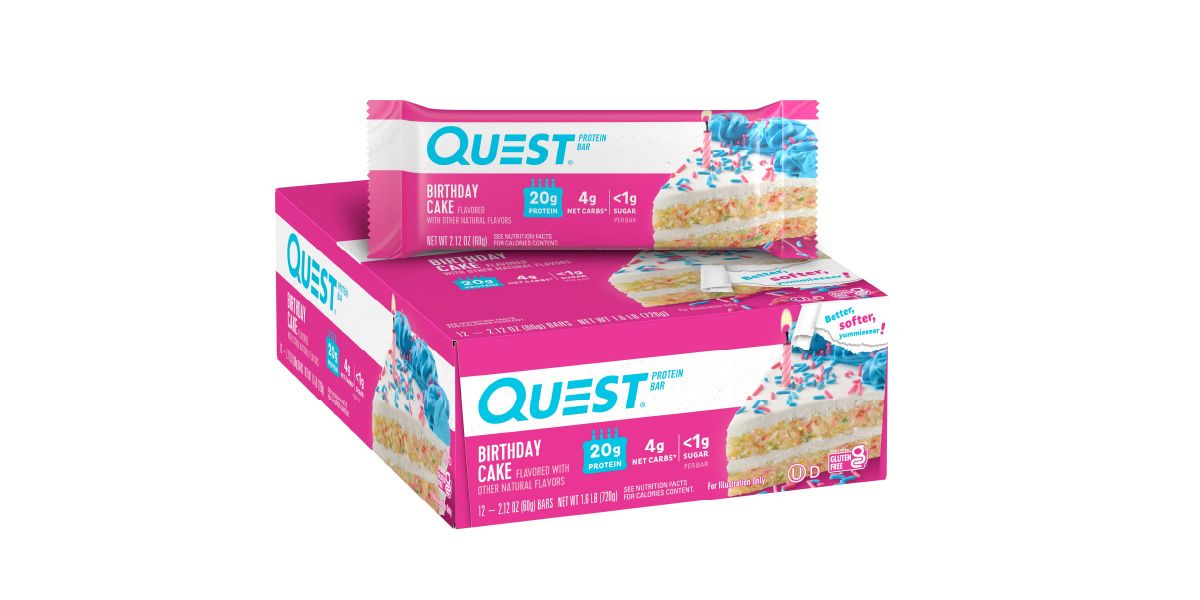 7. Quest Protein Birthday Cake Bars
If one recommendation isn't enough to convince you, here's double the love for Quest Protein Birthday Cake Bars. These bars are protein powerhouses, offering up to 21 grams of protein per bar. Additionally, there are 15 flavors to choose from so you never have to worry about variety.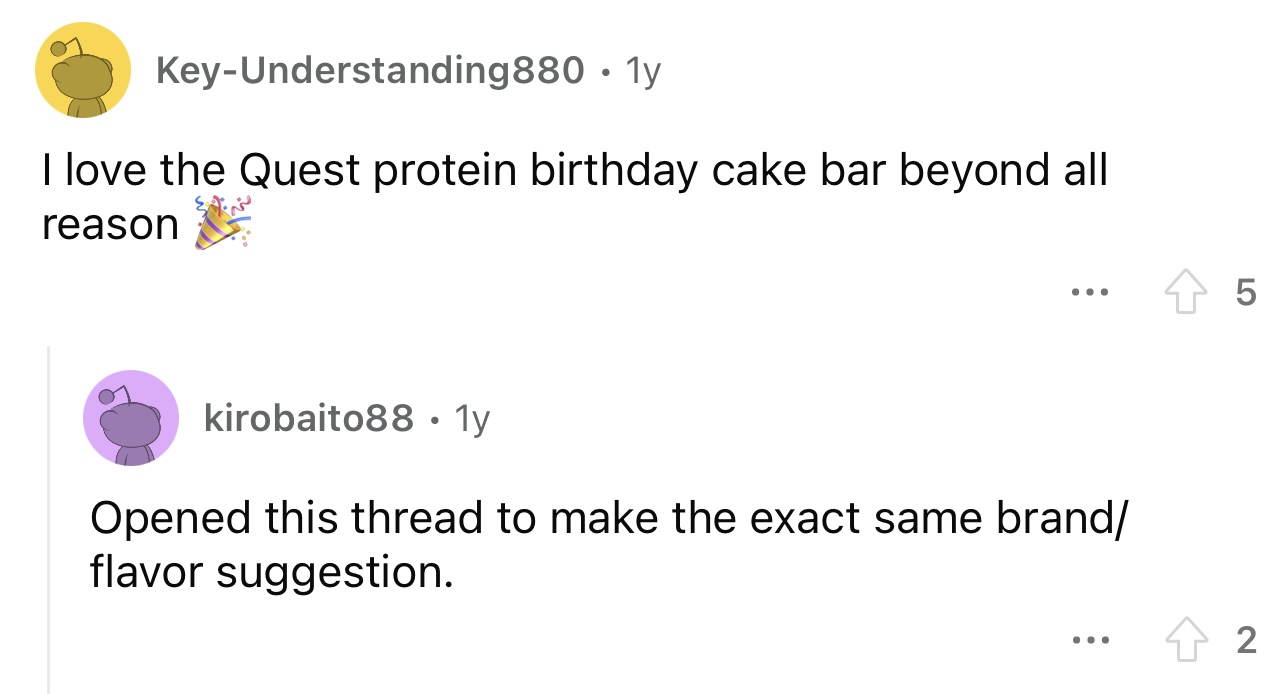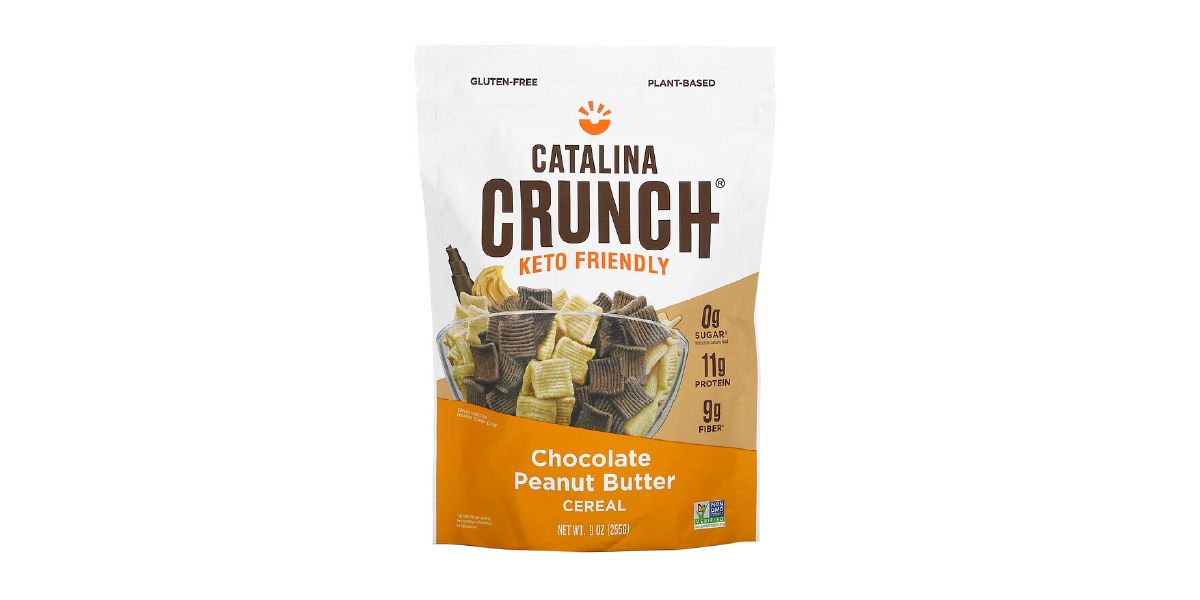 8. Catalina Crunch
Catalina Crunch is a versatile keto cereal that adds a delightful touch to your desserts, as shared by this Redditor. It's equally tasty when enjoyed with milk, providing a satisfying crunch and flavor. It's best not to let it sit for too long in milk, as some customers mentioned that it can become soggy.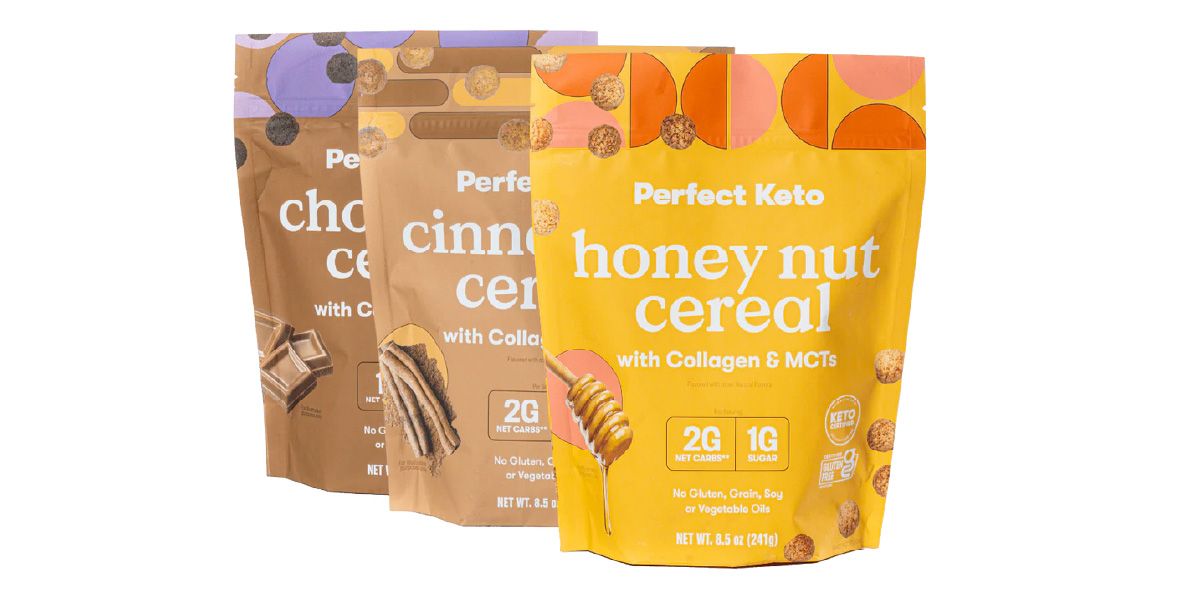 9. Perfect Keto Cereal
Even though this Redditer has only tried the chocolate flavor, Perfect Keto cereal also comes in two other delicious flavors; honey nut, and cinnamon. All flavors come with 1-2 grams of net carbs per serving. The cereal is very versatile and convenient making it suitable for anyone, anywhere, at any time. You can choose to enjoy it for breakfast, carb afternoon carb cravings, boost workouts, carry it while traveling, or indulge in a guilt-free dessert.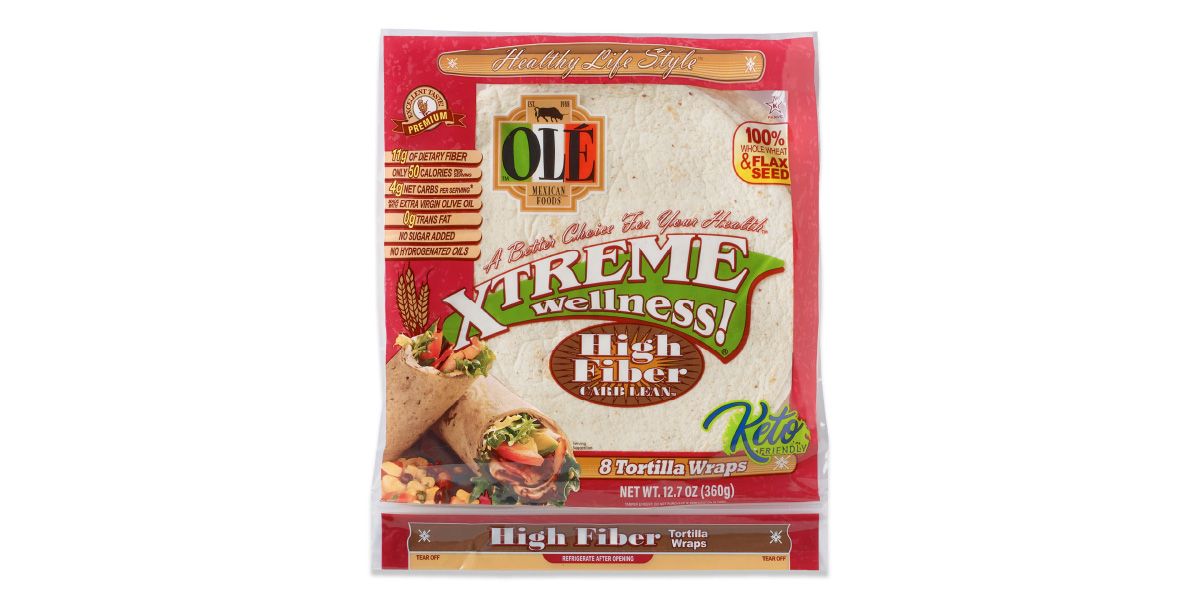 10. Ole Xtreme Wellness Wraps
These wraps come in two sizes and we have serving suggestions from this Redditor for both. The larger ones are perfect for sandwiches or can be cut up and air-fried for a crunchy chip-like snack. Alternatively, you can use the smaller Tomato Basil ones for making stovetop tortilla pizzas, offering endless meal possibilities. These wraps offer an impressive nutritional profile with 7 grams of fiber and only 30 calories per serving. They are also Keto Certified, containing just 2 grams of net carbs. Moreover, they are made with Extra Virgin Olive Oil, giving you healthy fats and adding a touch of Mediterranean flavor to your keto meals.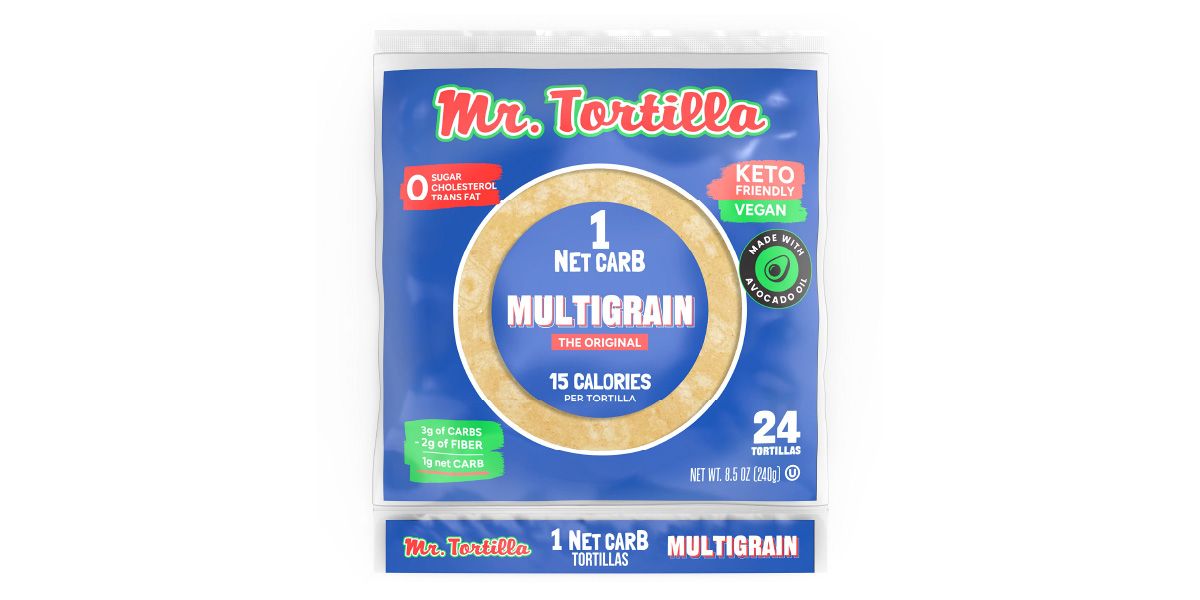 11. Mr. Tortilla's 1 Net Carb Tortillas
Mr. Tortilla's 1 Net Carb Tortillas are a keto game-changer. The tortillas are the perfect vessel for your protein of choice if you aren't into lettuce wraps. Their nutritional profile is also outstanding, offering just 1 net carb and only 15 calories per serving. The keto community clearly loves them as they claim the top spot on Amazon in low-carb wraps.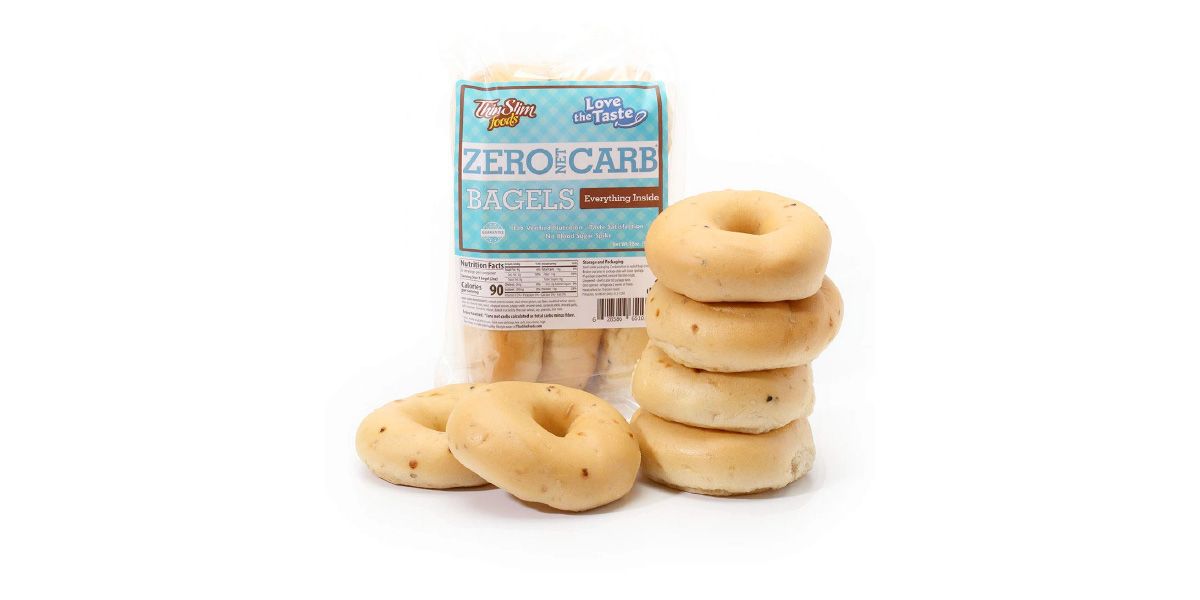 12. ThinSlim Bagels
ThinSlim offers a range of keto-friendly products that this Redditor swears by. The bagels are ideal for when you're craving a heavier and more filling snack. They boast zero net carbs and provide a substantial 7 grams of protein per serving. For the best flavor and texture, ThinSlim recommends toasting. You can enjoy them with cream cheese, use them as a base for sandwiches, or get creative with your favorite toppings.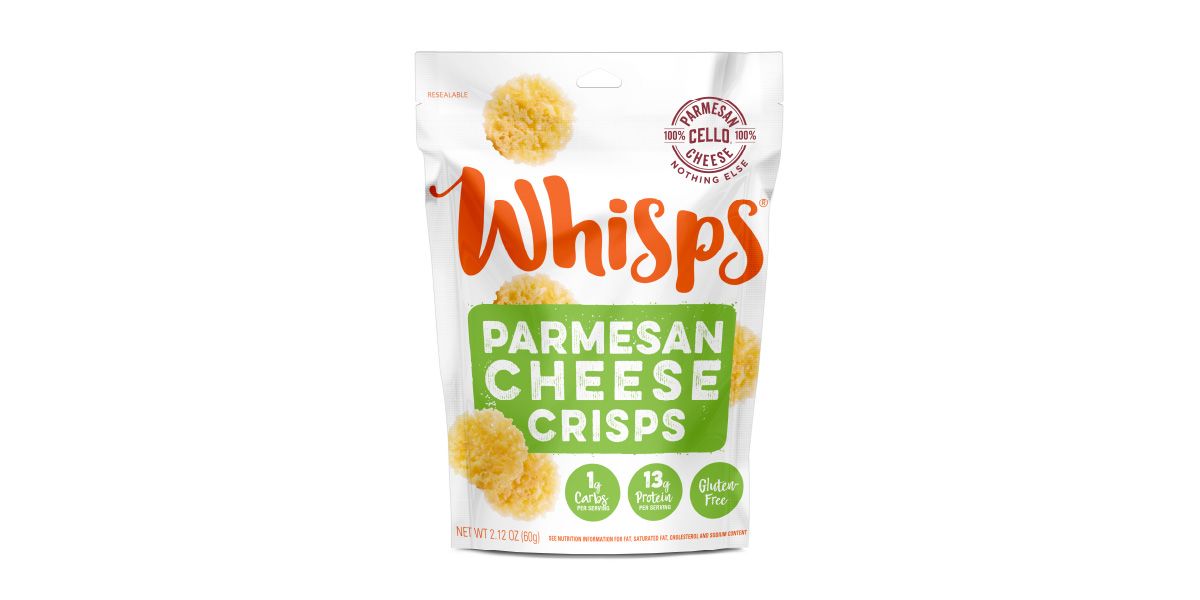 13. Whisps Parmesan Cheese Crackers
Whisps Parmesan Cheese Crackers are crispy and convenient for snacking on the go. However, as another Redditor points out, watch out for the BBQ flavor as it has more carbs than the plain ones. These crackers come in handy 100-calorie packs, with 13 grams of protein and just 1 gram of net carbs per serving. They're also gluten-free and keto-friendly since they're made of 100% cheese.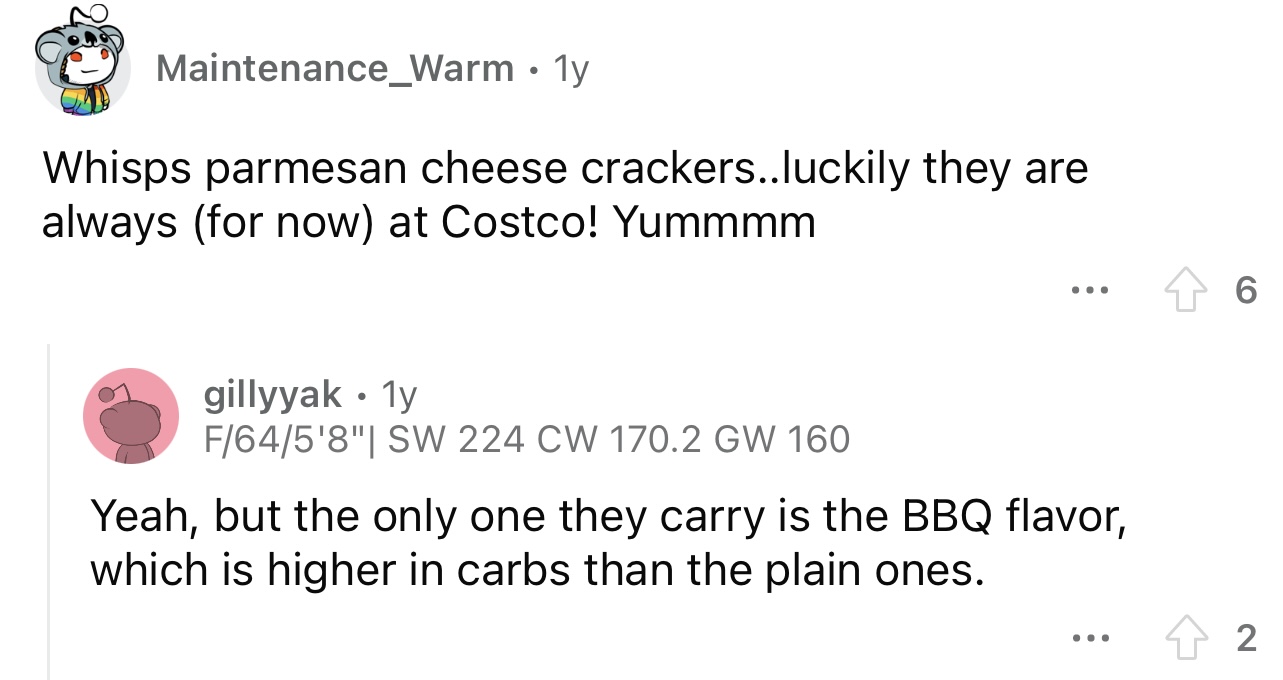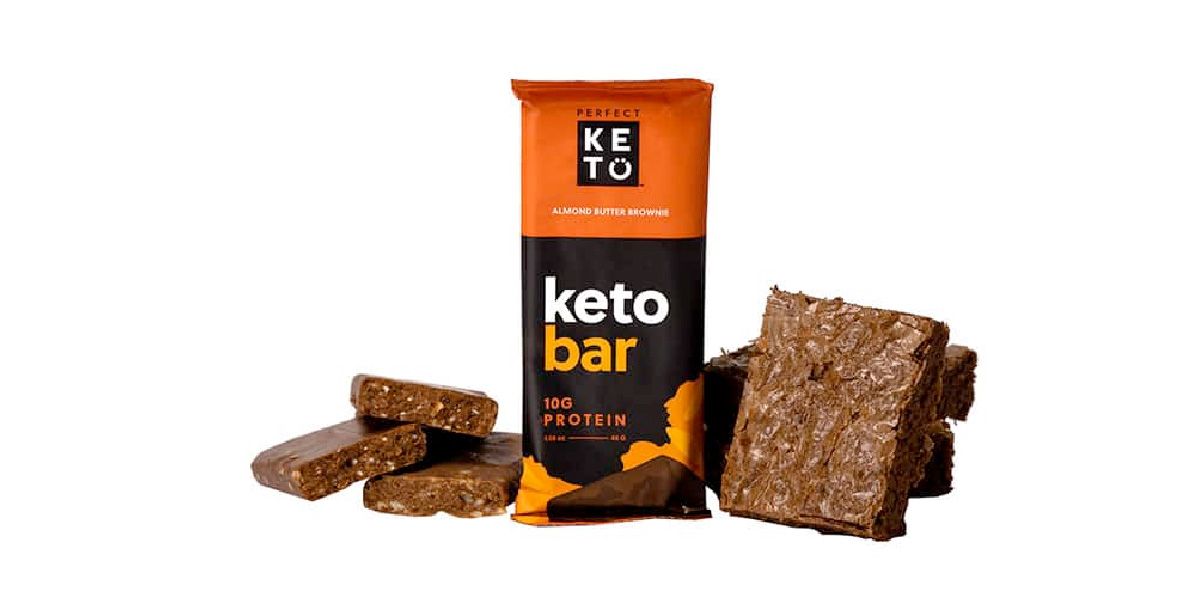 Perfect Keto Bars have won the heart of this Redditor for many reasons. They're not only delicious but also crafted from high-quality ingredients. What makes them even more appealing is their low carb content, which comes in at only 3 grams of net carbs. They also contain no added sugar, sugar alcohols, additives, or fillers. Moreover, these bars feature collagen, which offers benefits such as promoting healthy skin, hair, nails, and joint health.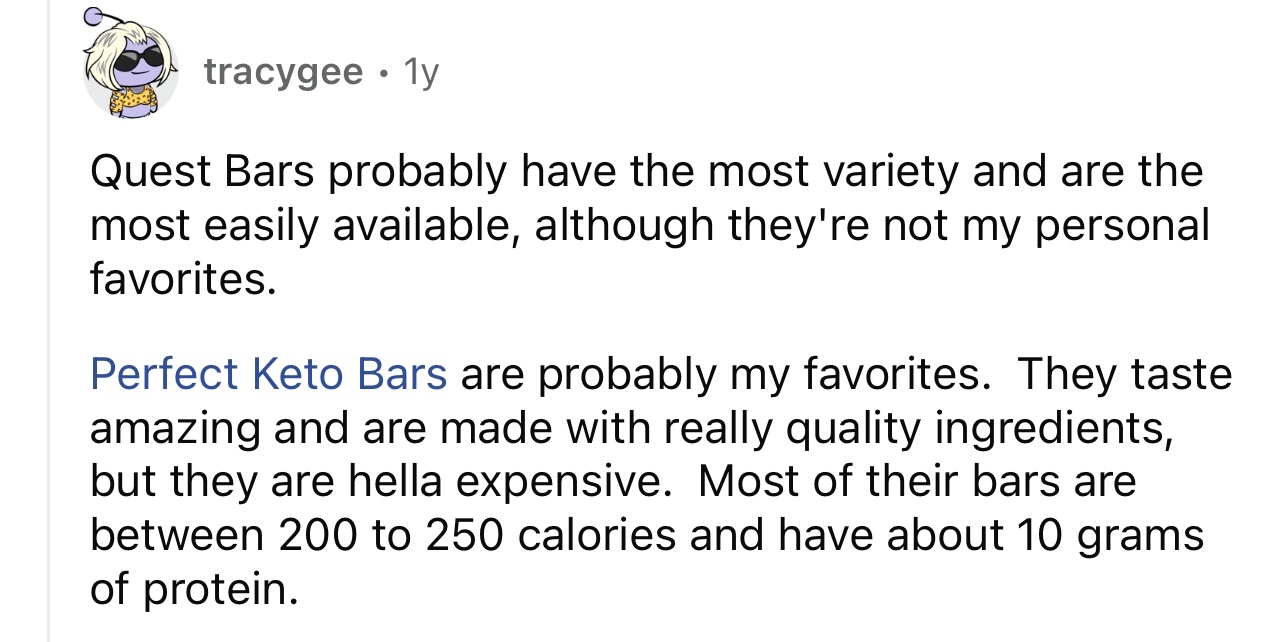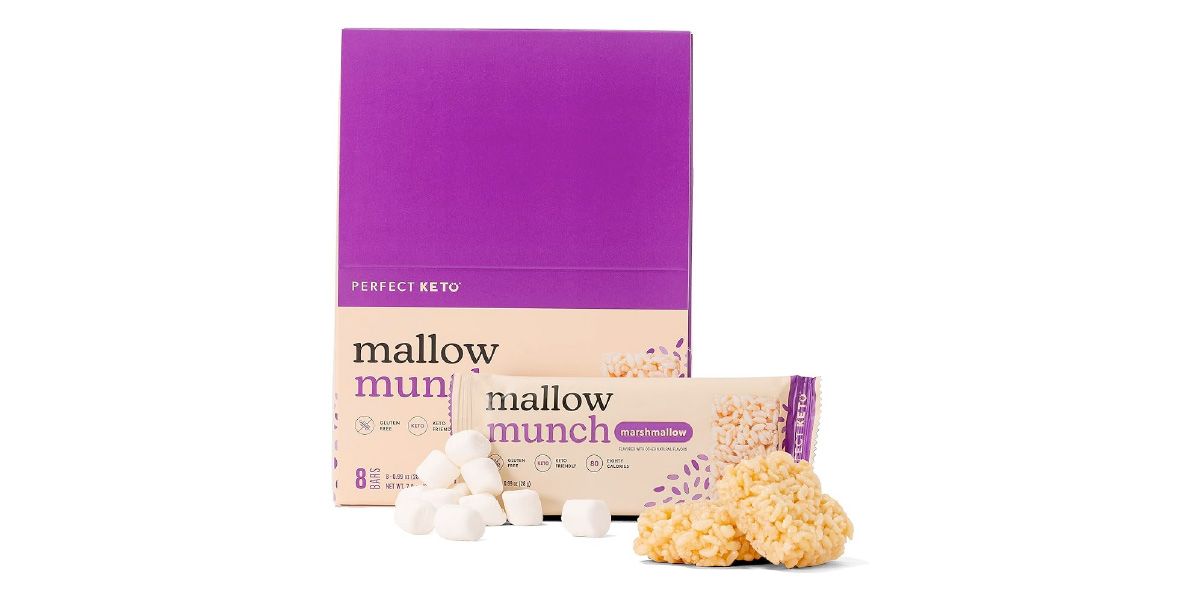 15. Perfect Keto Mallow Munch
Perfect Keto Mallow Munch bars are a hit with this Redditor, who describes them as resembling Rice Krispy treats. Each bar has just 2 grams of net carbs, along with 9 grams of protein, making them both filling and low in carbs. The bars come in different flavors like marshmallow, chocolate, and peanut butter. They're suitable for keto, gluten-free, and don't contain rice. They also have no added sugar, artificial additives, vegetable oils, soy, or fillers.

Summary
This compilation of keto snacks from Reddit shows the diversity of keto snacks available on the market. It also shows that snacking on keto doesn't mean sacrificing flavor or variety. So, as you continue your keto journey, don't hesitate to explore new treats and experiment with twists on packed snacks.With a little imagination, you can transform boring foods into delicious low-carb treats. With so many delicious options at your fingertips, snacking on keto has never been more exciting or satisfying.