Most people are unaware of just how easy it is to make healthy keto salad dressing right in the comfort of their own kitchen. With only a handful of ingredients required, a delicious ketogenic diet friendly vinaigrette is less than five minutes away.
Homemade salad dressings not only require very little prep time, but you can feel good about the ingredients you are putting into your body as well. Many conventional salad dressings are packed with sugar and unrecognizable ingredients, so it's best to avoid them when possible.
All it takes to make your own is a simple base, which would include an acid like lemon juice, red wine vinegar or apple cider vinegar, a healthy fat like extra virgin olive oil or coconut oil, and any seasoning you might like. Fresh herbs make a great addition to any dressing recipe. Try fresh basil, parsley, rosemary or whatever you have at home. You could also add dijon mustard, sour cream or coconut milk depending on the flavor and thickness you're going for.
The Main Ingredients in This Keto Salad Dressing:
Olive oil
Rosemary
Lemon juice
Olive oil provides a dose of healthy fat, essential for a ketogenic diet. It's rich in a monounsaturated fat called oleic acid, which studies have suggested can have a beneficial effect on cancer, autoimmune and inflammatory diseases[*].
Rosemary adds a delicious flavor to any dish and has been shown to potentially reduce cognitive decline in the elderly[*].
Lemon is the highlight of this keto salad dressing recipe. Lemon juice is a wonderful option for low carb recipes. It's low in calories and carbs and rich in vitamin C. It can improve the quality of your skin, aid in digestion, support weight loss on a ketogenic diet and can prevent kidney stones. It's perfect in Caesar, balsamic or ranch dressing recipes.
The Health Benefits of Lemon
#1: Immune-Boosting
Just 1/4 cup of raw lemon juice provides 31% of your daily recommended serving of vitamin C, which helps boost the immune system. Include a few tablespoons of lemon juice a day on a ketogenic diet to help stimulate blood cell production[*][*]. Other than adding it to recipes like this one, you can add it to your water or tea for simple daily intake. Vitamin C is crucial to fighting off colds and illnesses[*].
#2: Supports Skin Health
Vitamin C is filled with antioxidants that help fight off oxidative stress and free radicals from the environment, which will ensure skin looks fresh and healthy. It also helps your body to produce collagen, which keeps your skin youthful and prevents wrinkles[*].
#3: Improves Digestion
Lemon juice is similar to the digestive juices found in the stomach. It helps food move through the digestive tract more effectively. Since it slows the absorption of food, it can give your body time to break down food and take in nutrients[*]. It can also help with indigestion by stimulating the liver and flushing out toxins.
#4: Aids in Weight Loss
Lemon pulp contains a fiber called pectin, which helps us to feel fuller for longer periods of time[*]. When we feel more satiated, we eat less frequently and in smaller amounts. Pectin is a water-soluble complex carbohydrate that helps burn fat. Because of its gel-like consistency, the cell absorbs pectin instead of fat when you eat fresh citrus like lemon[*].
#5: Prevents Kidney Stones
Kidney stones are small lumps that form when waste products crystallize and build up in the kidneys, and they can be very painful. They also occur repeatedly in people who get them often. Due to its citric acid content, lemon juice may help prevent kidney stones by increasing urine pH and volume[*].
#6: Freshens Breath
The same quality in lemons that helps to remove a powerful stench when you rub it on your hands may apply to bad breath caused by eating strong-smelling foods such as garlic and onions. Keep your breath fresh by drinking lemon juice in water to shift the pH. Lemon is also thought to stimulate saliva, helping to prevent a dry mouth, which leads to bad breath caused by excess bacteria growth[*].
#7: Promotes Hydration
The National Academy of Medicine recommends 15 cups of water per day for the average adult male and 11 cups for the average adult female[*]. These numbers will vary based on individual factors such as weight, activity level and geographic location.
Proper hydration is one of the keys to optimal health, and one of the best ways to enhance the flavor of water is by adding fresh lemon juice. This may help you increase your daily intake. Fluids carry nutrients to your cells, flush bacteria from your bladder and prevent constipation, according to a publication by Harvard Medical School[*].
Opt for Homemade Salad Dressing
Instead of reaching for one of those bottled dressings at the grocery store which always come with a long list of less than desirable ingredients, grab a few lemons and make your very own keto salad dressing.
You'll save money, you can adjust the taste and flavor to your liking and you'll feel so much better putting quality ingredients into your body. Store-bought dressings and other processed foods are made with refined ingredients and artificial substances. They likely contain sugar or high fructose corn syrup, which is associated with metabolic disease, cardiovascular disease and Type 2 diabetes[*].
When you opt for a homemade dressing, you can avoid added chemicals, sugar and artificial flavors. Plus you'll get all of the health benefits from lemons listed above, so your digestive system, your immune system and your skin will thank you.
Feel free to customize this keto salad dressing recipe to your liking. You could use a different oil like MCT oil, coconut or avocado oil, or mix up the herbs and use fresh thyme, dill or whatever you have on hand.

Print
Creamy Lemon Keto Vinaigrette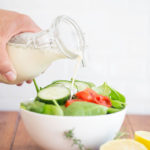 Ditch the processed salad dressing filled with questionable ingredients and whip up a healthy batch of this keto salad dressing with rosemary and lemon.
Author:
Prep Time:

5 minutes

Cook Time:

N/A

Total Time:

5 minutes

Yield:

1 cup

1

x
Category:

Sides

Cuisine:

American
Scale
Ingredients
2

large lemons (zested & juiced)

1

clove garlic (finely chopped)

1/3 cup

apple cider vinegar

2 tablespoon

s olive oil

1 tablespoon

fresh rosemary

3/4 teaspoon

s salt

1/4 teaspoon

pepper
Instructions
Remove zest from lemons using a microplane.  Cut lemons in half and juice.

Add all ingredients to a large bowl or mason jar. Whisk until smooth and creamy. Adjust seasoning to taste.
Nutrition
Serving Size:

3 Tbsp

Calories:

104

Fat:

11g

Carbohydrates:

Net Carbs: 1g

Protein:

1g
Keywords: keto salad dressing