Transitioning to a low-carb or ketogenic diet doesn't have to be difficult.
In fact, one of the easiest ways to switch to a low-carb lifestyle is to replace all your favorite high-carb snacks with low-carb keto snacks. Keto snacks are high-fat alternatives to standards like chips, nachos, or french fries.
In this post, you'll learn how to make full-fat replacements that fit the keto diet while still satisfying your cravings.
When the term '"low-carb" comes to mind, chips are not the first thought. Whether you're talking corn tortilla chips, potato chips, or even the new-fangled "healthy" sweet potato, black bean, whole grain, and cassava chips, none of these are keto chips. Not even close. But rest assured, going low-carb doesn't have to mean depriving yourself of your favorite foods such as pasta, bread, or chips.
What Are Chips and Why Aren't They Low Carb-Friendly?
Whether it's potato chips or tortilla chips, these crispy snacks go through similar processes before hitting grocery store shelves.
The potato or tortilla is cut and sliced and then either baked or fried. For chips made from corn, grain, or legumes, there's a bit more processing. However, the end result is still baked or fried into thin crisps, usually using canola oil, vegetable oil, or soybean oil.
You should do your best to avoid all three of these oils. Mostly made from genetically modified seeds that are overheated or denatured in the manufacturing process, these oils can wreak havoc on your health.
Increased heart problems, risk of stroke and hypertension, decreased normal growth and development, as well as kidney and liver problems may result from overconsumption of these oils[*] [*] [*].
One serving of your classic potato chip is one ounce (about 15 chips), creating a total of 160 calories. One ounce makes up about 15 grams of net carbs, two grams of protein, and 10 grams of fat. However, only about one gram of those fats are saturated.
Between the toxic fats and high carb count, most chips are a no-go if you want to stay in ketosis.
4 Low-Carb Substitutes for Chips
Worried you'll have to deprive yourself of your favorite snack if you want to start a low-carb or ketogenic diet?
No need to stress.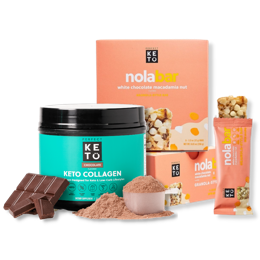 Browse our curated collection of fan-favorites and discover your new favorite snack or supplement.
Shop Best Sellers
There are plenty of low-carb chip recipes and ready-made options out there to make your keto life a lot easier. Even better, these recipes require almost zero prep time. And because most low-carb recipes are naturally gluten-free and sugar-free, you can add many of these to your keto meal plan.
Some ideas for "keto chips" include:
#1: Cheese Chips
Yes, you read that correctly. Cheese chips.
The keto diet can include some high-quality dairy. But not if you suffer from, dairy sensitivities or allergies.
The good news is, if you're sensitive to lactose, an extremely dry aged cheese like parmesan might work for your.
Parmesan and other dry cheeses like asiago or Pecorino Romano are all naturally very low in lactose. If you're looking for exclusively dairy-free options, skip this keto chip recipe and move on to the radishes.
Fortunately, parmesan crisps are growing in popularity (just like the keto diet), so there are a number of store-bought options available. Just make sure you're not getting those with any added ingredients like popped quinoa, as they won't be as low-carb.
Cheddar cheese is also a delicious option for your chips recipe. About one slice (one ounce) of cheddar cheese contains seven grams of protein, making it great for athletes who want to keep up with their protein macronutrient. It also packs some beneficial vitamins such as riboflavin, vitamin A, vitamin B12, calcium, phosphorus, and zinc[*].
Opt for aged cheddar and avoid softer, milkier cheeses like mozzarella if you have a lactose sensitivity.
So how do you make these baked keto chips?
All you need is the cheese — eight ounces of sliced cheddar cheese, to be exact. Or go for shredded parmesan and spread it out across your sheet tray. The short list of instructions are as follows:
Preheat the oven to 400°F degrees.
Place cheese slices or shreds on a baking sheet lined with parchment paper.
Bake for about 8-10 minutes — but pay attention towards the end of the cook time to make sure you don't end up burning the cheese.
Feel free to add your favorite powdered spices like garlic powder, paprika, or taco seasoning to kick up the flavor.
Nutrition facts: One ounce of cheddar cheese is 113 total calories, with 9 grams of fat (6 of those being saturated fats), 0 carbs, and about 7 grams of protein.
These cheese chips are not only a great low-carb substitute for potato chips, but a much tastier option as well. Dip them in guacamole for the perfect party appetizer. If you don't eat them all, store them in the fridge in an airtight container.
#2: Radish Chips
Low-carb substitutes for potatoes can also make tasty keto alternatives for chips.
It's true radish chips are actually a thing. What are the benefits of using this vegetable as a low-carb chip alternative?
Radishes are abundant in vitamin C, potassium, folate, vitamin B6, and manganese. They help detoxify the blood, improve and prevent osteoarthritis, maintain healthy weight loss, and provide some anti-diabetic effects[*].
To turn this nutritional powerhouse into chips, add these simple instructions to your list of keto recipes:
Preheat oven to 375°F degrees.
Slice radishes into thin chips and spread on a cookie sheet covered with parchment paper.
Lightly mist radish slices with a high-quality cooking spray (like olive oil, coconut oil, or avocado oil), then sprinkle with salt and pepper.
Bake for 10 minutes, flip, and bake for another 5-10 minutes until they begin to look crispy. Total time for this recipe is about 25 minutes.
Nutrition facts: One cup of raw, sliced radishes is only 19 total calories with 2 grams of net carbs, about 1 gram of protein and 0 grams of fat.
Your baked radish chip serving size will shrink a little because of the cooking process, and your cooking oil will add some fat, making these treats the perfect snack to maintain ketosis on your keto meal plan.
#3: Cucumber Chips
Whether eaten cold or cooked, cucumbers are a great snack that can be transformed into keto chips in just a few simple steps. When looking to have a low-carb snack, you can slice up a cucumber and eat it as is, or you can add a few extra steps. After slicing the cucumber, the next steps would be:
Preheat oven to 170°F degrees.
Pat cucumbers dry.
Place on a cookie sheet lined with parchment paper.
Bake low and slow for about three hours.
Nutrition facts: One cup of cucumber provides only 16 total calories and 0 grams of fat, protein and fiber, making it a food you can eat to your heart's desire.
Cucumbers are also abundant in vitamins including vitamin K, vitamin C, magnesium, and potassium[*].
#4: Kale Chips
A more popular low-carb chip substitute is kale. You've likely seen these in your grocery store aisles, but you can get a lower-carb version with this recipe.
The biggest benefits of this cruciferous vegetable include its anti-inflammatory effects and anti-cancer properties[*] [*]. So how do you turn this green, leafy veggie into crunchy, crispy keto chips?
The directions are easier than you may think.
Preheat an oven to 350°F degrees.
Line a baking sheet with parchment paper.
With a knife, remove the leaves from the thick stems and tear into bite-sized pieces.
In a large bowl, toss kale, olive oil or avocado oil, nutritional yeast, and your favorite powdered seasonings (cumin, chili powder, and garlic powder all make delicious options).
Spread your seasoned kale evenly across your baking sheet making sure that they don't overlap much.
Bake until the edges brown but are not burnt — for about 10 to 15 minutes.
Allow to completely cool before storing in an air-tight container.
Nutrition facts: One cup of chopped, raw kale provides you with 33 calories, about 5 grams of net carbs, around 2 grams of protein, and less than 1 gram of fat.
Easy, Keto, Low-Carb Life
Once you've tried these easy recipes for keto chips and have created some healthy habits, you can delve into recipes that require a little bit more time and work.
If you want to dive deeper into keto baking, you could explore recipes featuring almond flour and coconut flour (instead of corn or wheat) and try making your own keto tortilla chips. With a little creativity and know-how, the options are endless.