When you think about going to see a movie, chances are you're not just thinking about what you'll be watching on the big screen. You're thinking about what you'll be snacking on in the movie theater. And more often than not, that means popcorn. But what about the carbs in popcorn?
Read on to find out what you need to know about this salty snack and why it might be time to rethink your favorite movie theater treat.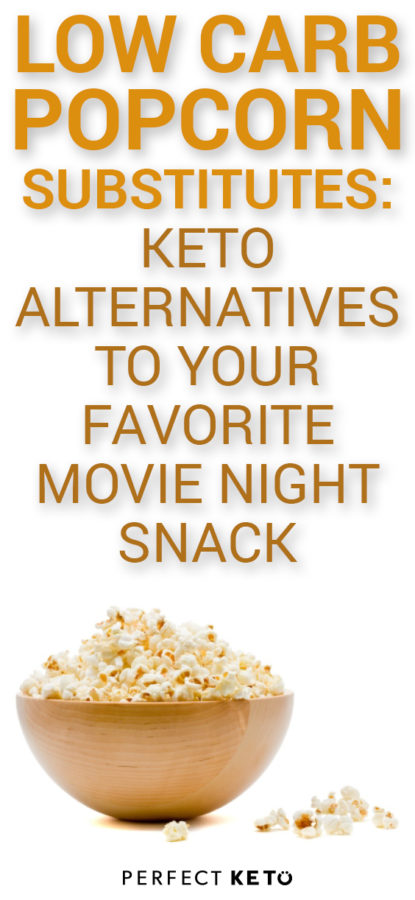 What Is Popcorn?
Popcorn, a member of the corn family, is a whole grain that resembles the appearance of corn on the cob. Popcorn has three components — the endosperm, germ, and pericarp (also called bran).
The starch granules in the endosperm are what comprise the carbohydrates in popcorn. This starch provides energy for the germ, also called the kern.
Popcorn kernels contain some health benefits. They're rich in polyphenols (a compound involved defending free radicals) and dietary fiber, which helps you maintain healthy bowel movements[*][*].
Microwave popcorn has twice as many calories as air-popped popcorn and contains approximately 43% of fat, compared to 28% when you prepare popcorn at home using healthy fats such as coconut oil or olive oil[*].
Without any additives, popcorn is a healthier alternative than most snacks. According to the USDA, one serving of air-popped popcorn contains a total of 31 calories. These calories include hardly any fat, 6 grams of carbohydrates, 5 grams of net carbs, 1 gram of fiber, and 1 gram of protein[*].
Unfortunately, your average movie theater popcorn is usually filled with harmful processed oils and artificial flavorings. And if your weak spot is caramel popcorn, be aware that this option can easily spike your blood sugar and quickly kick you out of ketosis. A single ounce of caramel popcorn contains an astounding 22.1 grams of carbs and 14.9 grams of sugar[*].
So the big question is: Can you include popcorn in your keto lifestyle?
Is Popcorn Keto or Low-Carb Friendly?
Even though air-popped popcorn may be considered a healthy snack, most people eat more than one cup in a single sitting. (More like an entire bucket, right?)
This type of uncontrolled snacking can be rather tempting and is certainly not a good idea if you're following a keto diet or low-carb diet. If your goal is weight loss, popcorn carbs can quickly add up and kick you out of ketosis.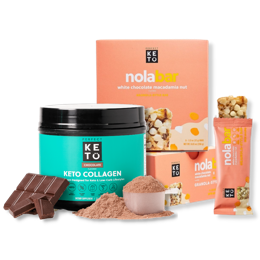 Browse our curated collection of fan-favorites and discover your new favorite snack or supplement.
Shop Best Sellers
5 Low-Carb Popcorn Alternatives
When you want to indulge in a salty treat without worrying about your net carb count or getting kicked out of ketosis, below are some better snack options.
Nuts
Jerky
Cheese Crackers
Pork Rinds
Seaweed Snacks
#1: Nuts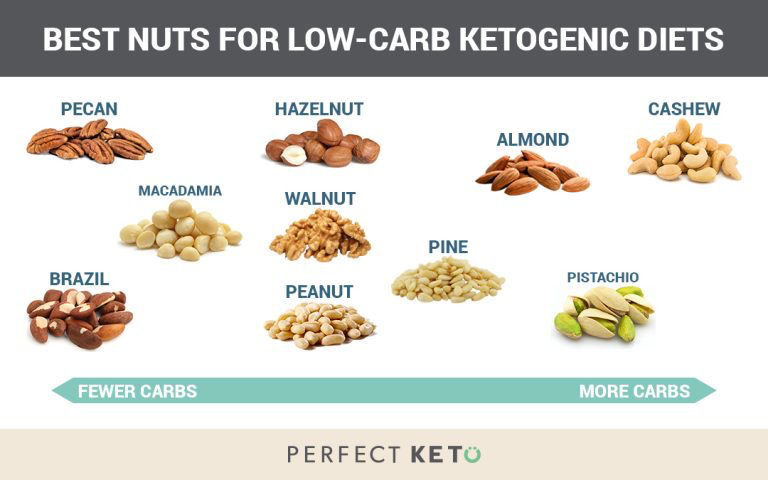 There's a reason why nuts are such a popular snack not only among keto dieters but among health-conscious eaters in general. These healthy snacks are delicious, easy on the go, and loaded with high cardioprotective potential[*].
However, not all nuts are created equal. Some have far more carbs than others.
The best nuts for the keto diet include pecans, Brazil nuts, and macadamia nuts.
Pecans
For a 1 oz. serving, pecans contain a total of 196 calories including 20 grams of fat, about 1 gram of net carbs, 2.7 grams of fiber and about 2.5 grams of protein. They also contain key vitamins and minerals including vitamin A, vitamin B, vitamin E, folic acid, calcium, magnesium, phosphorus, potassium, and zinc[*].
Brazil Nuts
Brazil nuts are another high-fat, low-carb nut that will help keep you in ketosis while eating an ounce or two. Brazil nuts contain 186 calories per ounce, including 19 grams of fat, 2.1 grams of dietary fiber, 1.5 grams of net carbs, and just around 4 grams of protein. These nuts are also packed with selenium, thiamine, copper, and magnesium[*].
Macadamia Nuts
Macadamias are another keto-friendly nut abundant in healthy fats. It's one of the nuts found in this Perfect Keto Nut Butter. One ounce of macadamia nuts contains a total of 204 calories, including 21 grams of fat, 2.4 grams of fiber, 1.5 grams of net carbs, and 2 grams of protein. Macadamia nuts are a great source of important vitamins and minerals including thiamin, iron, riboflavin, niacin, calcium, phosphorus, potassium, and magnesium[*].
#2: Jerky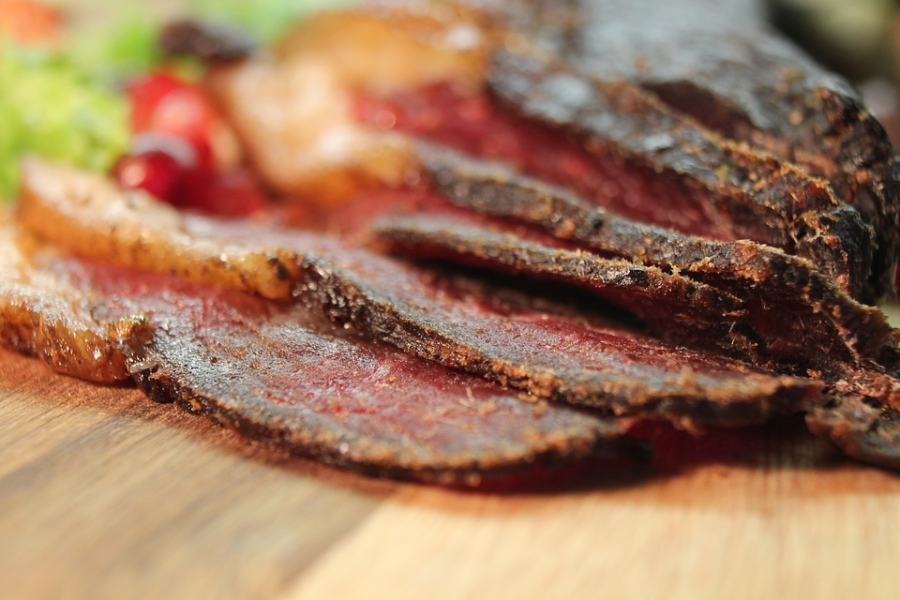 Jerky is an excellent low-calorie snack, especially if you're following a low-carb or ketogenic diet. It's typically made from leaner meat and can be found in different varieties including beef, chicken, bison, turkey, and even salmon.
However, be cautious of the jerky's source. Many jerky brands found in your local grocery store may contain preservatives, additives, and artificial ingredients.
One large piece of beef jerky, approximately 20 grams, contains about 82 total calories, including approximately 5 grams of fat, 2 grams of net carbs, and 7 grams of protein[*].
This snack is low-carb and high-protein, making it a worthy addition to your keto meal plan. Plus, you'll hit all your required macronutrient goals.
#3: Cheese Crackers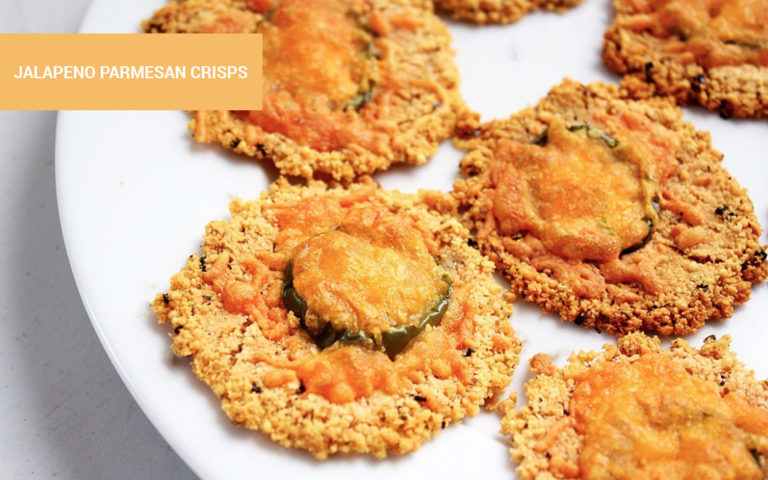 No, this isn't referring to those prepackaged cheese crackers you buy in the grocery store. Rather, you can make your own low-carb, keto-friendly cheese crackers that will help satisfy your movie-time cravings.
Below is a simple recipe that you can add to your keto diet recipe book.
Ingredients:
2 cups of your favorite cheese
1 cup of almond flour
2 ounces of cream cheese
1 egg
Instructions:
Mix in the cheese, cream cheese, and almond flour in a microwavable bowl and keep it in long enough for the cheese to melt.
Once cooled, add in the egg. Mix it until it creates a dough-like consistency.
Place the dough between two sheets of parchment paper and roll it out into a rectangle.
Then cut the dough into small squares before placing them in the oven set to 450 °F degrees for about six minutes per side.
One serving of these crackers contains about 93 total calories, including 8 grams of fat, 1.5 grams of net carbs, and about 4 grams of protein. That's right — less than 2 grams of net carbs per serving. Not only will you have a crunchy snack, but you'll stay in ketosis.
#4: Pork Rinds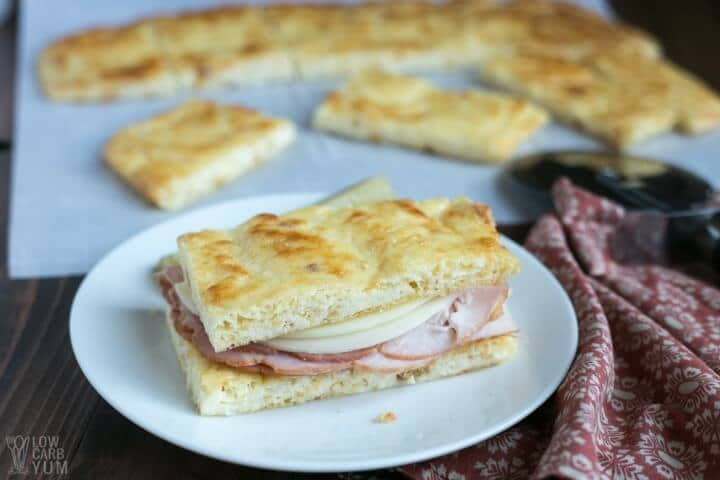 Image: Pork Rind Nearly No Carb Bread
Pork rinds have been making quite a name for themselves in the low-carb world. Also known as chicharrones in Spanish, these light and crispy snacks are made from pig's skin. The pig skin is often fried in lard and then left to air dry. This is what gives them their fluffy appearance and crispy texture.
This satiating and salty snack is a great low-carb substitute for popcorn, especially if you're concerned about keeping your carb intake low.
One ounce (or about 28 grams) of this crunchy snack contains about 152 calories, slightly less than 9 grams of fat, 17 grams of protein, and zero carbs[*].
#5: Seaweed Snacks
Seaweed snacks are becoming a popular snack food not only among keto dieters, but also vegans and vegetarians. Seaweed is rich in essential amino acids, dietary fiber, and vitamins A, B, C, and E[*]. It might also play a key role in cardiovascular health[*].
This seaweed snack contains 2 grams of fat, 1 gram of total carbs, 1 gram of fiber, and zero net carbs, making it a perfect movie companion and a great low-carb snack[*].
Just Say No to Carbs In Popcorn
Now that you know about the carbs in popcorn, you might be worried that you can no longer indulge in your go-to movie snack. But with these low-carb alternatives, there's a good chance you won't even miss it.
For even more alternatives, take a look at these 46 keto snacks that won't kick you out of ketosis. Whether you're making them yourself or picking them up in the store, you can treat yourself and stay keto at the same time.