Chia pudding is blowing up in the breakfast scene, but so many chia seed pudding recipes are packed with sugar or other more "natural" sweeteners like maple syrup or agave.
You might be wondering if chia seed pudding can kick you out of ketosis, and the answer is: not if you watch your serving sizes. Chia seed pudding is packed with dietary fiber and other essential nutrients.
By adding matcha green tea powder to your chia seeds and almond milk, you'll also get an array of health benefits and an extra dose of caffeine to wake you up.
With a quick prep-time and just a few low-carb ingredients, you'll have a delicious breakfast ready overnight. You can also use this matcha recipe as an afternoon snack to boost your energy and keep your cravings at bay.
This matcha chia pudding is:
Satisfying
Sweet
Creamy
Delicious
The main ingredients in this chia pudding recipe are:
Optional additional ingredients:
3 Health Benefits of Matcha Chia Seed Pudding
#1: Rich In Dietary Fiber
When it comes to feeling full and satisfied, fiber is your friend. This chia seed pudding recipe is loaded with fiber coming from nutrient-dense chia seeds.
In fact, the gel-like consistency of your pudding comes from the chia seeds' ability to absorb liquid and expand. This quality is due to their fiber content making them both functional and delicious[*].
Adding chia seeds to your mid-morning snack can enhance feelings of satiety, aka, keep you feeling fuller longer[*].
#2: Boosts Brain Function
If you're like most people, you could benefit from a little pick-me-up in the morning. Adding matcha green tea to your breakfast routine may be a great way to boost your brain function when you need it most.
Matcha powder stimulates cognitive function with a boost of caffeine and antioxidants. Plus, it contains L-theanine, an amino acid that helps balance the effect of caffeine in your body[*]. That means you get all the benefits without the jitters.
In one study, researchers gave a group of participants either caffeine alone, or a combination of caffeine and L-theanine and tested their ability to perform memory tasks.
The group that had both caffeine and L-theanine were able to more efficiently switch tasks while staying focused, with increased speed and accuracy than the caffeine group[*].
Translated into a real-world example, the combination of caffeine and matcha tea may help you multitask and stay focused while doing it — who couldn't benefit from that?
#3: Improves Physical Performance
While a proper diet and fitness routine are always essential for athletic performance, exogenous ketones are an excellent supplement for even more energy.
Although human trials are still needed, research in rats shows that taking ketones in a pill or powder can enhance physical performance and also improve cognitive function.
This means you're not only able to work harder physically, but your brain is also more alert — a terrific combination for competitive sports[*].
Matcha Chia Seed Pudding
With a prep time of only 20 minutes, this delicious gluten-free chia seed pudding is an excellent go-to when you're short on time and need a snack that will keep you feeling full for hours.
The best part — most of the ingredients are keto kitchen staples so you shouldn't have to travel far to get this recipe going.
Just choose your favorite milk option (almond and coconut milk work great), and mix in 1/2 cup of chia seeds.
The seeds will expand over time, so you can make this ahead and allow the seeds to keep expanding (like overnight) or you can make it on the fly and just wait about 20 minutes.
Once the pudding gets to a consistency that you're happy with you can add in the remaining ingredients.
Perfect Keto Matcha MCT Oil Powder and Perfect Keto Vanilla Exogenous Ketone Base mix in perfectly to your matcha chia pudding making a sweet and smooth base.
Add some fresh or frozen blueberries or some crush macadamia nuts or almonds for a little crunch.
Print
Matcha Chia Seed Pudding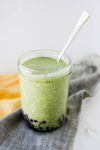 Creamy matcha chia seed pudding makes a perfect low-carb healthy breakfast, rich in dietary fiber, omega-3 fatty acids, and flavor.
Author:
Total Time:

20 minutes

Yield:

2

1

x
Instructions
Mix together the chia seeds and the milk and whisk to combine.

Cover and refrigerate for 5 minutes, then remove to whisk again, breaking up any clumps that form. Allow to sit for 10 more minutes, 1 hour, or even overnight.

Remove and add remaining ingredients, except berries and other toppings, stirring until well-combined.

In two small bowls or mason jars, add the blueberries, then gently pour in the chia seed pudding. Enjoy!
Nutrition
Calories:

335

Fat:

19.75g

Carbohydrates:

23.65g (1.65g net)

Fiber:

22g

Protein:

13g
Keywords: Matcha Chia Seed Pudding