Before he started keto, Matthew was struggling with daily life.
"I weighed 263 pounds," he says. "I wore a 44" waist. I was taking blood pressure and cholesterol meds. I was sluggish and inflamed. It took massive amounts of caffeine just to get through the day. I couldn't play with my children and just going for a walk was difficult."

"I wanted to make my wife and kids proud of me and have a better quality of life."
Matthew had tried other diets, and some of them helped him slim down at first, but the weight loss never stuck.
"I could not find [a diet] that was sustainable long-term. I kept gaining the weight back."
That all changed with keto. Matthew has finally found something that works for him. Keto's flexible food options and hunger-suppressing benefits keep Matthew healthy and satisfied, even as he loses weight.  He also has a strong motivator that keeps him going on tough days — his family.
"I wanted to make my wife and kids proud of me and have a better quality of life," he says.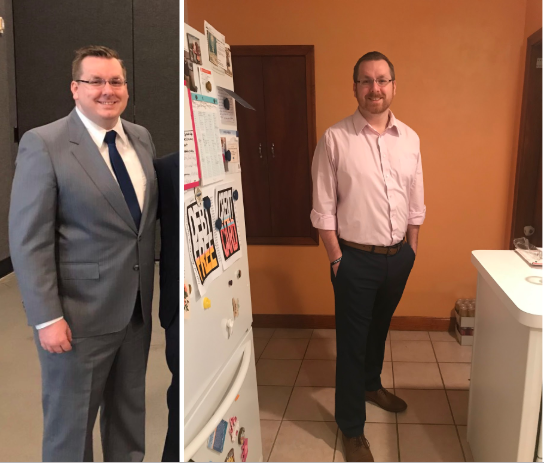 Matthew's Keto Success Story
Today, Matthew is in the best shape of his life, and he shows no signs of slowing down. He took a scientific approach to figure out exactly how deep into ketosis he was getting, then tweaked his diet from there.

"By changing daily choices, results begin to compound. I have my life back!"
"I started with the
test strips
. They helped me know where my body was in regards to ketosis. I have learned what type of fuel my body needs and what aggravates it. I have learned that my health was a result of poor everyday choices. By changing daily choices, [results] begin to compound. I have my life back!"
Matthew began keto to improve his quality of life and make his family proud — and after about 18 months on keto, that's exactly what he's done.
"I can play with my children. I can walk for miles. I can still eat delicious food!"
And speaking of food, Matthew is happy about all the delicious meals he and his family can still eat on a keto diet. 
"I love food! I just had to educate myself on how to "keto-fy" make my favorite foods. Perfect Keto recipes really helped us with this."
When asked about his favorite keto product, Matthew didn't hesitate.
"Perfect Keto MCT oil powder helped provide us with the bioavailable fat we were lacking. But most of all — the education PK provides through their blog and Dr. Gustin's podcast were essential to our success."
Thanks for sharing your story, Matthew. It's always amazing to see people have so much success on keto. 
Have a story to share? Fill out this form and look out for your keto success story on our blog and social media.
Keto Success Stories are shared by our readers and customers in their own words. The keto diet and any nutrition advice found on this blog are not meant as a medical intervention, advice, or diagnosis. If you're interested in trying a new diet, supplement, or lifestyle change, please speak with your doctor or another qualified healthcare provider. As with any diet or lifestyle protocol, individual results may vary.