It's pretty easy to tell if most dishes are keto are not. Take a look at the main ingredients, and if they look like they're low-carb, you should be good. The exception, however, comes to keto condiments. Dressings, sauces, spreads, and the like can all contain hidden sources of sugar. 
So when it comes to your favorite salad dressing, it's crucial that you don't take anything for granted. 
Are Ranch Dressings Keto?
Ranch dressing — one of America's favorites. It's creamy, rich, versatile, and incredibly flavorful. Ranch is one of those condiments that can be paired with pretty much anything — salad, burgers, veggies for dipping, the list goes on. 
So when you're following a keto diet and that ranch craving comes up, your first question is likely; is ranch dressing keto-friendly? 
The answer comes down to the ingredients in your dressing. While most ranch dressing recipes work perfectly for a keto diet, some manufacturers like Hidden Valley sneak added sugar into the mix, making this creamy condiment a potential keto hazard.
Therefore, if you're a ranch fan, beware of the potential ingredient landmines and follow the below tips when perusing the store shelves for your favorite dressing.
Keto, Low-Carb Ranch Dressing Buying Tips
Check the ingredient label
No matter what you're buying in the store, the first thing you should always do is check out the ingredient label. Many dressing ( ranch and others) have ingredients added that are no-nos on keto. 
Common culprits to look out for include cane sugar, sugar, honey, and high-fructose corn syrup. You also want to avoid any low-carb salad dressings that use an artificial sweetener like sucralose and aspartame. 
Look at the macros
Most ranch dressings have a serving size of two tablespoons. But let's be honest, no one is using a tablespoon to measure out the amount of ranch they're using. For this reason, it's crucial that you look at both the total sugar and total carbs on the nutrition facts label.
Even if the ingredient label looks okay, if your ranch comes in at a carb count of four grams per serving and you have two servings — that's eight grams right there.
Opt for high-quality ingredients
Dressings are infamous for being packed with low-quality ingredients. It goes on a salad, so it must be healthy, right? 
This common misconception leads many people to mistakenly put a health halo on dressings that, in reality, should be avoided at all costs. 
Again, you'll have to take a gander at that nutrition label to assess the quality of ingredients, but some things to watch out for include:
Low-quality oils like soybean and canola oil

Non-organic ingredients (especially the dairy ingredients)

GMO ingredients (look for a label that has a non-GMO verification)
Opt instead for dressings made with avocado oil or olive oil, and look for organic ingredients. 
Watch out for additives
Going right along with the section just above, salad dressings are often formulated with chemicals and flavor additives that may not kick you out of ketosis — but they're harmful to your health nonetheless. Watch out for ingredients like:
EDTA

MSG (often labeled as yeast extract

Sodium benzoate

Artificial flavors

Artificial colors (Red #40, Yellow #5, etc.)
If you pick up an ingredient label and it looks more like a chemistry project than a food, put it down. 
Ways To Use Keto Ranch Dressing
One of the best things about ranch dressing is how incredibly versatile it is. Truly, you can put this dressing on almost anything. Here are some delicious ideas:
Drizzle it on your salad as a keto salad dressing

Use it as a base for a veggie dip (zucchini and broccoli go great)

Spread it on your burger or sandwich 

Use it as a base for your egg or chicken salad

Dip your keto pizza in it (you know who you are)

Use it as a sauce for buffalo chicken wings (or cauliflower wings)
Homemade Keto Ranch Dressing Recipe
If you really want to take matters into your own hands, whip up some keto ranch dressing so you can ensure that the quality and flavor are up to your standards. 
The benefit of making your own dressing is that you have the option of using fresh herbs. This allows you to mix it up a bit, want to throw some cilantro in there? No problem.
This keto ranch dressing isn't just meant for those on keto. With its whole food ingredients and rich micronutrient profile, anyone using this delicious dressing is sure to benefit from it.
With only 0.3 grams of net carbs and a deliciously tangy flavor, you'll find yourself regularly reaching for this sugar-free, low-carb dressing and adding it to your meal plan rotation.
The ingredients are what make this homemade ranch the nutritional powerhouse it is: keto mayo, sour cream, apple cider vinegar, garlic, dill, onion powder, salt, and black pepper. All you have to do is combine the ingredients in a bowl, blend well, and store in an airtight container.
Ingredients Highlights
Apple cider vinegar (ACV) is one of the key ingredients in this keto ranch dressing recipe. As it turns out, ACV is high in acetic acid, which has the ability to:
Sour cream is another ingredient found in this delicious dressing, and it's a keto favorite. Sour cream is high in healthy fats and abundant in key vitamins and minerals. It's also one of the most versatile ingredients in your kitchen.
Keto Ranch Dressing Preparation Tips
This keto ranch dressing recipe is as easy as putting all the ingredients in a bowl and stirring. But you can customize it even more while still keeping it keto.
For one, you can make your own keto mayo from scratch. Sure, it will make this homemade ranch a bit more time-consuming, but it's a great way to ensure ingredient quality.
Here are some other tips and tricks to make this keto ranch dressing your own.
Dressing Too Thick? Just Add Cream
If your dressing is too thick for your taste or purposes, you can thin it out with some milk or heavy cream. If you're dairy-free, you can use coconut milk instead. Whatever you choose, be sure to add the milk a little at a time because if you overdo it, it's difficult to make it thicker again.
Homemade Sour Cream
Sour cream is one of those things you probably haven't considered making at home. But making your own sour cream is a great option when you're concerned about added thickeners like carrageenan and guar gum.
Your homemade sour cream won't be quite as thick as store-bought versions, but it will be every bit as good.
You'll need a jar, lid, rubber band, and a paper towel or coffee filter. You will also need:
The directions are simple, and your sour cream will be ready the next day. Here's how to do it:
Pour the cream into your jar and stir in the lemon juice or ACV. Let stand 2-3 minutes to make buttermilk.

Add the milk to the cream and put the lid on the jar. Shake vigorously until well mixed, about 15-20 seconds.

Remove the lid and place the paper towel or coffee filter over the mouth of the jar, then use the rubber band around the neck of the jar to hold it in place.

Let it sit on the counter overnight, up to 24 hours, away from heat and sunlight.

You'll notice your sour cream has separated overnight — this is normal. Simply give it a good stir, put on the lid, and place it in the refrigerator.

Chill the sour cream for a couple of hours before using it the first time. Your sour cream will last up to two weeks in the fridge.
DIY Apple Cider Vinegar
Apple cider vinegar can be expensive, especially if you follow the popular advice to get the kind that includes the "mother." You can save money and have the best-tasting ACV you've ever had by going the DIY route.
Homemade apple cider vinegar is so simple that you can have some on hand at all times. Poured in a pretty bottle, it also makes a wonderful kitchen gift for friends and family.
You'll need a half-gallon jar or pitcher, a coffee filter or paper towel, a rubber band, and something that will fit inside the jar or pitcher to use as a weight to hold the apples underwater. (Otherwise, they'll float to the top.) You'll also need:
4-6 apples (any kind, organic is best)

Sugar

Water
As you can see, the ingredients list is simple — that's how natural your apple cider vinegar will be. And don't worry about the sugar… it's there to feed the bacteria, and most of it is consumed in the fermentation process, making this a keto-friendly option.
Your apple cider vinegar will be ready in about six weeks. Here's what you need to do:
Wash your apples. If you're using organic apples, you can cut them, leaving in the core, seeds, and everything. Otherwise, with non-organic apples, you'll need to remove the stems and core the apples, then cut them into fairly uniform cubes. You'll need more apples if they're small, and fewer if they're large.

Add the apple cubes to the jar as soon as they're cut. You'll keep cutting apples until your jar is full with about an inch or so of empty space. Keep count of how many apples you've put in the jar.

When your jar is full, add about a teaspoon of sugar for every apple used. Pour water into the jar until it's about an inch away from full and the apples are covered. Give it a stir to distribute the sugar throughout.

Place the weight into the neck of the jar or pitcher to hold the apples underwater. Cover with the paper towel or coffee filter and use the rubber band around the neck to keep it on.

Let the mixture sit on the counter — away from heat and direct sun — for about four weeks. Give it a stir once a week or so. Don't worry when you begin to notice the mixture becoming bubbly. This means it's fermenting. Kids will especially love watching this process.

When your apples start to sink to the bottom of the container, you'll know you're on your last week. In cold temperatures, this process can take a bit longer. Similarly, high temps can speed things up. After enough time has passed, strain the apples out and discard them.

Decant your apple cider vinegar into your chosen storage bottle, put the cap on, and store in the refrigerator. Stored properly, your ACV will last at least five years (but, you'll likely use it up before then).
During the fermentation process, you may notice a thin, white-ish film on top. It will not be furry like mold. This is the developing "mother," and it is safe. It will usually fall to the bottom on its own. Your brew will likely look cloudy after a time. This is natural.
If you see anything that looks obviously moldy, it's best to toss it and start all over. (Better safe than sorry.)
If mold develops, it's likely that something contaminated your brew. It's important to start with a squeaky-clean jar or pitcher and use only a clean spoon for stirring.
Whatever route you go, this keto ranch dressing is one recipe you'll make again and again!
Print
Homemade Keto Ranch Dressing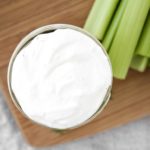 This tasty homemade ranch dressing is a great keto-friendly alternative to high-carb versions. It's wonderful on salads and makes the perfect condiment for dipping veggies, chicken wings, or meatballs. You can't beat the super fresh flavor — it's sure to become one of your favorite low-carb recipes.
Author:
Prep Time:

5 minutes

Total Time:

1 hour 5 minutes

Yield:

20 tablespoons

1

x
Category:

Sides

Cuisine:

American
Instructions
Mix together all ingredients and refrigerate for 1 hour.

Store in airtight container.
Nutrition
Serving Size:

1 tablespoon

Calories:

73

Fat:

8.2g

Carbohydrates:

0.3g

Protein:

0g
Keywords: keto ranch dressing