Are the holiday blues weighing you down?
While the holidays are filled with home-cooked meals and indulgent treats, it can be more stressful than not for those in ketosis. But it doesn't have to be!
There's quite a few low-carb recipes and tips on this site to keep you in ketosis and avoid the holiday stress. By filling your plate with vegetables, fats and protein, you can stay in ketosis all throughout the holidays.
Lucky for you, here's the perfect holiday-friendly keto side dish: Keto Gravy with Rosemary Cauliflower "mashed potatoes". With total fat topping 27 grams and total carbohydrates coming in at just 6.6 grams, this is one comfort food that won't weigh you down.
And the best part? Prep time is just 10 minutes, with cook time taking another 15 minutes.
This cauliflower mash with keto gravy has only three grams of net carbohydrates per serving! Combine this with our low-carb stuffing, our cheesy bacon Brussels sprouts, and a keto dessert, and you have your very own holiday dinner.
Plus, keep reading past the recipe for our tips on how to stay keto during the holidays.
Print
Rosemary Cauliflower Mash and Gravy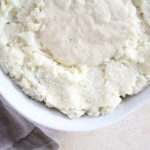 Swap out those heavy potatoes for this rosemary cauliflower mash and keto gravy — a healthy ketogenic option that will taste just like the real thing.
Author:
Prep Time:

15 minutes

Cook Time:

30 minutes

Total Time:

45 minutes

Yield:

6

1

x
Category:

Sides

Cuisine:

American
Instructions
Bring water to a boil in a medium saucepan, add cauliflower florets, and boil until tender, about 15 minutes.

Drain cauliflower and pour into food processor.

In a medium skillet over medium low heat, heat butter, garlic, and rosemary until fragrant. Remove from heat and add to food processor with cauliflower. Pulse until combined.

To food processor, add heavy cream, parmesan, salt, and pepper and pulse until smooth consistency is reached.

For gravy, in a medium saucepan over medium high heat, heat butter, heavy cream, and chicken stock. Bring to a boil, then reduce, cover, and simmer for 12 minutes.

Remove from heat, add xanthan gum and pepper, and whisk together until thick consistency is reached.
Nutrition
Calories:

272

Fat:

27.3g

Carbohydrates:

6.6g (Net: 3.1g)

Protein:

4.7g
Keywords: rosemary cauliflower mash and gravy
How to Stay Keto for the Holidays
Holiday foods might seem like anything but keto-friendly and low carb. Follow these tips to stay in fat-burning mode throughout the holidays:
Fill your plate with fat and protein
Beware of thickeners that contain flour or cornstarch
Select keto-friendly dairy options whenever possible
Substitute starches with low carb vegetables
Fill Your Plate With Fat and Protein
Most individuals think holiday meals include carbs, smothered in carbs, with a side of carbs and carbs for dessert. This doesn't have to be the case.
When walking through the buffet line this year, remember the percent daily values you need to stay in ketosis: Roughly 60% of your calories should come from fat, 35% from protein and the remaining 5% from carbs. As you fill up your dinner plate, think two-thirds fat, one-third protein and a few carbohydrates mixed throughout.
You don't need to overcomplicate this. Many of your mother's recipes are also keto recipes. Is there ham, turkey or chicken on your dinner table? That's your protein source. Is the butter dish placed next to you? Throw a dollop on your vegetables (which should be eaten generously) as a fat source. Is there a gravy boat anywhere to be seen? Yet another excellent fat source.
Ah, gravy. What are holidays even for if you can't enjoy your mashed potatoes and gravy?
Which brings you to the second tip…
Beware of Thickeners Containing Flour or Cornstarch
But wait! Isn't gravy loaded with flour and cornstarch? Meaning, it's not a keto-friendly dish?
It doesn't have to be.
Herein lies the trick to staying keto throughout the holidays. If your holiday tradition includes the rule, "Everyone brings a dish," then volunteer to make a dish that isn't normally keto-friendly. Meat and veggies are naturally low carb, keto-friendly options — so let someone else handle those. Instead, take the opportunity to make a typically high carb dish work for you and your keto meal plan.
Which is exactly what this keto gravy and low carb, cauliflower "mashed potatoes" does. It tastes just like your favorite mashed potatoes n' country gravy, with a much lower carb count.
Gravy is typically smothered with flour, making this perfectly-good fat source no longer keto-friendly. Therefore, in this particular gravy recipe, it's thickened with xanthan gum.
Xanthan gum, if you've never cooked with it, is a grain-free thickener that contains only 7 grams of carbs per serving. Typically, it's used in gluten-free baking to give dough elasticity. In this recipe, add xanthan gum to the saucepan over medium heat with your other ingredients, and watch as the gravy thickens just like with flour or cornstarch.
Combing the xanthan gum with butter, heavy cream and chicken stock gives you a high-fat, low carb and flour-free gravy that you can pour all over your "mashed potatoes," or even your whole plate.
Select Keto-Friendly Dairy Options Whenever Possible
Dairy is found in abundance in this recipe—both for the keto gravy and the rosemary cauliflower mash. Before you purchase your ingredients, remember that not all dairy is created equally.
Keto dairy should be organic, grass fed and high-fat. While those who are lactose intolerant should avoid dairy altogether, if your body digests dairy well it can be an excellent source of fat.
We use butter, parmesan and almost an entire cup heavy cream in this recipe. If you cannot find grass fed parmesan (either at the store or online), consider swapping it out for sour cream or cream cheese.
Substitute Starches with Low Carb Vegetables
Swapping out potatoes for cauliflower makes this recipe the perfect ketogenic option. If you check out the nutrition facts, you'll see these cauliflower mashed potatoes have only three grams of net carbs per serving. Combine them with our other low carb recipes, like low-carb stuffing or cheesy bacon brussel sprouts, and you have your very own holiday dinner.
Along with being a great low carb option, cauliflower dishes have amazing health benefits, including:
They Contain a High Number of Antioxidants
Cauliflower is a member of the cruciferous vegetables, which are known for their abundant source of antioxidants. Cruciferous vegetables are high in phytochemicals (compounds found in plants), essential vitamins, minerals, fiber and carotenoids.
Cauliflower is an Excellent Anti-Inflammatory Source
The antioxidants found in cauliflower are amazing fighters of inflammation. These antioxidants help to reduce oxidative stress — or the stress placed on our cells from damaging free radicals. Particular free radical fighters found in cauliflower are beta-carotene, beta-cryptoxanthin, caffeic acid, cinnamic acid, ferulic acid, quercetin, rutin and kaempferol.
It Could Prevent the Growth of Tumor Cells
Cauliflower also has chemo-preventative agents, meaning it has the ability to stall cancer development in its earlier stages to help fight tumor growth[*]. Along with helping the prevention of tumor cells, cauliflower are also rich in glucosinolates. Glucosinolates  break down the chewing and digesting of the compounds responsible for preventing the tumor cells from growing.
This season be satisfied with knowing you'll be able to stay on track with your health goals while still feeling satiated and fulfilled at your dinner feasts. This recipes take a total time of just half an hour, so kick back, relax and enjoy the holidays.