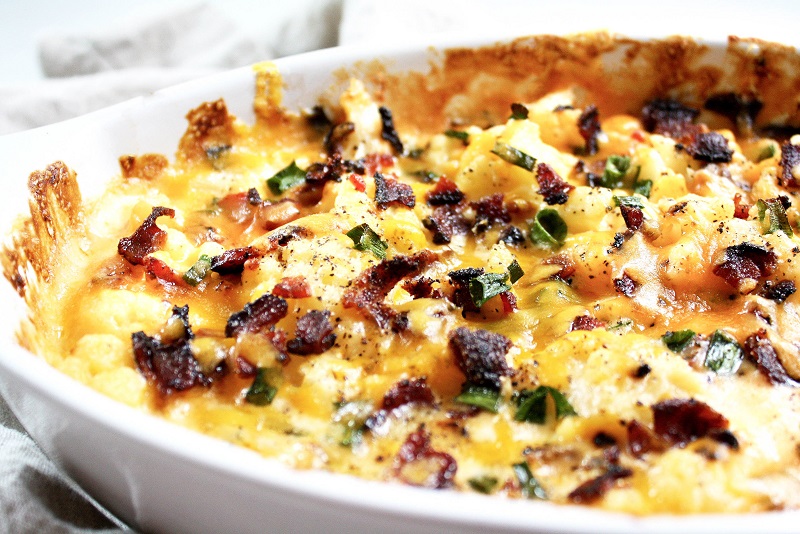 When it comes to easy recipes and rich, filling food, it's hard to beat a casserole dish. If you're just starting out on your keto journey, you probably quickly realized that casserole bakes are one of the most popular main dishes — and this loaded cauliflower casserole is no exception.
This comfort food is one of the best ways to make everyone, even the picky eaters, load up on veggies without even noticing. It's hassle-free and involves very little cleaning afterwards.
This keto cauliflower casserole is crispy, cheesy, and will surely become a household staple.
Health Benefits of Loaded Cauliflower Casserole
This loaded cauliflower casserole recipe is not only worry-free if you're following a keto or low-carb diet, but it's also incredibly nutritious and loaded with health benefits. Here are a few nutrition facts.
#1: Can Improve Bone Density
This baked cauliflower casserole is also packed with delicious, calcium-rich dairy products. Cheese is not only a great source of protein but also one of the best ways to increase your daily amount of required calcium to keep your bones and teeth healthy[*].
Whenever possible, always opt for grass-fed cheese to avoid harmful additives and get extra richness in important compounds such as CLA and omega 3 fatty acids[*][*].
Green onions, also known as scallions, are also in this dish and they've been used as a popular remedy in Asian folk medicine for thousands of years. Eastern herbalists commonly use them to fight colds and alleviate headaches, indigestion, and insomnia.
This veggie comes packed with both vitamin C and vitamin K, which are crucial to bone health. Both these vitamins work together to strengthen and maintain bone density, helping to prevent bone degenerative conditions such as osteoporosis[*][*][*].
#2: May Promote Heart Health
This loaded cauliflower casserole delivers a great number of vitamins and nutrients, but one of the most prominent is folate.
One large head of cauliflower delivers an astounding 479 grams of folate goodness. One particular study has shown that folate can help to lower the risks of stroke and other cardiovascular diseases[*].
Cauliflower is also a powerhouse of other important nutrients, such as lutein and zeaxanthin. These particular compounds have been shown to be greatly beneficial to cardiometabolic health and to prevent oxidative stress[*].
#3: Can Help Lower Blood Sugar Levels
The two veggies used in this recipe come packed with high amounts of vitamin C. Vitamin C is quite unique because your body cannot produce it. It's a very important nutrient that contributes to many vital functions in the body[*].
According to a study published in 2011, a higher consumption of vitamin C may contribute to lower high cholesterol and blood pressure levels, therefore having a positive impact on those affected by type 2 diabetes[*].
#4: Can Help Improve Skin Health
Green onions provide around 9 milligrams of vitamin C per half-cup serving. This nutrient plays an important function in synthesizing collagen, the most abundant protein found in the human body. It plays a crucial part in bone, muscle, skin, and tendon formation[*].
Vitamin C is also an important antioxidant that protects your cells and promotes healthy tissue growth. It assists in wound healing and, when combined with vitamin E, can protect the skin against UV irradiation[*].
#5: May Help Lower the Risk of Colon Cancer
There's a reason why cauliflower is the king vegetable in keto. Not only is it extremely low-carb but also half of its total carbohydrate content is dietary fiber.
Fiber plays an important role in the proper function of your digestive system, particularly your intestines.
New research is now showing just how important the large intestine is and how closely it's linked to proper immune function as well as brain performance. It's even nicknamed "the second brain"[*].
Colon cancer is the third most common cancer in the world and it may be avoided if you follow a healthy diet and a balanced lifestyle. Suitable intake of dietary fiber can help keep your colon working in an optimal way, helping to lower the chances of cardiovascular disease, obesity, diabetes, and colorectal cancer[*][*].
The next time you want an extra boost of nutrition for your salads, omelets, or stir-fries, this loaded cauliflower casserole will become your new favorite low-carb side dish.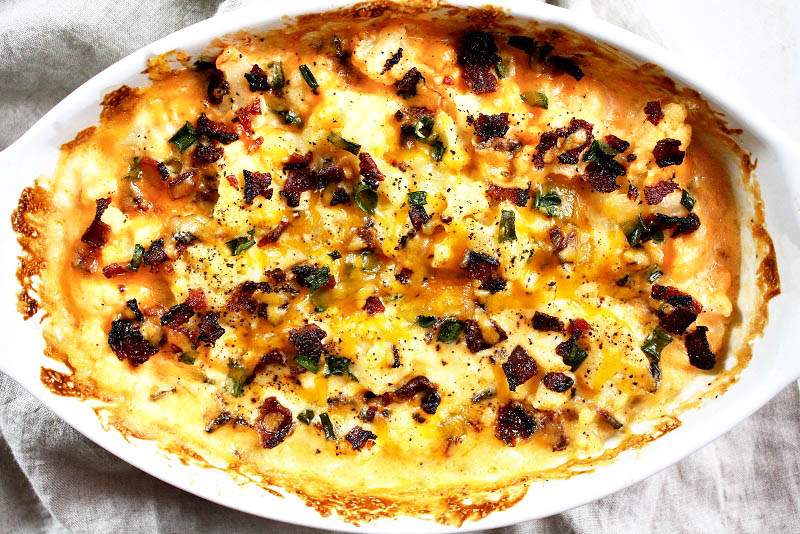 Recipe Variations
This casserole is incredibly versatile and can be boosted in a number of ways. Here are some ideas for making this recipe your own.
Add sour cream: If you really like a creamier recipe, adding some sour cream can turn it into an even more decadent dish, without the guilt.
Save time: To make this recipe even quicker, using frozen cauliflower is a great option. Just use it the same way as you would fresh cauliflower.
Heat it up: For a spicy twist, chop some jalapeño peppers and sprinkle on top. For medium-heat, remove some of the seeds, otherwise it will become a very hot dish.
Mix up seasonings: To boost the flavor and change things up, throw in some minced garlic or even garlic powder. Or sprinkle it with chopped chives after you've removed it from the oven for extra flavor and nutrients.
Be cheesy: When you're choosing which cheeses to use, sharp cheddar cheese, Monterey Jack, or parmesan make for flavorful and rich options.
Loaded Cauliflower Casserole: Easy, Quick, and Keto
If you're missing your mom's high-carb loaded potatoes, this keto diet-approved version will not disappoint you.
It's crispy, gluten-free, loaded with important nutrients, and high-fat. You won't have to worry about the carb count or getting kicked out of ketosis.
When you're just starting a keto diet, or if you've already been following the keto lifestyle for a while, finding cooking inspiration can be hard at times.
If you're looking for easy, low-carb recipes that won't skyrocket your carb count, be sure to browse these keto recipes where you can find hundreds of delicious ideas to add to your meal plan.
And if cauliflower has become your new favorite veggie and best friend since you started keto, check out these tasty cauliflower recipes:
Print
Loaded Cauliflower Bake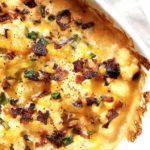 This cheesy cauliflower casserole is a great low-carb, high-fat dish when you want to enjoy a comforting, wholesome meal without being kicked out of ketosis.
Author:
Prep Time:

15 minutes

Cook Time:

45 minutes

Total Time:

1 hour

Yield:

4

1

x
Instructions
Preheat oven to 350°F.

In a large pot of boiling water, blanch the cauliflower florets for 2 minutes. 

Drain the cauliflower and dry it using paper towels.

In a medium pot, melt together butter, heavy cream, cream cheese, 1 cup of shredded cheddar cheese, salt, and pepper until well-combined.

In a baking dish, add cauliflower florets, cheese sauce, all but 1 tablespoon of crumbled bacon, and all but 1 tablespoon of green onions. Stir together.

Top with the remaining shredded cheddar cheese, crumbled bacon, and green onions.

Bake until the cheese is bubbly and golden and the cauliflower is soft, which should take about 30 minutes.

Serve immediately and enjoy.
Nutrition
Serving Size:

1

Calories:

498

Fat:

45

Carbohydrates:

5.8 (Net: 4.1)

Protein:

13.9
Keywords: loaded cauliflower casserple