November is officially here, which means the biggest eating day of the year is upon us — Thanksgiving! Finding menu options to fit a low carb lifestyle can be challenging — especially during the holidays. But we have you covered. This low carb stuffing is full of wholesome, all-natural ingredients with only five grams of net carbs per serving, sure to keep you in ketosis.
Although it takes a little extra planning, it is possible to cook Thanksgiving dinner using only low carb recipes. Simply focus on recipes with plenty of fats and protein, selecting a turkey recipe as your entree and using butter or olive oil as your condiment. Pair with low carb side dishes, like this low carb stuffing, and [if you can't imagine Thanksgiving without dinner rolls] low carb bread, if necessary.
With this low-carb stuffing recipe there is no reason to stress over your nutrition during the holidays. This year, indulge in your favorite festive meals without losing sight of your goals.
Main Ingredients for Low Carb Stuffing
This keto stuffing is a powerhouse of nutrient-dense vegetables and herbs, including:
Garlic
Onions
Carrots
Celery
Cauliflower
Mushrooms
Fresh sage
Rosemary
Parsley
Poultry seasoning and black pepper really bring out the flavor, even without the bread or carbs. And the best part? There's hardly any clean-up involved — all you need is one skillet and a little prep time.
Print
Low Carb Stuffing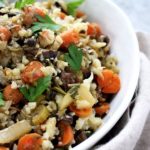 Holiday menus can be challenging for low carb dieters, but this all-natural, low carb stuffing is sure to help you maintain your low carb diet this holiday!
Author:
Cook Time:

15 minutes

Total Time:

45 minutes

Yield:

6

1

x
Category:

Breakfast

Cuisine:

American
Scale
Ingredients
4 tbsp

. butter

1 tbsp

.minced garlic

1

small onion, diced

1

large carrot, peeled and chopped

2

celery stalks, chopped

1

medium head cauliflower, chopped

1 cup

mushrooms, chopped

1/2 tsp

. pink Himalayan salt

1/2 tsp

. black pepper

1 tbsp

. fresh sage, chopped

2 tbsp

. fresh rosemary, chopped

1/4 cup

fresh parsley, chopped

1/2 cup

chicken broth
Instructions
In a large skillet over medium heat, melt butter. Add garlic and sauté until fragrant.

To skillet, add onion, carrot and celery and sauté until soft, about 10 minutes.

Add cauliflower, mushrooms, salt, and pepper and sauté until tender, breaking apart cauliflower florets as they soften, about 12 minutes.

Add sage, rosemary and parsley and stir until well-combined.

Pour in chicken broth, cover and cook until liquid is fully absorbed, about 13-15 minutes.

Serve warm and enjoy!
Nutrition
Calories:

108

Fat:

7.5g

Carbohydrates:

8.1g (Net: 5g)

Protein:

2.8g
Keywords: low carb stuffing
The key to a flawless, low carb Thanksgiving meal is swapping out the traditional, high-carb holiday recipes for a low carb alternative. For example, whip up mashed cauliflower and gravy instead of mashed potatoes, make a batch of this cranberry sauce (using stevia in lieu of white sugar) and serve a low carb pumpkin dessert rather than a slice of pie.
If you are determined to follow your grandmother's stuffing recipe to the letter, you might consider baking a loaf of gluten-free, keto bread as an alternative. However, in this recipe you'll wave goodbye to bread altogether, using cauliflower florets instead.
The Benefits of Cauliflower
Cauliflower is incredibly versatile, making it one of the best low carb vegetables you can buy.  You can substitute cauliflower for a number of high-carb side dishes and entrees, including mac and cheese, hash browns, pizza crust, breakfast potatoes, rice and quinoa.
Cauliflower contains only 5.3 grams of total carbohydrates and 2.5 grams of dietary fiber per cup, making this Thanksgiving recipe suitable for any low carb diet.
The Benefits of Bone Broth
Bone broth (referred to as chicken broth in the instructions) is an abundant source of amino acids and collagen, which helps improve gut, joint and skin health. When you make bone broth, collagen is extracted during the simmering process. Roughly 30% of the protein in your body comes from collagen, as it's the glue that holds your body together.
Bone broth has been shown to heal leaky gut, reduce inflammation, and improve the health of your hair, skin and nails[*][*]. It also gives a boost to your immune system, which explains the age-old method of eating soup while under the weather.
Bone broth can also help heal arthritis and joint pain, as it contains key amino acids glycine and proline. Glycine and proline accumulate in cartilage, and can reduce pain and inflammation while improving joint mobility[*][*].
Bone broth has the ability to transform your favorite comfort foods into a nutrient-dense dish. You can find bone broth in many keto recipes on this site, but remember: The box of "broth" on the grocery shelf does not contain the healing properties you need. Make your own by following this recipe or another you find online.
The Benefits of Garlic
One of the main ingredients in this low-carb stuffing is garlic. Garlic is often looked at as a form of plant-based medicine, offering a vast array of health benefits.
Garlic is one of the most widely-used natural supplements, with over 1.9 million Americans using it for homeopathic treatment[*]. Garlic can be consumed in tablets or capsules, or simply by including it in your favorite dishes.
So what's the big deal? Garlic is used as a supplement to treat high blood pressure, the common cold and even prevent cancer and other diseases[*]. Garlic can also help improve heart health, as one study displayed an inverse relationship between consumption of garlic and the onset of cardiovascular disease[*]. There's conflicting evidence as to whether garlic helps improve cholesterol levels.
Low Carb Stuffing Nutritional Information
This recipe contains only 108 calories per serving, 7.5 grams of total fat and 8.1 grams of total carbohydrates. By comparison, traditional homemade stuffing contains nearly 300 calories and a whopping 42 grams of carbs[*]. Can you say, carb hangover?
Best of all, this recipe is loaded with beneficial vegetables, ones you might not get with a more classic recipe. So sit back and enjoy the holiday season stress-free. This year, there's no way this low carb stuffing will weigh you down.