Today, we have an unusual (and heartwarming) keto success story: a couple who decided, together, to turn their health around.
Two years ago, Shanon and Shane were approaching 50. They were both obese and were struggling with a variety of health issues.
"Before keto I was sleepwalking through life," Shanon says. "My husband and I were both diabetic, overweight, had high cholesterol and sleep apnea. I was doing just enough to make it through the day. I stayed exhausted and hurt all over, all of the time."
Shanon had tried everything to lose weight, but none of it stuck.
"I had tried every diet in the book," she says. "Weight Watchers, calorie counting, you name it. I tried Atkins years ago and lost weight easily, but gained it all back and then some."

"Before keto, I was sleepwalking through life."
That changed when Shanon talked to her relatives.
"My brother had been researching keto and was considering it. My sister-in-law told me about it, and I said 'I'm in.' The three of us began keto in June 2018."
At first, Shanon was alone — Shane didn't want to join her — but when he realized how serious she was, he decided to take the journey too.
"My husband was not on board to begin with. He's a meat and potatoes kind of man, but once he saw that I was serious he said he would give it a try…we have a 13-year-old son, and it was more apparent every day that we were missing life with him. I didn't want to cut my life short and miss out on life with him and grandkids in our future."
That was nearly two years ago, and since then, Shanon and Shane's lives have changed considerably.
Shanon and Shane's Keto Success Story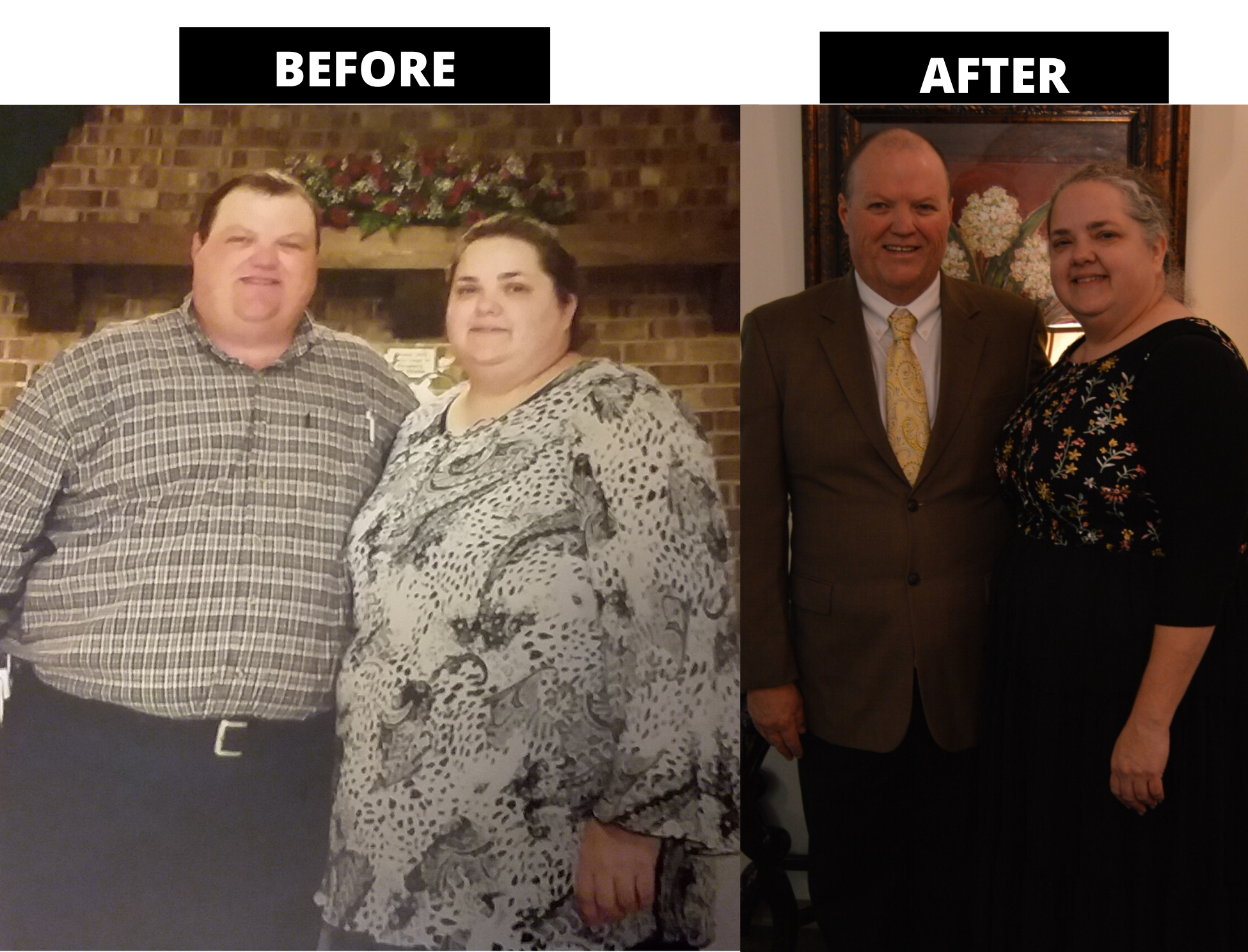 After starting keto, Shanon quickly realized quite a lot about her body and her health.

"On keto I am clear as a bell."
"I have learned that most of the food I was eating before kept my body full of inflammation," she says.
"The reason I was sleepwalking (metaphorically) was the carbs. I stayed in a constant brain-fog. On keto I am clear as a bell, and I have stepped off the roller coaster of mood swings that high carbs put me in."
Shanon realized that carbs just don't agree with her, and she can't eat them — not even a small amount.
"Now, I can tell if I have sneaky carbs. It's the craziest thing. I begin sneezing (I guess I'm allergic) and before nightfall the inflammation starts in my joints. Before keto, that was my 'normal.'"
Over the last two years, Shanon and Shane have seen extraordinary weight loss. Their other health issues — high cholesterol, sleep apnea, type 2 diabetes — are all on the mend as well.
Family gatherings and social situations are still a challenge sometimes, but Shanon and Shane are committed to their keto lifestyle.
"That's where Keto Bars come in handy," Shanon says. "Holidays take some planning ahead. Most of the dishes I make, anybody would eat them and never know they are keto. I always make sure we have options while visiting family so it won't seem like we are doing without."
Shanon also relies on a couple Perfect Keto products.
"About 6 months into keto I began to lose my hair. It was to the point of panic. I tried different shampoos, taking biotin, and bone broth. That is when I found Perfect Keto Collagen Powder. First of all, can I say yummy! I don't drink coffee, so that is my cup of hot chocolate in the morning. I add a half scoop of Keto Base (both chocolate flavor) with a tablespoon of heavy whipping cream, and that starts my day. My hair has since stopped falling out and is growing!!!
"I also love the Perfect Keto Bars. These are the only bars that don't have that processed, fake taste. They are perfect for that sweet tooth I have every now and then."
Shanon and Shane, thank you so much for sharing your story with us. It's one of the most dramatic transformations we've seen, and it's amazing that you two have committed to improving your health together.
Have a story to share? Fill out this form and look out for your keto success story on our blog and social media.
Keto Success Stories are shared by our readers and customers in their own words. The keto diet and any nutrition advice found on this blog are not meant as a medical intervention, advice, or diagnosis. If you're interested in trying a new diet, supplement, or lifestyle change, please speak with your doctor or another qualified healthcare provider. As with any diet or lifestyle protocol, individual results may vary.