If you're looking for a quick and easy meal on a busy weeknight, this sheet pan recipe makes an excellent weeknight dinner.
Crispy red bell peppers (or yellow or green), paired with savory andouille sausage, and a myriad of spices — what more could you ask for?
And the best part is; it only takes 20 minutes to prepare — talk about an easy dinner!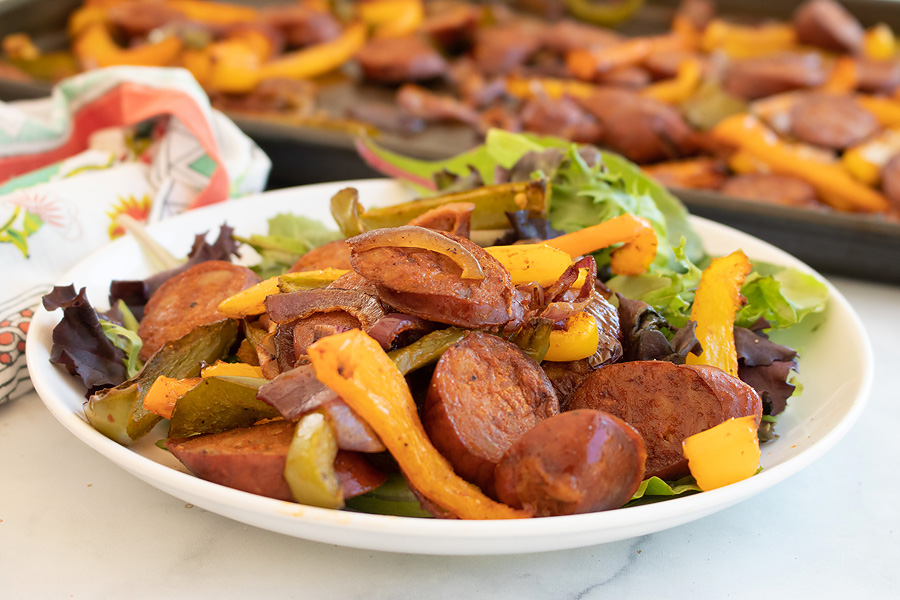 This sheet pan dinner is:
Warming
Comforting
Delicious
Spicy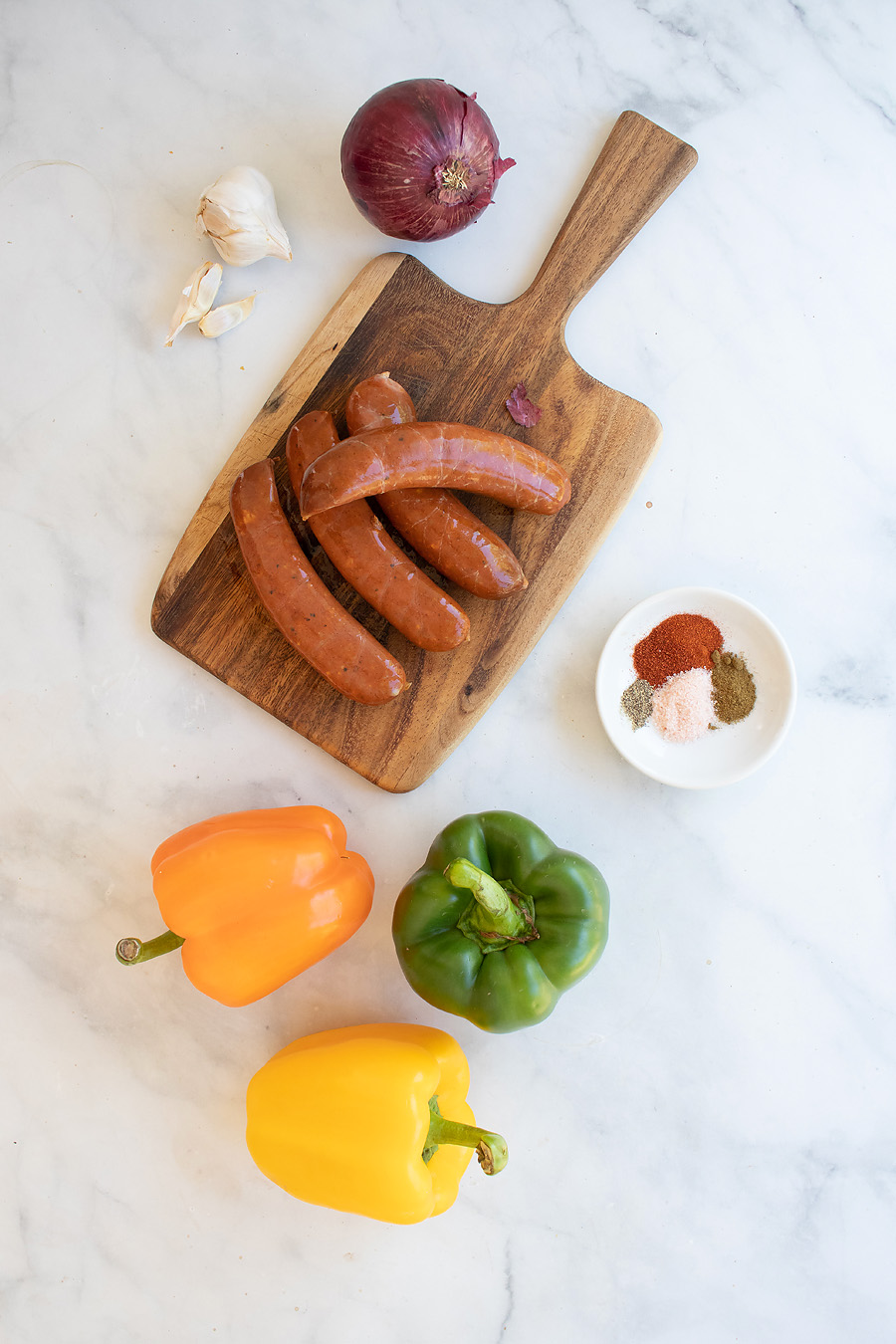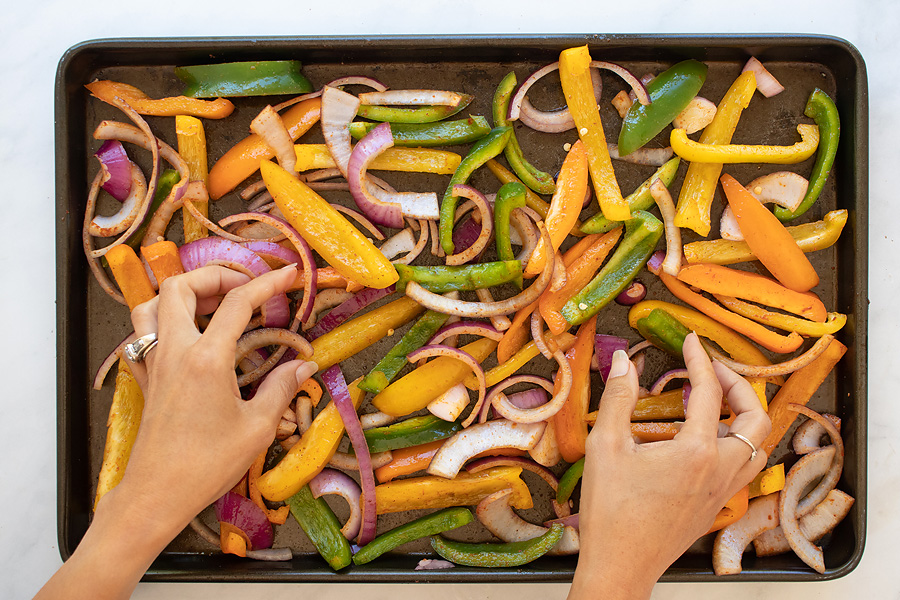 The main ingredients are:
Sausage links
Red or yellow bell pepper
Garlic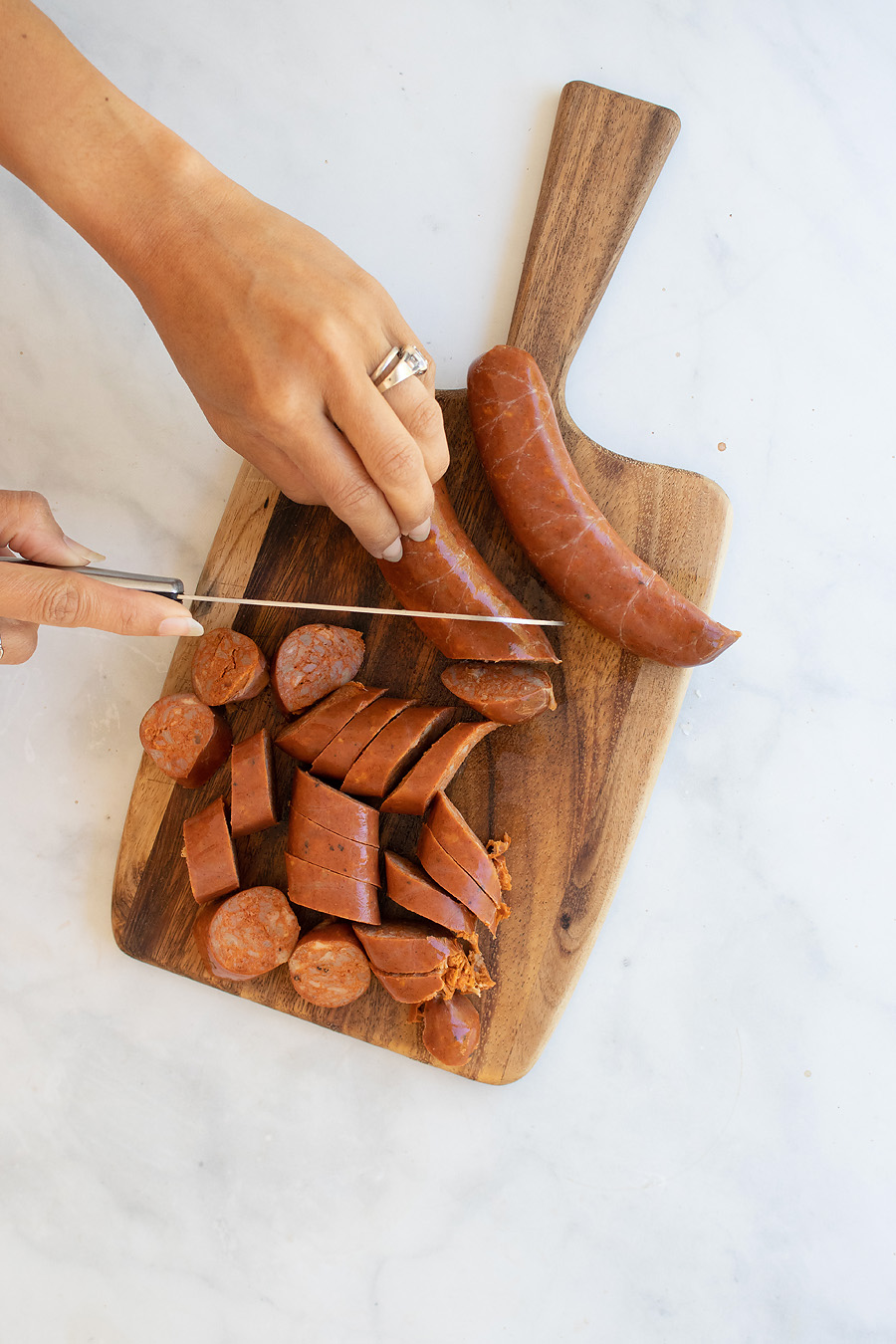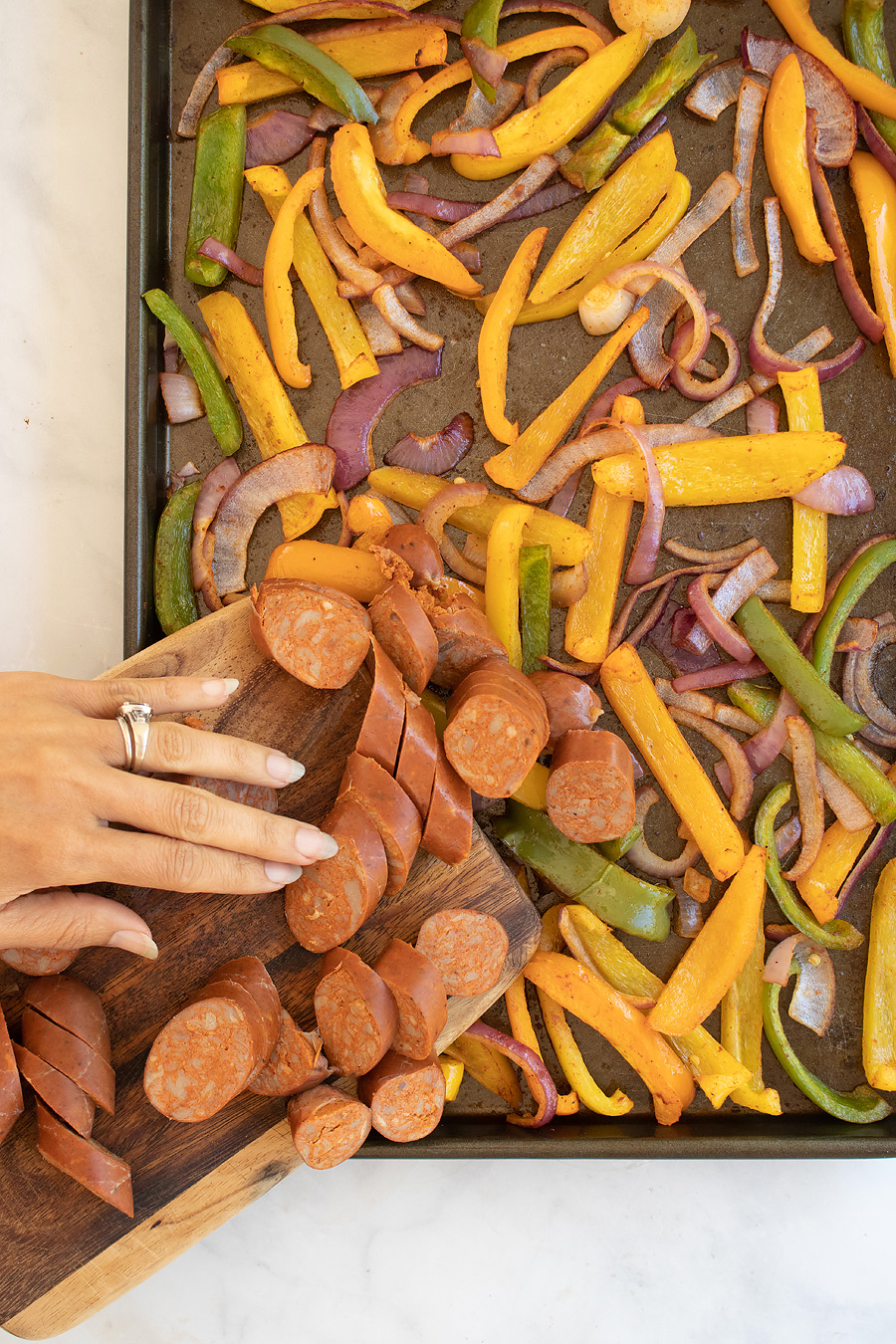 Optional additional ingredients:
3 Health Benefits of Sheet Pan Sausage and Peppers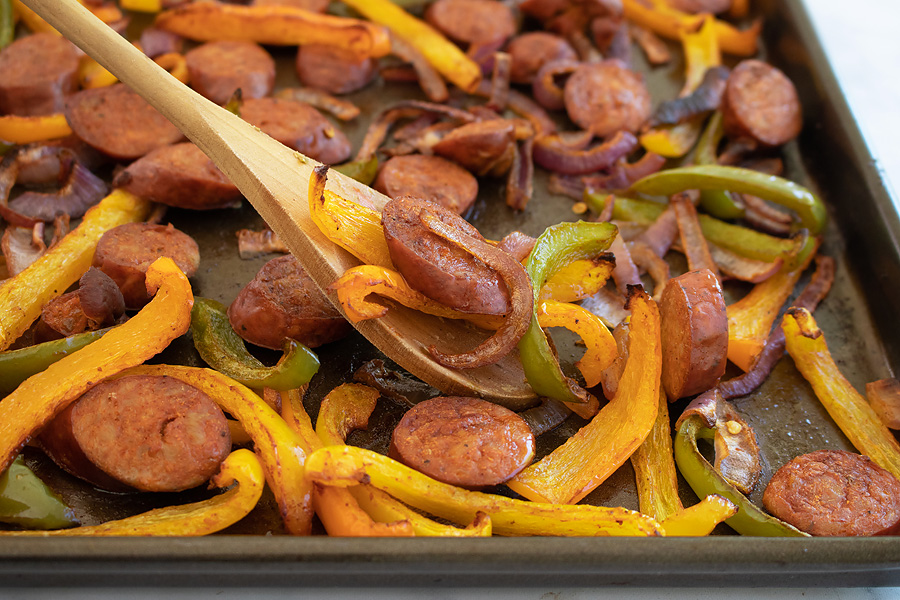 #1: Rich In Vitamin C
Bell peppers are a fantastic source of vitamin C, with one medium bell pepper containing over 100% of your daily needs[*].
Vitamin C plays a number of crucial roles in your body. It behaves as an antioxidant and has roles in preventing cardiovascular disease, enhancing immunity, and the absorption of iron.
Some studies even suggest that vitamin C has beneficial effects against cancer.
With bell peppers playing a central role in this sheet pan dish, you'll be sure to get a hefty dose of vitamin C with this meal[*].
#2: Boosts Immunity
Oregano is one of the most potent immune-boosting herbs out there. It works on several levels to help your body fight off foreign invaders, which is why you'll often find it in immunity herbal blends and teas.
It's rich in antioxidants, which helps your body fight off free radicals. But it also supports your immune system with its antiviral and antibacterial properties[*].
In test-tube studies, carvacrol and thymol (two of the antioxidants found in oregano) were shown to inactive herpes simplex virus within just one hour[*].
In another study, oregano oil was shown to block the growth of E.coli bacteria, a well-known bacteria that can cause serious infection[*].
#3: Fights Inflammation
As counterintuitive as it sounds, hot spices like paprika can help your body fight inflammation. The reason is that they contain a compound called capsaicin, which binds to specific receptors that are responsible for your inflammatory response.
However, capsaicin doesn't just help manage your inflammatory response; it's also been researched for its anti-obesity, anti-cancer, antioxidant, and analgesic properties[*].
Since autoimmune disease is characterized by increased inflammation, some research even suggests that spicy foods like paprika may offer a potential treatment option for these types of conditions. With that being said, more research needs to be done to determine exactly what role capsaicin could play[*].
Sheet Pan Sausage and Peppers
Grab your baking sheet, it's time to whip up some sheet pan sausage.
If you're not a fan of andouille, try this dinner recipe with hot Italian sausage, turkey sausage, or chicken sausage.
And if you're a big veggie fan, you can add in some yellow onions, cauliflower, or broccoli.
Drizzle on some extra virgin olive oil or sprinkle on some parmesan for a finish, and enjoy this simple and delicious one-pan meal.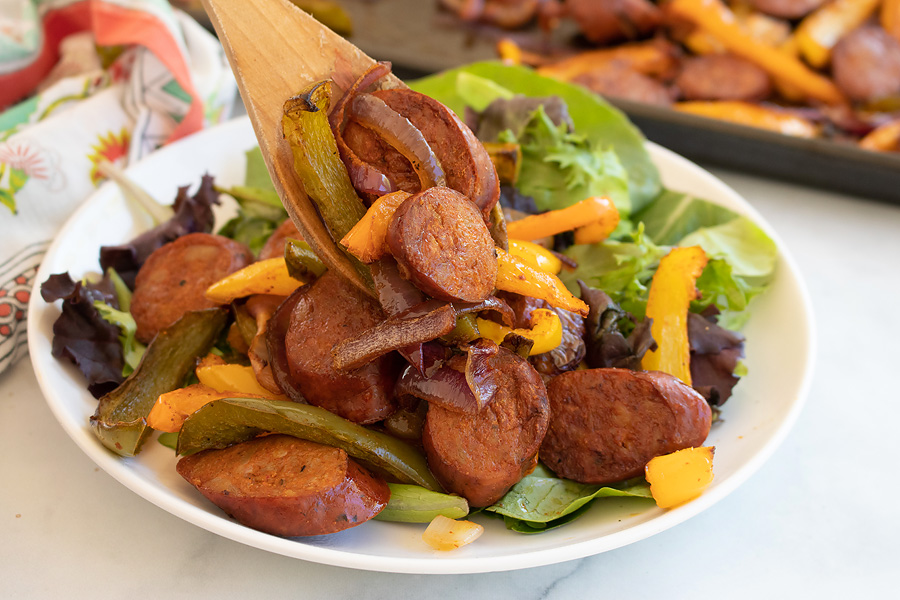 Print
Easy Sheet Pan Sausage and Peppers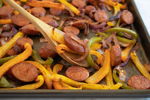 Sheet pan sausage and peppers is a perfect meal for a busy weeknight. Grab a baking sheet, veggies, and sausage links, and your sheet pan dinner is on its way.
Author:
Prep Time:

5minutes

Cook Time:

20minutes

Total Time:

25minutes

Yield:

4

1

x
Instructions
Preheat oven to 400 degrees F and line a sheet pan with parchment paper if desired.  Add sliced peppers, garlic, and seasoning to the sheetpan. Coat vegetables and mix well with your hands.

Roast for 10 minutes, turning vegetables once ½ way through cook time.  

Remove pan from oven and add sliced sausages.  Mix well. Roast for an additional 10 minutes at 425 degrees until veggies are slightly charred and sausages are heated through.
Nutrition
Serving Size:

1

Calories:

281

Fat:

15g

Carbohydrates:

8g (5g net)

Fiber:

3g

Protein:

27