If you like to keep up with kitchen appliance trends, you've probably heard about air fryers — the latest and greatest that efficient cooking has to offer.
While a crockpot can take the guesswork out of throwing together a stew or meal requiring moisture, air fryers require very little oil and create delicious meals in a fraction of the time.
They're excellent for creating the taste and texture of fried foods, but can be used as a quick and easy way to cook a variety of dishes.
If keto cooking has you spending hours in the kitchen, an air fryer may be just the shortcut you're looking for.
So how does this ingenious contraption work? Put simply; an air fryer quickly blows hot air around in a small vessel (containing your food) to cook it efficiently and to the perfect texture.
If you're ready to jump on the air fryer bandwagon, check out these 25 quick and easy low-carb air fryer keto recipes.
25 Keto Air Fryer Recipes
You can make anything from main dishes to appetizers to desserts with your air fryer. Let's start with some mains.
Main Course
Long day at work? Don't feel like slaving over the stove for dinner? These main course meals are ready in anywhere from 10 to 20 minutes.
#1 Keto Fried Chicken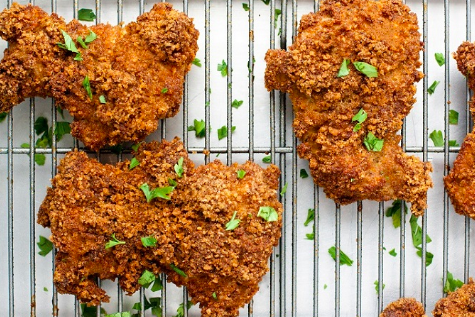 This crispy chicken dish skips the high-carb breadcrumbs and replaces them with some deliciously savory pork rinds. You get all the crunch without any of the carbs. You can make this recipe in the oven, but an air fryer offers a hassle-free alternative. Check out this crispy keto fried chicken.
#2 Baked Pork Chops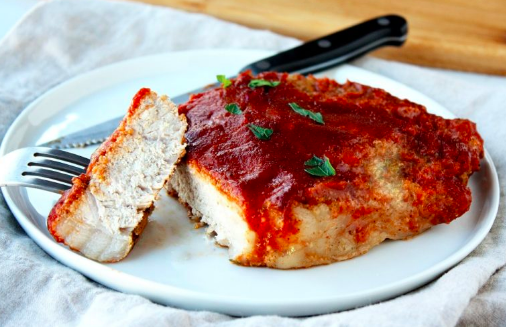 While many people think the air fryer is only for fried foods; they couldn't be more wrong. This recipe is traditionally made in the oven, but an air fryer works just as well to produce a juicy, rich BBQ pork chop. Check out these BBQ baked pork chops.
#3 Tomato Basil Scallops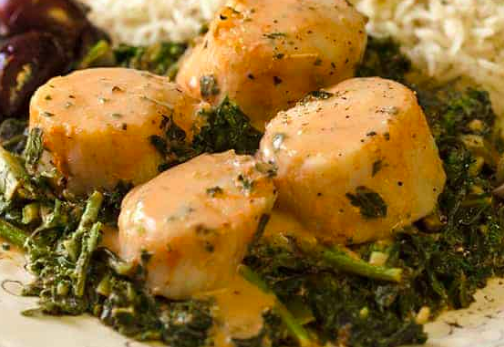 This juicy scallop recipe contains only six grams of carbs per serving and is ready in just 10 minutes. The creamy tomato sauce perfectly balances out the texture of the scallops, and pairs beautifully with a bed of spinach. Check out these creamy tomato basil scallops.
#4 Keto Coconut Shrimp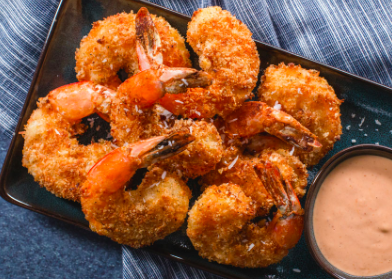 Coconut shrimp are a true indulgence. To make this recipe low-carb, switch out the breading for pork rinds, and the all-purpose flour for coconut flour.
Check out these keto coconut shrimp.
#5 Keto Garlic Cheese Bread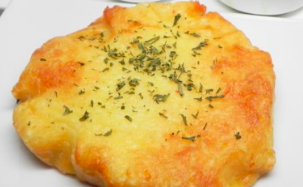 Did you even know you could make bread in an air fryer? Well, to be fair, this "bread" is mostly cheese…but you're not complaining. With only 2.5 net carbs and 20 grams of protein per serving, this cheesy bread is a keto dream.
Check out this garlic cheese bread.
#6 Air Fryer Steak Kebabs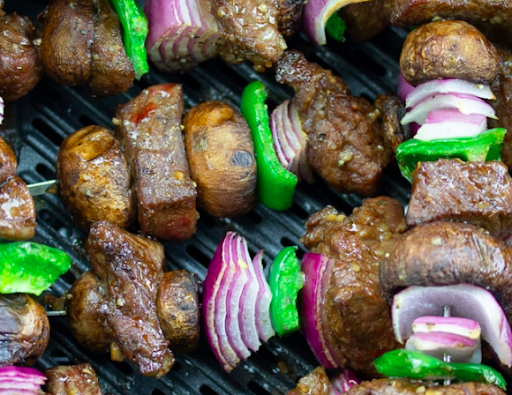 Kebabs are an excellent all in one meal. With a total time of just over 20 minutes and a cook time of 10 minutes, you can skip the grill and have dinner on the table in a blink of an eye. Have fun with your veggie choices too, zucchini, summer squash, and cherry tomatoes are fantastic additions.
Check out these flavorful steak kebabs.
#7 Keto Fish Sticks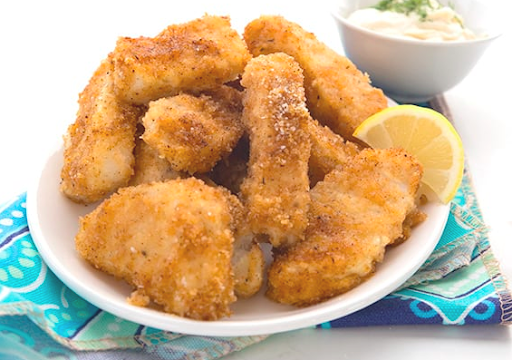 Reminisce about seashore summers with this keto-friendly fish sticks recipe. The cajun seasoning paired with dijon-mayo sauce makes for an incredibly flavorful meal. The best part? You're only getting 0.5 net carbs per serving.
Check out these crispy keto fish sticks.
#8 Baked Air Fryer Chicken Nuggets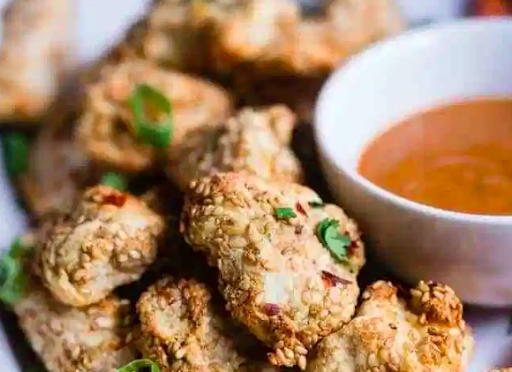 You don't have to deny it; you miss your chicken nuggets don't you? While many non-keto favorites can easily be transformed into low-carb keto meals, this was not always the case with chicken nuggets. How do you create that deep-fried crispy texture without breadcrumb and a frialator? Enter the air fryer. Enjoy your nuggets guilt-free with this baked chicken nugget recipe.
Check out these air fryer chicken nuggets.
#9 Parmesan Shrimp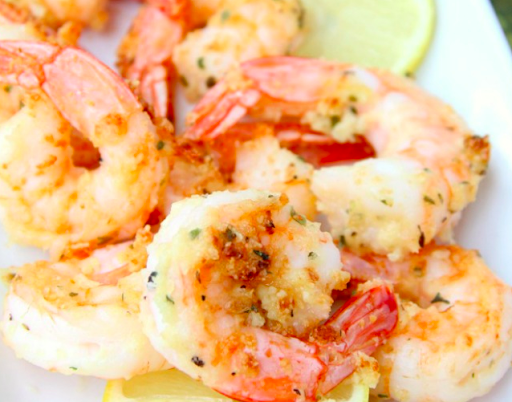 The one downside to cooking a shrimp scampi style meal is the overwhelming scent that seems to last for hours. Everyone loves garlic and shrimp, but no one needs to smell like it for days. With this quick and easy air fryer recipe, you can have your shrimp on the table in 10 minutes — and only enjoy the sights and smells for the duration of your meal.
Check out these savory parmesan shrimp.
#10 Air Fryer Salmon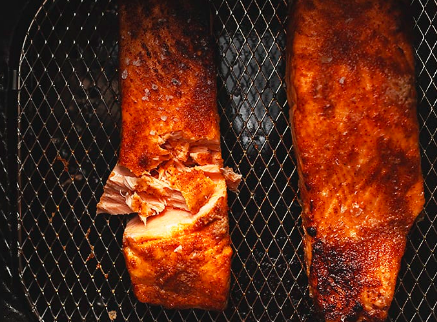 For the salmon lovers out there — this one's for you. Most people are well aware of the health benefits of eating salmon, but it can be hard to cook it just right. Go too long, and it tastes like dry rubber, don't cook it enough, and you're basically eating sushi. This recipe is a no-fail way to the moist and crispy salmon you've been aiming for.
Check out this delicious air fryer salmon.
#11 Beef Bulgogi Burgers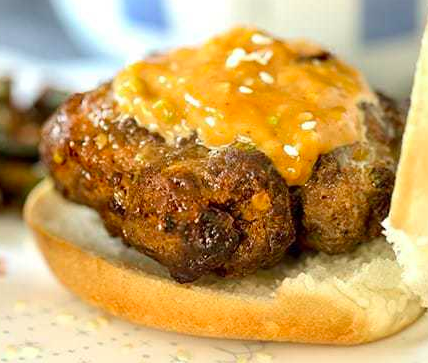 Pair these burgers with some keto bread and low-carb toppings like cheese, mustard, veggies, or the traditional Gochujang Mayonnaise.
Check out these mouthwatering beef bulgogi burgers.
Appetizers
The idea of making an appetizer always sounds great until it comes time to do it. You want to make something delicious and appetizing that will please a crowd, but who has the time?
These air fryer appetizer recipes take a healthy twist on the classics so you can cook, share, and enjoy, without any of the stress.
#12 Homemade Keto Mozzarella Sticks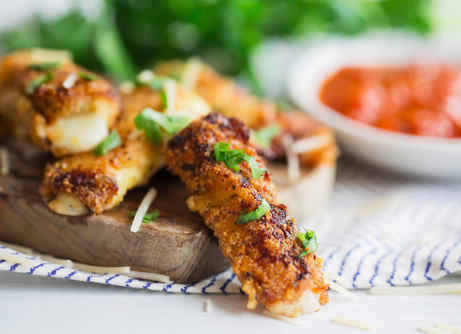 This recipe calls for a cast-iron skillet, but you can skip that hassle and throw these mozz sticks right into your air fryer. You'll get a much more authentic deep-fried texture without having to deal with cleaning and seasoning your skillet after.
Check out these cheesy homemade keto mozzarella sticks.
#13 Cauliflower Buffalo Wings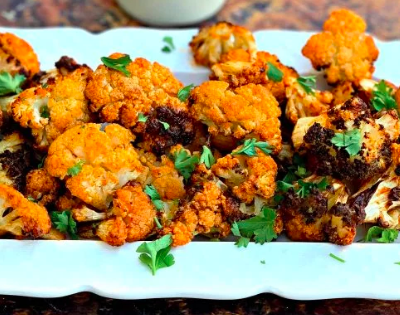 Cauliflower buffalo wings are pretty much the best thing to happen to cauliflower since cauli rice. With only four grams of carbs per serving, this delicious veggie dish can be served as a side, an appetizer, or even the main dish.
Check out these delicious cauliflower buffalo wings.
#14 Three Cheese Stuffed Mushrooms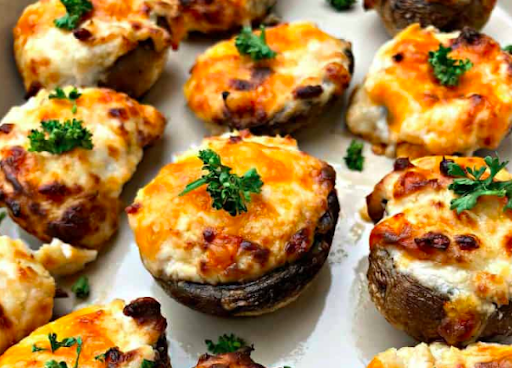 Baked stuffed mushrooms are always a hit or miss. Done just right, they can come out warm, creamy, and crispy. Done incorrectly, however, they can come out flavorless, overly moist, and an overall mess. Using an air fryer to bake up some stuffed shrooms allows for the perfect balance of crispy, creamy, and cheesy.
Check out these rich and creamy three cheese stuffed mushrooms.
#15 Onion Rings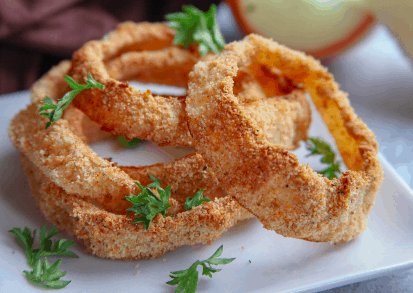 Onion rings would likely be the last item on your list that you would label as "healthy". But these aren't your run of the mill onion rings. They're not only keto-friendly, but they contain health-promoting ingredients like flax seeds and almond meal so you can enjoy the best of both worlds.
Check out these crispy onion rings.
#16 Bacon Cream Cheese Stuffed Jalapeno Poppers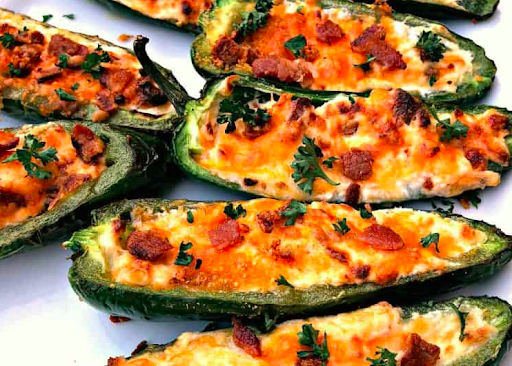 Stuffed jalapeno poppers are a keto-dieters go-to appetizer. The only problem is, they can be time-consuming and create a bit of a mess in the oven. It can also be hard to time these savory apps as they're always best eaten when they're freshly cooked. Enjoy the ease of low-arb jalapeno poppers with this air fryer recipe.
Check out these bacon cream cheese stuffed jalapeno poppers.
#17 Air Fryer Buffalo Chicken Wings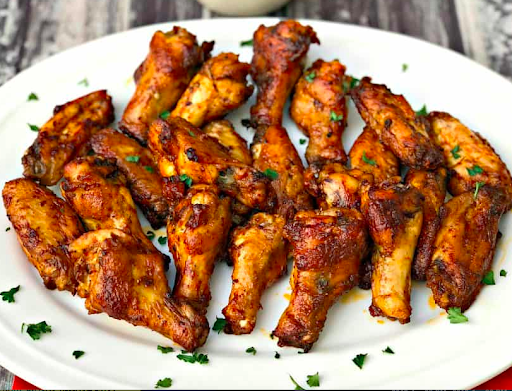 Chicken wings are a game-time classic, but it can be hard to get that restaurant-style crispness when you're baking them in an oven. This recipe offers the same seasonings you know and love with a product that rivals you're favorite wing joint.
Check out these air fryer buffalo chicken wings.
#18 Pork Rinds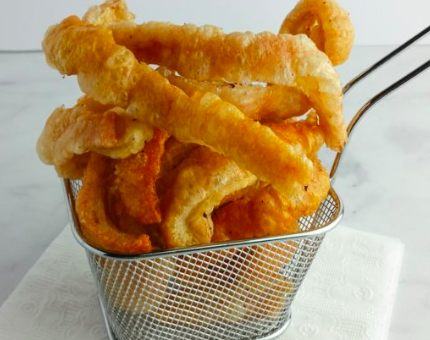 Pork rinds are popping up everywhere these days as the perfect on-the-go keto snack. While much gratitude should be given to the companies producing these delightfully crunchy snacks, sometimes you want to save some money and take matters into your own hands. This recipe for air fryer crackling takes only 15 minutes and is packed with protein, making them an ideal food to hold you over until your next meal.
Check out these crunchy pork rinds.
Veggie Dishes
You stir-fry them, bake them, blanch them, saute them, and dress them — but how often do you get that crispy texture you're looking for from your vegetables?
As a core component of the keto diet, getting enough vegetables into your meal plan is vital. But if you're looking for something a little different then your standard veggie cooking technique, these air fryer recipes are here to spice things up.
#19 Cauliflower Fried Rice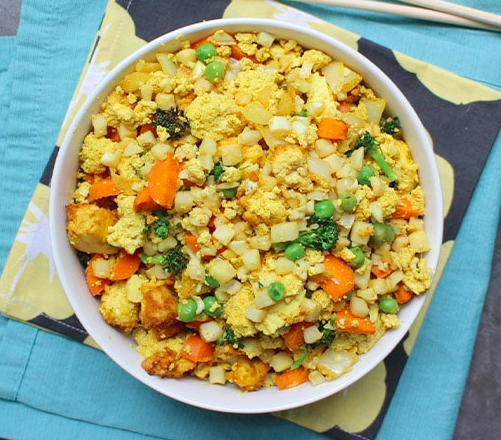 If there were one MPV vegetable for keto-dieters, it would have to be cauliflower. And it's main claim to fame? Cauli rice. While there are a million and one cauliflower rice recipes, if you love Asian food, you've got to try this cauli fried rice — it's rich, flavorful, and incredibly versatile.
Check out this flavorful cauliflower rice.
#20 Roasted Brussels Sprouts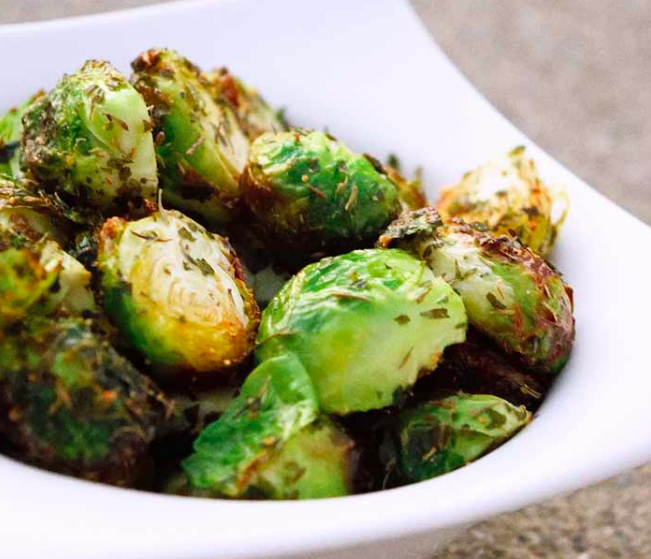 No matter how hard you try, walking that line between burnt and crispy when it comes to brussels sprouts is always a challenge. Use this air-fryer brussels sprouts recipe to achieve the perfect crispness you're looking for — with the burning have the batch.
Check out these delicious roasted brussels sprouts.
#21 Zucchini Fries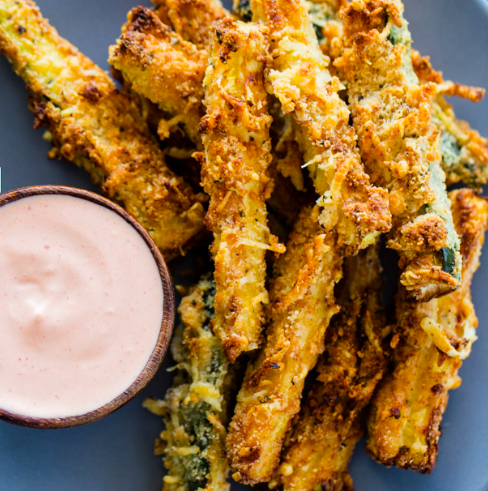 Everyone loves french fries. In fact, it may be fair to say that they're unanimously the world's favorite vegetable dish. The obvious issue for keto-dieters, however, is the overload of carbs they contain. Switching out potatoes for zucchini offers you the satisfaction of fries, without the blood sugar drama.
Check out these crispy zucchini fries.
#22 Celeriac Everything Fries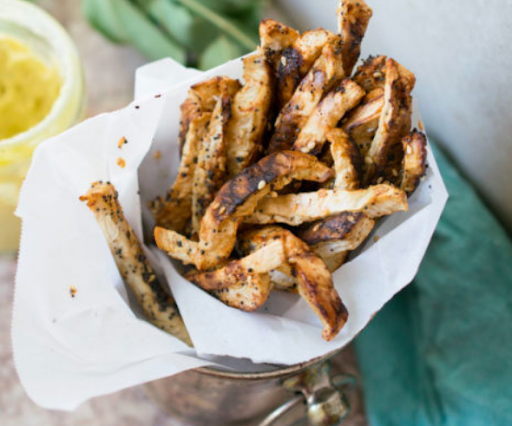 If zucchini isn't your jam, or you just want to mix it up, celeriac fries are another fantastic potato alternative. This root veggie doesn't get nearly the notoriety it deserves, with a fraction of the carbs and a pleasant yet mild flavor you can dress these fries up any way you like.
Check out these celeriac everything fries.
Dessert
Your air fryer isn't just for savory meals. In fact, it's an excellent option for some of your favorite low-carb dessert recipes.
#23 Fried Cheesecake Bites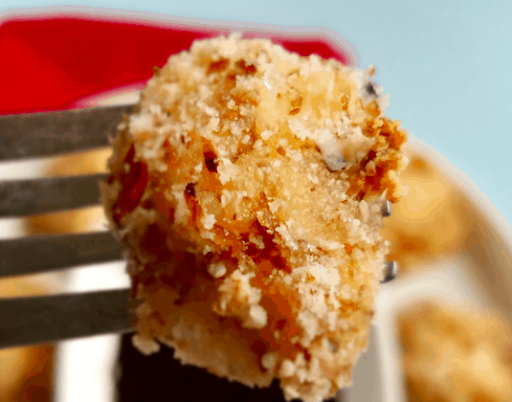 These fried cheesecake bites are mind-blowingly delicious. Just imagine the creaminess of cheesecake wrapped in crunchy fried almond flour. The best part? Each bite is only 80 calories, with two grams of net carbs.
Check out these crispy and creamy fried cheesecake bites.
#24 Flourless Chocolate Brownies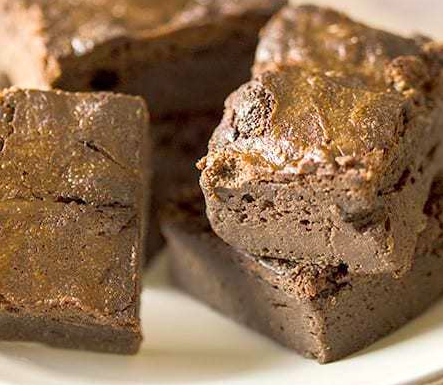 Whip up some of these buttery flourless brownies in your air fryer for a rich and satisfying chocolaty treat. With no flour of any kind involved in the recipe, these brownies net out to only two grams of carbs per serving — enjoy!
Check out these flourless chocolate brownies.
#25 Gluten-Free Lava Cake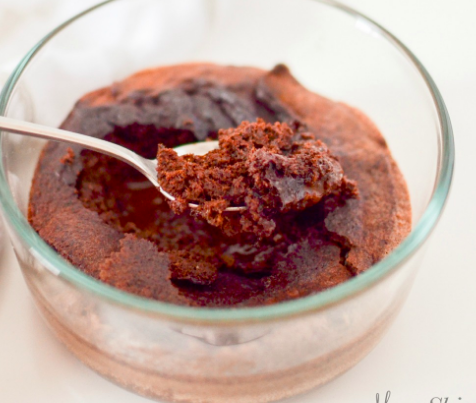 The trick with lava cake is to cook the outside just right so the gooey inside can stay…well…gooey. Using an air fryer allows you to make this gluten-free lava cake crispy on the outside and warm and soft on the inside.
Check out this rich and flavorful gluten-free lava cake.
Takeaway
Thought you had to say goodbye to fried food forever? Think again. These air fryer recipes offer you a new way to enjoy the texture of fried food without the greasy finish.
Although it may be an investment upfront, getting on board with an air fryer can be a great way to save time and energy. Have fun with these recipes and let us know which ones you liked the best!