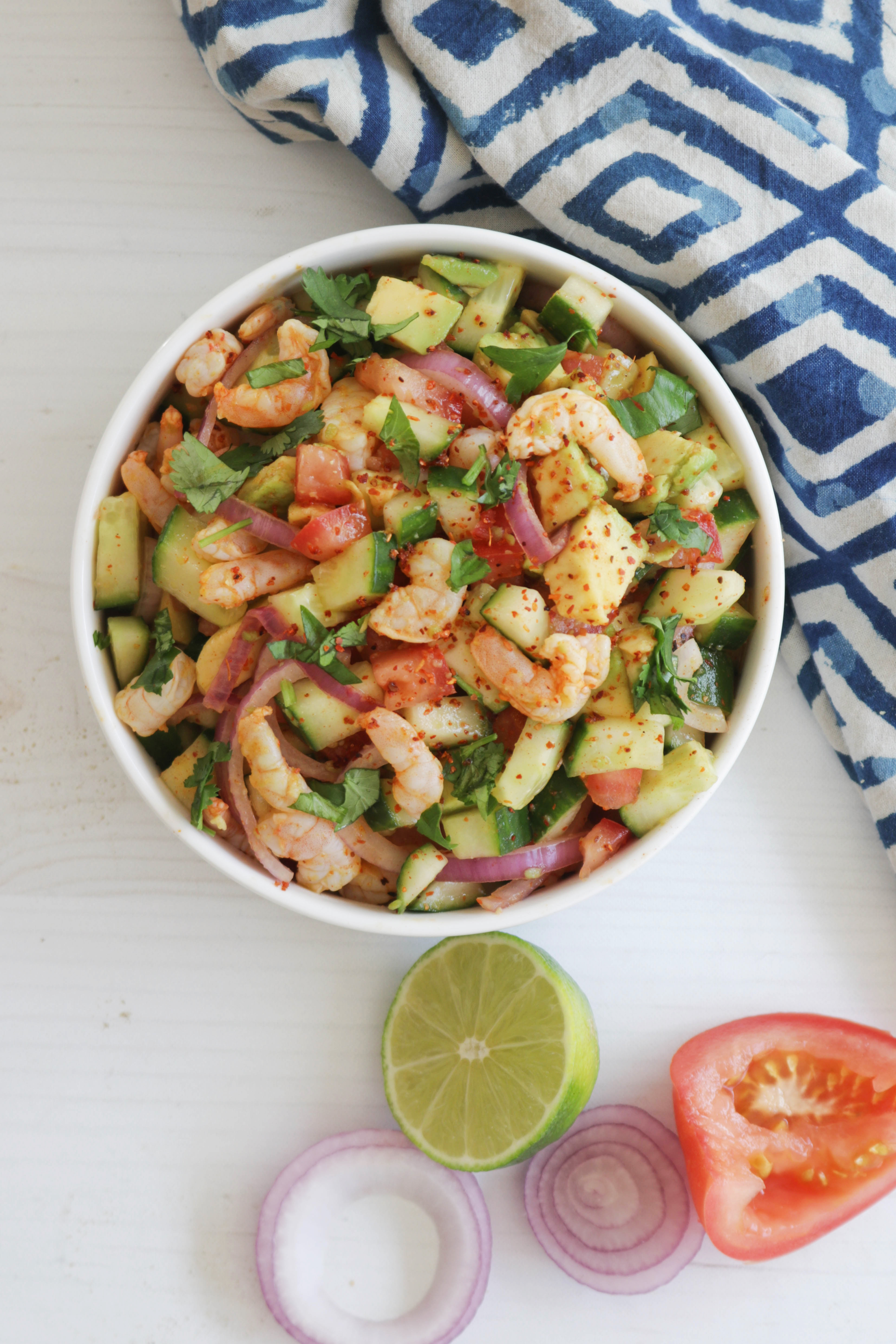 This bright, tangy shrimp ceviche dish is keto-friendly and bursting with flavor. Marinated in lime, cilantro, cucumber, red onion, and tomatoes, these tender chunks of shrimp are packed with protein and other nutrients to support your healthy keto lifestyle.
Serve this easy shrimp ceviche recipe as an appetizer or a light (but filling) lunch entree. It's the perfect dish if you're finding it tough to get more fresh seafood into your diet — full of omega-3 fatty acids and other essential nutrients.
Get ready for the best shrimp ceviche recipe you've ever tried — ready in just minutes.
This tangy shrimp ceviche is:
Citrusy
Crunchy
Flavorful
Bright
Quick and easy to make
Gluten-free and keto
The main ingredients in this Shrimp Ceviche include:
Shrimp
Avocado
Cilantro
Cucumber
Lime juice
Red onion
Tomatoes
Optional additions:
Jalapeno pepper or serrano chili
MCT oil or olive oil for drizzling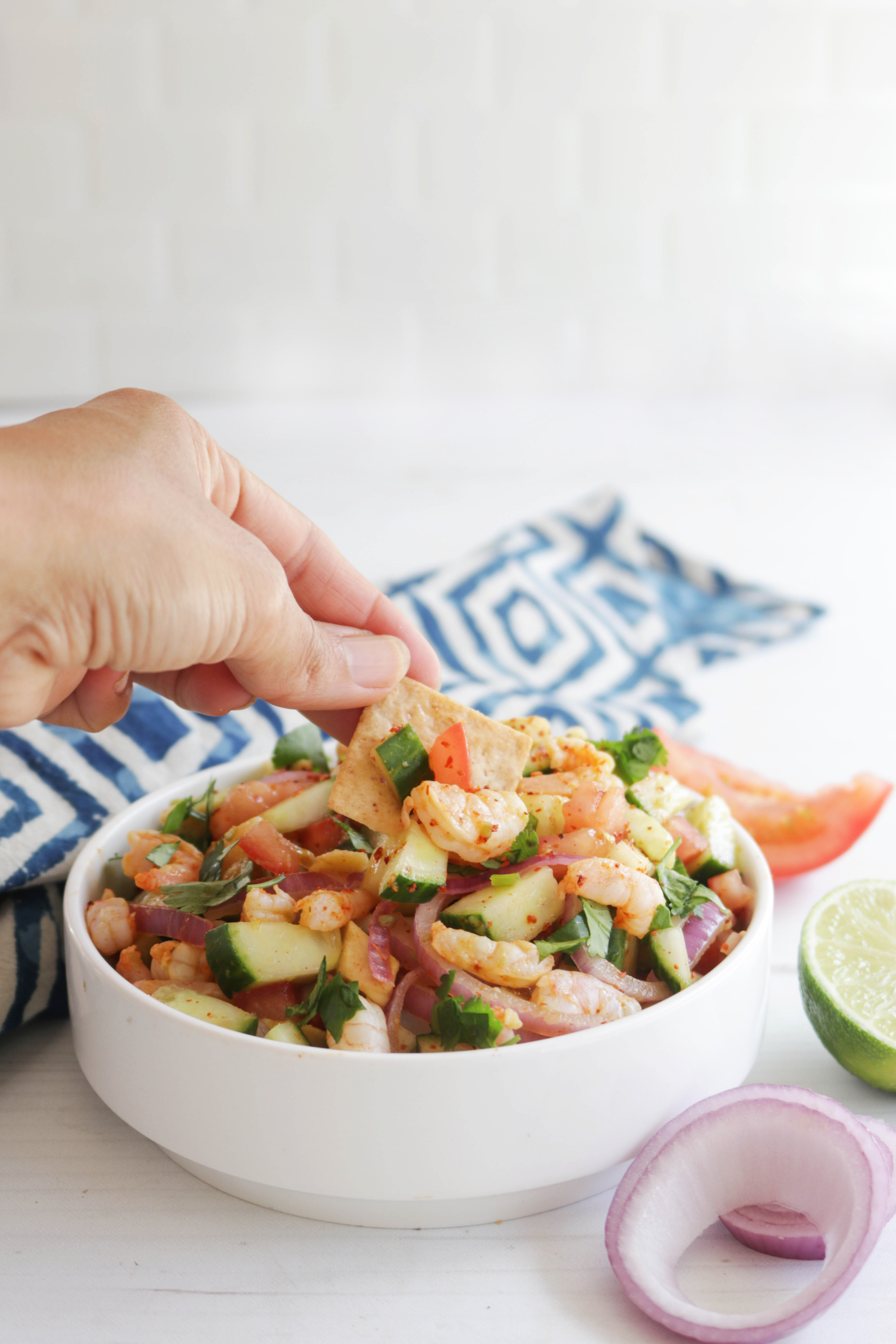 Health Benefits of Keto Shrimp Ceviche
Ceviche is a marinated seafood-based dish with Mexican, Caribbean, and South American variations. Famous for its acidic marinade and pops of color and flavor, ceviche recipes vary from using chunks of raw white fish to cooked shrimp and octopus.
There are hundreds of ceviche recipes, but the main components stay the same: every dish is fresh, acidic, and makes seafood the star of the dish.
If you're not a fan of shrimp, feel free to use fresh, raw white fish or cooked octopus in the same citrus marinade. Just make sure — whatever protein you use — that it's fresh. Now, on to some of the main health benefits of this fresh shrimp ceviche.
#1. An Immune System Boost
Avocados, lemons, and limes are high in vitamin C — a powerful antioxidant that can help keep your immune system strong and ward off illness[*].
Cucumbers, although made of almost 90% water, also contain immune-boosting nutrients like vitamin A, vitamin C, folic acid, and silica[*].
Onions are a known immune-strengthening food that include selenium, zinc, and vitamin C. Onions are also an excellent source of quercetin, a potent antioxidant and antiviral compound[*].
#2. Antioxidants Help Fight Free Radicals And Reduce Inflammation
This recipe is packed with antioxidant-rich ingredients, from the avocados to the tomatoes and onion.
The more antioxidants you consume, the more you're battling free radical oxidation — a natural process that can damage cells, DNA, and protein molecules in your body.
And when you lower free radical damage, you're naturally reducing inflammation — which is responsible for nearly every chronic disease[*].
Avocados are rich in carotenoids, antioxidants best known for supporting eye health[*]. Not only that — the fat in avocados actually helps your body absorb fat-soluble nutrients like vitamins A, D, E, K, and antioxidants like carotenoids from your food.
Quercetin — which you can find in onions and cilantro — may also prevent free radical damage caused reduce inflammation[*].
#3. Mood-Boosting Nutrients
There are several different ways that nutrient-dense foods may help support brain health and boost your mood.
But the biggest connection between food and mood is immunity and inflammation. Inflammation and a compromised immune system may be linked to certain types of depression[*].
So, it stands to reason that by keeping your immune system strong and inflammation down, your mood can benefit as well.
Avocados are rich in monounsaturated fatty acids (MUFAs), good fats that are linked to lower levels of inflammation, depression, and heart disease[*].
Avocados are also high in dietary fiber, which was found to be inversely related to symptoms of depression in one study[*].
Traditional ceviche sometimes contains sugary orange juice and comes with corn chips or plantain chips. You can keep this shrimp ceviche keto-friendly by subbing orange juice for a lemon or lime citrus base and using crunchy butter lettuce, cucumbers, or carrots in place of tortilla chips.
The other option, of course, is to simply eat your shrimp ceviche with a spoon. It's that good.
Plus, total prep time and cook time are minimal — so you can even make this refreshing dish when you're pressed for time.
Whether you are making this simple shrimp ceviche for lunch, brunch, or as an appetizer for a party alongside some Zesty Low Carb Chicken Tacos or Easy Chunky Avocado Salsa, this is bound to become a staple recipe in your home.

Print
Simple Shrimp Ceviche
This keto-friendly, super simple shrimp ceviche is packed with flavor from fresh shrimp and a citrus marinade with lime, tomato, cucumber, and creamy avocado. Add some chili for a bit of heat and drizzle MCTs or olive oil for even more healthy fats to support your keto diet.
Author:
Yield:

4

ceviche

1

x
Scale
Ingredients
1

lb fresh raw shrimp, cooked, peeled, deveined, and chopped

1

large chopped avocado

1/4 cup

roughly chopped fresh cilantro

1 cup

chopped cucumber

1/3 cup

fresh citrus juice from limes, or a lemon-lime mixture

1/2 cup

sliced red onion

1/2 cup

chopped tomatoes

1/2 teaspoon

salt

1/4 teaspoon

pepper
MCT oil or olive oil for drizzling (optional)
Instructions
Prep all of your ingredients one by one, making sure to clean, devein, and chop your shrimp into ½ to 1-inch pieces.
Add all ingredients to a large bowl and stir well to combine.
Option to let the dish sit in the fridge to marinate for 1-4 hours before you serve or serve immediately.
Notes
Always make sure to purchase sustainably-raised, wild-caught shrimp. You can also check and see if a fishery is managed correctly by confirming through a separate entity, such as the Marine Stewardship Council or Wild American Shrimp.
Nutrition
Serving Size:

1 serving

Calories:

143 kcal

Fat:

5g

Carbohydrates:

7g

Fiber:

3g

Protein:

29g